Weekend Round Up 11th & 12th August
Another weekend, and a wide variety of races covered, as follows:-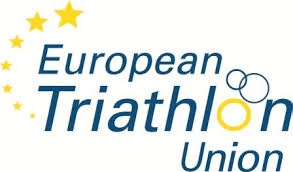 GLASGOW ETU SPRINT DISTANCE TRIATHLON
Glasgow brought together the existing championships of Aquatics, Cycling, Golf, Gymnastics, Rowing and Triathlon into one co-ordinated multi-sport event. This was the first time these sports came together as one and the plan is to stage similar multi-sport championships across Europe every 4 years. The Triathlon included  the ETU Sprint distance Tri European Championships.  Held within Strathclyde Country Park, as an ETU championship the standard was going to be high with Drew Gowland qualifying for the age group team. Drew acquitted himself brilliantly; he was the only swimmer to go under 10 minutes for the swim, and exiting the water first he kept the momentum onto the bike, although some rapid runners pushed him back a bit. This was a strong performance from a man who would drive home and race the next day at Littlehampton (see below).
SWIM 4 SMILE
Three Tuffs entered the sea at Littlehampton. Nikki Gatland, Drew Gowland and Alister Marchant taking up the challenge, with the library picture from last year showing Nikki & Drew, who reported in:
"On Sunday was the Tribal Sports Events 1500m sea swim, which is a charity event in conjunction with Freestyle4smile and Smile Train, sponsored by Huub.
It is a very friendly event in its second year with a winners prize supplied by Huub… and there dangles the carrot…
With eyes on the prize I went for it and drove back from Glasgow arriving home in the early hours. Luckily our girls let me lay in until 0630am. Four hours sleep. Joy.
I loaded up with peanut butter and sugar free jam on toast with a side of strong coffee. Things felt better. We headed to the beach and I was one of the happier people to see up to ~2m waves dumping on the shore.
With safety decisions complete the swim was going ahead. We swam out to the start buoy and on the sound of a faint horn we were off, a few people swam directly back to shore. It was pretty lumpy!
After about a minute I couldn't see anyone or spot any buoys so I simply followed the shoreline to the east battling the tide, got to the turn buoy and slingshot back… weeeeee… this more fun, taking off from some waves and getting dumped the other side – fantastic!
A few minutes later I was back at the final buoy swam to shore and ran up the mat. Was I first? I was happy to find I had won – whoop!
Thoughts then turned to the safety of everyone else and looking out to sea it looked pretty gruelling.  I'm really happy to say Niki came in as first female with a great swim not even looking tired as she exited with a smile.
Most athletes who entered did complete the swim, some persevering for 90 odd minutes against the tricky and taxing sea conditions. Trouble was the longer you were out, the harder it got!  A fun day – a great result – an early night to be
BIG DOG BRIGHTON
Jon Roper regularly attends the Big Dog MTB event which is sold out every year. However did you know the event features in "The World's Ultimate Cycle Races", The Guardian's Top 5 Cycle Events & Bike Magic's top 6 events "It's an event every  MTB'er should do", so let's leave it to Jon to explain:-
"Great 6 hour MTB race held in Stammer Park this year was the 10th anniversary.
Friday night's rain made the technical course even more interesting.
Format is ride as many laps in 6 hour's solo or in teams of up to 4 I opted for solo again.
Great support and verbal abuse from fellow Tuffs in no particular order Tiff, Mr Edge, Glenn and Ben. Ade Willard was racing in the pair's.
Managed 5 laps with a puncture on first lap and an over the bar's on last laps.
It's a brilliant event very chilled all the cakes are home made, what else do you need."
Jon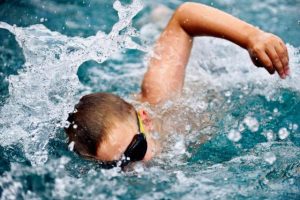 ISLE OF WIGHT PIER TO PIER 
Does a ferry trip constitute an overseas sea? Anthony Towers reports in:-
The annual Sandown to Shanklin 'Pier to Pier' is a well-established swim which has been held for over sixty years. Until 1987, there used to be a pier at the finish as well as the start. Even though Shanklin Pier blew down that year, the name of the event has stuck. In the past, competitors used to jump off the end of the pier for a deep water start. Nicole mentioned she had taken part in the event at that time at ten years old. (Imagine the forms which would have to be filled in if this were still the case!)
There are usually a few Tuff swimmers taking a day trip to the Isle of Wight to take part in this event. Part of the attraction with the event is the location and short journey, which involves a boat or hovercraft ride and train journey on the old underground carriages used on the Island railway. With a sea temperature of around 20 degrees it was going to be a pleasant swim. This has traditionally been a non-wet suit swim. This year, for the first time, a wet suit category was included.
About 120 swimmers lined up on the beach beside Sandown Pier for a midday start. The men went first with the ladies' wave two minutes afterwards. During the morning, the wind had picked up enough to make the conditions choppy and with overcast skies threatening rain, the sea was looking a little less inviting than it has been lately.
From a beach start, it was a run straight into the surf and a short 50 metre swim to the buoy marking a right hand turn point. With the choppy conditions, it was a case of trying not to swallow mouthfuls of seawater when sighting and breathing. The swim is assisted with the current and is about 1.8k. The line of sight is to aim for the lift tower on the cliff at Shanklin which certainly looks a long way away from the start. There were plenty of safety canoes keeping an eye on the swimmers on the seaward side of the course, which also helped keep everyone going in roughly the right direction. With a steady stroke rate, eventually the second marker buoy came in to view. This was the point to turn right again and swim directly ashore, touching ground and running a short way up the beach to the finish line.
Tuff swimmers joined up with our Trinity colleagues to enter a couple of teams. On the day the Polytechnic Water Polo Club were the fastest team.
Nicole PL– 35.56
Anthony – 37.26
Fastest man – 31.00
Fastest lady – 35.29
Anthony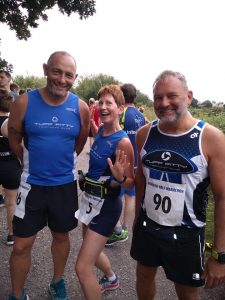 HENFIELD HALF MARATHON
Jason Rae reports in from the popular half marathon at Henfield.
"Following last weeks struggle around the Cotswolds I managed to get going a bit better this Sunday and ran the Henfield Half. My other half Alex found this race and at only £11.00 entry fee whats not to like.  As a race organiser I thought this event would have had far better support than this for the entry fee and the great location. Maybe people are put off thinking the cheap price means a half arsed race in terms of organisation – I get this from my races and often think I should whack £10 on my entry fees because it makes runners think they will get what they pay for.
Glenn Parisi and Rachel Brunning were the only 2 other Tuffs running and Joe Pascoe popped up around the course with his camera (supporting Tania) to get some action shots. The run starts on the Downslink heading south for 3 ½ miles to Bramber before joining the River Adur and back north towards Henfield. These are all parts of Sussex Trail Event courses and it was nice to be running in a TF vest instead of 4 layers of compression and waterproofs and trail shoes holding 2kg of mud from the winter conditions of the Darkstar. At 8 miles the race comes back to Henfield then heads East to pick up more of the Darkstar river bank course for 3 miles . The last 2 miles were another loop of Henfield passing the Cat and Canary at 12 miles then heading back to the finish at the leisure centre. This was a great race but a little disappointing that its not better supported by a few more of our local run clubs. The Downslink is a great place to run , the weather was perfect running conditions and there were lots of friendly marshals on a well signposted course.
The race was worth doing for Rachels Chocolate Orange cookies alone."
GOODWOOD HILL CLIMB
Next up Stuart Harvey reported in from his Monday evening race:-
Being a massive Petrolhead it's always a bit of a novelty to be able to run up Goodwood Hillclimb and pound the tarmac where some racing legends have left their mark, quite literally in some places.
Taking place in the heart of the Goodwood estate the course is a 5 mile route in which see's runners tackle the Hillclimb, of which is just over one mile of very steep climb, some of the estates surrounding grounds and gives you a great opportunity to take in the famous Goodwood House.
Despite starting at 7pm the temperature was still 30c so made for challenging conditions for all runners taking part. So warm in fact the canni-cross race was cancelled to protect the hounds!
Despite suffering a little bit post Edinburgh marathon and nursing a few niggles I was still pleased with my time for a challenging course, clocking in at 39:07, all be it a fair chunk slower than last year.
A well organised event and one that falls on a weekday night means it can be slotted in nicely after work. If you want a short race with a bit of a novelty factor and a real challenge I'd recommend this one.
Stu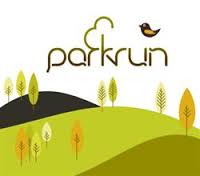 PARK RUN 
At Worthing Park Run, first Tuff home was Danny Cunnett in 20:13, excellent running off the back of last weeks 60 mile run!  Next James Oram racing under his running club. Roy Barraclough, then Amanda de Ridder who clocked up her 65th Park Run. Dave Priest, Cathy Oliver, & Elaine Rousseau under her running club colours.  Up at Maidenhead Park Run Trevor Harvey was in action and across at Bognor Park Run, Jason Rae clocked up a 94th run prior to his Half Marathon the next day.
Stop Press; did you know that there is a NEW Park Run about to commence – Lancing Beach Green Park Run, The first run takes place on Saturday 25th August. details here