Park Run, Worthing. STRUN Race 7
Worthing Park Run was the venue for the final race in our Summer Tuff Run series (STRUN).  This series is a great opportunity for club members to compete as the finish times are based on an age basis meaning that both men and women members of all ages can compete together on a level playing field.
Thankfully conditions were warm on the seafront with a tolerable amount of wind on the outward leg. As 'just' a 5k run,  several Tuff's met earlier for a warm up five miler beforehand. Some would claim after this had helped, whilst others felt it hindered their race!
Malcolm Brown and Becky Sutton have become regulars this year on track and this week we were joined by Nina Tully who came to see what the Tuff's were all about and also raced this morning.  With these potential Tuff's that was 20 on parade and thanks to Dave March and Claire Bridges who were shouting support. The large number of Blue Tuff vests on display even gained an enquiry about our club, so thanks to everyone who turned out. Becky has been showing excellent form on the track and ably demonstrated this crossing home as first female with a 40 second margin, Simone Scott keeps up her great Park Run form crossing in 4th position gaining a new PB in the process and then announced she had to dash as she was cycling up to Ashurst to take a class!.. Alice Gatland crossed in 8th.
Simone has reported in with her take on events:-
A great turn out beside the sea this morning as sunny Worthing Parkrun marked the last of the Summer Tuff Run Series (STRuns).  Sixteen Tuffs in all, with more heckling from the sidelines.  Huw Williams was first Tuff home followed by Tom Gray, Sim Scott, Jay McCardle – who continues his comeback after a long layoff through injury – Graham Liddell and Muz Hodge finished just two seconds apart, closely followed by Clive Harvey, Glenn Parisi, Debbie Gatland, Catharine Western, new Tuff Mark Pickett (aka Mr Brunning), Becky Hodge, Rachel Brunning, Maynard Floyd, Chris Evans and Dom Amey – pulled along kicking and screaming by son Freddie.
In place of the usual Saturday morning run, it seemed only right to make it a duathlon with many of the gang refuelling with post-race breakfast on the beach.  Glenn had hoped to make it a triathlon, but was sadly thwarted as Mr Whippy had yet to open his hatch.  The 99er will have to wait…
Coach Dave March has the enviable task of working through the age-grade results to tot up who will take the coveted STRun trophy.  With seven races in total, those completing at least three are eligible to try and wrestle it from last year's champion Debbie Gatland.  The winner will be announced at the end of season awards do; Marchy has three months to tinker with the abacus..
Well done to all!
Sim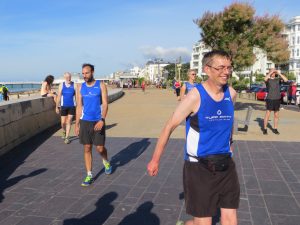 Graham Liddell tried to lead the squad in drills to ensure in this Olympic period, the crew were assembled in peak physical condition!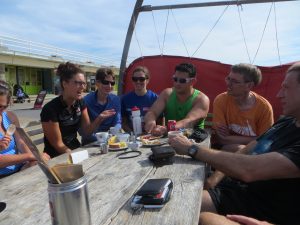 Race hard; play hard; after cheering all the Tuffs over the line, time for coffee.
The number of Tuff participants increased significantly this year and this run championship will no doubt return again next year.  Wish to see a favourite race included in 2017? please let your run coaches know