Weekend Round Up 11th 12th May
Last week's Round Up reported that a Club member had qualified for a World Championship race; and this following week it is fantastic that we can report on another :-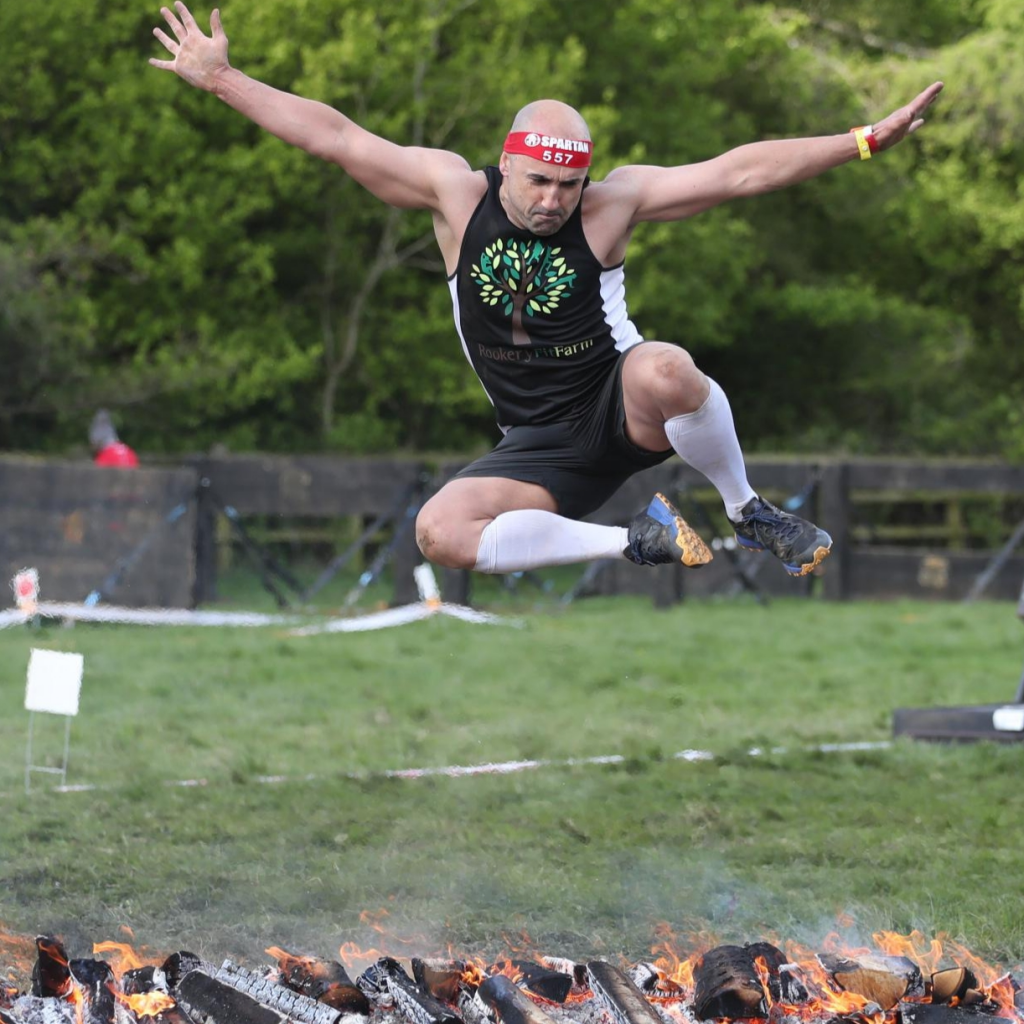 SOUTH EAST SPARTAN SPRINT
One of our illustrious coaches, Kev Pearson, travelled to Wrotham in Kent to take park in Spartan UK's opening event of the year. A Spartan is over mixed terrain and includes some technical running. The Sprint course covers 5km, oh, and the small matter of 20 obstacles which included mud, fire, walls and barbed wire. There was an official photographer on hand and a lot did cheesy grins or thumbs up; but not Kev. As you will see above – he proved that whilst a coach, he has still got it – particularly as this was over the final obstacle. Getting around the course in just 53:03 he came 6th in his age group. It is fantastic to learn that Kev qualified for the OCR World championships – provisionally scheduled for London in October. His qualification justified the lead banner photo, but the format size misses the fact that his stylish leap was over fire – hence the full picture replicated.
SUSSEX TRAIL EVENTS RIVER ARUN MARATHON
Another great race from our very own Chris, Danny and Jay at Sussex Trail events. There was also top marshalling from Jason Rae. Two club members running and we have a report first from Phil Baker and then Jon Babbage:-
" Entered this race as a training run for July's IM distance Outlaw Triathlon. Very chilly morning meant the Tuff vest had to be replaced by two layers on top, gloves and race cap. Just looking to take it easy and steady and enjoy the event, so no targets. Off at 9am and headed north into a cold wind and glad of the layers I'd changed into. Couple of minor trips in the opening miles left me a bit grubby, but all good. Forgot there would be Tuffs loitering in Arundel, so a great surprise to be heckled by the Saturday Tuff Run Massive. Missed a turning at about 9 miles and if it wasn't for the guy behind me shouting, I would have never know until I was way off course. Hadn't really looked at the course profile as I thought it was flat with a short rise to the turnaround point. How wrong I was! Started climbing about 4 miles before the turnaround and some were unrunable for everyone around us. Another trip approaching the turnaround. What on earth was I doing!! Slow quad sapping return on the steep 4 miles back to the flat river trail and steady run back. Including my 'off route' ended up running 27.3 miles in 4hr 32. Saw John Babbage at the start and near halfway. He was running with a friend and also taking things easy. Great event organised by our Tuff trio of Jay, Chris and Danny.
Phil
"Wow what a weekend it's been."
"I was going through our calendar about 3 weeks ago to see what was coming up this is when I realised I had booked 2 runs back to back. I had booked the Sussex trail events river Arun marathon for the Saturday and for the Sunday I had the Gatwick half marathon".
"The river marathon I booked for myself and sister in law she's been running for a few years now but never done a marathon and loves trails so this was right up her street but she was very nervous so I offered to run it with her and be there as a pacer and support her through it. We set off from the boat house at 9am and knew the Black Rabbit was our first point to get to. As we came into Arundel a random person cheered us on to which I jokingly said oh my fans are here we then turned the corner to find all the regular Saturday Morning Tuffs sitting outside the cafe to which I got a massive cheer from, this really made me laugh because a couple of women who were running beside us couldn't believe it and I heard them say omg he's not wrong he has got a lot of fans which did make us laugh; so thanks Tuffs. "
"We arrived at the black rabbit at the 1 hour mark and just as I was ramming jelly babies into my mouth I got caught by the wife Shelley Babbage who had come to cheers us on with our Daughter, which was nice , as I didn't know they were coming. We soon set off back up the river which was really nice as the packs of people had started to space out . We got to Amberley where we met the hills; quite a few of them. We arrived at the halfway point at 2.5 hours, refuelled, and set off back to Littlehampton. The pace had started to slow down now as my sister in law started to struggle this was now getting to be the longest run and longest time she had been on her feet. We arrived back at the black rabbit at the 4 .25 hr mark. I honestly thought she was done and we were not going to finish, but we decided to carry on. The pace had dropped right down, but through a mix of jogging and walking we arrived back at the boat house and finished at 5.45. We had a huge welcome back and a fry up waiting which was washed down with a pint of cold cider mmm. Really good event can't wait to run another of Sussex Trail's events."
Jon
BRITISH AIRWAY'S RUN GATWICK
British Airway's Run Gatwick comprised a Half Marathon, 5k and family Run. Paul Martin was in attendance and three club members running the Half. Rachel Brunning was present notching up her 44th half Marathon. Shelley and Jon Babbage also ran, but with the River Arun Marathon on the Saturday; Jon Babbage continues his story of 'doing the double' on Sunday
"Up nice and early for the Gatwick half we left home at 7.00 got the car Parked in Crawley and walked into the race village for 8.10. Shelley and I had a wander round the village to see what's going on. Bumped into Paul Martin who was doing the 5k with his son. Following a quick visit to the bag drop and toilets it was time to get into our pens. I started just behind the 1.45 pacer and Shelley started with the 2.30 pacer. We set off and I kept saying to myself just go steady, but as soon as the gun went off I found myself running at 7 mins per mile and just kept going. 13 miles later I crossed the line at 1.31.39 which was less than 2 mins away from a pb. I Quickly got all the usual bits given to me and collected our bag then made my way to the finish line to cheer Shelley on she crossed the line at 2.15.10 massive well done to Shelley on completing her first half marathon."
"Gatwick was a fantastic event so much going on really nice route on closed roads nice and flat with 1 hill. We really enjoyed our morning out together we've already booked it for next year 👍"
Jon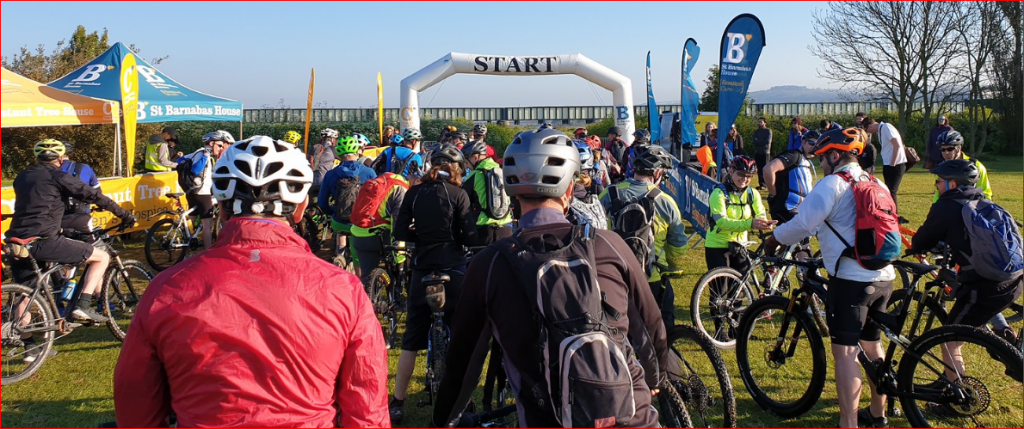 HIT THE DOWNS MTB SPORTIVE
This annual MTB Sportive is to raise money for Chestnut Tree House. Starting from the Adur Recreation Ground by Shoreham Bridge the route took riders up onto the Downs for a choice of a 30km route or 60km course. There were five Tuffs riding all of whom choose the longer distance. These were Gavin Sewell, Tiff Orton, Jon Roper, Nikki Gatland and Ade Willard. The organisers stated "Did you know, studies have shown that riding a bicycle everyday makes you more awesome than the general population" we reckon this is something Tuffs already knew. Our first report is from Gavin Sewell:-
"This weekend was supposed to be a big training weekend with Outlaw only a couple of months away. The plan was to run the Arun River Marathon on the Saturday then ride Hit the Downs on the Sunday. Unfortunately, I came down with a bad case of man flu and it completely wiped me out the week before. So, after listening to my wife (who was right, ssshhh) I reluctantly decided to pull out of the marathon but do the ride.
It was a beautiful morning and was really looking forward to it. Got to registration and Ade Willard in the car parking prepping his bike and himself. In the queue I saw a glint of Tuff Fitty shirt and Jon and Tiff were registering. They pretty much live on their MTBs so wasn't surprised.
Nice easy start to the ride along the river over the bridge and going through the Botolphs to head towards Chanctonbury. As I hit the road Matt Whittaker, Andrew Ward and a few others came speeding by on their weekly Sunday ride. Tuffs were all over place training.
The ride wasn't quite as good as last years route but still tough, coming in at 40miles and 4000ft of climbing. As the day went on it got hotter and made the hills harder. But when crossing the line it was straight to the beer bar and time to relax. Managed to hook up with Tiff, Jon and Ade after for a swift one. Great ride, well organised and supported and for a great cause, will be back next year."
Gav
Then we have Tiff's thoughts on the ride:-
"A rather chilly start along the river in Shoreham and then on up onto The Downs. Those of you who know me will appreciate I rarely actually know where I am off road lol but it turns out we had done much of the course before. A great event raising money for local charities St Barnabas and Chestnut Tree House. Rewarded at the end with a burger and a pint a 40 mile off road ride in the bag."
Tiff
A few pic's for the Tuff album as follows:-
<
>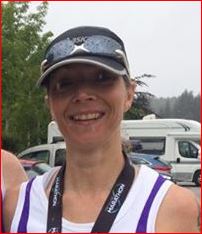 FUN RUN LEAGUE – PORTSLADE HEDGEHOPPER 5
Race number 3 in this year's West Sussex Fun Run League race. The start is probably better known to car drivers as just South of the Southwick Hill Tunnel on the A27. From here the course went up to the South Downs Way and across almost to Devil's Dyke. Just one club member racing here – Well done to Linda Wright who scored a great 8 points for her running club.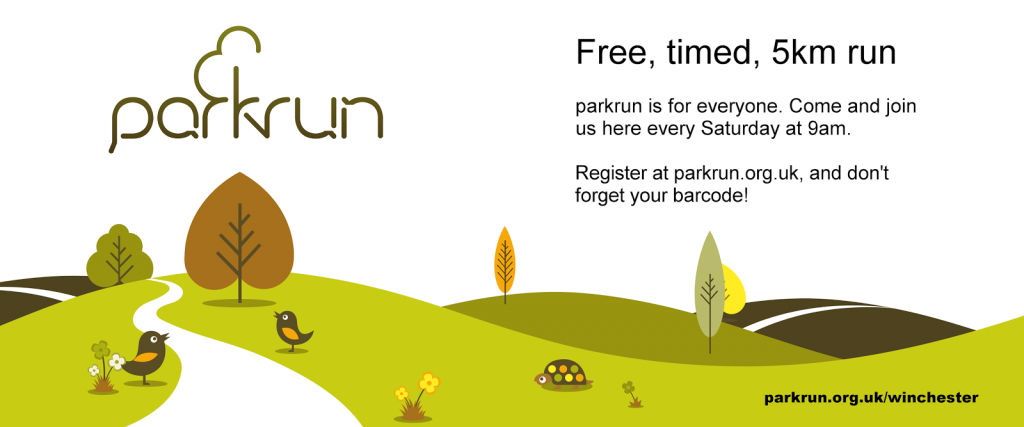 PARK RUN
At Littlehampton Park Run we had :- Adrian Oliver, in a new PB shaving just over a minute off his time in 23:19. Steve Bridgeman was next, & not to be outdone, Jane Bridgeman started her Park Run career with her first, crossing as 7th female overall. Next it was another PB as Shelley Babbage knocked 23 seconds off her previous PB. Jenny Oliver also joined in the PB smashing taking 51 seconds off her previous PB.
At Worthing Park Run, James Togneri continues his run of form; first Tuff home just three seconds off his PB. Paul Howie was next, matching his PB to the second. Amanda de Ridder was next home as 11th female, and then Chris Sloggett. Tim Kenny was next clocking up his 61st Park Run, and Elaine Rousseau completed the Tuff squad
Up at Horsham Park Run, Ian & Leigh Moore both ran.