Arundel's 9 Hills of Death
Simone Scott reports in from a different take on a Tuff Saturday morning run
Saturday 3rd December saw the inaugural staging of the eagerly-awaited Arundel '9 Hills of Death'.  With a history dating back centuries (according to Graham and Andy at least), an intrepid TEN brave souls eschewed the lure of cross country in Stanmer Park to follow in the footsteps of legends.
And so it was that chief bard and 'International Horse Vet' Andy led fellow gluttons for punishment Graham, Stew, Gavin, Nicole P-L, Clive P-L, Steve, Tom and Sim, along with 'visiting for the weekend and fancy a little jog' Greg and Max the spaniel off in to the unknown.  A muddy drag up Hill of Death number one came soon enough, where we congregated in anticipation for the first ode of the day from IHV, followed by HoD loyalty card stamping from Graham.  So far so good.
A fair stretch to hill number two left us questioning the accuracy of IHV's 'ten or so' mile course measurement.  The next couple of hills continued to pass slowly and by hill four the HoD had claimed its first victim.  The already seven-mile route more than constituted a 'little jog', with Greg wisely opting to take a detour back to the café.  Further fatalities ensued at hill seven; the first being Clive's sense of humour, along with it his shrapnel-wounded body, Nicole, Stew, and a weary Graham.  A fear of missing out on further linguistic wonder left IHV plus four to battle it out.  Reaching the foot of hill eight, the poem invited us to 'run it three times'…Sim politely declined the treble, but did complete the entire course (despite a delirious, yet thankfully temporary moment of going 'missing in action' at the end of hill nine).
One by one we trudged in to Arundel, which, by this time was bustling with fresh-faced 'Arundel by Candlelight' visitors who ran for cover at the sight of five muddy, sweaty, spittle-faced Tuffs.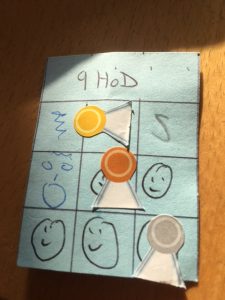 All that running and you collected this swish hill loyalty card
Thanks to Andy and Graham for organising a brilliant morning of great company, scenic routes and highbrow commentary.  Just make sure you get a full morning pass-out if you fancy it next time… oh, and you may also wish to bring emergency supplies…and be prepared to run fifteen (yes, fifteen) miles.
Sim x