Weekend Round Up 12th 13th August
Whilst in the middle of the holiday season, it didn't deter a good showing of Tuff colours out as follows:-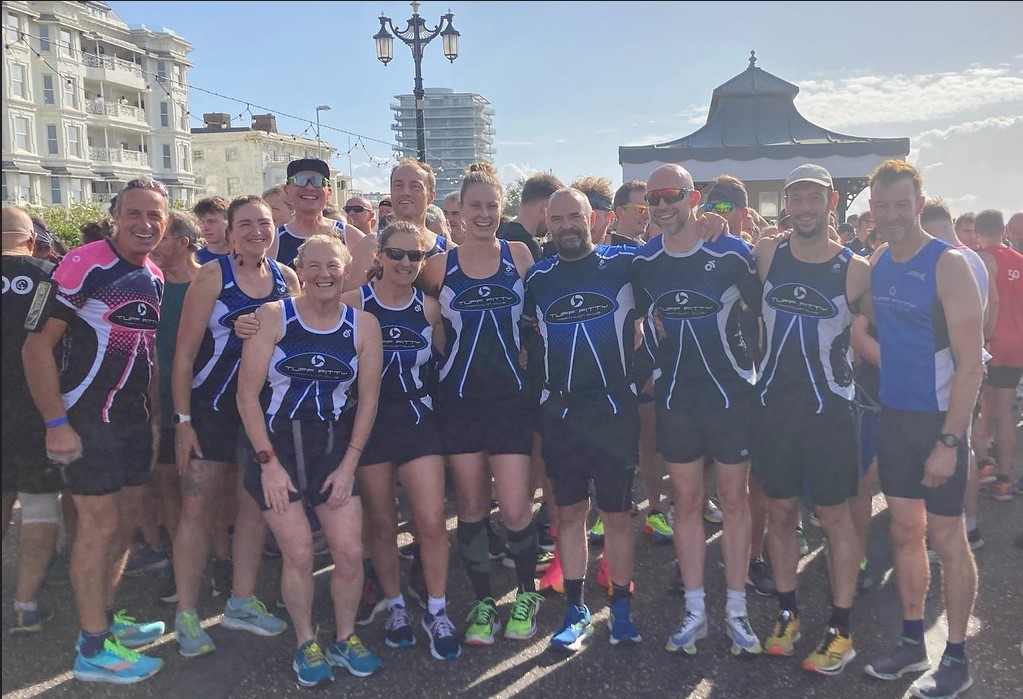 WORTHING PARK RUN
Tuff Fitty schedule its summer run series; STRUN, to encourage our runners out and Worthing parkrun was event number four in the series. As a club targeted race there was a great turnout of Tuff vests; was it a co-incidence that this Saturday was the largest competitor numbers on Worthing seafront since the beginning of June?. Unusually there was some warm weather, albeit with some breeze as an incredible 24 Tuffs formed up at Splashpoint.
There were some super results starting with Mark Walford who crossed the line 9th overall in just 18:41. Simon Thistlethwaite was also running well to finish in 19:33. Steve Fryer was at the sharp end of the results attaining 20:29 in 24th position. Simon Grundy finished just 15 seconds behind in 30th. Just 10 seconds later saw the start of a 'Tuff surge' with Tom Frith, Phil Scales and Dom Amey finishing within 6 seconds of each other to come home under 21 minutes. The scintillating times continued with Dave March next across the line, 8 Tuffs in the top forty.
There was a dead heat from Katie Young (who achieved the best Tuff age grade score) and Adrian Oliver, both accredited the same time and just one second behind came Steve Feest. Mark Sole continues his strong season, with Clare Worgan close behind, not far off her PB. Then there was a further 'Tuft of Fitties' with Graham Liddell, Will King and Colin Simpson finishing close together.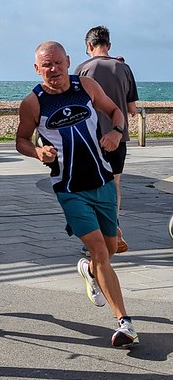 200th parkrun Les
It was a brilliant piece of planning to target Worthing this week as Les Pearce crossed the line to chalk up his 200th parkrun appearance – 191 of these were achieved at Worthing – an impressive record. Ed Lay was next having run 107 Worthing parkruns. Wendy Frost, Janet Shepherd, Sue Simpson, Nina Tully, & Elaine Rousseau almost completed the Tuff contingent. Thanks to Sue Pinky who ran, but also as a cani entry with her dog Kylo, plus she also took many of the photos en route below (contributions from Adrian and Clare as well).
The latest STRUN league table is shown HERE, which is calculated on age grading to ensure a level playing field depending on age and gender. The final fixture is the Arundel 10k on Sunday 27th August
The photo album is below, please click on the image to open the pictures.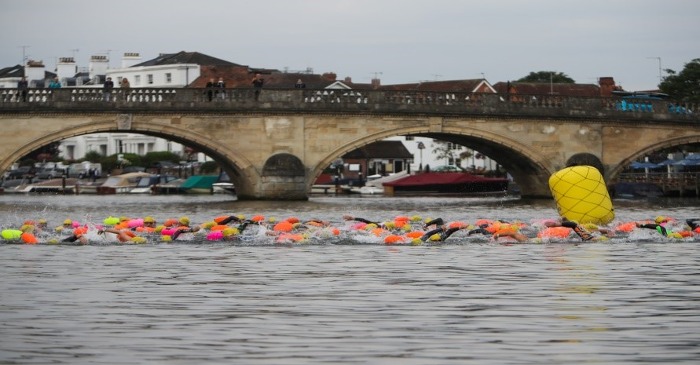 THAMES MARATHON SWIM
The Thames marathon Swim is a Long-distance swimming marathon from Henley-on-Thames to Marlow over a choice of marathon 13k or half distance at 5.5k. The organises state the distances are likely to be variable depending on how well swimmers navigate the current and take the bends in the river. Well one person who did well with her navigation was Susan Douglas who has reported in below:-
"I wasn't really thinking of doing this swim, but a couple of weeks ago I got a chance of a place, so why not.
Super early start to get to Marlow by about 6.30am. The swim village was already a hive of activity with around 500 swimmers arriving.
The swim is split into 10 waves, starting with the slowest and the other waves leaving at 5 minute intervals. I was in wave 5, but first to the bus which would take us to the start in Henley on Thames.
Off the bus and more or less straight into the river and we were off. Swimming along there wasn't an awful lot to look at and it crossed my mind that this might be a bit of a boring swim. To liven things up I got on the toes of a passing swimmer, now this was a bit more fun and I was whizzing along. Eventually they went on a weird trajectory that I didn't want to follow, so I latched on to another unsuspecting swimmer and before long we were reaching the end of the first 4k leg and two muscly gentleman took my hands and hauled me out. First feed station and a short walk to the next entry to the water, where there was a queue! Fortunately throughout the swim skins swimmers had priority so we proceeded to what was a rope down a slippery muddy bank.
In to the water, with a very muddy bottom ,for the 2nd and longest leg (5k). The current was flowing well and I felt like I was swimming at almost Olympic speed, flashing past a Canada Geese and viewing some mind boggling riverside mansions. Out again, by ladder this time, more snacks, then on to the shortest leg 1.5k. All over in a flash we were soon in sight of the exit, but had to wait for boats to go past, then quickly across, up another ladder and walk to final leg.
Only 2.5k to go and the sun was nearly shining. Now the highest concentration of swimmers as we caught up with the slower waves. Feeling slightly weary I took it easy, another wait for boats to pass and we were finally allowed to cross the river and exit the water to a waiting photographer and Macmillan volunteers who plonked a medal round my neck!
So all well, not cold and not too knackered (that happened later!). A very well organised swim and great atmosphere.
Thanks as ever to the Tuff Fitty Swim Coaches and my lane two swim buddies who don't let me get too slack with my training.
Susan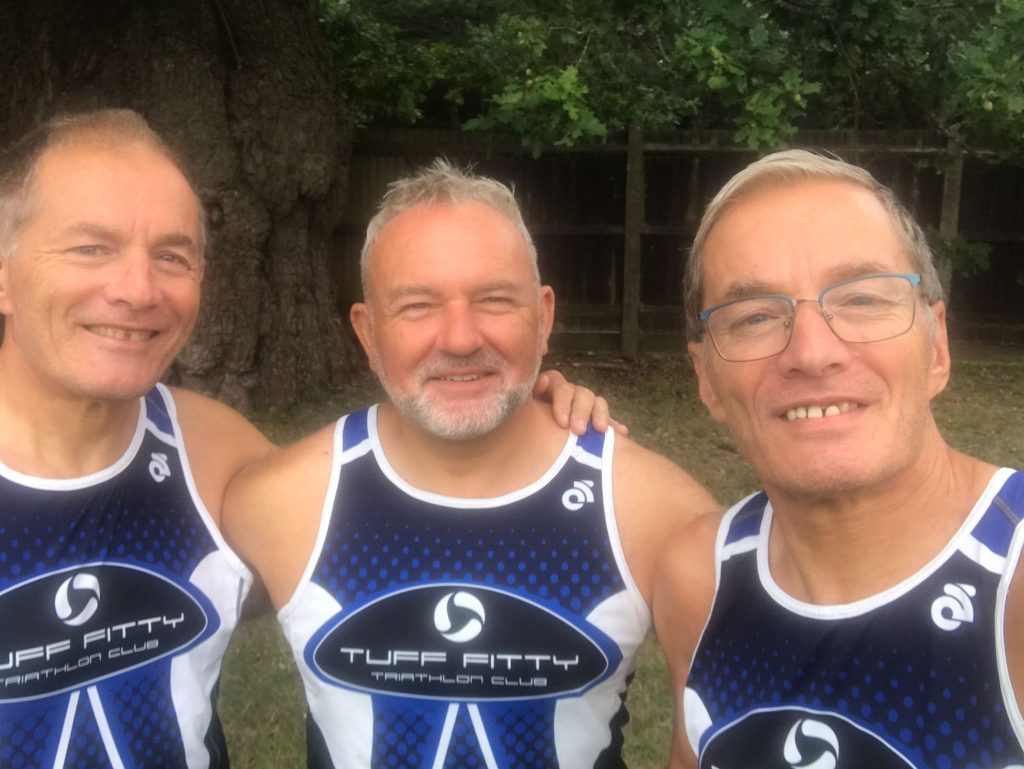 Clive, Glenn & Trev
BURNHAM BEECHES HALF MARATHON
Burnham Beeches is a site of special scientific interest with a national nature reserve partly owned by the Corporation of London. It also serves as a very scenic setting for a race round closed roads and hard surfaced woodlands paths in Buckinghamshire. As local to Trevor Harvey who has raced here several times, he was joined this year by Glenn Parisi and Clive Harvey for the weekend, all sneaking a parkrun in the day before. The race was undulating around the two lap course with an option of one lap for a 10k race. A long established race, this year was the 42nd staging of the event with over 600 finishers. Glenn was first Tuff home followed by Clive and Trevor as they received a race mug as a memento and packets of crisps.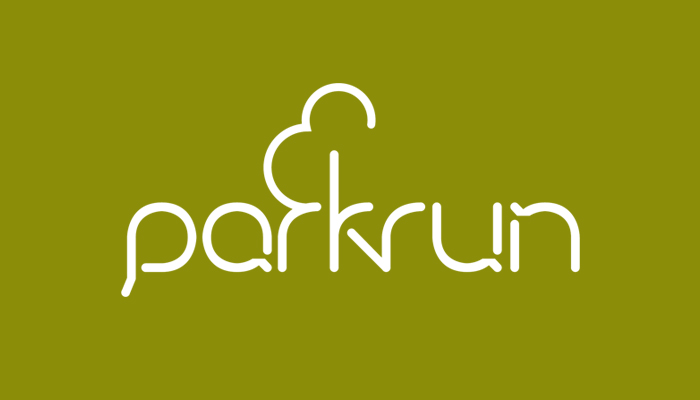 PARKRUN ROUND UP
Clearly the emphasis on parkrun this week was across at Worthing parkrun as part of Tuff Fitty's STRUN – summer run series. There is a separate report on that above, to acknowledge our super Tuff Twenty Four but other Tuffs were noted as follows:-
Littlehampton parkrun was not devoid of Tuff racers as Oliver Thomas put in a strong run.
Across at Bognor parkrun it was good to see Nathan Bilham back in action as he completed in 23:29. Next Jason Rae at his home parkrun and then Alistair Evans with this trio all well in excess of 100 parkruns each.
Parkrun tourism occurred up at Upton Court parkrun, a a large park outside Slough. Glenn Parisi, Clive Harvey & Trevor Harvey completed this two lap course as a warm up for their next morning's Half Marathon
Well done to all thirty one.