Weekend Round Up 21st 22nd July
This week our club had 'Ten Tuff's in Tenby' for a double medal weekend of Run & swim events. The report for that adventure receives a separate post, but that still left 14 racing across two Triathlons and runs as follows:-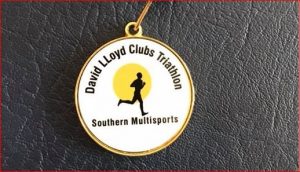 DAVID LLOYD TRIATHLON
Organised by our very own Jason Rae, this local Triathlon at West Worthing comprised a Super sprint of 200m swim, 12.5k cycle, 2.8k run and a Sprint of 400m swim, 24k cycle, 5.7k run.
In the Sprint race there were 9 Tuffs competing.  Chris Robinson took the fastest Tuff swim split, then cycling a loop before an out and back route over Long Furlong to Findon. Tony Morgan had the fastest Tuff bike split and a seriously impressive T2 of just 9 seconds to finish 10th overall and first Tuff home.  Chris finished 11th just 27 seconds behind. Ben Abbott made it three in a row as he finished 12th. Unfortunately someone else broke the long line of Tuffs crossing the line but Alex Webb got things back on track with the fastest Tuff run split finishing in 14th place and 30 seconds behind him in 15th place was Paul Atkinson.  Living literally just down the road Paul Martin was also racing and he finished in 25th position.  Tony Pearce was 30th & Roy Barraclough 31st.   Despite just starting out on his multisport adventure, Tim McGrath acquitted himself well with 35th.
All competitors got a goody bag and gave great reviews about the event so well done to Jason at Southern Multisport.
There was also a Super Sprint race and there was a Trio of Tuffs – who take pride of place on the above banner shot; from left to right: Catharine Western; Cathy Oliver & Katie Goddard. We can do no better than pass over to Catharine to pick up the story:-
"Cathy and Katie signed up for their post-baby comeback at the David Lloyd Super sprint triathlon and, in a moment of weakness, I decided to join them…
The first shock came with the race instruction email which had me listed as doing the longer sprint course! A panicked email to Jason confirmed that it was an admin error, phew!
There was a good Tuff turnout at the race, with most opting for the sprint event. Following many frantic messages between the mums about logistics – babies seriously complicate race preparations! – we managed to arrive and set up in plenty of time, leaving babies in daddy day care…thanks to 2 x Tom and Antony for the baby holding and support.
The swim start was nice and relaxed with plenty of space between competitors. After a few lengths I'd just about remembered how to swim and slogged my way through the 200m and made a very undignified exit from the pool! The run to T1 felt pretty good and my confidence was temporarily boosted…until I got on the bike! It was good to be back in the saddle but sadly my legs didn't agree with me. Katie came storming past me and disappeared into the distance looking very strong. At least I didn't make the mistake of the poor chap in front of me who missed the turnoff and was last seen heading down the A27 towards Arundel! Just the run to go…up Highdown! The outward leg was conducted at a crawl to the turnaround point where I had a brief chat with a gorilla. No, I hadn't started hallucinating, there was actually someone racing in a gorilla suit! And finally downhill to the finish!
It felt great to be back in the tri suit and was a really good race to make our comeback. The lengths that we'll go to to have a break from the babies 😉 Next stop, the Tuff mums comeback trail continues at Southwater relays!"
Catharine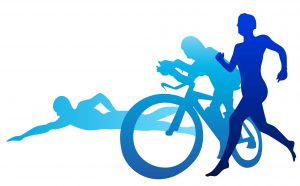 BOGNOR TRIATHLON
Last year this sprint Sea Triathlon was truncated to a Duathlon due to stormy seas, but there was no such issue this year, particularly as it was staged earlier.  A small field and just a pair of Tuffs but it was most definitely a case of quality over quantity from Drew Gowland and James Togneri. Both stated their intent from the off. Drew (as we have come to expect) was first out of the water by a minute. (10:28 for 750m) James is also a great swimmer and was 6th quickest running up the beach. It was then out onto the 25km bike course where Drew also achieved the quickest bike split. The 5k saw both finishing their runs close together just over 21 minutes. Drew couldn't quite hold off a quick runner but second overall coming straight off the back of the Worlds was a great result, and James crossed the line as 10th overall – two impressive results – congratulations.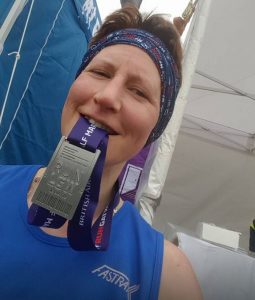 CATERHAM HALF MARATHON
Rachel Brunning reports in from the Caterham Half Marathon which took place around Redhill Aerodrome as she strives towards her goal of 50 half marathons:-
'Half 30 of 50. I'm not good with numbers but that's definitely over half way' Lovely marshals and a fab medal with a little sports car!! Local runners looked most sympathetic when I asked if it were flat and warned of 'ascents' but not sure Caterham's ideas of ascents would be a Tuff's…flat as a pancake!! So possibly a good fast course but I really do NOT recommend the race if you want, err, FUN. All roads, none closed, all busy, no warning signs for traffic, and all the runners were made to run on the left. So, overall, 'nice medal, glad I didn't die'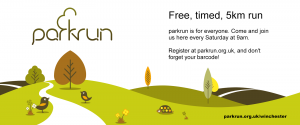 PARK RUN 
There was no Bognor Park Run in Hotham Park this weekend. However Worthing Park Run attracted seven Tuffs. James Oram  (20:40) & Elaine Rousseau represented their running clubs and first blue vest home was Antony Oliver in 22:10. How about Olly Sampson; having geared up, and achieved, a superb long course time recently, here he was punching out a Park Run PB in 22:21. Amanda de Ridder, Tim Kenny  and Cathy Oliver (before her tri the next day) completed the Tuff participants. This still left a Tuff duo up at Bushey Park Run; Andy Strong & Kirsty Keith– well done to all
Please keep the news items flowing – email clive.harvey@tinyworld.co.uk – thank you