Weekend Round Up 14th 15th July
Once again, Tuffs have been racing at home and abroad at a variety of events. We start off by congratulating Drew Gowland.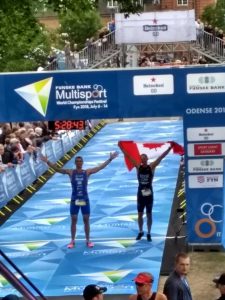 ITU WORLD AQUABIKE CHAMPIONSHIPS
Top billing this week goes to Drew Gowland for his stunning achievement at the ITU World Aquabike Championships held in Odense in Denmark.  Drew is to file his thoughts from the event in a separate report, so we will keep the photos for that. For now we couldn't pass off the opportunity to congratulate him.  4th overall in Age Group,  14th overall in the world (out of 199 males and 3rd Brit to cross the line).  Awesome work Drew, we are proud of you and look forward to reading all about it. Not only was this a great achievement but it automatically qualifies him for next year's world's being held in Spain.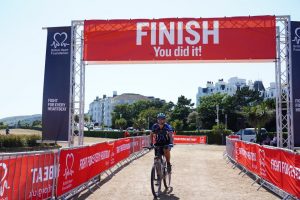 BRITISH HEART FOUNDATION 100
Last year James Oram  set himself the challenge of completing the London Ultra Duathlon, Edinburgh Marathon and now the BHF 100m mountain bike ride along the South Downs way from Winchester to Eastbourne. Running alongside the events he has been raising money for  British Heart Foundation, so please feel able to donate: – James takes up the tale with the banner photo of him riding towards the dawn.
"It was 3am and the alarm went off – what the hell am I doing attempting to cycle 100 miles on the SDW I thought? "You have a screw loose". Roads were eerily quiet on the way to Winchester – with the reflection of the headlights in the fog. I accidentally killed a rabbit and felt bad
After a brief enthusiastic briefing we were off into the fog with lights on. As we climbed above the fog out of Winchester – the sun started to melt the fog to reveal miles of countryside amid the sound of birdsong – one of the most stunning sights I have ever seen in the UK. This is why I bothered to get up at 3am! Plus I was raising money for BHF of course!
I had never cycled more than 60 miles before and that had been on a road bike – thus my logic was to be a tad cautious towards the beginning. As the ride went on I grew in confidence – I can do this. Then I saw fellow Tuff Gavin Sewell who gave some nice support and then informed me about Amberley Mount. I climbed about half way up clipped in then toppled over like a fainting goat – only to be helped up by a fellow rider who empathised with my compromised situation. I was beaten so walked the rest.
I was now at Chanctonbury- my favourite place to run locally so that felt good – all felt relatively easy for a while until I reached Beeding Hill on the way up to Truleigh- what a b**** that is after you have done 50+ miles. As the miles rolled on I reached Devils Dyke to be cheered on by some of my students who were completing their Duke of Edinburgh award – this gave me the boost I needed to tackle Ditchling Beacon.
70 miles done, 30 to go. The temperature was increasing in the midday heat – suncream felt like it was evaporating, I was drinking a lot of water – I was feeling it. Keep going… a bag of crisps and some tailwind later and I was ready for the last bit. Very much undulating with a few false flats but not too bad. The decent into Eastbourne was a great feeling. 100 miles done in just under 11 hours with stops. I was greeted at the finish with bling and they even washed my bike! Nice!"
James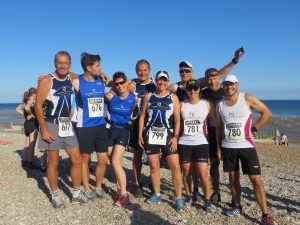 BEAT THE TIDE 10k
With England not in the World Cup Final and warm weather this years Beat The Tide attracted a strong entry, as Clive Harvey reports:-
"I like this event and have competed every year it has been staged – and conditions are never the same. However on heading over to Worthing on the Sunday evening, I felt a new title "Beat the Tiredness" might be more appropriate as (for me) I had achieved a good weekend's training beforehand. I know other Tuffs felt the same way and could tick some or all of these as weekend activities: Saturday Run, Saturday Pool, Beer, Sunday Bike & Sunday Sea Swim.
I was keen to enter as it is great to show support to our very own Chris, Danny & Jay at Sussex Trail Events who organise great races, but also anyone who knows me would not expect me to miss out on a nice bit of bling – of course not. See below:-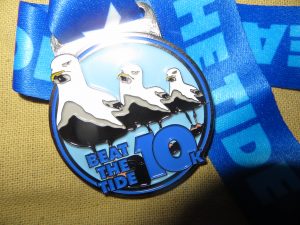 It was a strong Tuff turnout With Stuart Harvey first Tuff home followed by Jon Roper & Roy Barraclough. Good work from Ian Moore, Tiff Orton, Clive Harvey, Trev Harvey, Leigh Moore, Rachel Brunning, Mark Pickett &  Verity Jane Lacey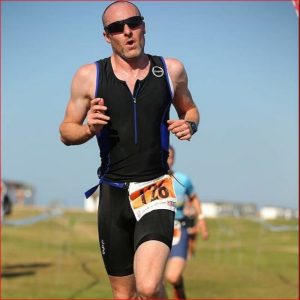 WORTHING TRIATHLON
It was good to receive a race report from Alex Webb to give his views of the recent Worthing Triathlon as follows:-
"This being only my second ever triathlon I opted for the Sprint distance – mainly because I didn't fancy a 1.5k sea swim!  I awoke very early (do they always have to start so early?!) and headed down to Transition.  It was such a lovely day that once I was set-up I sat on the bank to watch the comings and goings, and to steady the nerves.
I was perhaps a bit too relaxed because I missed half the briefing!  Before I knew it, we were all lined up in the holding pen, sweating in our wet-suits waiting for the call.  The swim is by far my weakest of the three disciplines (I have only been swimming front crawl for just under a year) so I was very grateful for the calm sea.  Once I was in and swimming though I actually quite enjoyed it!  I was never going to be quick and I was one of the last out of the water in my wave, but I had got through it.
My first transition was a bit panicky.  So much so that I initially put my cycling shoes on before I had taken my wetsuit fully off! (haha). Thankfully I calmed down once I was on the bike.  The climb up Long Furlong was hot and hard, but before I knew it I was round the Findon roundabout and flying down the hill back into Worthing.
My T2 was pretty quick and then I was on the home straight.  It was very very hot by this point and I was pleased I was only doing 5km.   The final kilometre hurt like hell but it was great to see my wife and kids on the finish line cheering me on.
Second one down and many more to come, I hope."
Alex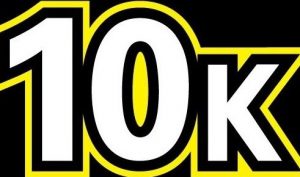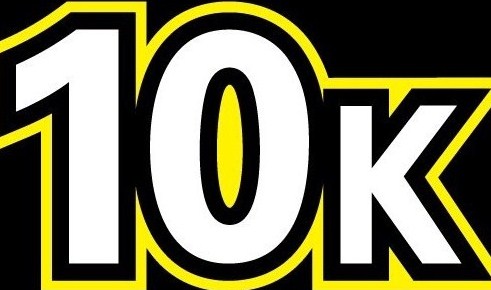 BRIGHTON PHOENIX 10k
On the night of the World Cup semi final (which didn't come home) the Brighton Phoenix 10k took place.  A TV was set up at the start but the number of participants still dropped by 40% and the race had to be rerouted to miss the half time congestion from the seafront bars. All this did not deter Phil Baker who raced. Phil completed the course in 42:25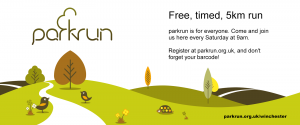 PARK RUN 
Just Tuffs spotted at Worthing Park Run – this week. Danny Cunnett was first club member home in a swift 20:09. Roy Barraclough was next. Also running were Cathy Oliver, Daisy Bashford & Elaine Rousseau – well done to all five
Please keep the race reports coming- email them to clive.harvey@tinyworld.co.uk