Weekend Round Up 10th 11th June
Despite being the hottest weekend of the year so far that didn't stop Tuffs competing at 3 significant Triathlons, runs and swims in another bumper Round Up.
EASTBOURNE TRIATHLON
Eastbourne Tri secured Triathlon England's race of the year and once again held Sprint, Standard, Relays, Aquathlons, Duathlons and junior races, so a packed weekend. There was an added lure for competitors as the Standard was a European Championship Qualifier for 2024.
We had two participants in the Sprint race which was first off and fantastic to report two super results. Mark Walford, so soon after competing at Madrid, raced home 10th overall. Significantly Mark was 1st in his age group, notoriously one of the most keenly fought groupings. It is pleasing to report that Carey Woods also saw success as she finished gaining 3rd in her age group with a time quicker than last year. Congratulations to them both.
Next the Standard distance, whilst no one will be surprised to learn it was double the sprint distance – it took in Beach Head twice; so 2,000ft of ascent to conquer! James Mapley was first Tuff home, and whilst he modestly stated he wilted in the heat on the second part of the run, still finished in a good time in a very competitive field. Jon Cassell was our next Tuff, with a super quick swim split. Next home, Tom Goddard who flew through both transitions and then Phil Scales who used his strong running to move up the results sheet. There were over 400 finishers which illustrates how well Liane Davids raced as she finished fourth in her age group. Handily placed into T2 after swim and bike, Liane's run was the quickest in her age group which makes qualification for the Euro's pretty much a certainty. Janet Shepherd finished 2nd in her age grouping and she has reported in with her thoughts of the race. Well done to all six, and thanks to Barry Davids who was chief supporter and photographer on the day with his Eastbourne snaps below. Mark & Janet's reports follow:_
"Last year I signed up to Eastbourne triathlon on the day of last year's race. Always one for a bargain it was reduced rate and I enjoy the event so much I couldn't see anything keeping me away. Little did I know the week before I would have raced harder than ever before. But I still wouldn't stay away"
"Ritual early start, check in all easy, only minor issue no elastic bands, so run in bike shoes for me. Say hello to a few Tuffs before, more people doing the standard distance due to it being a qualifier so they had a bit more of a lay in than me. This year a mass wave start in the water, on my way down I figured it had been 10 days since I last swam, so thought I would just see how it went, and to my surprise it felt OK, apart from strong current slightly miss judged I came out feeling good.
A long transition was a chance for me to gain on those in front, smooth transition made better by a whole bunch of Tuffs cheering me on. Straight onto a incline into Beachy Head, wasn't easy but having a few people in front of me to slowly pick off. At the half way point, to my surprise no one had passed me and I was counting back people in opposite direction. I thought I was in top 25. Downhill was nice and having done the route before I was more comfortable descending than the previous year. Quick transition, and into my happy place running, well it usually is, but today this was going to be a slog! Incline for 1km, I was a lot higher in position than previously thought. I caught a few people but was really clinging in for final 2km. Crossing the line I was shocked to find I was top 10 and won my age group. A bit broken I sat down and cheered others in. Great to see some of the standard event after, but the idea of doing all of what I did twice, made me grateful I mainly do sprints"
Mark
"Well, I took part in the Eastbourne Triathlon on Sunday and the good news is that, amazingly, I came second in my F665-69 age group! Less positive news is that my total time was 3.50 and way behind the first in; so not a European qualifying place".
Some lessons learnt:
It was hugely beneficial to have watched the relay swim on Saturday when registering and seen the need to take account of the current when heading out towards the end of the pier and coming into the finish.
My first transition was incredibly slow. I should have attended the Tuff Fitty training, although applying sunscreen to my shoulders resulted in me being less burnt that others I saw.
Keenly follow the 2nd lap signage so that you don't end up running more than 10km.
Remember to hand in your timing chip at the end rather than finding it when you go to shower later!
When you feel like giving up on a hot run, thinking you are way behind others, keep on doing run/walk and get to the finish.
The initial results had me down in third place, but the woman who was first had a 31 minute 10km run time and was later found to have not complete the 2nd lap. They didn't do a podium presentation for my age group because of some uncertainties so I'm afraid I don't have a 2nd podium photo, but they are going to post my trophy to me.
Janet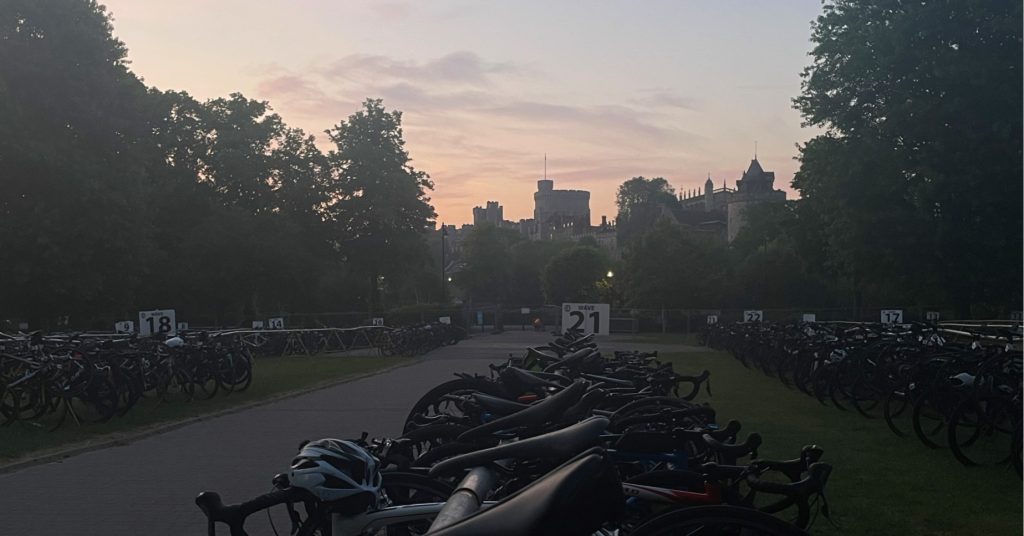 Transition as dawn breaks – first swimmers into the Thames at 6am
WINDSOR TRIATHLON
This year was the 31st staging of Windsor Triathlon where a choice of sprint and standard (and relay) meant there were 1,560 finishers but unfortunately a large number of DNF's. The high temperature might have played a part as Windsor was the epicentre of the recent heatwave at 32 degrees whilst racking on the Saturday and rising to the same level on race day. There were four Tuff competitors – Tiff Orton, whose report is below. She has subsequently learnt she receives a voucher for coming third in her age group. Then in a very packed wave for the swim, the 55 age and older males had to swim together which included Clive Harvey, Trevor Harvey & Jon Roper.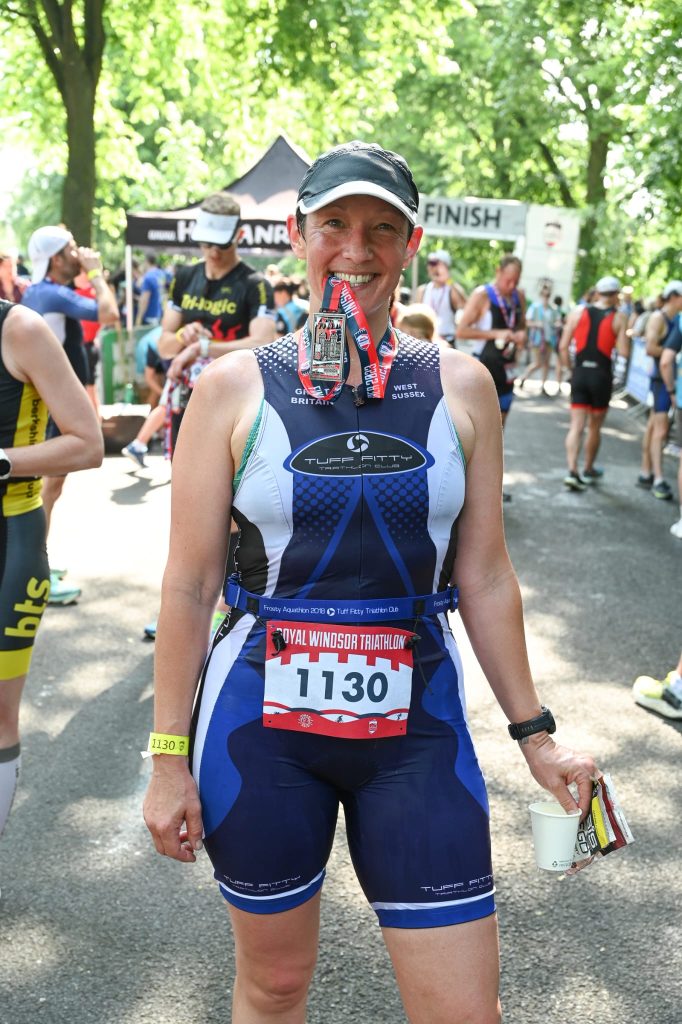 "Not that we needed an excuse to go visit and stay with Trev, we (Jon, Clive and spectator Gommy) entered Windsor triathlon. Again! Still one of my fave races.
Plan was to try and beat last year's time of 3:01 and boom smashed it with 2:50, very chuffed indeed. Was also first Tuff home 😁
Weather was hot hot hot. Swim was lovely with the current for approx 1000m then turned at the buoy and last 500m was very much against the current!! Out for what feels like the longest transition to get the bike followed by another long transition run to the mount line. Bike course was lush though still had to keep an eye out for those pesky potholes! Managed to put the hammer down to get nearly 20 mile/hr average so very happy (maybe forgetting I had a 10k run to do!). Run was 3 laps up the hill past the castle and into Windsor Great Park. Slightly undulating and in scorching sunshine it was hot. I walked only a couple of times to douse myself in water! Job well done by all.
Tradition dictates we visit ice cream corner after the race, for a double scoop obviously, we are athletes after all.
Big thanks to Trev for hosting and Gommy for spectating 🤩 who's up for 2024 coz I definitely am!!
Tiff
"Well; off we went again – Clive & my 25th consecutive Windsor Tri completion last weekend over the Olympic distance, (a trend ably assisted by my free entry for life which I won back in 2015).
Superb weather, apparently 19.9 degrees in the water, but that of course led to a warm cycle out through the countryside and Windsor Great Park and an extremely hot run, a three lapper up Castle Hill and along the Long Walk, which is undulating!!. It wasn't helped when for the swim, Jon, Clive and I plus another 100 + in our wave, all rubbered up, had to wait 20 mins, whilst the safety boats rescued a drowning man drifting down the middle of the Thames – (not connected to the Triathlon). He was so lucky the tri was staged that early on the Sunday as he lapsed into unconsciousness as he was dragged into the boat. (Proof you always need an open water swim buddy).
Always a good event, well marshalled, although the barking early starts never seem to get any easier, but that doesn't detract from a great weekend, (& quicker than last year too, so not bad for us old gits).
Trev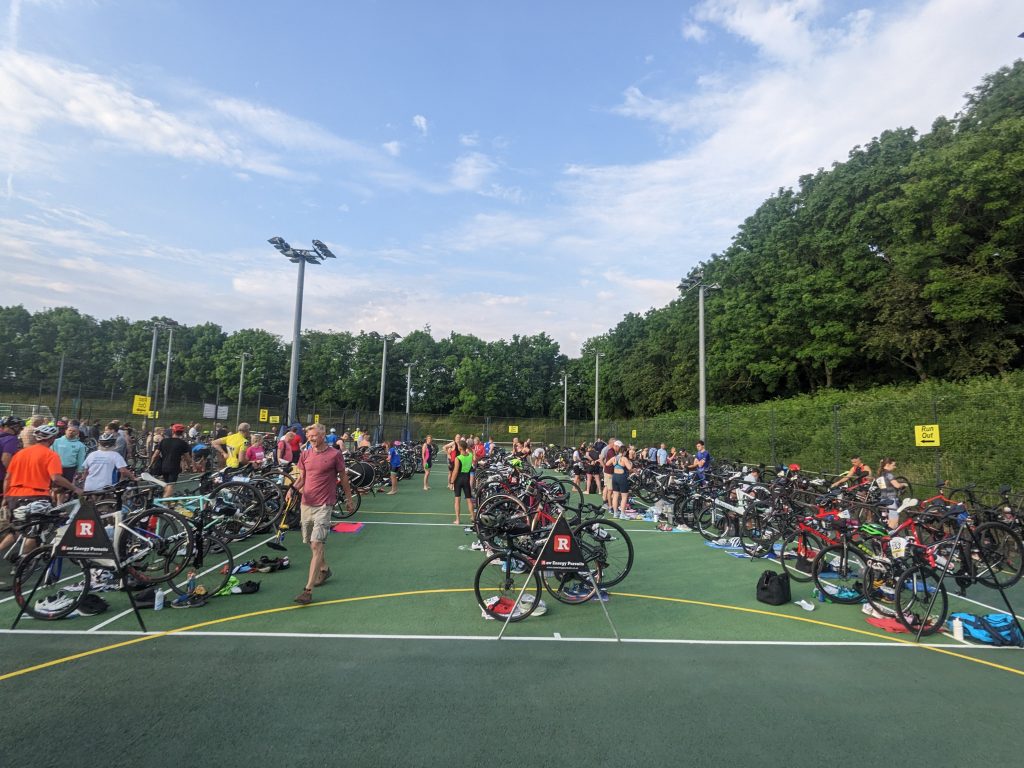 MID SUSSEX TRIATHLON
Mid Sussex Tri is a very well organised Sprint Tri centred on The Triangle complex in Burgess Hill. With a snake swim start it gets competitors out on the course quickly with a choice of of Sprint and Aquabike and this year a Try-a Tri. Despite a busy weekend there was a very strong Tuff turnout. First Tuff home AND first overall, congratulations to Dominic Chapman. It was an impressive performance; first on the bike by over 1.25 minutes, third quickest on the run and similar for the swim it meant Dom's margin of victory was just under three minutes. There was an equally impressive result from Alex Webb, 7th overall and not far off 5th position. Alex has kindly written in (report below) but being the modest man he is, it falls to the editor to point out he was 2nd in the Vet category – brilliant. More Tuffs and more great results as Les Pearce secured 3rd position in his age group. Great to see Olly Sampson continue on the comeback trail and next Alistair Evans who has also reported in below. Chris Evans completed our illustrious squad.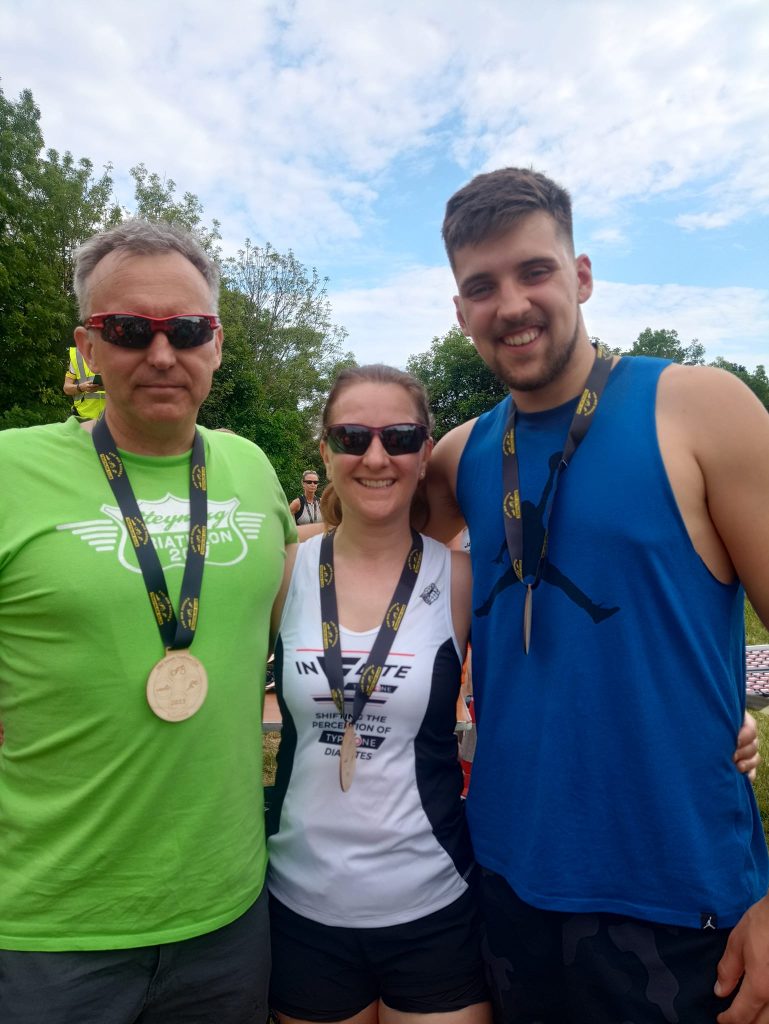 Pleasing to report that this wasn't the end of the Tuff success, as Wendy Frost cajoled son Luke, and husband Jon to enter the relay. Luke did the swim, Jon the bike with Wendy taking the glory run leg to cross the line as 2nd relay team. Team Frost were understandably pleased but the shine was taken away after Jon decided to ride home and was unfortunately knocked off his bike again- we send our love for a speedy recovery Jon.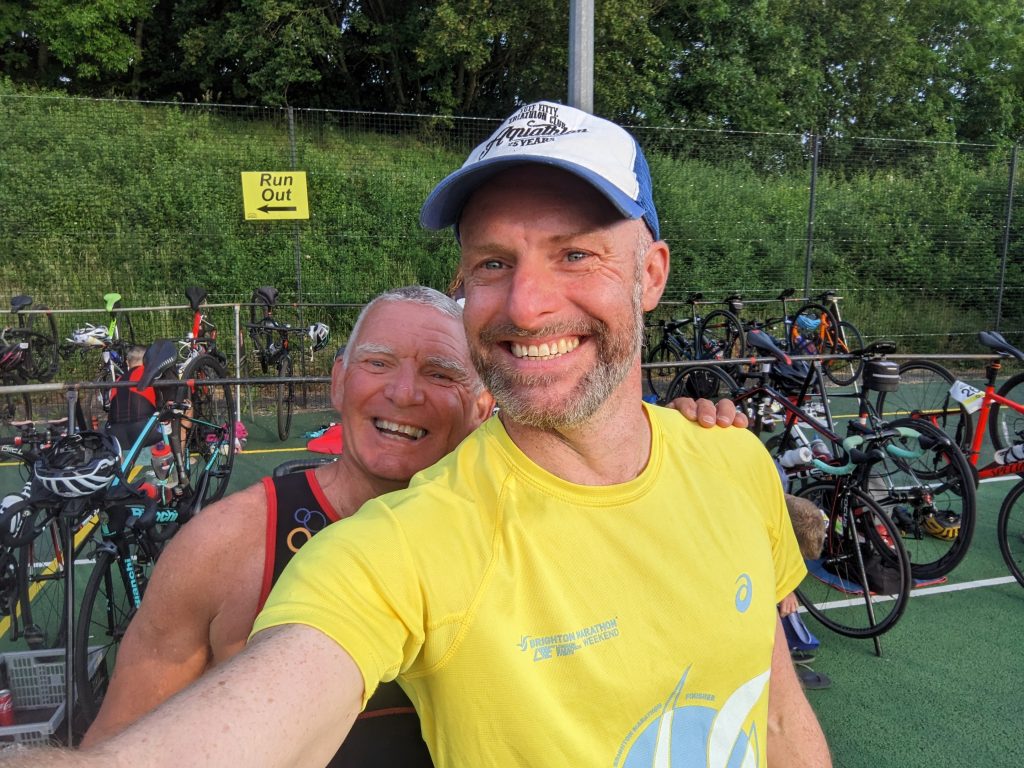 Les & Alex.
I had received glowing reports of this race from Barry Davids (a former member of Mid Sussex) so decided it would be a nice one to enter as my first tri of the year. What a lovely experience. The briefing from Jo Fleming was one of most good natured and funny pre-race briefings I've attended and it set the tone for the day.

It was nice to catch up with Les Pearce and (former Tuff) Olly Sampson at the start. The swim was a 400m snake swim in the Triangle leisure centre, followed by a lovely 25km ride through rolling countryside. The run was very warm out and back, just short of 5km on my watch. A nice wooden medal and plenty of goodies on offer at the end, including a brilliant cake selection. Even the prize giving was nice, with prizes for sportsmanship and good humoured athletes. Such a refreshing change. To top it off my name was pulled out of the hat in the prize draw and I won an open water swim session at Ardingly reservoir!. I'd highly recommend this one for anyone looking for a friendly and well organised early season sprint distance. I'll certainly plan to do it again.
Alex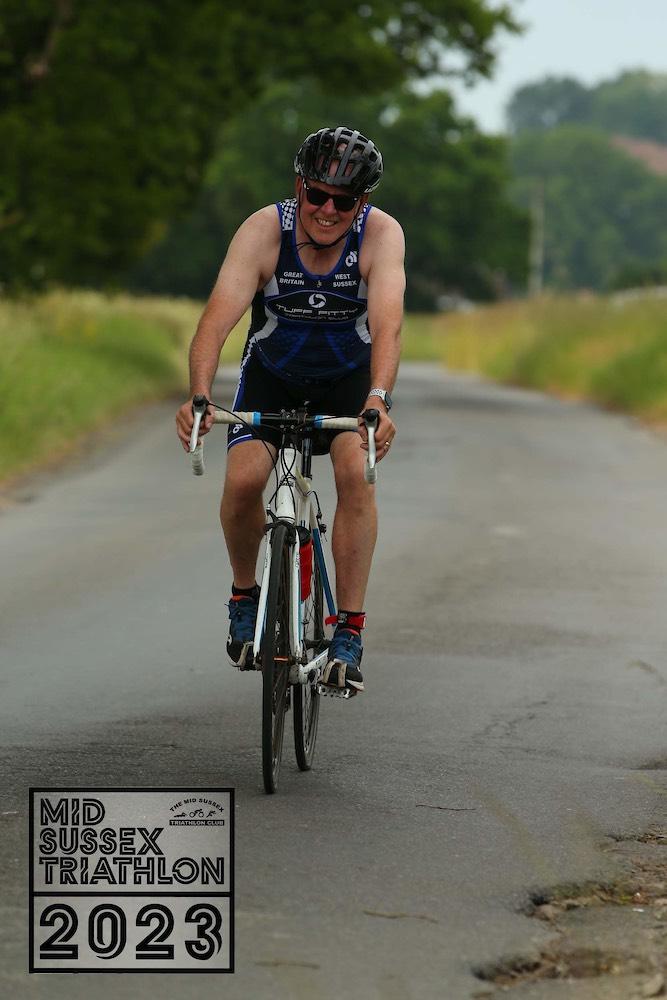 Al Evans
"My first Triathlon of 2023 a quiet drive to Burgess Hill really early to get registered and place everything right from what I learnt at TF Transition training. Starting early meant we beat the heat that was to come. Last year I only did the run as part of the Evans Relay team. So how was I going to do this year? Feeling daunted and excited I chatted to Alex and Les in the pool area which is always great to see other Tuffs and sets the tone for a great event.
Not the best start for me though rather slow on my swim and first transition. Then out on the bike for 25K ride, for the first 5K up hill to Ansty then I seemed to get my legs and picked up the pace. Really enjoyed the cycle and run and actually was 14 minutes faster than last years Relay. Happy with that.
Al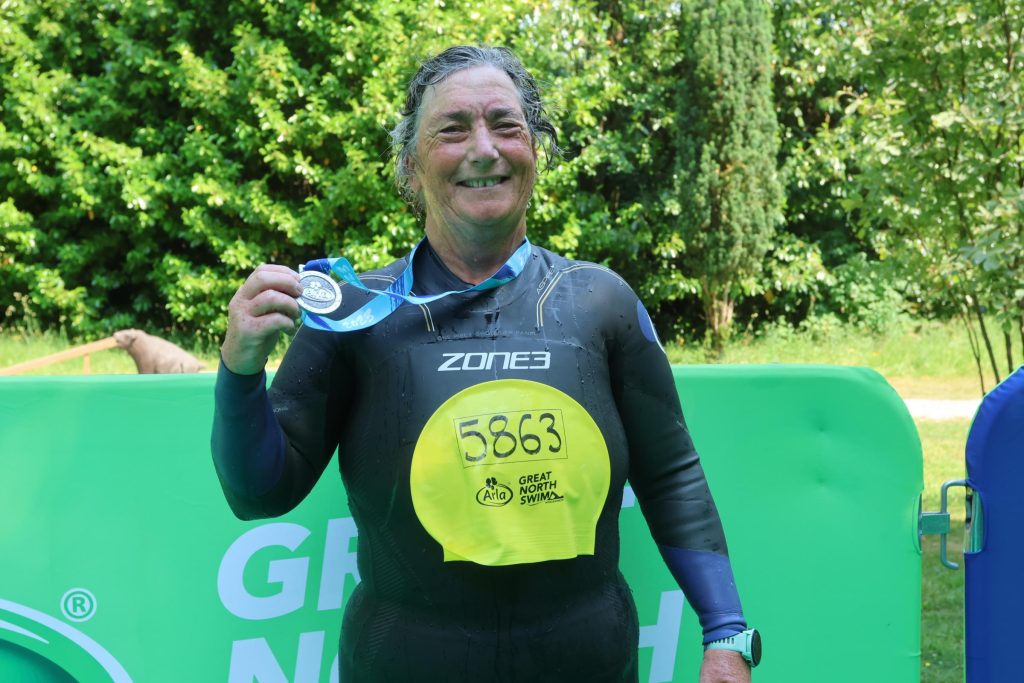 ARLA GREAT NORTH SWIM – WINDERMERE
Claire Moyle continues her very busy season and reports in from her latest adventure; the Great North Swim
"Last weekend I went off to the Lake District to swim the 2 mile event in Lake Windermere. It is 1 of the 5 great swims and for me this is number 3, having already swum Victoria dock in London and Loch Lomond a few years ago. I set off early on Saturday morning and arrived mid afternoon and went exploring so I knew where the car park was and where to catch the ferry for the early start in the morning.
Having sussed everything out I drove to Kendal to a very nice airbnb and then out to a stunning restaurant for a fab dinner. I was feeling very relaxed, having enjoyed a fab day of stunning scenery and excited for the swim. Up early Sunday morning I drove to the car park and chatted with several others all doing the same thing catching the ferry to the start. As I walked up and presented my ticket I realised I was at the wrong place. Beginning to panic that I would not get to the other ferry terminal, the very nice lady said no worries we have room for you on here. I was mightily relieved. The 20 minute crossing was amazing with commentary explaining all about the lake's history. It was fascinating. Soon we could see the course and excitement turned to nerves as I realised I hadn't done much open water swimming this year, in fact I had only swum once and that was the week before. The event was very well organised with a great event village, loads of people on hand to point you in the right direction, the chance to acclimatize and a surprise guest to send us on our way. Alistair Campbell who was also swimming later in a different event started our wave by playing the bagpipes. The water temperature was 22 degrees and it was a great swim, I finished in 1hr 28 minutes and was very happy with that.
What a great weekend I would recommend it to others and would happily swim there again possibly completing a longer distance.
Claire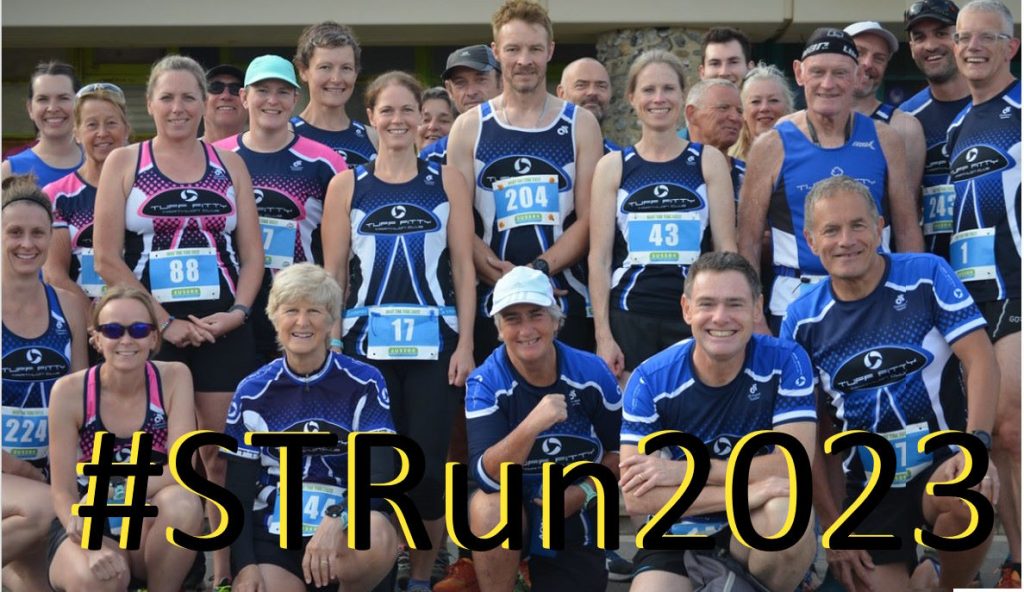 STRUN – (Summer Tuff Run Series)
Whilst previously advertised, it is timely to remind all Tuffs that the first race in this year's STRUN is little more than a week away. A reminder that STRUN stands for Summer Tuff RUN Series, and is a chance for our run specialists to really show the way. Each runner's time from eligible runs is processed through the WMA Road age-grading calculator which takes account of gender and age, so everyone is competing on a level playing field. Each Tuff will see their best three scores taken forward for the final league table.
Please note accepting an 'event' on Spond will NOT gain you entry into the three races that require prior entry, you will need to enter these yourself. It is worth noting that Beat The Tide has a capacity for circa 300 and is already half full. So far there are just five Tuffs entered, as you will see from the above photo last year was chocca with Tuffs, so don't delay. Dawn on the Downs has two distances 10 mile and 10k, but it is the 10k to score for the STRUN, and don't forget our discount code for this race. The events are:-
Littlehampton parkrun Saturday 24th June 9am
Beat The Tide 10k (Worthing) Entry here Monday 17th July 6pm
Dawn on the Downs 10k entry here Sunday 23rd July 8am/8:10am
Worthing parkrun Saturday 12th August 9am
Arundel Park 10k entry here Sunday 27th August 9am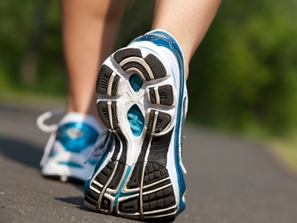 ROUND UP's RECOGNITIONS
# We start off with a local school charity run in Goring -St Oscar Romero Catholic School. The Romero Run had a choice of 5km or 10km – Kate Evans entered the 5k
# Arunners staged their West Sussex Fun Run league race of Littlehampton Beach Run, a circa 5 miles route out and back from West Green. Steve Fryer was our first Tuff home. Also running was Steve Feest. Claire Moyle was on the marshalling team
# As Clive and Nicole Patterson-Lett settle in their new Welsh home, they both participated in Pembrokeshire Tri's Marloes Spud run. Comprising an offroad 10km trail run the prize for competitors included a bag of spuds from the local farm.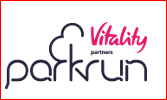 PARKRUN UPDATE
At Worthing parkrun we had Sheila Bailey as first Tuff hone. Then Kate Evans closely followed by Elaine Rousseau
Littlehampton parkrun saw Steve Bridgeman in action as our sole Tuff running.
Across at Bognor Regis parkrun Nathan Bilham completed his 105th parkrun. Next home Jason Rae completing his 132nd PR – 116 of those run at Bognor.
Jeremy Garratt completed his home parkrun at Seaford Beach parkrun – a seafront prom route out and around the Martello Tower and back.
In terms of parkrun tourism this week:-
Preston Park parkrun was the venue Richard Jay choose for his 64th parkrun.
Colin & Sue Simpson are on the lookout for different parkruns to attend and this week saw them at Eastleigh parkrun. Amazingly this was Colin's 74th different parkrun location. Sue isn't far behind as Eastleigh was Sue's 65th different parkrun location.
Well done to all Ten Tuffs