Weekend Round Up 17th 18th June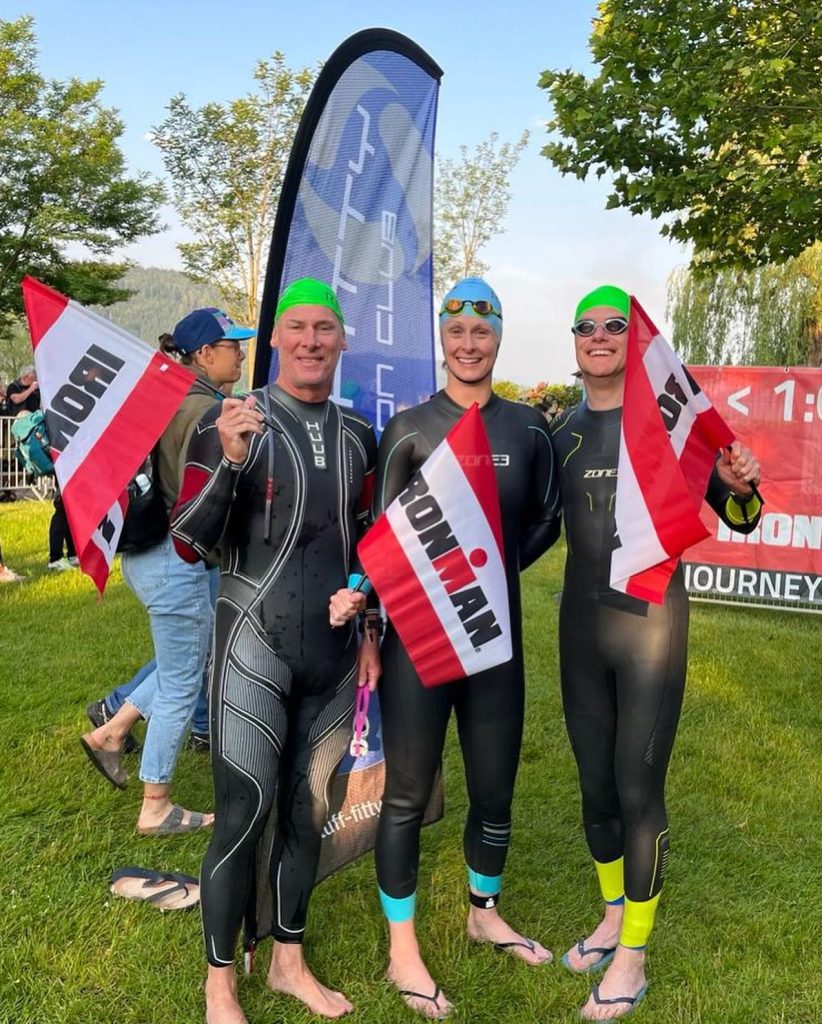 IRONMAN AUSTRIA
We are so proud of our Tuff squad at Ironman Austria this weekend. Craig Hunter is a multiple Ironman finisher and he achieved a sensational result in completing the course in just 9 hours 48 minutes. That was sufficient to secure 3rd in his age group. We had three undertaking their first ever Ironman and we are delighted to report all three heard those immortal words 'You are an Ironman' as they ran up the red carpet. Congratulations go to Dom Amey, Mike Barrett and Clare Worgan. Having returned to the UK they are to put their thoughts together with some pictures from Iris Bennett who was the chief Tuff supporter. A separate report to cover our intrepid Tuffs on their adventure is to follow.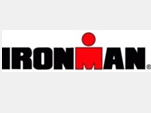 Further adventures took place across in Luxembourg as Katie Young and Will King competed at Ironman Luxembourg 70.3. Simon Thistlethwaite raced up at Castle Cholmondeley 70.3 part of the Castle Triathlon series racing home sixth in his age group. So we are set for further bumper reports to follow, but for now we still had the following to report on a weekend of racing action.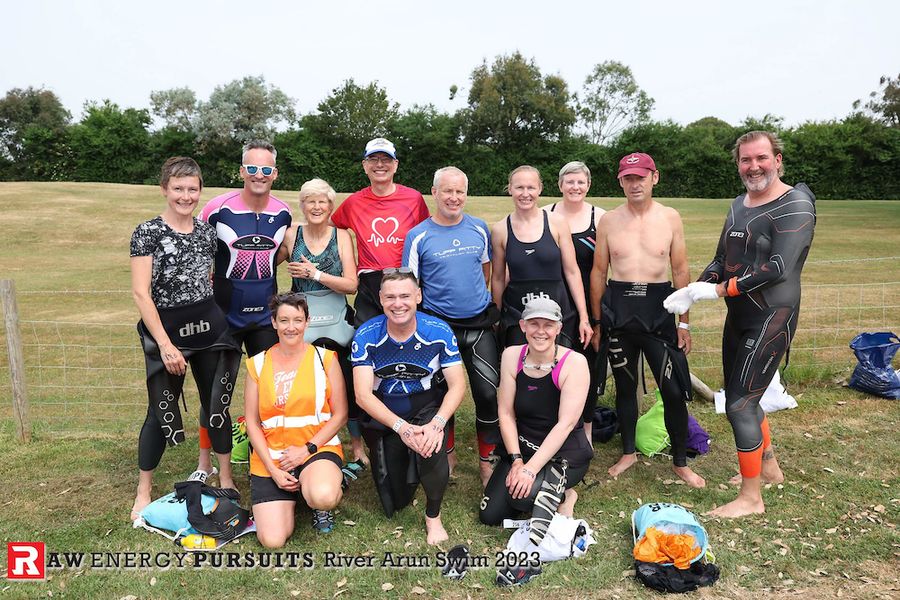 RIVER ARUN 'IRON DISTANCE SWIM
Back for its 15th year, Raw Energy's River Arun swim is always oversubscribed with entrants travelling from far afield. Competitors hop on a bus to Ford and on slack water start swimming. The tide then turns propelling swimmers down to Fisherman's Hard by the RNLI station. The tide didn't play ball this year. Whether the lack of rain played a part, but the usual super quick times didn't occur with many of the swimmers asking 'what current'?. After a 42 minute finish in 2021 and last year 46 minutes, it was clear the going was tougher this year as the spectators waited for the first swimmers to arrive. The quickest swimmer arrived in 50:54 and only 15 would finish in under the hour. In 2021 there were 211 swimmers who finished under the hour illustrating how unpredictable the River Arun can be.
Nevertheless the Tuff squad all acquitted themselves very well. Our first swimmer home was James Hodge in 63:28 and then Adrian Oliver in 65:31. Spencer Scott was our third swimmer home and then Les Pearce ran up the ramp.. A strong swim from Emma Hinton as our first female home. Pete Littleboy was next up the concrete slipway and then Graham Liddell. Nancy Liddell, Jon Babbage and Jenny Oliver and Leah Simms all followed. Wendy Kane was our next swimmer with Kate Evans completing our illustrious Tuff Thirteen.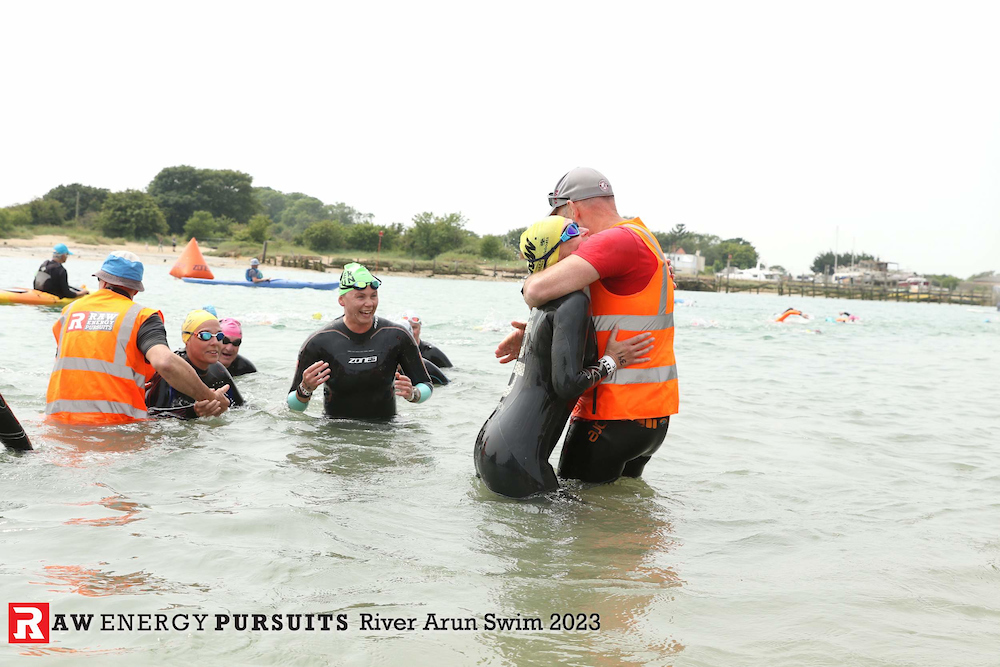 HI-Viz clad Jon Roper and Andy Ward
Having been 'lying down' for over an hour several were disorientated coming out of the water and this is where Tuffs as part of the Raw Energy Team came into play. Jon Roper and Andy Ward were on hand to help the swimmers out of the water and as you will see above, one swimmer appears very grateful!
Andy Rossiter, Trevor Harvey, Tiff Orton, Sheila Bailey & Clive Harvey were all busy registering, loading the coaches and timing along with Event Manager Debbie Boxall. With several other Tuffs dropping by to cheer the swimmers on, along with some of the Littlehampton parkrun contingent, there were lots of club members on hand. Particular kudos to the swimmers who then jumped in the pool for the Tuff Saturday swim later that afternoon.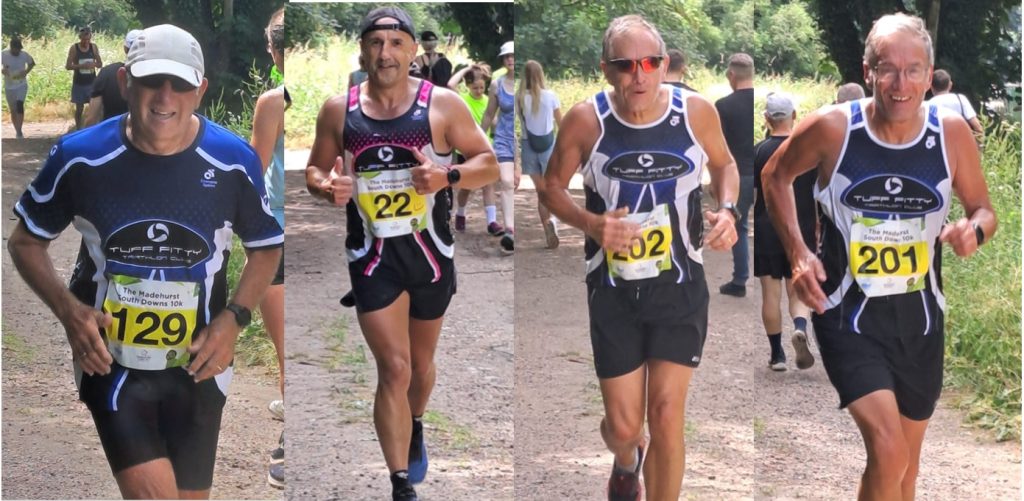 Colin, Kev, Clive & Trev
MADEHURST 5K/10k
Back for its fourth year, the Madehurst run gives entrants the choice of 5k or 10k alongside a junior race. The start and finish was the scenic valley in which Madehurst Cricket Club is situated, Just south of Whiteways Lodge. A civilised 10:30 am start time. You don't enter trail runs for a flat course and the first 2 miles proved that – constantly uphill! The course was very scenic and was a great chance to run across some parts of the South Downs 'less travelled' as some of the route is normally closed to the public. However whilst very sticky and humid, the forecast rain and thunderstorms didn't arrive until later in the afternoon.
There was a quartet of Tuffs in the 10k. First Tuff running strongly Colin Simpson.Then Kev Pearson, Clive Harvey & Trevor Harvey completed the squad.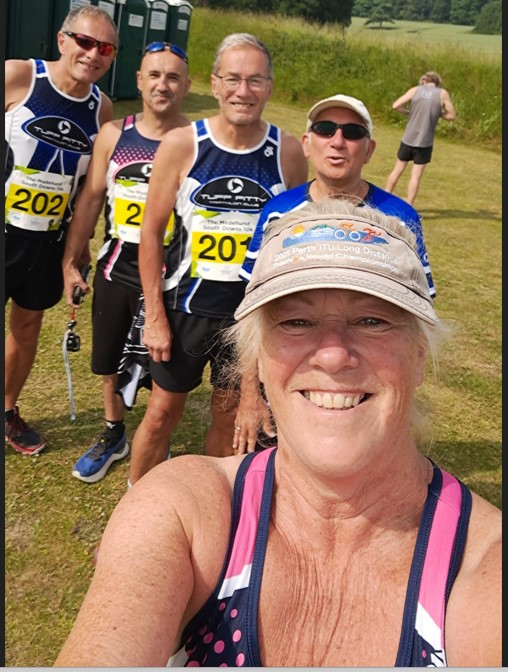 Sue
There was also a 5K run which Sue Simpson participated in. Having finished ahead of the 10k'ers, she snapped the above photos and then it was time for very keenly priced coffee on the grass; and cake!. Providing a mug instead of a medal used to be a big thing so it was a nice change to pick up a commemorative mug at the finish. An announcement was made that if runners showed their mug at Fauna Brewery in Arundel they would be entitled to a free pint; so some of the Tuff squad did just that!- an enjoyable, recommended race on a warm summers day.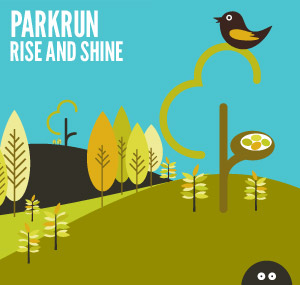 PARKRUN ROUND UP
Starting at Littlehampton parkrun, there were some cracking Tuff times. Fresh from his victory at Mid Sussex last weekend, Dom Chapman entered his first parkrun and what a debut crossing the line 8th overall in just 18:38. Close behind it was great to see Fraser Kidd gain a new PB over this course of just 18:59 – 10th overall. Steve Fryer also ran well crossing the line in just 20:32. It was a good run from Steve Bridgeman who was our next runner. Wendy Frost also attained a PB knocking 17 seconds off her previous pb. Alistair Evans notched up 130th parkrun to complete a good morning's work from our Tuff six.
Worthing parkrun also saw Tuff action as Dave March was our first runner home. Edward Lay was our next club member having amassed 103 Worthing runs out of his total of 129 parkrun. Elaine Rousseau completed our three runners
Bognor Regis parkrun saw Colin & Sue Simpson ride across to Hotham, run and ride home, saying hello to the Arun Swimmers in the process.
Seaford Beach parkrun is the 'home run' for Jeremy Garratt who competed.
Whilst several were gathering around the River Arun for the swim, this was still a strong dozen Tuff runners.