World Triathlon – Sprint & Relay Championships – Hamburg
It was only back in June when Maisie Johnston & Mark Walford were competing for Team GB in the European Sprint championships in Madrid and here they were in Hamburg racing the World Triathlon Championship Sprint Triathlon and Relay Triathlons. Having qualified for the World's the GB team allocated these athletes into mixed teams for the relay in their respective 10 year age groups.
With a Sprint distance triathlon complete the mixed relays saw teammates each race across 300m swim, 6k bike and 1,500m run.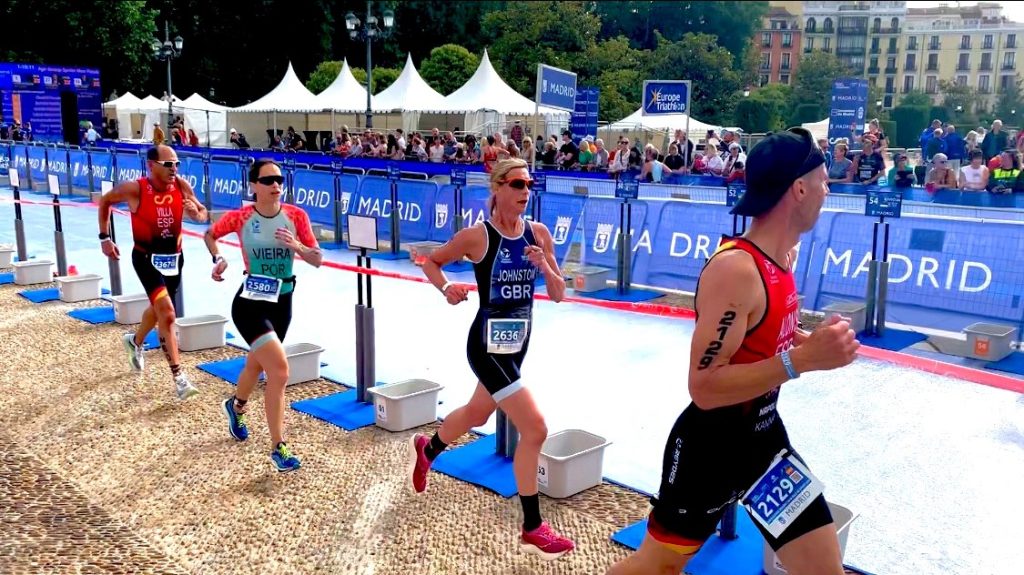 LIbrary photo of Maisie.
Maisie had another strong race as she came home as 5th Brit in her sprint, and her team of four came 8th in the relay.
Mark Walford also had a successful trip to Hamburg and his international races won't end just yet as he is scheduled to race on the 25th August at the European Aquathlon championships in Menen, Belgium. We are particularly grateful to Mark for reporting in and he gives a full account of his races, perhaps even aspects he would rather forget!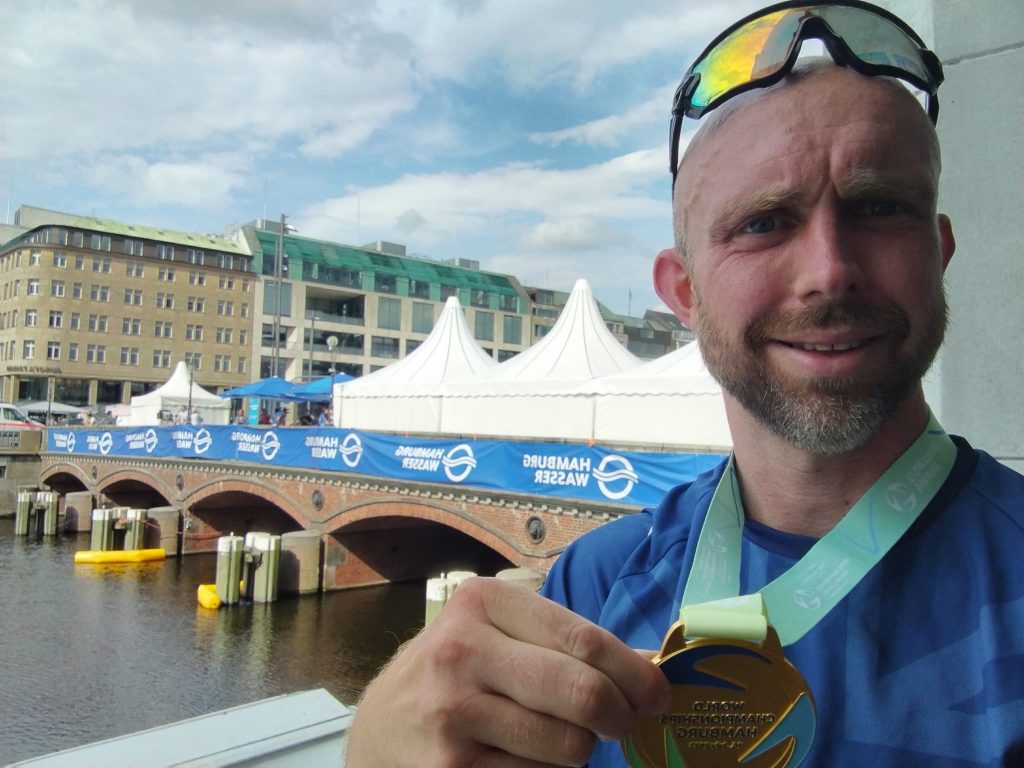 Mark
"After a drama free trip, race day was 3.10 pm, so my biggest problem was relaxing. Still can't believe I was at world champs and Hamburg didn't disappoint.
The crowd were insane and competition was the same. 99 in my wave, with the middle 3rd as my target; 65th I would have been happy with. So I entered the water all relaxed until they sounded the horn, then the washing machine started.
After 100m of being kicked and punched I found my rhythm, recent training had kept me focused on what, and how, I swam, up to the buoy. I found myself swimming stroke for stroke with another GB athlete. Round the turn buoy then straight ahead to the infamous bridge. It was so strange swimming in a tunnel but then the swim exit came in sight. Out of the water, check the watch, 50 seconds ahead of expectations.
There was a 200m run to transition, get bike, then 500m run through. I could see a group ahead of me and I was flat out to catch them. I jumped on bike fine, and got up to speed, then someone was dropping off the pack to put their shoes on, which pushed me towards the rails meaning a slow down, with the result that I couldn't get on the pack. 5km spent chasing the group of 10, I was 20m off, I just couldn't get to them. I had to drop off, but eventually a German caught me after a further 3 km, and then eventually a big pack came up so I clung in with them. However having completed almost a whole lap by myself pushing flat out, it had taken it's toll. So for the second lap I just stuck with the pack, then towards the final 1km the pack I missed came into sight.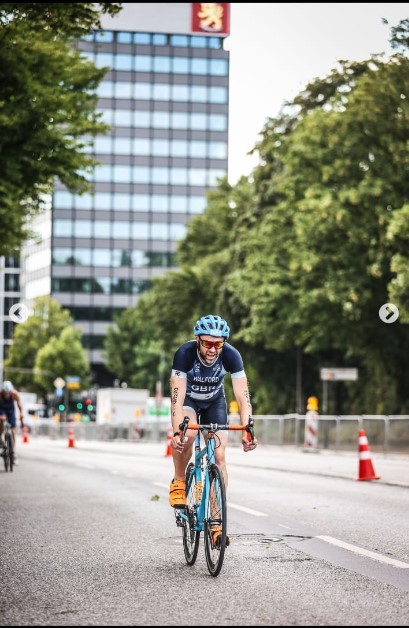 Transition, was quick; I put my right shoe on and my right calf cramped up, so starting my 500m run in transition, I just wasn't myself. People I knew I could run with or overtake were pulling away. I just decided, I had a great swim, cycled faster than I ever had, so just enjoy the run, smile & take in the atmosphere. About half way my calf eased and I went back to normal run pace, now reeling back some who went past me. Turning into the finish line the crowd cheering was something I won't forget. Shame my run wasn't on form but 28th well exceeded expectations and 5th brit.
Now time to rest, watch pros and get ready for mixed team relay. The night before the race they switched round teams, I was boosted to team 2. Pressure on to perform?. I had a nice team who knew a medal was unrealistic so we decided to go all out but also enjoy it. I'd been moved from 1st to 3rd meaning I wouldn't start in the water but be tagged, run and dive in. By the time I was tagged I was 10th so sprinted down the ramp, many thoughts of how to dive going through my mind, I jumped as high as I could and then came crashing down in the water and was underwater forever before I came up! Then it was the swim to the tunnel, catching people, feeling strong, on the turn I managed to get on hip of someone else, out the water after 300m. I attacked transition and in doing so made up lots of places. Onto the bike, seeing someone 10m away my plan to stick with him, 6km bike over in a flash. Back in, bike racked after a slight error, 300m run to run exit.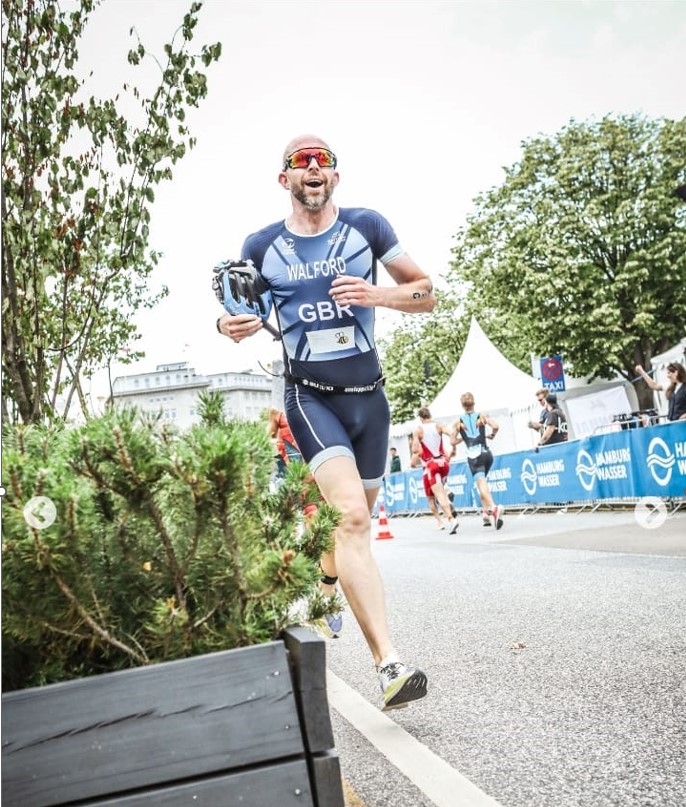 As I exited transition, suddenly I thought, I have my helmet on 🤦 what an idiot! There were 2 options, an extra 600m run (run was only 1500m) or run with it. If I threw it, would have been littering – a potential DQ. So I just had to run with it. Because of my error, my plan for pacing went out the window, just full gas from the get go. I felt every eye on me with my helmet. There were a few comments but I just decided to embrace it. Soon overtaking people and the tagged my team mate.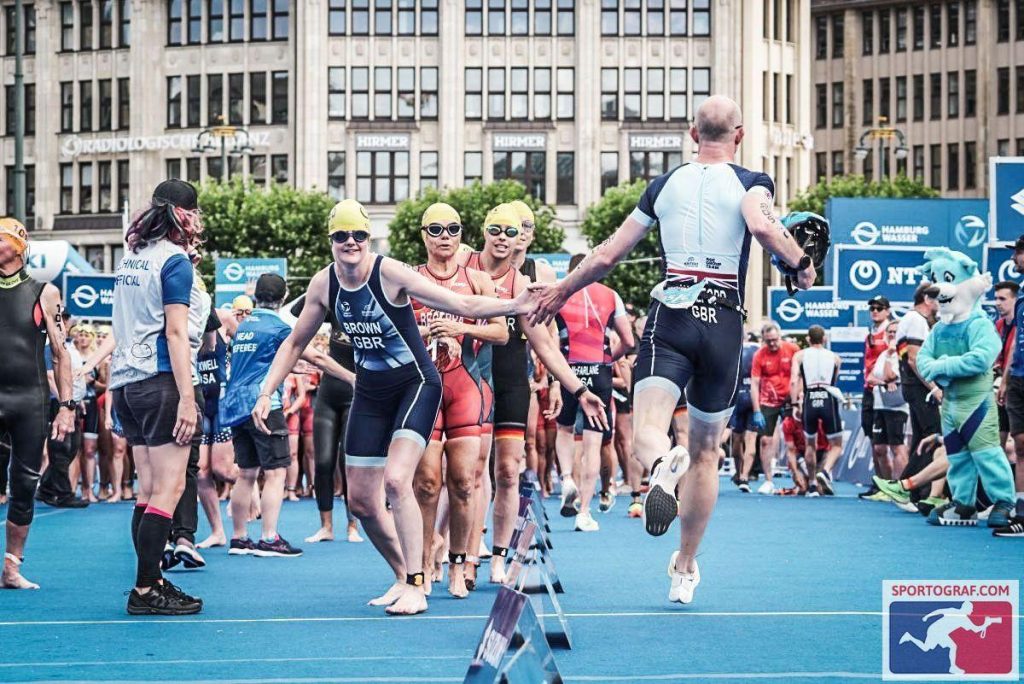 We finished 8th and my leg was quickest of any brit in my age group. Team photo and catch up with everyone, suddenly I had lots of people asking if I was the guy running with his helmet. Rather than be embarrassed I just said yep, most followed up by saying I was running quickly and shared stories of their errors. Including a world champ who took a penalty despite not being asked to take one. Triathlon can seem very serious but we all make errors; you can't control what happens at times, but you can control your reaction. Relay was such fun and a great way to finish the weekend. A few minutes later I got a video of my dive, words cant do it justice, but I'll let you watch and realise even at top level we can make error 🤣
Please click on the link below for Mark's water entry – thanks Mark for sharing:-
https://www.instagram.com/reel/CuxfiLPOBoG/?igshid=MzRlODBiNWFlZA%3D%3D&fbclid=IwAR12Up-mEyaJ6bMDkljnxCFii4rvSV3V4kzpkXsVNvyPuSUNnsQp2F70xtA