Weekend Round Up 22nd 23rd July
People could be excused for thinking Summer has concluded, but this didn't stop some courageous endeavours across the weekend. Whilst the Castle to Coast Middle Distance justifies a separate race report there were still Tuffs at the following.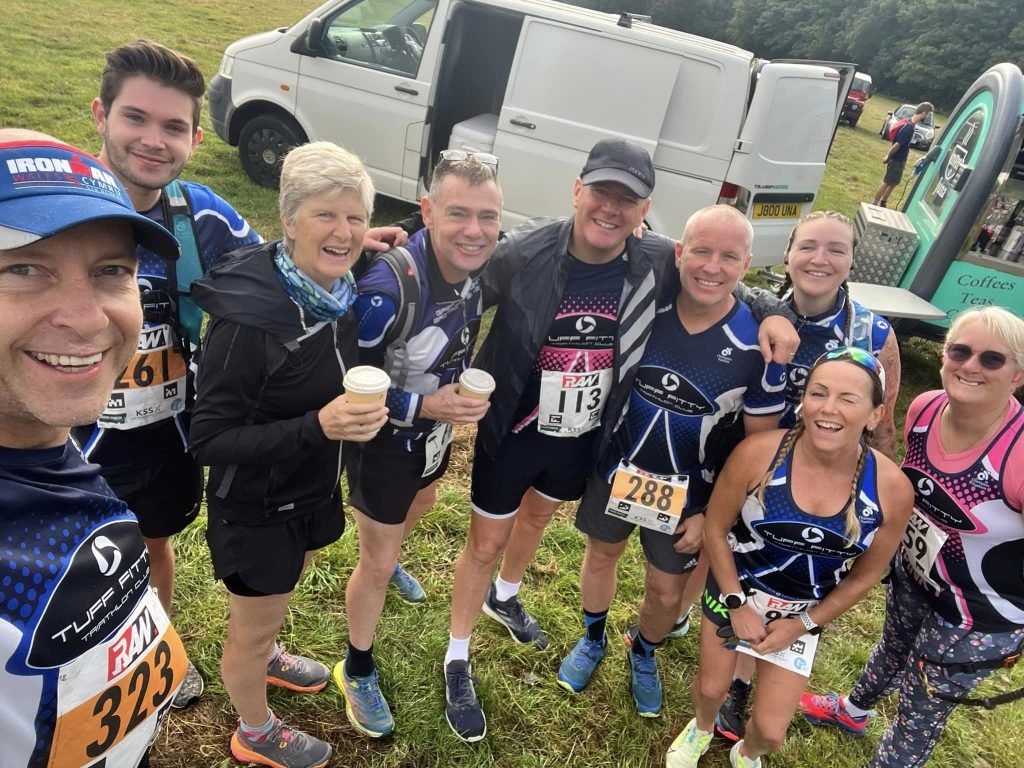 l to r: Chris Robinson, Stu Harvey, Jenny & Adrian Oliver, James Brock, Pete Littleboy, Nina Tully, Carey Woods & Sue Pinky
DAWN ON THE DOWNS
The annual Dawn on the Downs is a popular race with 10m or 10k routes with the addition of a 5k race this year. Unfortunately torrential rain the night before deterred some runners but not the very sizeable Tuff squad. Thankfully the rain (almost) abated for the duration of the event and the wind had dried out many of the tracks as everyone lined up by the start arch. With warm weather, expectations were high for good running conditions, but unfortunately an idiot or idiots, thought they would switch the direction signs up on the Downs.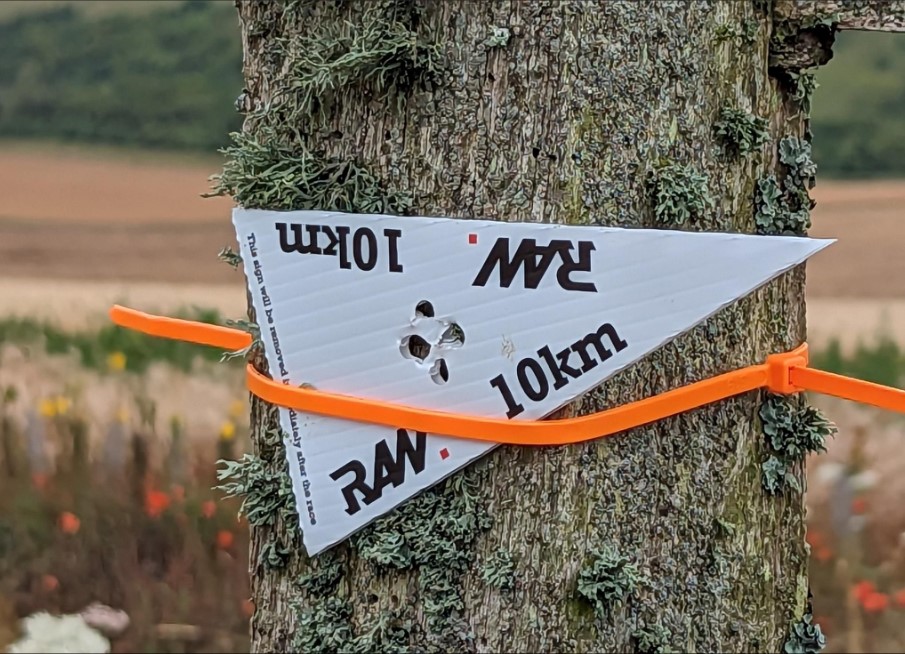 A damaged 10k marker sign
It is puzzling why people would do this at events around the country. If they dont want competitors leave the signs alone and they smoothly pass through. To remove or change signage just leaves everyone out on the course for much longer negating the idiots desire to not have competitors there. Or is it just their twisted idea of fun!. This was particularly galling for our own Jon Roper who endured torrential rain on the Saturday setting the course up successfully (and has the photos to prove it) and then riding the course again on the Sunday morning to check everything was still correct. Jon cycled over 35 miles including out to sweep the course and in trying to remedy the hooligans damage – well done Jon.
The changes mostly affected the 10k runners and perhaps Raw Energy would have been expected to receive complaints. It transpired that there were a very high amount of feedback with the vast majority explaining it was a great course and once home, most were extremely proud of themselves for undertaking a longer run. The 10k event had been selected for the third of our Summer Run series, STRUN, but with different distances, all Tuff who completed; their time still counts for the league. If your name isn't on the latest table, please submit your distance and time, preferably with a screen-print to Adrian Oliver who will calculate for the table. The current provisional table, ahead of any changes, is here.
So how did the Tuff runners do? very well indeed as there was a steady stream of Tuffs crossing the line with the announcer stating ;and here is yet another Tuff accompanied by cheers from the Tuff squad 🙂
Starting with the 10 mile race, Gareth Coombes was in scintillating form crossing the line 7th overall in 1 hr 11m. Then there was a stream of Tuffs lead by Chris Robinson with Olivia Morey just 30 seconds behind finishing as fourth female overall. Pete Littleboy was close behind and then Stuart Harvey, all comfortably finishing within the top 30. Next across the line, good to see Jon Babbage getting back into his stride, Jess Coombes, Callum Kalbfell and Janet Shepherd who was second in her age group and good running from Shelley Babbage to see 'Ten Tuff Tennners' or 9% of the ten mile field.
So we have to give particular kudos to the intrepid 10kers many completed anything from 10k through to 15k plus so the results are skewed. Particular thanks to Mark Walford who having finished his race, collected some water and ran back to give assistance to a group of runners who were finding the distance heavy going. Clearly all our squad require a shout out, but without the benefit of knowing which runners were actually quickest, it is hoped an alphabetical listing will be viewed as fairest. Carey Woods, Kate Cooper, Katie Goddard, Katie Young, Les Pearce, Malcolm Brown, Mark Walford, & Nina Tully – 10% of the 10k field.
Keeping the announcer busy with Tuff name recognition, we had Susan Douglas and Stig running in the 10k canicross and Sue Pinky who was the only recorded finisher in the 5k canicross with Kylo.
This left the newest race – the 5k and first across the line was Adrian Oliver. This was a tremendous performance considering he had spent the whole of Saturday in the pouring rain completing Castle to Coast – now that is commitment – well done Adrian. It was fantastic to see James Brock getting his 'land legs' back after his channel adventure; Jenny Oliver and Kate Evans ensured that all the Tuff runners safely returned to base.
Not content with twenty four club runners, Tuff Fitty had Debbie Boxall as race director with Jon Roper, Tiff Orton, Glenn Parisi, Tom Frith & Clive Harvey on the organising team to make Thirty Tuffs on the Downs.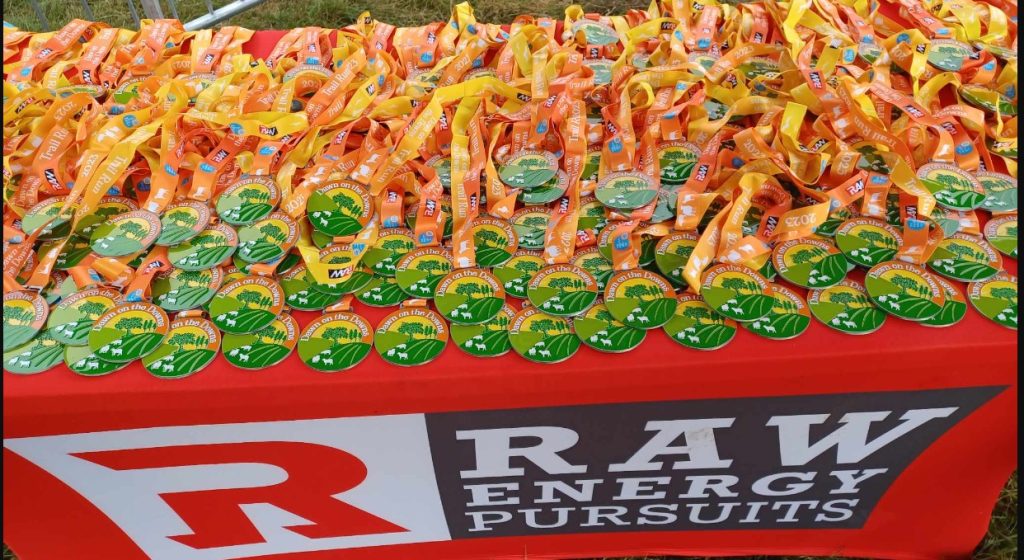 ARDINGLY SWIM THE LAKE
Ardingly Reservoir was created in 1978, fed by the River Ouse and is owned by South East Water. As well as providing drinking water from its very deep 5,000 million litres of water capacity, it is home to many waterborne leisure activities. Hedgehog Tri's 'Swim The Lake' is an annual fixture and we had both Ben Abbott and James Hodge swimming this year – thanks to James for reporting in:-
"Hedgehog tri organise two Swim the Lake events every year at Ardingly Reservoir. I am always surprised there are not more Tuffs present as they really are great, well organised, local events and Ardingly is a superb venue. There are 3 distances on a lapped course 750m 1.5k & 3K. Unfortunately the first in the series A race was cancelled this year due to work taking place on the bank.
I could only see one other Tuff on the start list Ben Abbott who was in the 1.5km. Ben had a great result arriving home as 5th Male. Apologies I didn't get to say hello on the night Ben.
After getting blocked in at the start by some haphazard swimming (I'm sure everyone else not me). I settled down to the four laps in the 3k. One thing I love about this race is the massive triangular boys that make sighting easy so much so I swam head first into one. I had an enjoyable race and arrived at the finish line just as the women were sprinting for first place. They had started just behind the men. I moved out the way so as not to disrupt the result (get mown down) only to lose a place as another male was hot drafting on their feet.
Another 6th place male finish for me but 4th to 6th place all arrived on 54 minutes something so good to be involved in some close racing.
It was then a wait for the Prize giving and watch the sun start to go down on the reservoir.
Paul (organiser) is a wizz with the drone so you always get a good Video of the event. (Paul also produces our Frosty Aquathlon video)
Hope to see some more Tuffs on the start line next year.
James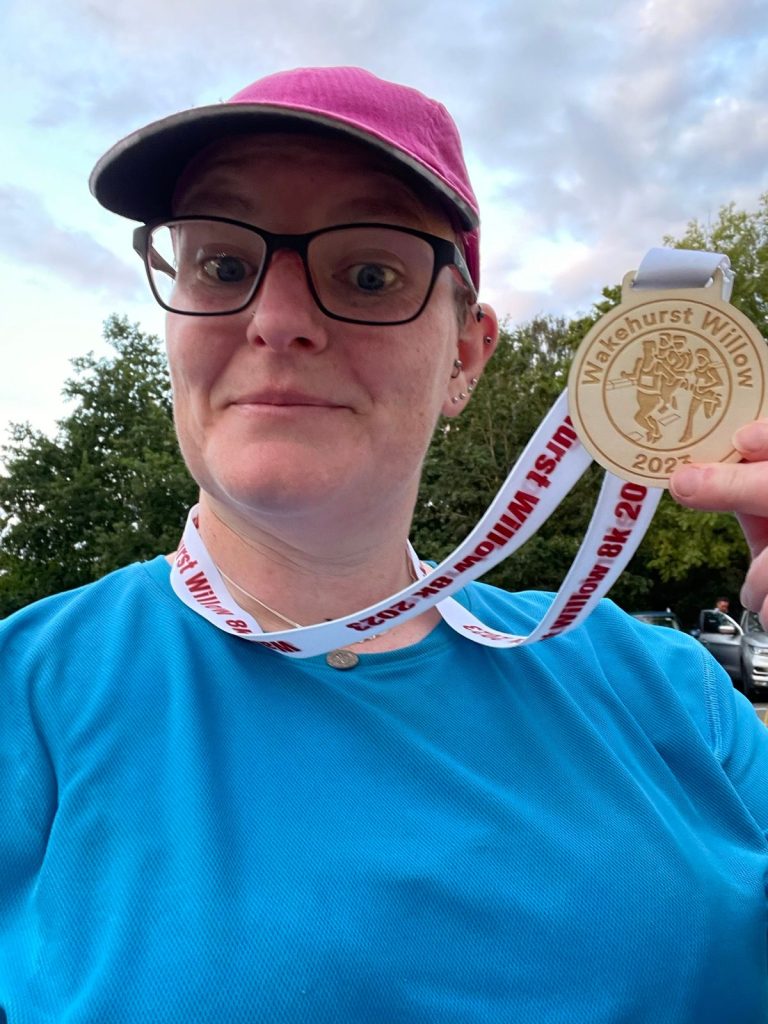 Kate
WAKEHURST WILLOW 8K
A race close to Ardingly lake on the same Wednesday evening was the Wakehurst Willow 8K. Starting from Wakehurst Place, which comprised a two loop challenging run around the perimeter of the botanical gardens and past the Millennium Seedbank. There was Tuff presence running under the massive Redwood trees in the form of Kate Evans.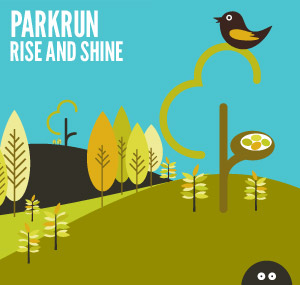 PARKRUN ROUND UP
At Littlehampton parkrun there was strong Tuff running with two in the top ten. Fraser Kidd kept his momentum going finishing in 7th overall despite the wind picking up finishing in 19:56. Steve Fryer followed in 9th position in 20:41. Steve Bridgeman was the next Tuff home.
Worthing parkrun saw Ben Abbott begin his parkrun career, and he did so in style crossing the line in just 21:48. Dave March was next home in 22:11. Next home it is pleasing to report a new PB from Mark Sole shaving just under one minute off his previous best. Also a big thanks to Les Pearce who was on the volunteer team this week.
The excellent running continued at Bognor parkrun as Katie Young crossed the line as 5th female just 9 seconds outside her PB.
Jeremy Garratt was in action at Seaford Beach parkrun
parkrun tourism this week occurred at
Fareham parkrun was attended by Alistair Evans as he bagged another parkrun venue for his list.
Across at Hove Prom parkrun, Glenn Parisi, Clive Harvey & Jon Roper ran. Waiting at the start a runner came up and asked them if he could follow them to pace a 21 minute 5k, which was a source of merriment to them 🙂