Weekend Round Up 29th 30th July
Despite the weather, there have been lots more varied Tuff adventures by our members. Read on:-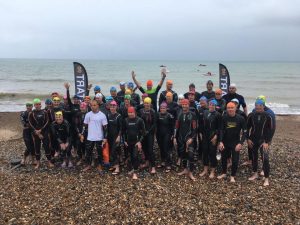 FREESTYLE 4 SMILE 1.5k SEA SWIM
A very strong turnout from our club at this inaugural sea swim in Littlehampton, just under a quarter of the total field. As there were no formal times taken,  well done to the Tuff Turnout of :- Anthony Towers, Clive Harvey, Clive Patterson-Lett, Drew Gowland, Nicole Patterson-Lett, Nicole Ewer,  Nikki Gatland, Tom Gray, Trevor Harvey & Wendy Frost. The story from this early afternoon swim is brilliantly recounted by Nikki Gatland:-
In the typical English weather, the Tuffs came out to play
Although it was rather choppy, skies had opened and the sea was rather grey.
The gazebo was erected, standing proud and tall
Good job we had it 'coz we crammed in bikes, prams and all.
~
Wetsuits zipped up, hat and goggles stuck on
We started to smile ourselves, oohh it looked fun.
The usual laughs and cries as we wobbled down the stones.
Piggy backs,  ooohs and ouches and the standard moans and groans.
~
We bobbed out to the first buoy, white it was in colour
Looked East to see where we were going…AHHH I can't see the other.
But it was all too late, the hooter blew,
I didn't hear the "Get Ready" I just saw Clive PL on the move.
Flailing arms and legs and off we all went
Some straight, some diagonal and some going for the French
The safety crew were great at keeping us in line
For those coming out first and for those taking their time.
~
Around the first turn buoy and I couldn't see my way back,
But got there eventually, first woman to touch and a nice medal around my neck.
Nicole and another hot on my heels
And with Andrew in 1st , Tuffs had made the steal.
~
We were flying in thick and fast with great swims from everyone
But the most important thing of all is that all swimmers had fun.
We supported Nic, our last swimmer, because that's what we are all about.
We are Tuff Fitty, all for one and never leaving anyone out.
The organiser, Nathan and the team deserve a big round of applause
Because it was a great event and fab swim all for a brilliant cause
Nikki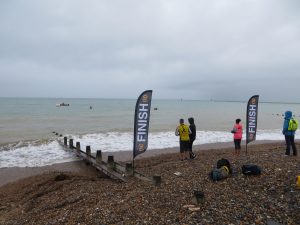 Tuff Fitty clean sweep – Female winner –Nikki Gatland & Male winner Drew Gowland
VIBES & SCRIBES SWIM -IRELAND
Susan Douglas reports:-
"I was in Ireland this weekend, well Cork to be exact, for the annual "Vibes and Scribes" swim through the city.  Described as a swim with a carnival atmosphere which was pretty accurate. Super friendly fellow swimmers and organisers.
After the usual briefing, we assembled in a disorderly fashion, supposedly in numerical order as we were to be set off in waves. Fortunately, numbered cards were held up so order was resumed and I joined my wave on the pontoon, for a diving start, or in my case an ungainly plop.
The water was cooler than my recent swims at home, probably about 15/16c, but fine for me in my togs (Irish for swimsuit). I approached the first of the nine bridges we had to swim under, it was low or was the water high, either way there wasn't much of a gap! I didn't like it, dark, claustrophobic, fear of something happening under there, but soon the light returned and I headed on with the swim. We were wearing a timing chip on our wrists, secured with a Velcro scrap, 65 euros if you lost it! I didn't want that to happen! Unfortunately, after a boot from a passing swimmer, it came loose and trying to re-secure it in the water, in the middle of a race was impossible, so for a while I swam with a funny splayed right hand, to stop it slipping off, but in the end, I decided I'd risk it and swim normally.
More bridges, swimming downstream and finally we turned for the last upstream section of the 2k swim. The best part of the swim, just one more bridge then head for the yellow finish line with crowds cheering from the sides. I finished in around 38 minutes, third in my age group and received a rather smart bronze medal as well as a Vibes and Scribes mug.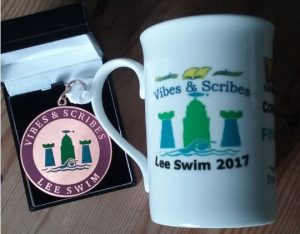 All in all, a lovely event and only an hours flight away.
Susan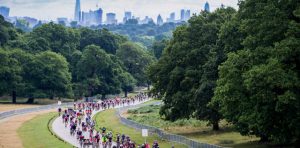 PRUDENTIAL RIDE LONDON- SURREY 100
The fifth edition of Ride London which is billed as the worlds greatest festival of cycling.  Heavily oversubscribed once again meaning many Tuffs missed out on the ballot, but it was pleasing that Claire Moyle & Karen  & John McGrath completed. We have two reports:  Karen's first:-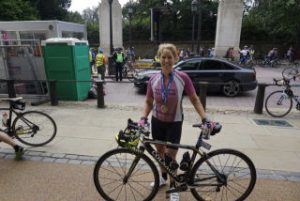 Karen at the finish with her medal
"3.30am and it had been pouring with rain all night. I was seriously doubting my sanity.  Did I really want to cycle 100 miles?  No time to ponder  though – into the lycra, a quick bowl of muesli and off we went.
Until a month ago I'd not ridden a sportive and to me "doing" Ride London was a big deal, and I was somewhat apprehensive at the thought of it.  This was not going to be a ride in the park (although Richmond Park was rather lovely).
I had no need to fear and the whole event was a blast from start to finish. Slick organisation, amazing marshals, enthusiastic and noisy supporters and the company of 30,000 other cyclists.  Riding on closed roads was something we rarely get to enjoy and I quickly overcame over the urge to stop at red lights!
The roads started to dry, the sun beams broke through the crowds and the early miles flew by and we were in the Surrey Hills before I would usually be awake at a weekend.  The dreaded Leith and Box Hills were less intimidating than feared (just kept reminding myself I'd got up the Tourmalet the week before!) and then it was a fast dash back to the City.  Before I knew  it we were rounding the last bend to pass under Admiralty Arch and the finish up the Mall.  Felt like a pro with the cheering crowds!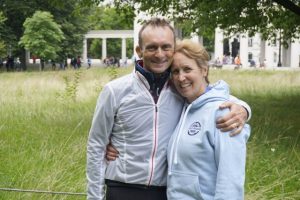 John & Karen
John had managed to wriggle his way to the very front of the first wave and had a super speedy ride with Rocco and friends, until his legs had had enough before reaching  Box Hill!   He eventually finished in 4.40, which he was pleased with considering the lack of training he's been able to do this year.  I started a bit further back and managed 5.43 and an average of 17.4mph.
Claire Moyle completed a trio of Tuffs taking part and had a great day completing the ride with son Fraser.
Footnote:  Impressed with the network of cycle paths and shared spaces in London, never mind the proliferation of Boris Bikes.  London has embraced and promoted cycling  and it appears that bikes and pedestrians can co-exist. Time for West Sussex to catch up".
Karen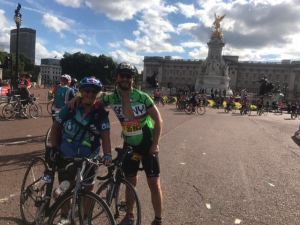 Claire reports: –
"I was lucky enough to get a second chance at this event having got in the public ballot last year and also again this year. My hope was to get the chance to ride Leith Hill as it was closed last year due to accidents. With the weather looking dodgy especially at the start of the day and a warning sent out by the organisers the chances were looking slim. After very little sleep due to my friends wedding I set off to the start with a pleasant train ride to Dulston junction and a gentle ride to the start. The skies were very black but the wind was brisk and luckily the rain held off and away we went. Fraser had overslept and it was 44 miles before we met up.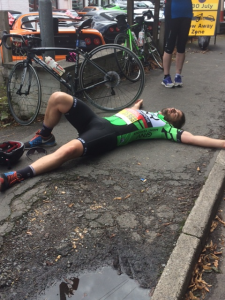 Fraser after chasing Claire down at mile 44.
We then had a lovely ride towards Leith Hill but as we approached a response vehicle passed and very quickly things came to a stop. My heart sank as the thought of not riding the hill for a second year looked likely.  Suddenly there was a lot of chatter and we were being told it was not an accident but they were holding us back so it was not to congested. I am very excited now and Fraser shouts see you at the top, my, now how long is this hill, why did I want to ride it?, but I did and what a view from the top; stunning. The rest of the ride was all about getting to the end in the fastest possible time, I embraced the down hills and hit a top speed of 44mph without feeling scared and loved all the people that were out cheering. The best bit was riding down the Mall with Fraser holding hands as we went over the finish line."
Claire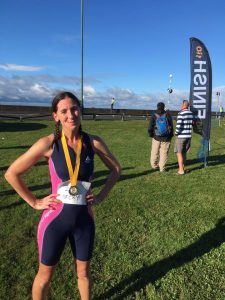 Rebecca Whittaker 
TRI A TRIBAL TRI
Next we have an inspirational write up from Rebecca Whittaker from her Littlehampton event:-
For many, the thought of a competing in a triathlon is a hugely daunting task. "What if I am not fast enough, fit enough, strong enough.." and that's without all the British Triathlon Federation race rules to worry about.
The Tribal Tri event – open from ages 16 to .. well 106 – offers a great introduction for first timers, or second timers..
With a helpful email sent beforehand on what you need to know on race day, useful photos of what transition will look like and a friendly welcome on the day from the race organisers – first time triathletes were put right at ease.
Following a 6am registration, and a 6.45am step-by-step poolside briefing, we all set off in our yellow swim hats.
Following a 200m swim we headed to the transition area just outside and set out on the bike course. The event organisers warned us not to follow the person in front as they might just be going the wrong way – and sure enough a handful of cyclists followed the run route arrows and took a small diversion into a cul-de-sac!
The cycle was flat and although it was wet, at just after 7am on a Sunday morning, the roads were nice and quiet for the 6km ride.
Entering back into transition we were kindly reminded of the BTF rules (to help us prepare for future events) with helpful tips on where to dismount / mount and when to put on / remove bike helmets.
After a quick transition, the run took us across the road,  heading out and back along the promenade for 2.5km- taking in the beautiful morning – and returning to the finish line with medals for all and big smiles all round.
One of the triathletes had a T shirt that said ' what have you done today to make you feel proud?' – which really captured the essence of the event for me; 20 people setting out doing something new – doing something that they should all feel proud of – and for many it will be the start of their triathlon journey. Who knows where it could lead?
Rebecca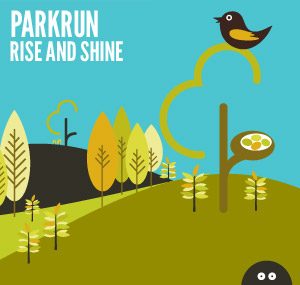 PARK RUN 
No Worthing run as the seafront fair is on, but Graham Liddell ventured further north again to return to Rushmere Park run.  He managed to shave more than 30 seconds off last weeks run.