Weekend Round Up 22nd 23rd July
Another bumper weekend of Tuff activities, both at home and abroad, pleasing to have so many reports to share.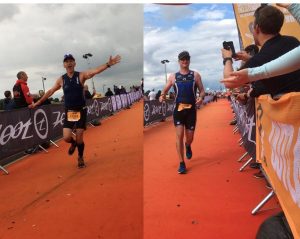 OUTLAW FULL DISTANCE
Firstly  Phil Baker travelled to Nottingham and watched the Outlaw and reported in:-
Sunday saw an early start for those racing the full Ironman distance tri. Flying the Tuff flag up north were Gavin Sewell and Phil Lintott-Clarke. Strong swims in the calm 6am waters with the sun rising at the foot of the lake. First out was Gavin in 62mins, followed by PLC in 76mins. The weather had threatened rain but it held off for a glorious sunny afternoon with light winds. Gav smashed the bike leg in 5hr48, with PLC  storming into T2 to record a faster than planned 6hr12. Onto the run for both. Temperatures were above 20 degrees and the sun saw me heading for the shade after calculating how long I'd have before they returned to the lake and more words of encouragement were needed. The run was proving very hot. Gav was tapping out a good pace and looked strong as ever and heading for a massive PB. Phil was going steady and smiling through the pain, maybe paying the price for his exuberance on the undulating bike course. Both Tuffs stayed the distance and were strong to the end. Gavin running down the red carpet to an 11hr 05mins finish and over an hour off his IM PB. PLC was looking for sub 13hr, so it was great to see him storm down the finishing chute to hold the finish banner aloft at 12hr 43mins and 41 minutes off his IM debut time from 2015. An amazing event, loads of support and a great weekend.
Cheers Phil B.
Gavin's take on events from a competitors point of view.
After Bolton last year I got carried away and signed up for Outlaw in Nottingham- I blame it on the PIB. Last year I was on my own, but not this year as a group formed just before xmas so I had quite a few people to train with. They were all from Tuff Fitty and decided on a common goal of completing and smashing an Ironman distance event in 2017, 5 competing in Roth (Hobbsie, Wardy, Ade, Pig, and Matt W), 3 in Bolton (Chris, Jimbo (legend), Pete) and finally Outlaw which was me and Phil Lintott-Clarke. TIIT (Tuff Ironman in Training) was born.
Race day came and after seeing all my mates compete in their relevant events (Chris will smash Wales, forget Bolton) it felt like the longest taper ever.
The start at Outlaw is excellent. A mass start of over 1000 people swimming into the sun. I felt good and tried to keep it steady and avoid elbows and knees that were flying around everywhere.  When I finished I had to look twice at my watch as it said 1.02. I couldn't believe it but I didn't have time to dwell as it was straight into transition and onto the bike where Phil Baker gave me a shout and off I went.
The bike course was my kind of course.  A little bit of climbing but mainly rolling and before I knew it I was averaging over 19mph. About 25 miles in a fellow competitor was on the grass bank asking for an inner tube having blown the 2 tubes he was carrying. I decided to stop and give him one of my 3 tubes and whilst it might have cost me a couple of minutes and I hoped I didn't get more than 2 punctures on the rest of the course, I knew it was the right thing to do. Hopefully he finished and became an Outlaw.  I really enjoyed the 112 miles and saw family and friends at many points. Even Lucy Gossage was one of the road side supporters.  Maybe because of my tube generosity earlier, the triathlon gods were looking down on me and I came in at 5.48 on the bike.  This is when the possibility of a sub 11 hour time popped into my mind.
I started the run and felt pretty good all the way until 15 miles. I had managed the first half of the marathon in 1.53 and I think that was my downfall. A bit too fast even by a few minutes that would come back and bite me in the arse later. I think I fuelled right on the bike but neglected it on the run. With 2.3 miles left I passed Phil Baker, my wife and friends and they informed me that if I keep this pace then sub 11 was mine. As soon as I ran past them and further down the course my body and mind just fell apart, even the Jaffa cakes at the feed station didn't help. The wheels had completely come off.  I just kept thinking, 2.3 miles less than a park run come on Gav – Man The F#*k up (rule 5). But the body wasn't listening and every time I went to run my legs would walk. I finally managed to get to the finish line and ran down the home straight and loved it. Saw my friends and managed to kiss my wife which I didn't do at Bolton (husband points earned). I loved and hated this race and the last 2 miles were the hardest 2 miles I have ever faced. But with a time of 11hrs 5 mins I had become an OUTLAW.
Gavin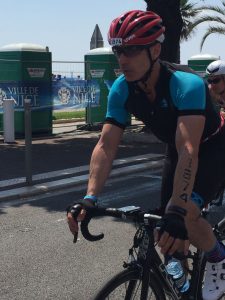 IRONMAN NICE 
Alternatively title – Swim, Run, Beer
Robert Clarke, our London based member, is still recovering from operations which has curtailed his running. However you can't keep a good multiple Ironman down for long and Robert took part at Ironman Nice.  It is a fantastic location with a swim in the Mediterranean,  a bike ride through the Alps through villages and mountains and a run along Nice's Historic waterfront. Did you know that this race has been selected for the Ironman 70.3 World Championships in 2019? With Easyjet flights and simple coach ride into town… any Tuffs up for this?  However back to this year; Robert had always planned to complete just the first two legs and reports:-
"I did my 2/3rds amongst just over 2,000 other competitors on a hot day in the 30s, with a windy bike ride which is one of the best if anyone wants a challenging IronMan.  2k of climbing and very scenic.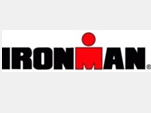 I managed a 1.02.15 swim which was 3rd in age group and then a slow bike in 6.34 on only water and salt tablets due to nutrition issues.  The winning pro male was 8.31 with a 49.21 swim, 4.39 bike and 2.57 run. Winning pro female was 9.27 with a 55.32 swim 5.18 bike and 3.06 run.  Best marathon was 2.43!  All inhuman. The picture is of me the finishing bike and then  I stopped given my damaged calf muscle (I had tried a couple of test runs after my two year lay off and my body did not like it, even easing in).  Maybe next year for a full effort
Robert
BLUESEVENTY BIG SWIM NOTTINGHAM-5k
Phil Baker is a big fan of the Outlaw full distance having competed there a couple of times. Whilst he is not racing Full distance this year he set himself a new challenge with the added bonus of being on hand to cheer the Tuff duo racing the full distance race the next day. Phil reports:-
The National Watersports Centre is an amazing lake to swim in and the venue for my first 5k swim. A bit apprehensive at the beginning but once the gun went, got into a steady pace and hoped I hadn't bitten off more than I could chew. Two laps of 2500m with an Australian exit and feed station at half way. First lap was quite crowded to begin with, but I felt good. Back into the water and much more space for this lap as the people racing the 2.5k distance were now out of the way. Sighted much better and after turning for the return 1250m leg, found an extra turn of speed and seemed to get faster and faster. Managed to overtake 24 people on the second lap, so exited the water in 1hr 45:07 mins; absolutely buzzing. My overall finish position of 131 of 195 finishers shows i still need to get to more coached swim sessions, but that was one awesome race.
Phil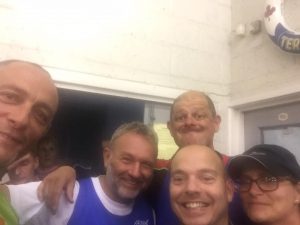 Jason, Glenn, Chris with Ian & Leigh 
LUNARTIC MARATHON
Jason Rae  has reported in on behalf of the Tuff 'Lunartic' crew:-
Saturday 22nd July was the Sussex Trail Events Lunartic Marathon up and down the River Adur 3 times between Shoreham and Upper Beeding.
I arrived at the Registration at six to help out with getting everyone signed in , shortly after GlennParisi arrived and was asking me what i would be wearing to run in , a bit like two women would do before a night out to ensure they dont turn up in the same dress. The hall quickly filled up with runners as Chris, Jay and Danny (Fellow tuffs) set the start /finish out and the cones around the field opposite to make up the 26.2 miles. It was soon 7.50 and after a safety brief everyone went out to the start line. Danny set us off for 2 laps of the field at 8.00pm  before heading off over shoreham bridge to start heading north up river along the east bank. after about 3/4 mile the gravel path ran out and the rest of the run to the turn point was mainly on the river bank . The ground was pretty soggy as there had been lots of rain during the day pretty much up until 8.00pm. The whole field strung out pretty quickly and the leaders were soon on their way back down the other side after crossing the road bridge at Upper Beeding. I stopped at the feed aid station for a chat , a few sips of Rola Cola and some water melon and jaffa cakes, the things you crave when your legs are aching. Back down the other side of the river I was soon at the aid station on the toll bridge starting the second lap. It was about 9.30 now so lighting up time and you could see lots of head torches dotted along both banks  but not make out who any of them were. I made the mistake of taking an energy drink i'd not used before and by the end of the second lap i was feeling pretty sick. The first half of the last lap was a struggle , walk / running and having to stop every mile or so to get rid of the feeling of wanting to be ill. I found out afterwards that lots of runners had felt ill, maybe it was running a marathon at the wrong end of the day. The other noticeable thing was one of the paths along the river had disappeared under the tide. I got to the Upper Beeding feed station and drank 1/2 litre of water which had an almost immediate effect of making me feel better. I got running again and it wasnt log before i was back at cuckoo corner , Lancing a psychological point along the river. About half a mile past here is the A27 underpass then the last km along the bumpy path that most STE runs finish along. I finished in 5.16 earning my 4th different river series marathon. Whilst sitting chatting to Danny Cunnett, Glenn crossed the line, (5:22) then Linda  Wright (5:25) with Chris Levitt finishing a short time after that (5:44)  . The hardest part of the night is usually climbing the stairs to get a coffee in the scout hut and tonight was no exception. Sussex Trail Events are highly recommended, there are always lots of friendly familiar faces around and most of the runners are really supportive towards each other before during and after the race. Look out for their latest venture the REGIS 10 , a 10 mile road race in Bognor in November which we are sure will be just as enjoyable and well organised as their trail events.
Jason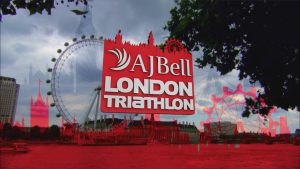 LONDON TRIATHLON
It is nice to be able to share some news from some Tuff's on the comeback trail, and what better than to do it at the world's biggest Triathlon – over 13,000 Triathletes over the weekend. Amongst them were Lee Cullen, who undertook the full Olympic distance out to Westminster for the 1,500/40k/10k. Sophie Cullen and Debbie Boxall took on the Sprint distance, which comprised a 750m swim, 20k bike and 5k.  Good to see them back competing, with Sophie's thoughts on the day below:-
"Having not competed for the last 7 years London Triathlon seemed a great one to dip my toes into again.
Having arrived and realised the sheer scale of the race the nerves kicked slightly in but the organisation of the race was second to none and everything was very well set out. The swim unfortunately completely freaked me out, open water swimming is not my strong point and panic overtook my capabilities. The bike course was fast and mainly flat so I was able to make up a bit of time and by the time I got to the 2 lap run my medal was in nearly in sight.
Loved competing again, would definitely recommend London Tri as one to do! Great venue and extremely well organised (good medal too which is always a bonus!) Annoyed with myself that I hadn't done enough training, however out of everything the best thing that has come out of it is I realise I have really missed Triathlon and you will definitely be seeing a bit more of me!! "
Sophie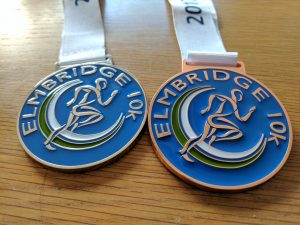 ELMBRIDGE 10k
Andy Strong reported in from the Walton-On-Thames branch of Tuff Fitty:-
"Myself and Kirsty have been running the Elmbridge 10K this morning. It's a nice little race literally at the end of our road. It starts at the leisure centre and runs out past Sunbury Lock and towards Hampton Court. The course loops out onto the road before turning back at 5K as you run past the Molesey cricket ground and a straight run back along the Thames tow path. 
A very tight and busy first quarter mile made for a slower than hoped start and I missed the 40-minute mark by 90 seconds. I was still happy with how I ran and hope to dip below 40 again before seasons end. I managed to finish in 40.31 and pick up a silver medal. Kirsty has now recovered well from her back injury and run a strong 1.06 with more pace still to come." " We are looking forward to catching up soon and hope to make a Lido race, even if just to spectate"
Strongie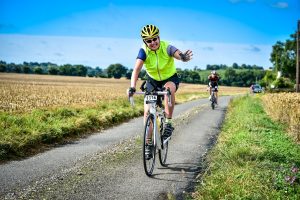 MEGA MEON SPORTIVE
Leanne Levitt has reported in from her latest Sportive a 27 miles course: –
I had originally entered middle distance event but after the 70.3 plus being sore still from physio I thought I would go and just keep my hand in with the little event.  So why not just go and have fun until I have recovered and that I did!  I met loads of new people who for their own reasons had also dropped down to the little event, we managed to escape the rain too.  It had a few more hills than I thought and due to heavy rain the day before some of the roads were like an ice rink…..so just pedalled safely round, stopped for yummy food at the feed station and posed for every photo en route!
It beats slogging your guts out……for once
Leanne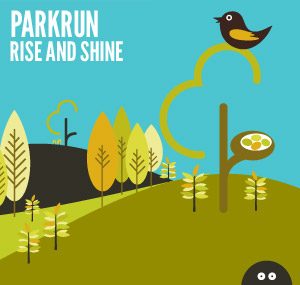 PARK RUN
A small number of Tuff Park runners this week. At Worthing, Neil Rabone & Amanda de Ridder ran. Adding two new Park Runs to the ones where "Tuff Fitty woz here" saw Trevor Harvey undertake the Maidenhead Park Run. This one is staged in Braywick Park, Maidenhead. The course is run on a mixture of hard trail paths and loose gravel. Meanwhile further north in Leighton Buzzard, Graham Liddell took part in the Rushmere Park Run run over dirt paths in the Country Park. No PB's this week but good to read of Tuff participation.
Keep those race reports coming :- email to clive.harvey@tinyworld.co.uk