Breca Swim Run – Gower Peninsula
Tom Goddard and Joe Pascoe have written in with their inspirational, and amusing report from their Breca Swim-Run adventure on the Gower Peninsula. It is billed as 40km of trail running on Gower's spectacular and challenging coastal path and 6km of ocean swims. The race details  stated the course included racing against the tide to swim onto the dragon-like Worm's Head promontory before exploring limestone cliffs, ancient woodlands, white sandy beaches and secret bays;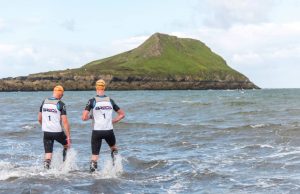 Swimming across to Worm's Head (named 'Wurm' meaning 'dragon' by Viking invaders)
TG: Having lit up the SwimRun scene with Marchy last year in the Lake District I jumped at the chance to race again this year when Joe propositioned me. I was particularly excited at the prospect of racing with someone who didn't have twiglets for arms, could actually swim and wouldn't get hypothermia after the third swim. I also have fond memories of surfing in the Gower and had some friends in Mumbles willing to put me up so it seemed to be the perfect race.
My preparation went really well with the Steyning Stinger duely despatched early in the year, plenty of trail running under my belt, a cheeky 8 sprint triathlons at Blenheim over a weekend, plenty of sea swimming and some great sessions with Joe running up and down Worthing seafront in rubber.
JP: When I signed up with Tom for Breca Swimrun in the Gower, Wales, I had no idea what I was in for! I saw the route card with a near marathon running and 6k of swimming and thought it was doable, but what I didn't take into account was over 3000m of climbing, sand dunes, beaches, pebbles, rocks, cliffs and coastal paths.
TG: After a seven hour traffic jam from the A27 to Swansea I arrived having missed registration but in time for the race briefing. The briefing was… brief. 'The course is hard. Really hard. I don't expect many of you to make it past the first checkpoint'. We were also informed the forecast was for gale force 8 with winds gusting to 58mph and 8ft swell. It was also going to be hot. In Wales! I didn't believe the last bit.
The morning of the race, with a slightly fuzzy head from the bottle of Rioja the night before, I jumped on the bus from the finish at Mumbles Pier to the start line. It was bloody miles away! I met Joe there with pregnant wife number one and chief cheerleader Erin. I was excited and knew I had prepared well but was a little apprehensive as I knew Ben (the race organiser) to be a bastard course designer, my taper was awful (my legs were killing me from smashing it at the track on Wednesday) and I had a lingering chest infection. But I didn't tell Joe this as I didn't want him to think I was soft.
As soon as the starting pistol sounded, any worries/ aches/ pains evaporated. I felt indestructible. We soon found ourselves at the head of the field.
JP: We said we'd start off slow and take it easy. We started in front and we were leading the race until the third run leg. We said we'd walk bits. We smashed out the first 5km run to Worms Head, then the 400m swim across and the 4 km scramble to the end of Worms Head and back.
TG: We passed pregnant wife number two and the rest of our support crew at Rhossilli just before entering the water for the first swim to Worm's Head. I didn't tell Joe about the dinner plate sized jellyfish I saw. But WOW! The coastline was stunning. The approach to the Worm's Head in the water was spectacular only to be topped by a ridiculous cliff climb out of the water, leaping 15ft ravines and an incredible run/ climb/ scramble. Oh and we were still winning. I told Joe not to expect us to stay in 1st position but secretly had visions of us crossing the finish line arm in arm, victorious, being showered in beer by our adoring fans. Strava has since informed me that we have the fourth fastest time ever for that first 5km clifftop segment. Maybe we went out too hard.
JP: Needless to say my wheels came off. While Tom 'The Mountain Goat' Goddard was still flying up the hills in the third (9km) run. My feet went numb from my calf guards being too tight and then I went dizzy and Tom made me sit down.  After taking off the calf guards and staggering to the next swim point we eased into the water, Tom guiding me through an 800m swim through windsurfers.  The swim picked me up out of the hole I was in and because Tom sighted perfectly we picked off a few  places too. We met our support team on the beach, hit the second feed station, hugged Stormy Stan at the lifeboat and walked and ate.  I could feel my feet again and was getting feeling back in my face, however I was running like a crippled sausage dog. After 3 km of coast path we hit the second swim, and then I'm not sure what happened.
TG: We were caught by the second place team and ran with them for a while. It turned out they lived on the course and as I found out after the race were none other than the organisers of the infamous Darth Mannion beach and swamp half marathon (a bucket list race for any self respecting endurance/ multisport athlete). Running with them really showed us how much a bit of local knowledge helped as we followed them through boulder fields and over treacherous terrain. They also went on to win the race.
Starting the longest run of the day we decided to 'cab down' taking the top halfs of our wetsuits off as the temperature was approaching 26oC. It was a great decision as running flat out in neoprene had been taking its toll. Joe then expertly demonstrated this by having his own 'Jonny Brownlee moment'. He slowed to an almost stop staggering side to side, pale, eyes rolled back and I thought, perhaps this is a good moment for a little lie down. When he came round he was mortified, appologising for ruining the race to which I reminded him that it was a team event, promised to get him to the finish line and said that it could be worse, he could have shat himself.
JP: We ran, Tom sang, we did some swimming, I did some walking.  We saw some of the most amazing views. Saw a dead seal. Swam in rolling waves around stunning rock formations.
TG: The song I had composed for Joe for the race was 'Pascoe Pascoe Man' sung to the tune of Queen's 'Macho Man'.
JP: I thought the low points were over and although I was still running slower than most of the children playing on the beaches, I was sure we were going to finish, and we were still somewhere in the top 20. Then I shat myself! On a beautiful blue flag beach!  Tom nearly drowned laughing at the sight of me trying to scoop water into my wetsuit in Three Cliff's Bay.
TG: The most dangerous swim wasn't one with 12ft swell round a cliffed headland, nor the one where I was thrown against a submerged rock having my handpaddle ripped from my arm. It was definitely the one after Joe's 'accident'. I have never inhaled so much water through laughing! Needless to say I was very sympathetic and supportive. I decided the best way to help him through this horrific moment was to relentlessly take the piss.
JP: We then climbed up a cliff path, met Tania and I vomited next to the feed station.  Low points out the way (I think). One more bay swim, meeting the support crew at a feed station and the coast path finally turned into tarmac.  It was such a relief to actually run on a solid surface and the solids had mostly been washed out of the neoprene! A final 200m swim in Bracelet Bay and then a scramble over the rocks and down to Mumbles Pier.
TG: After six hours of racing from nowhere Joe caught a second wind and all of a sudden we were belting it along again. He even had the energy to perform a perfectly executed cannonball into the final swim. The final 'run' though was a truly epic finale. It was just rock climbing. Up we went, crested the summit, only to see an even steeper decent to the finish. But the lure of a cold pint was a great enough for us to just throw ourselves down, sliding, attempting to dig our nails into the rock to prevent too much speed building up.
JP: So we finished.  I can't remember half of it and it was tough – but time flew by.  We'd been running and swimming for 6 and half hours but weirdly it seemed
a shame to finish.  The race had everything, stunning views, epic trails, massive swims, in the middle of nowhere with your mate.  In truth Tom would have finished about an hour earlier if he hadn't had to wait for his incontinent grandad of a team mate, but it was easily the greatest achievement of my life finishing and it was awesome to share the experience.  Overall we finished 12th and only 48 out of 90 teams completed the course.
TG: For a race advertised as 42 km we got great value for money covering a whopping 51.7 km and 3330 m elevation. I'll have to ask Chris Ette if that counts as an ultra. It was a fantastic adventure with great company and I would thoroughly recommend the format to everyone. Words cannot describe the brutal, breathtaking beauty of the landscape we were privileged enough to race through.
(Authors Notes- JP: I washed my wetsuit and binned my swimming shorts. TG: Apologies if any of my comments offended, I have written this after a fairly big bank holiday Monday session)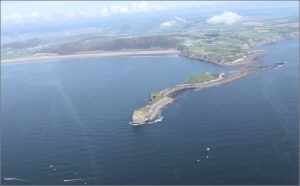 Worms Head shaped like a giant sea-serpent and marks the most westerly tip of Gower. The headland is one mile long; the highest point is approximately 150 ft. The banner photo captures the team crossing Devils Bridge part of Worms Head