Brighton Marathon & Round Up 14th/15th April
This round up, appropriately enough for a Tri Club, includes a swim event, a cycle event and a running event as follows: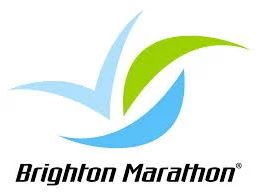 BRIGHTON MARATHON
As usual Tuff Fitty had a lot of entrants and it is great to see that Tuff training and events are able to cater for a wide range of members goals . At one end of the scale there was Jay McCardle, who having completed the South Downs 50 miler last weekend was here racing again clocking up his seventy second marathon; and achieving 3:57. He is moving inexorably towards his goal of the 100 marathon Club. At the other end of the spectrum it was great news to see Michael Redgrave compete. He first came to the running track at the start of this year and has become a regular at the Saturday morning run successfully completing his first marathon. Brighton has now developed into the UK's second largest marathon by participants, the second fastest, and twelfth largest in Europe
Others ran under their running club vests, but still plenty of Tuff blue vests on parade. Some entered viewing this as a training run towards their 'A' races later in the year and yet more raced to try and get a time; which they did. A new PB from James Oram in 3:15:15, with storming runs from Joe Pascoe  & Pete Littleboy who finished in 3:24:37 & 3:28:24 respectively. Ian Bayley (3:43:48) and Jay breaking the four hour mark.   Congratulations to Amanda de Ridder,  Phil Baker (on his double, see below), Ian Moore, Neil Rabone, Murray Hodge, Tiff Orton, Glenn Parisi, Tim Kenny & Michael Redgrave. Congratulations to the runners and on their behalf the plethora of Tuff supporters popping up around the course.
Most seem very shy about their achievements, so thanks to Pete Littleboy for reporting in:-
"I finished the 2018 Brighton Marathon in a time of 3h28 which was OK (no pb) but as I started the week leading up to Sunday's race on a half term break eating and drinking large amounts, but also having done all the training I thought "carpe diem" and so to either Friday or the Saturday you can pick up the race pack at Madeira drive which they turn into a village. This is not only good marketing but gives you a real excitement about the following day. Next for the Sunday morning it was to the start line at Preston Park which is very accessible. With colour coordinated start pens & waves it's well organised for bag drop etc, however as always, the toilets are a problem but expected with so many people, and now the 2nd most popular marathon in Britain (so I was told). With no rain  forecast till 2pm and none of the blazing sun of the previous day, the race was underway. It soon became clear that this  was popular with good crowd support around the course. I was also helped by the Tuff's who made the journey over (thank you). This made the finishing straight deafening, which was amazing, and to be greeted with your medal and a beer…. but nothing can save you from the dreaded stairs."🤕=    Photo gallery follows, with thanks to the contributors.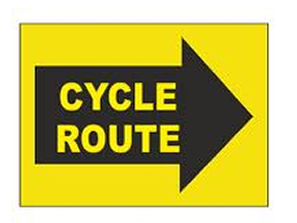 NEW FOREST SPRING SPORTIVE
Held over two days, the New Forest Spring Sportive is very popular.    Drew Gowland  & Claire Moyle  cycled on Saturday and then Martin Hawkins entered the Sunday event. Phil Baker has submitted a double report as he rode on the Saturday and then raced Brighton Marathon on the Sunday.  Drew used this as training for his World Aquabike champs coming up and did well earning a Gold award completing the 81 mile Epic with 2,539 ft ascent in 4:42:56
"I did the epic ride on Saturday an undualant ride of 81 miles. It was an early and misty start but after about 1.5 hrs the sun managed to make an appearance and the weather and scenery improved making it a very pleasent ride indeed. Testing out the new bike which proved to be a comfortable ride and getting used to the new gear ratios proved interesting on the hills but and good start to the spring cycling season.
Claire
Martin reported in for his Sunday edition of the ride:-
"Weather for this event looked gloomy to start, with forecasts of rain throughout. However this was not the case, well partly. Conditions were chilly to moderate throughout, and road conditions were not bad in general. The procedure for the start was 20 riders departing every 2 mins. After a slow start out of Somerley House drive, which was marked by some potholes, the pace soon picked up on the main road to which I quickly caught up with the group who set off 2 minutes before. Not long after that I encountered the next group. At this point I thought I was going to quick and expending to much energy early on, but I felt comfortable so continued on, eventually catching up with a group which was more or less going at a similar pace so utilised them to draft to save my legs a bit. On a fast down hill section I dropped this group and continued at a steady pace enjoying the surrounding country side, and next thing I realised I was over half way through the course. I did contemplate turning off for the epic route, but I then thought my wife would kill me if I came back any later than I promised, so stuck to the standard route. The later section of the course north of the M27 had a little sting to it with a cheeky climb to test the legs, to which I was surprised that I was overtaking other riders whilst going up (still not as fast as some other Tuffs I'd admit), and then into an exposed section of the New Forrest with some fantastic views. The last 6 miles was when the heavens opened up and the wind swept through which made the last bit a tough old affair, and was thankful when I saw the turn towards Somerly House for the finish."
In summary a thoroughly enjoyable course with good sign direction and event volunteers at junctions to aid participants. Definitely considering the Summer and Autumn editions work permitting.
Martin
Next we have Phil Baker's weekend adventure:-
Brighton Marathon Weekend:-
"Back in February, I realised that not having run anything over about 8 miles since Xmas, my hopes of a PB at Brighton were not really very high. Cycling was going well, running, not so much. I received an email advertising the New Forest Spring Sportive, with an 'Epic' option of 81 miles. The date was the day before Brighton Marathon. I remember Jon Roper doing this double back in 2013, when I was just into triathlon and at the time, I was a bit in awe at the thought of it. The challenge grabbed me so much more than 'another' marathon in a so-so time. Enter I did. Just need to get in a few 60-70 mile rides and some long run, I thought. The cold snowy/icy end to the winter didn't help matters and when I jumped on a plane to Lanzarote 2 weeks before the marathon weekend, i had done one 70 mile ride and a couple of 14 mile runs".
New Forest Spring Sportive
"Cold damp start out the grounds of Somerley House and managed to get past the 25 of so riders I'd started with. By 7 miles, i'd caught and past the group that started 3-4 minutes ahead of me. I was flying. After an hour, I was on 19+ mph and wondering if I had gone off a bit quick, but I felt great. "Nah, just smash it, you're on fire mate". Roads were good early on, the fog was starting to clear, but the high dampness in the air had taken the dry lube I was using off my chain and my bike now sounded like a bag of rusty nails. Headwinds and hills started to come in the middle third, scrubbing off a little speed and the legs were starting to complain a bit. Maybe the start was a tad quick. A pit stop at the 60 mile aid station for the loo, a bite to eat and refill water bottles and off again. A nasty hill at 65 miles, the type that gets steeper as it goes up, took the last out of me and the finish couldn't come soon enough and tomorrow's marathon was now seeming a really bad idea. Finished back at Somerley House in the sunshine and a bunny hop over the line. Job done! Finished in a moving time of 4hr 45 mins (17.1mph ave.) and total time of 5hr 01 for a Gold certificate. Now you need to eat and recover."
Brighton Marathon
"Felt ok when i got up. Bonus! Met up with Pete Littleboy and we exchanged tails of woe. Me about my trashed legs, him about his holiday up north and the alcohol and food he'd knocked back all week. My plan was just to go steady and treat it as a training run. Go out easy and enjoy the atmosphere. What will be will be. I had also decided not to wear a watch. Go on feel and don't be tempted to chase a time. Started well, legs ok, sort of. By 10k, I knew it was going to be tough day. I could already feel myself slowing. By 10 miles, I had nothing. I just decided to 'embrace the suck' as Chris Macormack says. By 11 miles I was telling myself that in just two miles I'd be over half way! Back to the pier gave me a lift, the crowds were loud and the atmosphere amazing. Saw loads of Tuffs on route, both running and spectating and I was very appreciative of their shouts of encouragement. Going along New Church Road and my pace had dropped to what felt like the 'ironman shuffle'. It felt so slow and I just plodded on and hoped this wouldn't be my slowest marathon ever. Not wearing a watch was a total head messer. The 20 mile point was nice to see, in three miles time there's only three to go. I certainly had got what I wanted, every mile was a challenge, but eventually I was back to the pier and the last 385yards. As the finish clock came into view I had absolutely no idea on time, so as I approached, I was surprised to see 4hr 20 something on the finish gantry. Really thought it was going to be slower. Across the line to a massive sense of relief. It's over. It's done. Good job!  Official time 4hr 19:47mins.  Found Pete, he had romped it in 3hr 28. Awesome."
Cheers
Phil.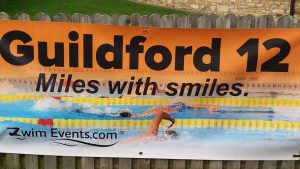 GUILDFORD 12
Whilst lots of running and cycling it is great to complete the set with Susan Douglas reporting in from her swimming event on Saturday at Guildford Lido
"On the sunniest day this year what could be better than swimming outside all day!
Guildford 12 is a charity event held at Guildford Lido and comprises of swimming one mile every hour for 12 hours, either as a team or solo. I was up for the solo, I mean how hard could it be? My mile swim time is about ½ an hour leaving me with the same amount of time to rest and refuel, no problem!
At mile six I realised it perhaps wasn't going to be as easy as I thought! From then on my times got a little bit slower and my arms heavier, but in the end, with the aid of cake and coffee and as the sun started to set I completed the final mile!
It was very hard, but thanks to the Tuff swim coaches for keeping me in good enough shape to tackle such events."
Susan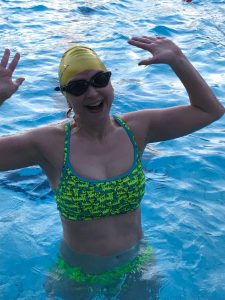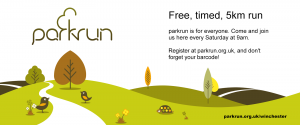 PARK RUN 
At Worthing Park Run some of the regulars were on the organising team as they saved their energy for Brighton Marathon: – Amanda de Ridder, James Oram & Tim Kenny.  But that didn't mean there wasn't Tuff interest in the run.   Great to see Andy Ruffer back in action and an impressive run at that :- sprinting round in just 19:09.  Clearly running 50 miles the week before doesn't tire you out as Jason McCardle demonstrated, romping around in 20:48 – this matched his previous PB exactly; but then he would promptly do it all again running at Brighton Marathon – incredible.  Roy Barraclough was out for the fourth week in a row returning 23:22. Last week we reported on a great comeback from Gary Edge.  He was back again and this time shaved over 1 minute off his time and with his knees holding up feels there is still more in the tank.  Bognor Park Run was quiet from a Tuff perspective but Jason Rae was once again on the organising team. Situated in one of the Royal Parks is Bushey Park Run; Andy Strong raced finishing in 21:52 with Kirsty Keith also in action in a packed field. The growing status of Park Run is underlined when you consider this original venue had 1,300 runners turn up requiring 50 volunteers this week.
Please keep the race reports coming :- send to clive.harvey@tinyworld.co.uk