Weekend Round Up 7th 8th April
Tuff Fitty are on a terrific run of form with a dozen new members signing up over a period of just six weeks. There is also interest from plenty more, some of these have already come along to meet the squad at training sessions.  The weather is still trying hard to convince everyone that we are not in Spring, but Tuffs have still raced at a variety of events.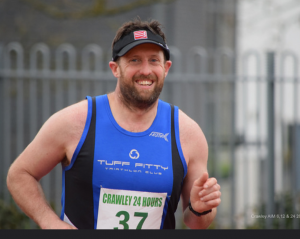 24 HOUR TRACK MARATHON
Chris Ette reported in with the above photo from his latest event – a track marathon, but this being Chris, it wasn't just a marathon distance – the term "Marathon" referred to the time, all 24 hours of running around a track.  Held at the K2 centre at Crawley, there was a 6 hour and 12 hour event alongside his 24 hour event.   The organisers gamely stated "Track based events are far from being boring unless one is prone to boredom of course".  They promoted the event by saying that "all your supplies can be located trackside, toilets are close at hand and there's an always manned and supplied aid table never more than 400 m away– this is cushy as far as an ultra goes"  They may well say that, but that's  still a tremendous achievement running for that time, quite apart from the distance covered.  Chris managed to keep going for  23 hours 55 minutes and 22 seconds! He came home as fourth male and covered 144.33 miles.  Huge congratulations Chris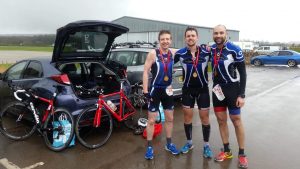 GOODWOOD DUATHLON
James Oram reported in from a rather moist Goodwood Motor Racing circuit :-
"It was a grey and wet day for the 30th anniversary of the Goodwood Duathlon – the fast, relatively flat duathlon around the iconic Goodwood Motor Race Circuit. Four hardy Tuffs braved the weather to tackle the wet conditions. First Lady home in 37th position on the short course (3.8k run, 22.8k bike, 3.8k run) was Nikki Gatland coming in at 1:18:01 with an impressive 40 seconds T2. First man home in 21st position was Andrew Crawford on the long course (3.8k run, 38k bike, 7.6k run) averaging an aero 22mph+ on the bike and an equally impressive 6:05 min/mile on run 1 and 6:38 min/mile on run 2 – totalling 01:51:39. Next home in 34th position was James Oram who averaged 6:20 min/mile on run 1, 21.7 mph on his road bike, and 6:48min/mile on run 2 – totalling 01:55:11. His transitions need some work though as he was on average 45 seconds slower than other Tuffs! Completing the Tuff quartet was new dad Tom Gray who had managed to get some sleep in order make some aero gains on his TT averaging over 20mph and coming in at 02:04:51. Post race Tuffs received an environmentally friendly wooden medal, sports drink and a water bottle. A great event organised by Portsmouth Triathletes- long may it continue". (click on the arrows to view the album)
James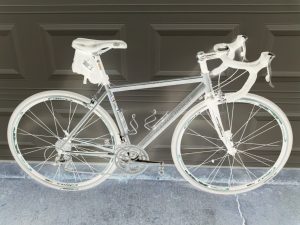 SIGMA SOUTH DOWNS SPRING SPORTIVE
We have two perspectives from The South Downs Sportive where a trio of Tuffs participated, starting from Plumpton Racecourse; First from Jason Rae & then from James Togneri:-
"Its never a good start getting a puncture in the car park before the start of the sportive. Having opted for the 80 miler on no training I soon regretted this . I met with Geordie Paul – he was again fuelled by beer from a heavy sesh the night before, and a few other mates but they set off before me whilst i changed my inner tube. They waited at the first stop at 20 miles. The next 30 miles were either up or down and I was soon dropped by the guys I was riding with. I missed a turn and ended up cycling the wrong way around a loop until a guy pointed this out to me. I decided to turn around and carry on around the course. Still having 40 miles to go and wanting to be at home I made it to the second aid station. I met up with  Geordie again and rode for a few miles more until I was once again dropped. The 80 miler had an extra loop which we all skipped and headed back to Plumpton. I've never been so happy to get off my bike. I spent the rest of the afternoon at Southease cheering on the runners in the SDW50 the race I had to withdraw from due to injury.
Jason
"I went in for the 58 mile ride it stated 1870ft of climbing so was expecting it to be fairly flat . It turns out it was 2870ft I did think it seemed a rather small amount. I hit the first 30 miles pretty hard at a pace of 3.19 per mile pretty easy climbs so far. Then it dawned on me they must have got the elevation wrong and the hills started coming. We then started cycling into a headwind and it stayed like that for the remaining 28 miles which was brutal , legs went dead and exhaustion kicked in. But I was determined to get a gold award certificate so I struggled on and finished with a time of ….    3 hours 39 and 58 seconds . So i just managed to get gold with a couple of minutes to spare;   3hours44 was the deadline for gold.
James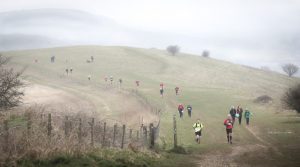 SOUTH DOWNS WAY 50
Jay McCardle was out clocking up another Ultra over the weekend attending Centurion Running's South Downs Way 50.  Beginning in Worthing runners first had to cover the 6 miles of chalk footpath and bridleways, climbing up to join the South Downs Way at Chanctonbury.  Then the route took competitors all the way to Eastbourne, but if the 50 miles wasn't enough the finish line involved one lap of a running track.  A Saturday race for a change and a great result from Jay reaching Eastbourne in 9:04:52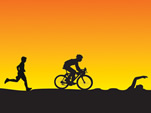 OSPREY TRIATHLON
It is great to be able to report on a Triathlon undertaken by our newest member – Clare Worgan. Clare first came to the track on the week when it was a complete downpour thoroughly proving her Tuff credentials. She entered the Bustinskin Osprey Triathlon in Portland, Weymouth.  The event comprised a 300m pool swim, then a 17k bike ride followed by a 5km run. The race blurb provided a very reassuring "this is a perfect event for beginners" but as anyone who has been to Portland will know, it sticks up out of the sea,  & by some margin!  Surely the bike would be tough. This was a view Clare shared  as the 10.5m course packed in 843 feet of climbing, with a big climb at the beginning. Clare stated she enjoyed the event and kudos to her being one of the first club members to complete a full triathlon so far this year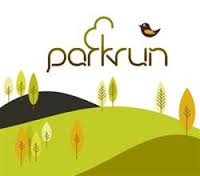 PARK RUN 
At Worthing Park Run, the stand out performance this week was from Gary Edge. Gary is a supreme Tuff popping up to cheer everyone out racing, most recently at Worthing Half, so it is fantastic to see him across from the spectator ranks and pounding the promenade. Gary's put down style is to say he is on his way back from the couch, and was carthorse slow, but it is great to see him back running after two years.  Roy Barraclough was racing again in 23:01 and clearly no one had told the following to taper for next weekends Brighton Marathon as James Oram finished in 19:28 & Amanda de Ridder 24:04.
Across at Bognor Park Run, Ian Bayley participated for the first time this year having recently moved house, but still completed the course in 24:36
Good luck to the many Tuffs running at Brighton.