Weekend Round Up 20th 21st May
The fast pace Tuff action continues this week with some fabulous results:-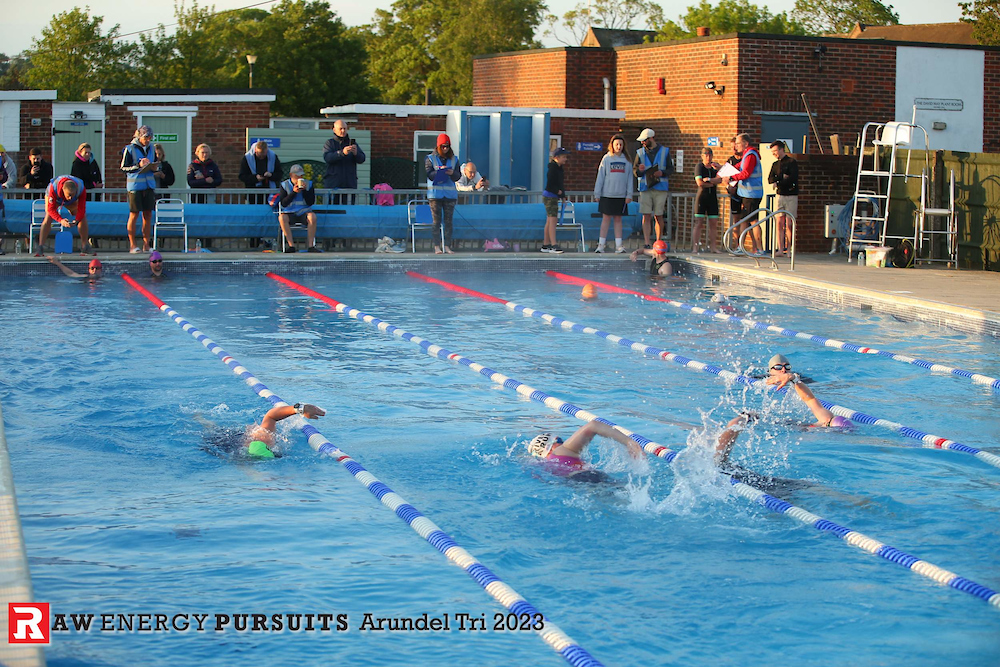 ARUNDEL TRIATHLON
It was a very impressive Tuff turnout at Arundel Lido for the 19th annual Triathlon. In contrast to previous years the sun rose as the first race got underway. The Standard distance – a 750m swim, followed by a 38km bike course which took riders up to Whiteways Lodge, down Fairmile to Slindon and back along the A27 to Arundel, and then complete the circuit again. Then the challenging 8km run out to South Stoke and back along the undulating road.
Racing the Standard, James Mapley achieved third position last year. 2023 saw his usual epic bike leg completing in 55:44, the second fastest split of the morning and one of only three below 1 hour of riding. Second best run split saw James cross second overall – superb. Ben Thomson was next home. Unfortunately due to a mechanical with his bike, he had to borrow one which wasn't set up for him, but using his strong run leg still finished in 22nd position overall. Katie Young finished fourth female overall and first in her BTF category. Nick Francis used his strong running to finish next. It was great to see Olly Sampson on the comeback trail and then Will King was the next Tuff home stating he was 2 minutes quicker than on his last outing.. Iris Bennett ran very strongly and Ness Green was our next athlete to finish; Janet Shepherd finished second in her age group. Sheila Bailey had a huge smile on her face as she finished her first standard distance and then Elaine Rousseau finished for 11 Tuff finishers.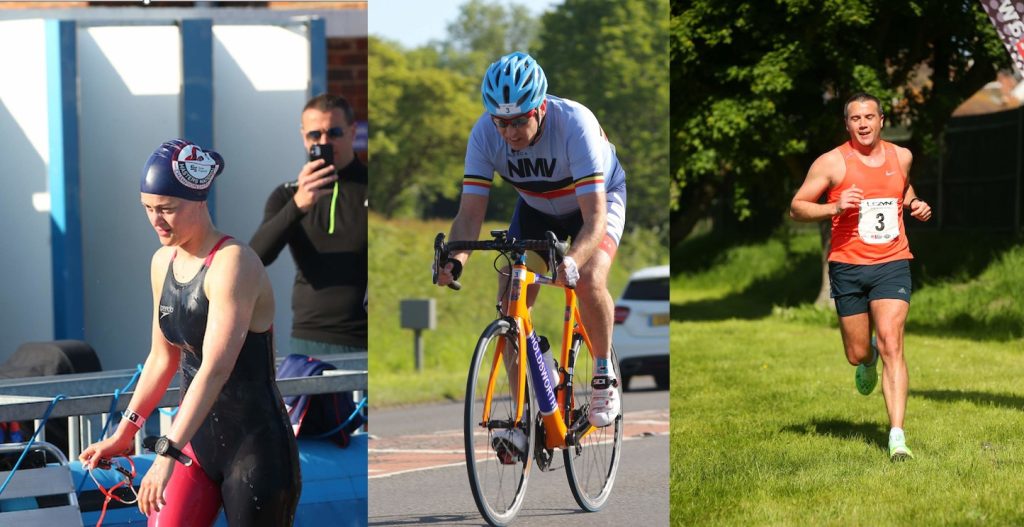 Relay champions – Amy Kidd, Jon Frost & Fraser Kidd
Racing alongside the standard distance – and covering the same Standard course, we had one Tuff team with Jon Frost an honorary Tuff alongside Amy & Fraser Kidd. Amy set down a firm marker of intent as her 12:08 750m swim was the fastest female swim beating the second relay swimmer by over three minutes. Jon sped off on the bike returning to gain the best bike relay split, again by some margin. No pressure then Fraser! as he sped off on the run. Fraser's 35:28 split meant all three finished at the top of their relay splits which ensured the relay prize was secured. Their winning margin was a whopping margin of over 21 minutes – very impressive.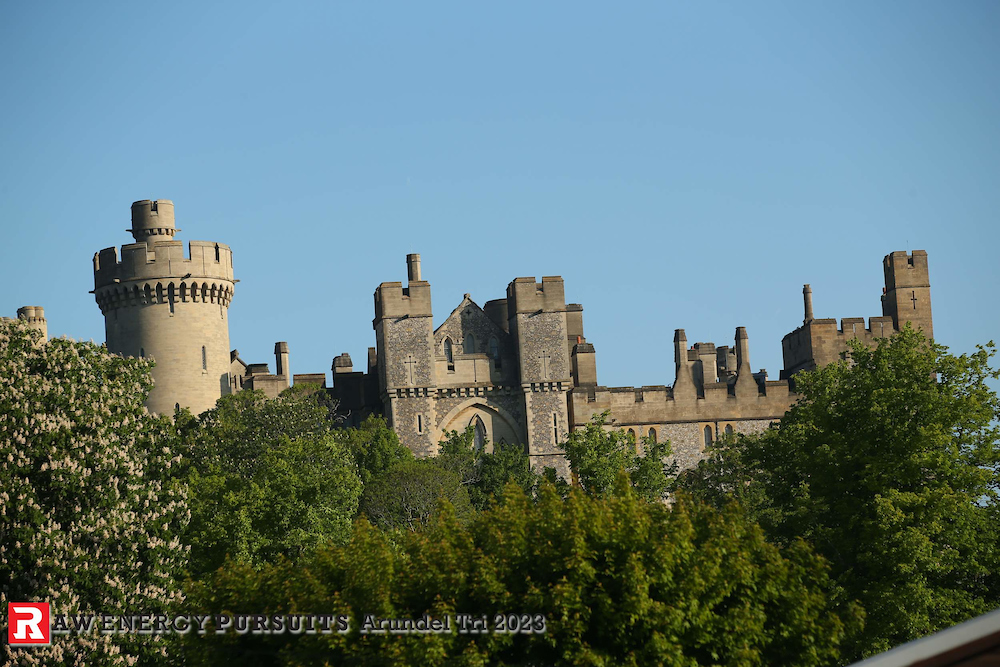 Next up the Sprint distance, which doubled as Tuff's Sprint distance championship race covering 400m swim, one lap 19k bike and a 4.6k run.
Dominic Chapman has a very strong record at this event as a previous winner and this year finished 3rd overall and first male SV in a time of just 58:00. Dom's result was the prelude to a procession of Tuff's crossing the line as next home was Tom Frith using his strong bike leg to finish 5th overall. Mark Walford finished in 7th and Tom Goddard was 8th – particularly impressive following an 'off' out on the course – four Tuffs in the top 8. The good news continued with James Togneri with a strong swim finishing in 13th. Gareth Coombes finished in 17th position to register the Tuff Fitty name packing out the upper echelon of the results.
Maisie Johnston finished the race as 4th female overall and 1st in her age group. Mark Sole is having a strong season and finished in 28th position. Verity-Jane Lacey was 5th female home overall and then Edward Lay & Les Pearce were our next Tuff finishers. Isis Solato, Catharine Gray, Catherine Bellsham-Revell, Carey Woods & Kate Cooper all did well. Unfortunately Nathan Bilham had some issues with his bike out on the course, but he still pushed on to finish the race. Sophie Garbo, Linda James, Wendy Frost & Matt Charman, kept the announcer busy saying and here is another Tuff ! Claire Moyle, Jenny Oliver, and Kate Evans all completed, happy with their results and thanks to Claire for reporting in below. Unfortunately whilst Adrian Oliver had set off well for the swim and bike, he was still suffering from getting knocked off his bike a week earlier and with a sore back decided hold back on the run.
So in summary 24 Tuffs racing the Sprint, 11 in the Standard and with our relay team, our club comprised 14% of the total finishers. There were several Tuffs on the event team with event director Debbie Boxall, with Andy Ward, Andy Rossiter, Trevor Harvey Tiff Orton, Jon Roper & Clive Harvey. Great marshalling from Jon and Sam Babbage, Sue & Colin Simpson, Grant Smalley & Phil Scales. Together with other Tuffs who turned up to cheer, there were over 50 club members present at the Arundel Lido – well done to all.
"This event is always one of my favourites and is a great way to kick off the tri season. Lots of friendly faces both competing and marshalling and a great course. This year as I have been concentrating on long distance cycling I had decided just to go out and enjoy this event rather than compete for PB's so I was feeling very relaxed as I got in the pool which was lovely and warm. Out of the swim and a quick transition and i seemed to be flying round the bike course when disaster almost struck as a baby deer run straight into my front wheel, how I stayed on the bike and upright I have no idea but I did. I quick look behind to make sure the deer was ok and I managed to finish the ride and get out on the run. I love the fact that we don't have to run up the hill any more and it was good to see Jon B directing me into the car park. Great event as always.
Claire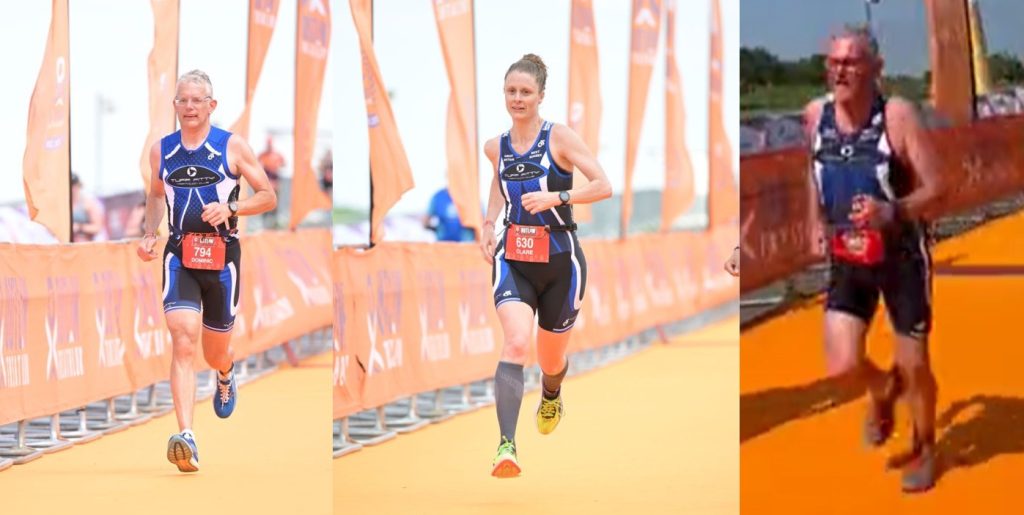 OUTLAW HALF NOTTINGHAM
Outlaw Triathlon stages three middle distance events and one full distance. Outlaw Nottingham is the most popular half, always selling out and is based around the National Watersport Centre at Holme Pierrepont Country Park. This year we had a trio of Tuffs entered – Clare Worgan, Dom Amey & Steve Bridgeman. Whilst Clare added Nottingham to another Outlaw Half, both Dom & Steve have raced this event before. All three finished in style as the above photo shows and thanks to Clare for reporting in: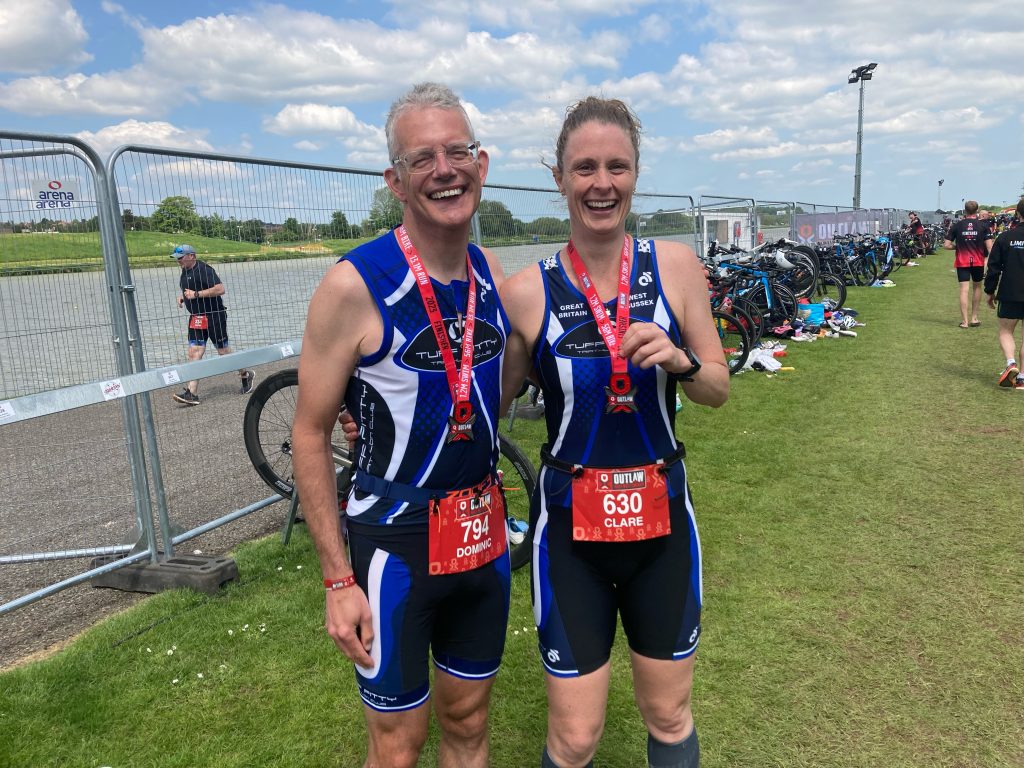 "When Tiff said she had two entries up for grabs, Dom and I jumped at the chance, what a good opportunity to test our winter training, thanks Tiff!

The organisers and the other athletes made for a fantastic atmosphere. Dom and I travelled together, we saw Steve, at the start, I spotted him a couple of times on the course too, always nice to see the Tuff kit amongst the crowds.

We ended up in the wrong swim group, too busy chatting to a friendly man who was reminiscing about the "good old days" of mass starts. I was more than happy with no mass start! Being in the wrong group meant there were lots of bodies to navigate in the water, making it difficult to get into a rhythm, but the lake wasn't cold and the course was easy to follow so I did enjoy the swim.

I often say I have the bike handling skills of a 4year old but that's slowly changing. On the recent Tuff trip to Majorca I learnt how to get out of the saddle for climbing. The outlaw course is flat but my new skills did come in handy when I needed a power boost. I pushed hard on the bike and managed to hold a good speed, which is a nice confidence booster.

The strategy was to stay in zone 2 on the run, as practice for Austria. My legs weren't happy at all for the first 3km but they did settle eventually and I got into a steady pace. The run route is three laps off the lake, nice and flat with lots of people watching to keep me distracted. The music over the loud speaker was just my cup of tea, I had a nice nostalgic sing along to a bit of Greenday on the second lap. I felt comfortable at 18km and couldn't resist picking up the pace for a faster finish.

I'm very happy with each leg and chuffed with my overall time. It seems it's true what they say, training really does make all the difference!

The day ended with pasta and cake in the sunshine and a cheer for Steve on the run.  Overall a fantastic adventure with great company. Next stop Austria…!"
Clare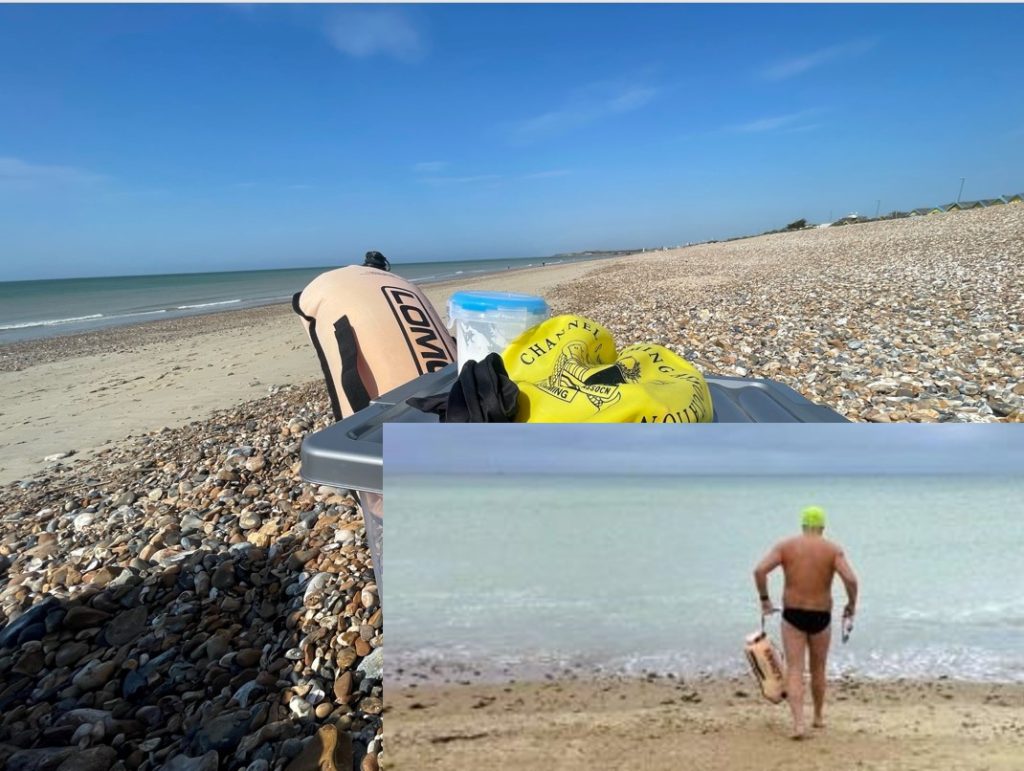 CHANNEL SWIM
James Brock has been lying down on the job; well lying in the sea, and the pool, swimming constantly, pounding out the mileage in readiness for his channel swim. We are very proud of Jimbo and his commitment. As he approaches one of his milestones he has submitted a report following Saturday's swim. Not only is Jimbo doing something amazing , he has a goal of raising money for the charity Young Minds, helping young people's wellbeing and mental help. Whilst appreciating these are difficult times, If you are able to spare a donation, it would be appreciated – the link is here Jimbo's update follows:-
"I wanted to express my gratitude to all who turned up for my training swim ahead of my qualifying swim on Sunday.
I'm lucky to have my bff organise the swim.

Over the past 9 months I've been training on my own it's been a really lonely & boring journey. I didn't think anyone would be interested in coming out so to see so many happy faces in & out of the water was just lovely.

The swim went well, I did manage to scrape my ample tummy on a beach groin on the first lap out to the second basket.

The first few laps felt good then either I got tired or the current significantly picked up! I told myself that this well happen in the middle of the English Channel so I've just got to suck it & kick through it.

I'd lent Jon my neoprene swim hat that kept riding off the top of his head so every time I saw him it made me laugh.

As probably you know I'm an ambassador for mental health and encourage people to ask for help when they need it. However, I didn't follow my own advice. I did need help. I needed those smiling Tuffs. Jon knew it & I think that's why he organised the swim.

This was a massive chapter in my story towards realising my goal. To all who showed up, thank you. & to Jon thank you for being there for me. Always.

Also, the Tuff Fitty membership was worth its weight in gold being able to use the hot shower after the swim!"
Jimbo xx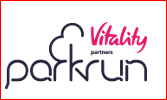 PARKRUN ROUND UP
We start at Littlehampton parkrun this week where Fraser Kidd was first Tuff home in 20:15 ahead of Arundel Tri. Colin Simpson was next scoring a strong 70% WMA rating. Sue Simpson ran for her 190th parkrun. Congratulations to Jenny Oliver who reached her 50th parkrun milestone.
Worthing parkrun saw Ed Lay run ahead of Arundel Tri, and also running Sue Pinky who notched up her 124th parkrun. Nina Tully appeared on both the results and as a volunteer as a parkwalker. Elaine Rousseau also took part.
Bognor parkrun saw just one club member in action – Clive Harvey
Lancing Green parkrun saw Nathan Bilham pacing someone around prior to his Arundel race.
Maidenhead parkrun saw Trevor Harvey take part.
York parkrun saw Alistair Evans on the tourist trail running around York Racecourse.
Well done to all twelve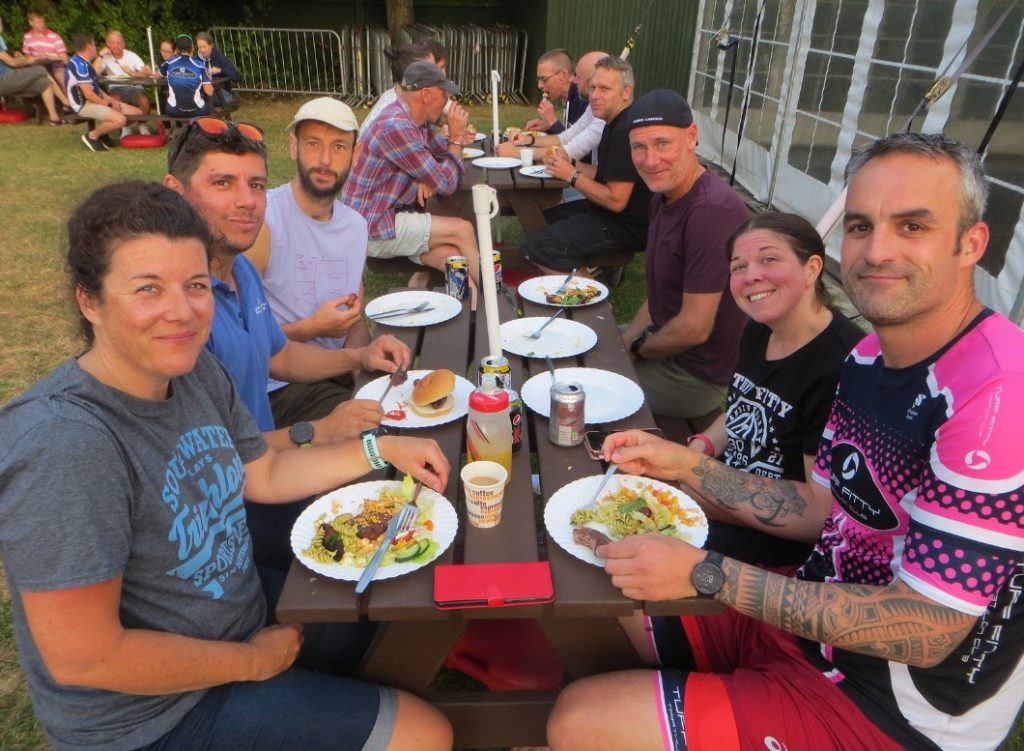 ARUNDEL LIDO CLUB RACES/SOCIAL
Some of the most popular Tuff club events are our summer's visit to Arundel Lido. The evening starts with an Aquathlon comprising 400m swim and then out for a 5k run past the Black Rabbit to the Lion & Unicorn Castle gates and return. Meanwhile the barbecue is fired up and the evening turns into an enjoyable social with plenty of food. There are three dates, one each for June, July & August.
The cost is billed at £5 for attendees for the barbecue and for that people get a free Aquathlon. It is worded this way as some club members come just for the social and food. Club members are welcome to enter the swim/run or if we have some pure swimmers or runners we could team people together for some relay teams. The events will be raised on Spond shortly but for now the dates are as follows:-
Friday 30th June 7pm -9pm
Friday 14th July 7pm- 9pm
Friday 4th August 7pm – 9pm