Tuff Weekend Round Up 11th/12th June
There was a whole host of Tuff's out this weekend doing what Tuff's do best.
Worthing Park Run  (5k)
Worthing has it's own Park Run, well seafront run, which commenced this Saturday and it was great to see Tuff Fitty well represented, even after the good turnout last night at our club event.  There was a total of 420 runners which shows how much demand there is for Park Runs. In amongst the runners were Simone Scott, an impressive 5th place women in 21:40 with Becky Day 7th. Steve Feest ran and great to see potential Tuff Becky Sutton going well. Andy Ruffer ran with his family as did Andy Gomm with his children – good work all.
Unfortunately by the time Sunday dawned, so did the heavy band of rain………. read on..
Windsor Triathlon 1.5k/25m/10k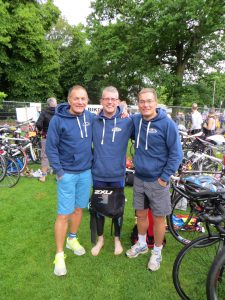 One of the earlier starts saw a trio of Tuff's jump into the River Thames. However just after Dom Amey, Clive Harvey & Trevor Harvey arrived at 5:30am it started to rain, so attack was the best line of defence as they climbed into their wetsuits over 1.5 hours early trying to keep their clothes dry. This is a tough Olympic Tri distance, with long transition runs and an uphill run (3 times) on Windsor High St running up to the Castle Entrance.  Whilst the swim was understandably wet, the bike was very slippy with some stranded in the hedge or fixing punctures and the intensity of the rain increased once the Tuff Trio were on the run.
Honours were shared with Clive nabbing the quickest Tuff swim split, Trev the quickest Tuff bike split and Dom with the quickest Tuff run split edging in as first Tuff home. Great work from Dom completing his third Windsor Triathlon, but what about Trev & Clive – their 19th consecutive year of Windsor Tri's – crikey, they better not think how much those entries have cost them.
Mid Sussex Triathlon 400m/15m /5k
Six Tuffs braved the Sunday morning weather, with Dom Chapman, Joe Pascoe, Tom Gray, Catharine Western, Bob Thomas and Chris Evans turning up to this very friendly event.
A 400m snake swim started things off, with Joe almost taking a literal running start straight from his warm up into the pool. Things went from wet to wetter, with a very scenic one lap 25km bike circuit around…mid Sussex. The Tuff presence was felt on the 5km run finishing things off, with an out an back to Goddard's Green and a mug of Harvey's beer waiting at the finishing line.
Dom continued his road to recovery, picking up 3rd place overall.
Joe also picked up a trophy, winning his age category.
Catharine was proud to pick up the first Tuff Lady home.
Chris won £10 in the raffle.
All in all, a good day out  reported Tom Gray
Westhampnett Lake Triathlon 
A new event from Awesome Sports Events, a choice of two distances, a sprint of 750m Bike: 23k  & 5k run. Our representative at this distance was Nicole Ewer who continues her strong series of races this year.
The second distance was a standard. Our Tuff presence here was Matt Whittaker who reported in:
I registered the day before the event to take part in the standard distance, the usual 1.5km swim, 38km bike and 10km run. The swim taking place in West Hampnett lake, the bike heading up to the race course and round for a two loop circuit. The run I found a little confusing, 2 laps but taking in a number of out and backs – I don't think I was the only one! The day started with nice clear skies and no wind, unfortunately when we started the swim the heavens opened and it didn't stop raining until 10 mins after I finished. The weather affected the way the timing was being recorded, so not 100% sure the times posted are correct as the run times seem to high. Anyway, I had a good swim, bike and run finishing 7th overall so happy with the result. No t-shirt though !!
King of the Mountains Sportive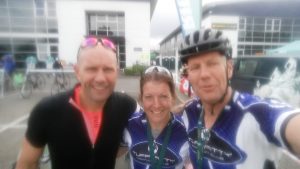 How about a Cycle Sportive starting from Gatwick organised with Evans Cycles,  A course set out of 115 miles where riders could start at 6am. Add in 9,100 feet of climbing and you start to realise this is a pretty impressive Sportive. How high? well riders had to climb up Leith Hill, Kidd's Hill (The Wall) & Titsey Hill. If that was not all, add in the common theme from all Tuff's racing today, which was lots of rain, and this would be a challenging event for all competitors.  That did not deter Nicole Patterson-Lett who rode around with Jon Roper along with Simon Steeles to receive their medals in 9 hours 16 minutes.  Congratulations.
Jon Roper reported in that it started raining as soon as we got there and didn't stop until after 90 miles. First loop was out into the Surrey hills for 5 climbs including box hill.  You then loop back to Crawley one aid station on this loop well stocked with cake.  The first loop concluded the shorter distance but Jon stated as he was wet anyway he elected to continue, not that anyone could see Ashdown Forest in view of low mist.  All in all a great day out the 3 aid stations well stocked with cake would have been nice in the sun
There was also a 54mile  Distance race but that was still a major achievement for the participants, particularly as it packed in 4,400ft of climbing. Whilst there were a multitude of people who did not start, perhaps understandably in the poor conditions, there was a plethora of Tuff's. The organisers billed the ride as "testing every rider to their limit" as the route went around the Surrey Hills, North Downs & Ashdown Forest. Congratulations to:-
| | |
| --- | --- |
| Gary Locker | 03:27:42 |
| Matthieu Cauchy-Duval | 03:27:43 |
| Miki Floyd | 03:31:32 |
| Andy Ruffer | 03:48:27 |
| Murray Hodge | 04:18:03 |
| Glenn Parisi | 04:18:20 |
Stafford IM 70.3 Middle Distance
Please see James Brock's separate report, to complete a Tuff packed race weekend