Ironman Swim (River Arun)
There was a very strong Tuff presence at Saturday's Ironman swim held in the River Arun. As a Raw Energy Pursuit event, it was very well organised, despite the persistent rain,  as well as featuring several Tuff's helping on the day.
There were several reasons to enter; some went for a competitive fast time, and perhaps some even to lie down for an hour…. . Definitely going for a fast time was Nikki Gatland, running out the water at Fishermans Hard in just 51:35, 2nd senior lady and third lady overall.   Paul Howie was the second Tuff home in 52:16, two of our coaches definitely practising what they preach.  Our treasurer Anthony Towers 57:56 went well as did Glenn Parisi, back down river to LA in 59:55.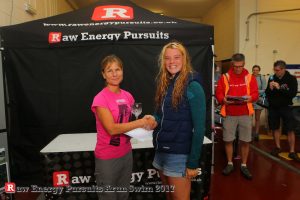 Another reason for competing was that several Tuffs were scheduling this as one of their last major events before tapering begins for their Ironman. The first back of the Ironman contingent was our London based member Robert Clarke, a cracking 55:20 ahead of Ironman Nice 23rd July. Gavin Sewell, ahead of Outlaw Iron Distance on the same date. Then Matt Whittaker was the first out for the Challenge Roth contingent of Matt, Gareth Piggot,  &  Andy Ward. Ade Willard and Richard Hobbs, not swimming, were keeping their powder dry for Roth on the 9th July.  This still left James Brock completing his first full distance swim ever and Ian Bayley who are both signed up for Ironman Bolton (along with Chris Robinson) July 16th.   Good luck to all ten at their July races.
The variety of reasons for entering also covers two strong performances from Jenny and Adrian Oliver and it is gratifying that our club have helped them to race under the Tuff banner and tick off a great achievement.  Adrian's great swimmers eye report is shown below.
The event received some culture from our very own Stew Smith who acted as commentator.  Tiff Orton, Jon Roper, Miki Floyd, Nicole Ewer and Tom Frith who were helping throughout the day, and those who came to cheer; thanks everyone.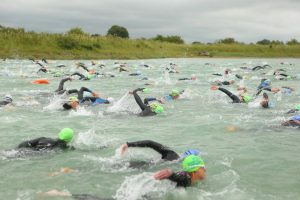 A crowded start with 430 swimmers in the Arun
Arun: Memoirs of a first swim
It all started so well – Sunday before – let's enter the 3.8km Arun river swimming race! How hard can it be? After all, we would be swimming WITH the current…and we live in Littlehampton! Problem – wetsuits compulsory… ah loads of time. Chichester's Tri-It is not far and they sell wetsuits! Why not Tuesday afternoon!? Ah – no air conditioning in Tri-It – perfect to trying on wetsuits…who needs a pool with that heat!
Friday arrives – got our wetsuits – might be a good idea to test them before Saturday. Beautiful sunny day, a lot cooler than the beginning of the week, and a nice breeze onto Littlehampton beach – the Arun river mouth is just over there. Ah yes – no problem "spotting" as our heads launch heavenly out of the waves – could almost see Lardy holding that cone (in his right hand!) from that height!
Saturday morning – pop down for 9:30 registration to beat the queue before home for second (and full English) breakfast – I was sure there was some carbohydrate in there somewhere…
Back ready for 11:30 – ah lots of friendly Tuffs!. "Stew – any tips on putting the wetsuit on?" Yes lots of "Lube"! Ah – self wedgie?! Then onto the Ford Prison magical mystery bus tour. Wetsuits fully on, bags packed into the back of the van…then wait…a long time (should have gone to the loo…)…before the long march of the lemmings – smile for the camera before taking the plunge.
Treading water in a wetsuit is surprisingly easy – except for the decidedly Northerly drift we were all experiencing. Banks! Perfect – and ideal for flushing any "excess" (warm) water from the suit. We tried passing the time with failed Mexican waves to the other bank, until the race marshal calls from the bank to the boat "have you stopped drifting yet"? "Yes". "PARRRRAAAAPPPP". And we are off!
Having a Green hat (Wave 7) and being fairly close to the start line, I thought it prudent to wait a few seconds to allow the earlier waves who have drifted behind me to pass. Finally, off I go. My race plan – stay right next to the bank out of everybody else's way until the first right turn, then move slowly to the middle ready for the long sweeping left turn. How hard can that be?! I can watch the spectators walk beside me… get into a comfortable rhythm – not too fast – listen out for Steve or Debbie blowing the whistle to sprint!! Oh – sorry – wrong night – not training. That is nice – the guy on the bank is waving at me – "sorry mate – I am too busy to wave back", and I am sure you cannot see my attempt to smile back. No need to keep waving! Why are you still waving?! Where are we? OH! Left turn ALREADY! And I am still far right! HARD TO PORT! Not too late. Hey there is another right-bank hugger lost soul also with a friendly guy waving at him too. WATCH OUT – torpedoes to port and starboard! That trusty brake manoeuvre foiled them! Break out the zig-zag decoy method out in the middle of the channel!
Before long, the LONG left turn eventually ends – back to the favourite bank – nobody waving at me anymore…good. Right turn! That means the A259 bridge cannot be far? – oh yes! Under we go – quick brake manoeuvre couple more times to foil those torpedoes! And then Rope Walk bridge – don't hit any boats. Ah – need to switch to left bank hugging for Look and Sea exit! Torpedoes! Oh – is that it!? Stand up time! Oooo – dizzy! Wave my number hand at the marshals – all three! Smile for the camera. What was my time?! Did he say 1:02?! Where are the other Tuffs? Lots of people in black…not helpful – time for the superman changing act!
This being our first swim race since starting 9 month ago, I would like to say a massive thank you to all our coaches who have spent hours torturing us for weeks on end, your expert eye telling us bit by bit everything we are doing wrong and how to attempt to correct it. We might not express our appreciation during the coaching sessions, but you guys are heros! Thank you!
Time to sign up for the Adur race in August!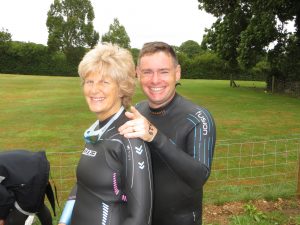 Jenny & Adrian Oliver
Adrian 
Well done to the 450 swimmers that swam the 3.8km Iron Man Swimming Race today in the harbour

Posted by Littlehampton Harbour on Saturday, June 24, 2017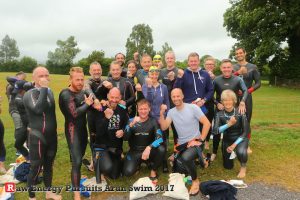 Tuff's in Rubber; moving strictly from left to right: Danny Cunnett, Gareth Piggot, Glenn Parisi, Andy Ward, Trev Harvey, Tom Gray, Catharine Western, Gavin Sewell, Clive Harvey, Wendy Frost, Dana Robertson, Paul Howie, Matt Whittaker, Jimbo Brock, Anthony Towers, Adrian Oliver, and Jenny Oliver.   Potential Tuff Drew Gowland is pictured far right, another great performance from him, finishing 4th overall in just 46:52.  Rob Clarke, Ian Bayley, Nikki Gatland and potential Tuff Danielle Rogers (1:03:33 who swam with us on Monday)  not in shot.
Full Tuff Results
| | |
| --- | --- |
| 51:35:00 | Nikki Gatland |
| 52:16:00 | Paul Howie |
| 55:20:00 | Robert Clarke |
| 57:56:00 | Anthony Towers |
| 58:25:00 | Gavin Sewell |
| 59:55:00 | Glenn Parisi |
| 01:00:22 | Matthew Whittaker |
| 01:01:00 | Gareth Piggott |
| 01:01:52 | Adrian Oliver |
| 01:02:05 | Andrew Ward |
| 01:03:08 | Clive Harvey |
| 01:03:19 | Danny Cunnett |
| 01:04:04 | Trevor Harvey |
| 01:04:18 | Dana Robertson |
| 01:06:31 | Tom Gray |
| 01:09:37 | James Brock |
| 01:12:41 | Jenny Oliver |
| 01:17:30 | Wendy Frost |
| 01:17:32 | Catharine Western |
| 01:21:38 | Ian Bayley |
Cosying up' to Race commentator Stew                     Tuffs sheltering from the rain