Weekend Round Up 16th/17th July
Awesome achievement from Gavin Sewell at Ironman UK – Bolton.  Another club member who has heard those immortal words for the first time "You are an Ironman".    Congratulations Gav. Please see his separate race report
People started to get their bids in early this week with a couple of midweek races
MIDSUMMER 5m
Postponed from the true Midsummer date, this race starts at Lavant Village hall along New Road at the back of the Motor racing circuit before entering and completing a lap of the historic motor racing circuit. Back along the road to finish on the green by the village hall. Torrential rain cleared in time for perfect weather conditions.  This is a five mile course.  Becky Lintott-Clarke went well crossing in just 34:12 finishing 4th female overall. Clive Harvey, Bob Thomas, Leanne Levitt and Chris Evans (who had managed to grab a last minute entry, but missed the photo below) were next. From there is was straight over to queue for food. All finishers received a can of beer plus a burger and bun. With a rainbow coming out overhead a very pleasant evening.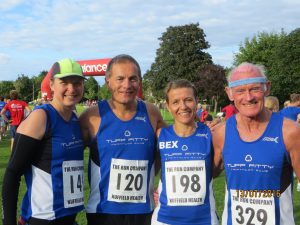 YATELY 10Km
Another mid week race, held at Yateley which Trev Harvey tackles on the way home from work. Having completed the race in June he was back for this one and there is a finale in August. This series has gained the sobriquet of "Best Mid-Week Series" from Runners World.
SATURDAY RUNs
Tuff's continue their illustrious presence at Park Run. This week Becky Day did well, setting a new Park Run PB in 22:00. Good work from Ellie Williams despite having had a busy time at work, just 5 seconds off her PB in 24:14.  Meanwhile the scheduled Saturday morning run was held in sunny warm conditions and the following photo shows the Tuffs in the sun.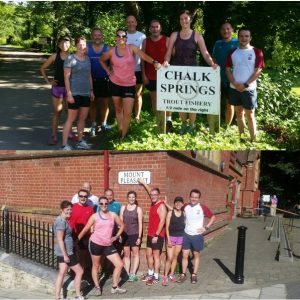 "GREAT SWIM" SERIES VICTORIA DOCK
Report received from Claire Moyle:  On Saturday I completed a challenge I set myself a couple for years ago but never found the time to train for. Having got my students to take part in the para triathlon last year I told them that my challenge was to swim an open water mile, so they have been nagging me for a while. With some encouragement from Margaret I entered the great swim in Victoria docks. I managed a few training sessions in westhampnett lake. The weather conditions were perfect and I don't know what I was afraid of as I absolutely loved it and will be doing more. I came in under my target time and so will have a benchmark to work on to improve. My next challenge is ride 100 at the end of July and hopefully a lake triathlon before the season is out.
OMM LITE
Paul Atkinson has been away for the weekend in the Chilterns taking part in the OMM Lite competition.  This is an orienteering challenge and with one of his colleagues they covered 55 miles of running over to two days.  Paul has gained a strong record in these events, but how about this, 2nd place overall out of 28 teams – very good work.  The OMM  races are held in 'wild country' and safety is paramount meaning all competitors have to carry a rucksack with a designated list of equipment including survival bag and change of clothing. They did return to base to sleep on Saturday night and as luck would have it the bar stayed open until 11pm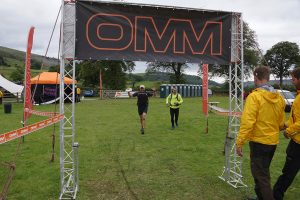 THE FUGITIVE MIDDLE DISTANCE TRIATHLON
Whats this? The Fugitive Triathlon is a 70.3 event held in Marlow, stated to the only long  course distance event in the Thames Valley.  Nina Kyprianidis flew the Tuff flag here completing her first 70.3 and she reports here:-
"Here is me (below) finishing the half iron man in 6 hours and 54 minutes.  The swim was a two lap course in the Thames, very enjoyable at 17 degrees water temp although the women's wave started 45 mins late!  A lot of hanging around in wetsuits and getting nervous!  The bike course was a hilly 3 loop course out the other side of Henley. The roads weren't closed so we had to have our wits about us.  The course finished with a 20km 4 lap route along the river and back. All in all a hot but enjoyable day."
Congratulations Nina.  Oh and why the Fugitive, well, like a full 140.6 race there are cut off times for each discipline against which competitors are not allowed to continue after.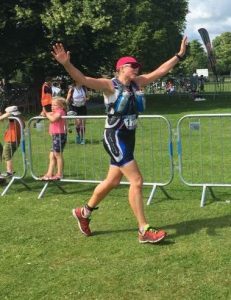 VIRGIN ACTIVE TRIATHLON (FALMER)
Good work at the Falmer Tri this morning which includes a cycle up Ditchling Beacon.  The field was stuffed full of Brighton Tri Club members, but Ollie McDonald muscled in well crossing the line in 13th position overall – congratulations. The legend that is Bob Thomas has been at it again. He raced the Midsummer 5 on Wednesday, Time Trial on Thursday and raced here this morning 1st in his age group….. the legend continues to build- awesome. Ollie reported that post race refreshment was a carton of chilli which he consumed at 10:30. Well they must have been up well before dawn so well deserved.
DUNWICH DYNAMO 2016
The Dunwich Dynamo is probably an event most of us have never heard of; and indeed our very own Dave Priest kept it under wraps doing it at night!  Oh ok, it is actually a nighttime cycle event.  In its 24th year the 200km route starts at London Fields in Hackney and is always on the Saturday night nearest the full moon in July. That means this year's event gets underway between 8 – 9pm. It is an unsupported event so entrants had to carry plenty of inner tubes, tools, batteries for their lights, food & drink. There was one feeding station at Sudbury Fire Station. As usual the organisers reckon there would not  be enough for all participants, but profits from the sale of refreshments go to The Fire Fighters Charity.  For those riders too late for a snack, some enterprising householders set up food stalls in their front gardens although they needed paying. 2000 cyclist take part so the map that cost a pound was not essential as riders could simply follow the lights of the cyclists ahead.  The majority of the riders arrive at Dunwich beach around 7am, and whilst many cool off with a dip in the sea, there is no record of whether Dave did, the majority head to breakfast at The Ship.   A sneaky peek at Dave's Strava shows he cycled 118.1 miles,  7:54:52 and 3,245 ft of ascent.   Apparent there was another 30 miles ride at the end as he made It was then back on the train to London, although we are left wondering if he could sit down.  Superb riding Dave.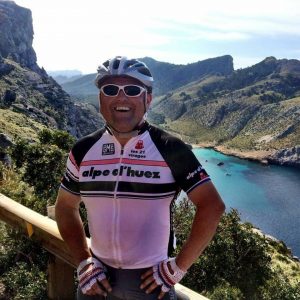 What have you been up to?  You have worked hard for your latest result.  Whilst you may have the medal or T-shirt, have you got your recognition here?  Please find the time to report in with where you have been racing. A picture would also be brilliant.  Please email clive.harvey@tinyworld.co.uk