Weekend Round up 23rd/24th July
LUNAR-TIC MARATHON 
Whilst the Tuff birthday party was underway, Sussex Trail Events and our trio of Chris Ette, Danny Cunnett and Jay McCardle were staging a new event in their race portfolio – the cleverly named LUNAR-Tic.  This was a full marathon starting at the mouth of the Adur and up as far as Bramber before returning. With an 8pm start the first lap would be in the warm sunny evening. However laps two and three would be into the lunar night where headtorches were the order of the day. Whilst Leanne Levitt was scoffing burgers at Arundel, husband Chris Levitt completed another marathon in the Sussex Trail portfolio this year. He crossed the finish line (above) in 4:55:20. All the medals in the Sussex Trail Event portfolio link together. Good work Chris.  A similar double act occurred in the Pascoe family. Whilst Joe was racing home as 1st Tuff in the birthday party, wife Tania was also racing the Lunar-tic, crossing in 5:31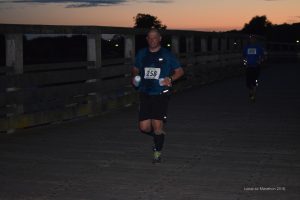 Chris about to embark on another lap
SCCU 100 CHAMPIONSHIP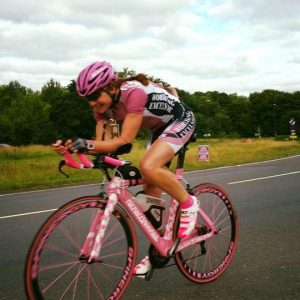 Many would have seen Nicole Patterson-Lett did not race on Saturday night. The reason was a 100 mile bike ride as this great write up testifies:-
Up at 4am forcing down breakfast but conditions looked favourable – no rain (yaay!), sun forecast, and although the wind did pick up, the first hour was relatively still.  Smallish field of 43 riders heading off in minute intervals from 6am.  Not an easy 100 course, seriously 'undulating' but that helps with mental concentration, as oppose to getting bored up and down the dual carriageway.
Despite numerous warnings from coach Mr PL to start strong BUT STEADY, I once again got over excited at the beginning and got through the first 50m in 2:35.   When the likes of Steve Kane (cycles faster than most people drive!) come gliding past you have to keep your head and think "do your own race Nic" and "perhaps i'll challenge him to a swim race!"    Having over-cooked it a bit, miles 60-70 were not fun at all.  Ate and drank more, but started to weave about and feel a bit demoralised.  But as in all long distance stuff, every down has its up, and at 72 I caught another 100 competitor and overtook her (AND she had a visor helmet on!).  Confidence boosted and able to break the last 30 down to a more manageable 2x15miles, I was back on it.
Having popped up in laybys everywhere cheering and checking all was ok, Clive also had extra bottles and bars at our planned pull in.  At 50miles Clive topped up the speedfill with more electrolyte , and although I was panicking at the time ticking away, I found the couple of mins stretching my neck, back and shoulders really beneficial (for at least 10mins anyway!).  Clive's parting words were, don't panic, but you have to finish now cos Simon has pulled out!  4 from Worthing Excelsior had entered, and the top 3 score for the team prize.
With 20 miles to go Clive yelled out he had a sandwich for me – it motivated me to the layby where I sat up and stretched whilst devouring a cheese and ham sandwich – savoury and 'normal' food really gives you a boost and tastes fantastic.   Crusts duly given back to Clive, and the remaining middle part of the sandwich stuffed in my cheeks for later, and there was just 2x10miles to go.  So near, and yet the miles seem to take so much longer … and i'm sure extra hills were added that were not there on the previous loop.  10 miles from Ashington, 7 miles from the Washington roundabout, hills into Ashurst and awful road surfaces and finally 2miles to go.  Yaaaay, past the timekeepers and over the line.   Confession to make now, from the finish to the clubhouse was about 6miles, I know it helps with lactic build up etc etc, but 500yards up from the finish line I just fell into the back of the Volvo still on the bike! 🙂   Hamstrings cramped as tried to get off the bike but eventually got in the car seat rather than the boot.  Cake and tea at the clubhouse and great to see my fellow clubmates looking and feeling as pooped as me – there is nowhere to hide with a 100!  I was 3rd female in the end and although my ideal was sub 5:30, I just snuck under 5:20 with a 5:19, and Worthing won the team prize, which is apparently a whopping great shield to be collected at a Southern Counties lunch event at the end of the year (very exciting!).  Must mention the fantastic marshals who were at all the turnings and roundabouts for about 6 hrs, and were typically in their much later years, but their enthusiasm and dedication for cycling is just incredible.  Finally, my other half, who always believes in me, keeps my bikes tip-top and is the best supporter in everything I do.   I've ended like I've won a flippin' Oscar! – maybe not, but for once I am quite chuffed with the last couple of races
Nic
WIGGLE MEGA MEON SPORTIVE
A popular Wiggle/UK Cycling sportive which Sharon Tidmarsh entered which started at Waterlooville. Sounds a great course described as " Its tree-sheltered darting country lanes, forest backdrops, field-side rolling roads and spectacular views across to the Solent, Spinnaker Tower and Isle of Wight make this one not to miss". However it then goes on to state "provide enough hills to keep you on your toes" in fact 5,606ft of ascent giving it a 7/10 rating. So it was a fantastic ride by Sharon as she earnt Silver award finishing in 7:14:08
PARK RUN
For the first time since it started there was no Tuff participation at the Worthing Park Run. However Steve Feest returned to the Hove Prom Park Run and achieved a pb of 21:42; well done Steve.
Please note there is no Worthing Park Run 30th July due to the seafront fair. 
What have you been up to?  You have worked hard for your latest result.  Whilst you may have the medal or T-shirt, have you got your recognition here?  Please find the time to report in with where you have been racing. A picture would also be brilliant.  Please email clive.harvey@tinyworld.co.uk