Tuff Fitty's now traditional summer Aquathlon, although some would be excused in wondering whether summer was now over as heavy rain during the afternoon deterred several from taking up their bookings. Thankfully an early threat of lightning abated and the committee arrived early to assess conditions. This was the prelude for an absolute downpour to occur as Adrian Oliver demonstrated in the pictures below.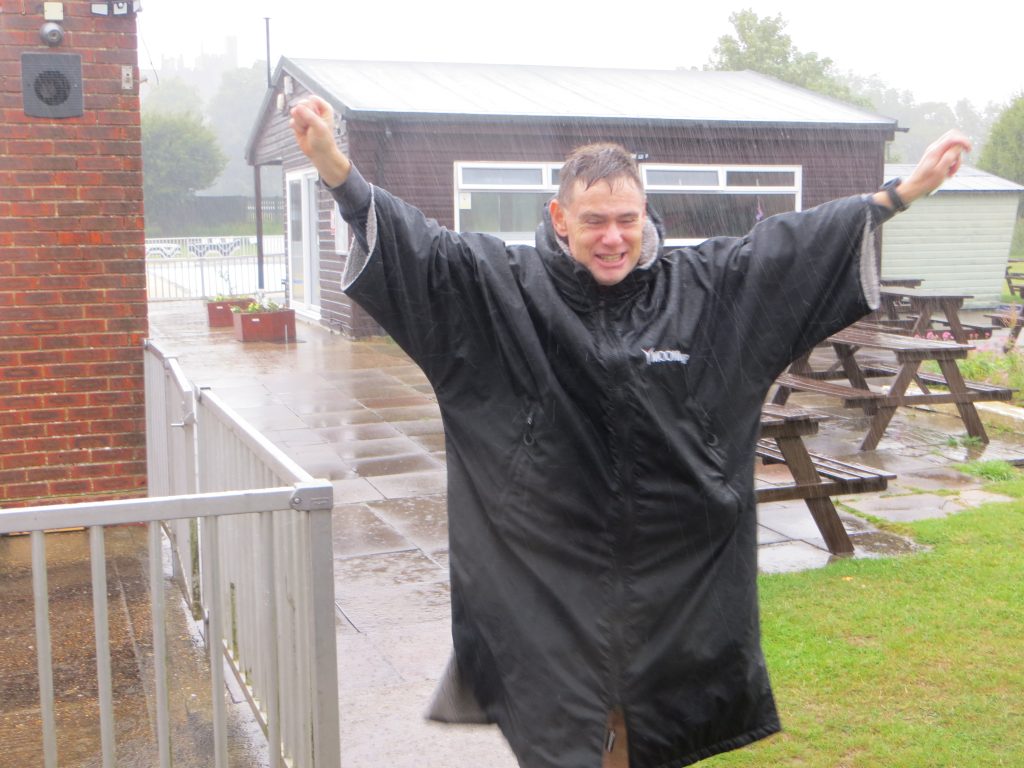 Conditions were considered safe to continue because competitors would be wet from the swim anyway and we already had use of the marquee for the food and social aspect, and most significantly everyone wanted the event to continue: although the decision was made to have a new transition area inside the marquee to ensure trainers were at least dry at the start.
Clive Harvey points out that these successful Lido events, staged two or three times a year are almost without exception held in fine sunny weather. Looking back over the Tuff Fitty newsletters the Lido Aquathlons and socials started in July 2005 so this year sees the 18th anniversary of this popular event.
Thankfully once the race briefing had been completed the rain stopped with many quickly moving their running gear outside to pick the most advantageous position for a rapid transition. It was pleasing to report that we still had enough competitors for the usual two waves to set the swimmers off and there was top racing action from the start.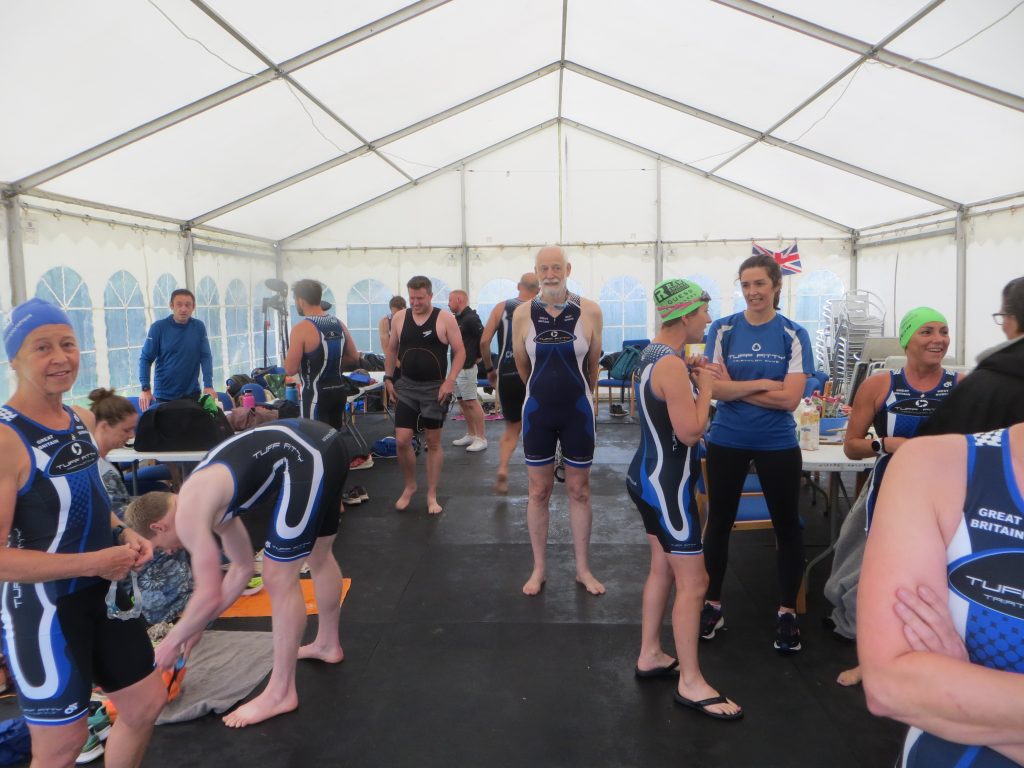 Reading Clive's race report from 2005, it was explained that this 'new' activity was planned as a chance to socialise after a good training session, but the comment was made that as soon as stopwatches were produced suddenly everyone got quite competitive!
Clearly some things don't change as once the countdown was completed there were super competitive swim times. James Mapley & Ollie Thomas played nip and tuck throughout the 400m swim with positions changing and Ollie was just slightly ahead climbing out of the pool in 5:38 & James 5:39. There was a steady stream of swimmers exiting under 7 minutes before the trainers came on for the 5k run out towards the Lion & Unicorn Castle gates and back. Whilst the runners were out on the course other club members embarked on a more social swim.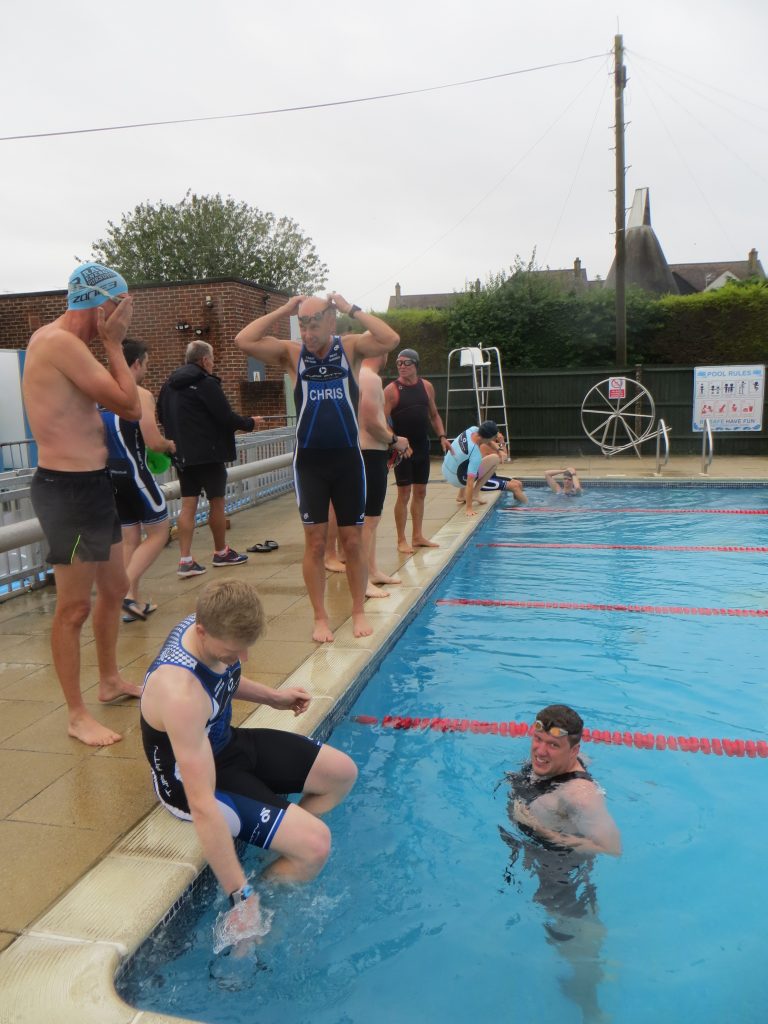 Some people teamed up and we had two relay teams with Mike Barrett & Simon Thistlethwaite with a swift sub 20 minute run ahead of Dom Amey & Catharine Grey.
Back to the individual race, with the windy conditions the split times would not beat last year's times but excellent running was clearly evident. Everyone gave it their all down the finishing straight. Or was there the incentive of clubmates encouragement and Glenn Parisi acting as chief photographer – please see the extensive Flckr album below – feel able to use any for your social media or Strava posts.
James Mapley pulled out a swift 21 minute 5k (including the hill) to finish 1st overall. An equally swift run from Gareth Coombes moved him up to second overall in 27:11 and great to see Chris Robinson back in Lido action as he raced home third in 28:09.
In the ladies race there was a strong performance from Carey Woods who claimed 1st female position. Second home was Olivia Morey with Leah Simms in third position.
As the runners crossed the line the rain had started again so it was time for hot showers and into the marquee as the barbecue had been grilling away and food was served. Thanks to Phil Scales and Adrian Oliver who were on barbecue duty and to the committee involved. Last year individuals were noted for 'Cracking Cake' 'Sensational Shortbreads' and 'Fantastic Flapjacks' (amongst others) plus a great array of salads. So we are extremely grateful to those many volunteers who agreed to repeat these offerings and proved the cuisine was not 'one offs' and our club have some seriously good culinary Tuffs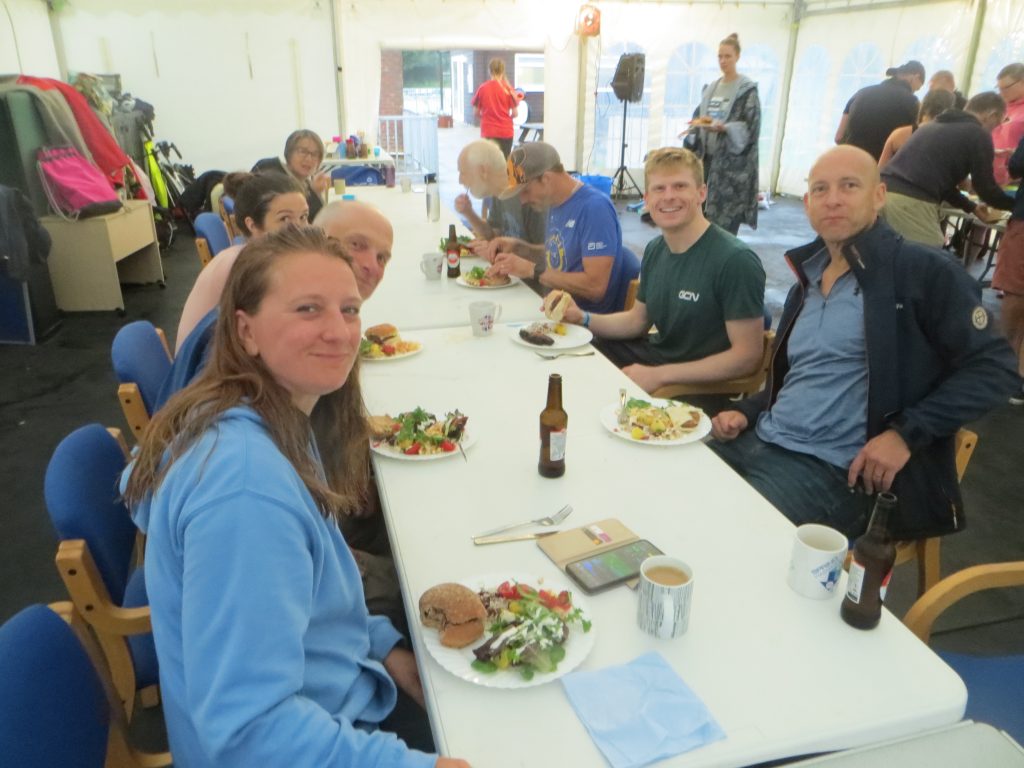 The biggest thanks go to all our members for playing their part in making the event another success despite the 'damp'! conditions. The flickr album is below and after that the split times for the squad as several asked for these to be published
Don't forget the next Lido event/social is Friday 4th August and we hope to see many of you, and dry weather, there.
| | | | |
| --- | --- | --- | --- |
| | Swim | Run | Total time |
| James Mapley | 5:39 | 21:00 | 26:39 |
| Gareth Coombes | 6:09 | 21:02 | 27:11 |
| Mike Barrett | 7:45 | | |
| Simon Thistlethwaite | | 19:43 | 27:28 |
| Chris Robinson | 6:00 | 22:09 | 28:09 |
| Ollie Thomas | 5:38 | 23:20 | 28:58 |
| Henry Teague-Smith | 7:09 | 21:55 | 29:04 |
| Tom Frith | 6:37 | 22:31 | 29:08 |
| Ben Abbott | 6:56 | 22:32 | 29:28 |
| Nick Francis | 7:53 | 22:44 | 30:37 |
| Anthony Towers | 6:34 | 25:11 | 31:45 |
| Carey Woods | 7:05 | 25:07 | 32:12 |
| Les Pearce | 6:56 | 26:15 | 33:11 |
| Dom Amey | 7:19 | | |
| Catharine Grey | | 26:33 | 33:52 |
| Olivia Morey | 8:29 | 25:31 | 34:00 |
| Leah Simms | 7:55 | 26:47 | 34:42 |
| Emma Hinton | 6:55 | 28:14 | 35:09 |
| Clare Worgan | 7:20 | 28:07 | 35:27 |
| Wendy Frost | 8:21 | 29:28 | 37:49 |
| Janet Shepherd | 8:20 | 32:16 | 40:36 |
| Susan Douglas (& Stig) | 7:16 | 36:43 | 43:59 |
| Chris Evans | 7:53 | 43:10 | 51:03 |