Sussex Brooks Cross Country League 3 Stanmer Park
The third race in the Sussex Cross Country League which returned to Stanmer Park in Brighton for the first time in many years – usually the venue for the County Championships.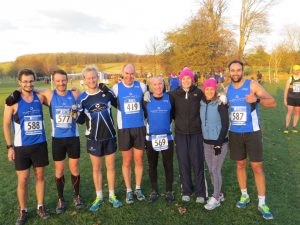 Will McLean, Simon Thistlethwaite, Joe Pascoe, Phil Baker, Pete Littleboy, Catharine Western, Wendy Frost & Tom Gray
Whilst cold; conditions were bright and sunny as the Tuff crew assembled for the start. As usual the expressions of interest didn't quite translate into trainers on the ground, but once again Tuff Fitty put on a good display.
The ladies were first off on their 3 miles course, although unfortunately we were one short to maximise our scoring team. There are a lot of other things on this time of year so thanks to Catharine Western and Wendy Frost for some strong running. It appears that other clubs found it difficult to muster runners because the performances from them both still lifted us one position in the ladies league.
Next up the men over a five mile course. Captain Catharine is clearly putting her new role to good effect. She had her cousin, Will, staying for the weekend, and as a useful runner cajoled him into running.   Having seen the start of the men's race it was back to Tuff City. However the wind, which was bitter cold, had swung around and got underneath the tent which was now blowing upside down into Brighton's tent. Clive, Catharine and Wendy managed to restore order although we now have some poles to repair.
Meanwhile out on the course things were going much more smoothly despite the course being seriously undulating. Captain Joe Pascoe was leading from the front with all the Tuff runners handily placed. After one large lap and then a shorter one, there was a nice downhill sprint to the finish. Joe finished strongly getting top 50. Second Tuff home was Simon Thistlethwaite.  Pete Littleboy was next to cross with Will Mclean just 3 seconds behind him. Phil Baker followed 30 seconds further back. Great to see our XC regular Tom Gray finishing well trying to cope with the cold after a spell working abroad in warmer conditions.
The gents amassed a good score and held onto 5th position in our league
Back to Tuff City where Catharine's latest festive fare, shown below, and Jaffa cakes, were consumed by the hungry runners.
The final race in the league is at Hickstead Showground on Saturday 11th February 
Mascot 'Tuff Tony' brought his friend along, 'Monkey' whilst Catharine brought the festive Cranberry Tarts
Photos of Tuffs in action follows:-