UK Ultimate Triathlon – Shropshire
We have received a race report from our newest Iron distance finisher – Bec Day.  Modestly she didn't mention where she came stating the female field was very small in the 140.6 distance. That may be the case but to be in with a chance,  you first have to finish the race; something that half the females didn't do.  Bec crossed just 8 minutes behind the first place lady earning a rather smart trophy for second position. Also congratulations to Mark Day completing his first 70.3 and being chief cheerleader
Bec takes up the story:-
"When I decided to treat myself to an iron-man distance triathlon for my 40th birthday I got asked lots of questions. I got the usual Why? (Because I like a challenge) Where? (Shropshire) but my favourite came from our very own Tom Gray, "Is it a sea swim?" (You clearly don't know where Shropshire is!)  Mark decided he would do the half, given he had never really swam more than 20 lengths when he joined the club this was a massive ask for him.
The swim was 4 / 2 laps of the beautiful Dearnford lake 'Aussie style' (which means getting out after each lap with a little 15m run and dive back in I discovered) We both had good swims and were really pleased with our times 1.27 / 41. The bike ride sadly was a bit more of a disaster, especially for me. It was 4 / 2 laps of an east west loop with a 20mph southerly wind that got stronger throughout the day with gusts of around 35mph. To add insult to injury I had a poorly tummy and had to stop 6 times!! Mark made a slight mechanical error and didn't tighten his crank bolt properly which resulted in his chainset slowly working its way away from the bottom bracket and losing the big ring until he could scrounge an Allen key. He still got round in 3:13 but I took 8:23 🙁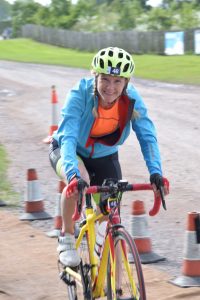 The run was 6 / 3 laps round the lake on lovely grassy paths followed by an out and back down the road. Mark hadn't drunk enough and totally cramped up on lap 1 but recovered after a few drinks and finished in 1.54 which was about the same time he did Worthing half in! I felt remarkably good on the run until the 4th lap when I just wanted to throw up. My fabulous support crew (mum, dad, little sister and Mark) kept me going and after some plain food of crisps, bread and butter I felt fine. I had a good couple of last laps and was over the moon with my time of 4.30 🙂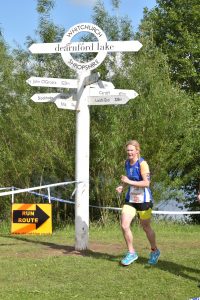 I was exhausted afterwards and finished the day in bed after my shower with my little sister drying my hair whilst I slept!!
It was an amazing event, one of the best I've ever been to. Everything was well organised and really friendly and supportive marshals. The only hiccup was an error with the results and I'm going with the version I was emailed 1:27:55/08:22:53/04:30:41 with an overall time of 14:27:02 Mark's target was to beat 6 hours which he comfortably smashed finishing in 5:56:49 41:02/3:13:10/1:55:02
Bec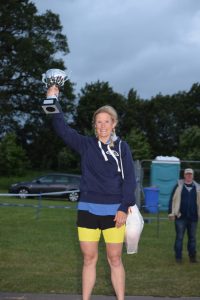 Superb result Bec, congratulations from us all.