Weekend Round Up 24th 25th March
Happy Easter from everyone at Tuff Fitty.  Several events attended by members last weekend as follows:-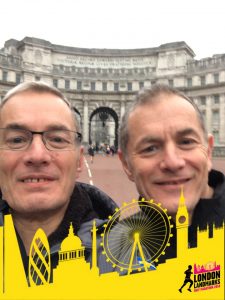 LONDON LANDMARK HALF MARATHON
A new race for 2018 was the London Landmark Half Marathon. Despite its first year with entries opened almost a year in advance spaces were soon snapped up.  10,000 runners made the cut including Trevor and Clive Harvey
With a bag drop in the Mall there was a walk around to Pall Mall for the start. The route then went across Trafalgar Square, followed a tight turn to take in Holborn, then across Waterloo Bridge for another tight turn and back, before following the embankment to take in St Pauls, and Royal Courts of Justice. Then zig zags around the City of London passing the Bank of England. The route extended all the way to the Tower of London before following the Embankment back to Westminster and  another turn before  the finish in Whitehall.   Clive reported that with bands around the route, signs out highlighting London landmarks, some great fancy dress runners, and crowds all along the route, there was a good atmosphere. Some were clearly there for the sightseeing as he had to swerve to avoid a runner who had stopped to get a photo of the big 7 mile marker. Surely it would have been more meaningful to take a photo of the finish!
The bling was impressive, a hinged medal that opened out to show a map of the course, (with some having a prize voucher inside) and goody bag at the finish. The T-shirt had been sent in advance, but it was Tuff colours for the race as surely it is unlucky to wear the event t-shirt before finishing?  Free photos were offered but as these were triggered by times at the turns it was a bit hit or miss whether you were in shot.  With a total ascent of just 62 metres across the whole 13.1 miles it turned out to be a pretty quick course. The downside was the starting pens were not well organised with pacers joining past the start line, but this was the inaugural staging and overall a successful event. It was also expensive, but it is felt that the event will rapidly become one of the bucket list events to do, so look out for the 2019 event before it gets as difficult to enter as the full London Marathon, with places going to celeb's and charity runners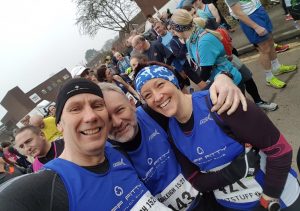 CRANLEIGH 15/21 MILES
Some great long distance running at Cranleigh as Tiff Orton reported in:-
"A trio of Tuffs ran in Surrey, normally a great pre marathon 21 mile race it was too long for my training plan with only 15 needed so Jon, Glenn and I rocked up for the race. We had all taken part before and it was a nicely planned 9 mile loop followed by a 6 mile loop (or 2 x 6 mile loops if going long).
School girl error as I ran with Glenn for the first 5 or 6 miles but by then the damage done and my hamstrings were less than happy.
We all crossed the line in 1 piece so a good day at the office and we had the greatest choice of homemade cakes at the finish which pleased Jon! In the nicest way possible, I'm never running with Glenn again! (only joking Glenda, I love you really!)
Tiffers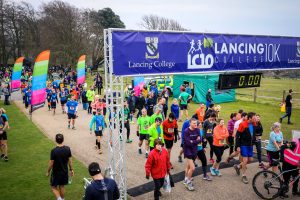 LANCING COLLEGE 10K
A new event this year with just over 500 finishers. Set in the grounds of Lancing College, the event would involve 'undulations'. A pair of Tuffs participated and great to get feedback from Tim McGrath first and then Pete Littleboy:-
First time this race has been run. It is basically a 2 x 3k laps starting on the hill by the beautiful college heading down the hill (where Pete Littleboy left me for dead ) looped around the grounds with a nasty hill back to the start and then repeat. Mixed terrain and undulating …Bag drop, car park and all the normal stuff,  run nice and smoothly  I would recommend this race.
Pete did well crossing 16th overall in a time of just 43:30 and I finished in 49:28
Tim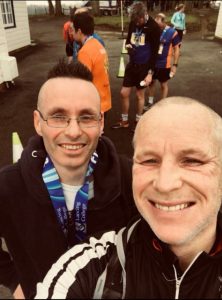 Tim & Pete
This 1st time event saw myself & Tim McGrath taking part of this 2 lap 10k and flying the Tuff flag. After I had ridden over to the start at the beautiful setting of lancing College and I was nicely warmed up I then met up with a not so warm & tired Tim who was waiting till the last minute to get changed. We were then ready and pumped when AC/DC came blasting out at the start line and we set off downhill very fast  & I was thinking a sub 40 was ON. However some very nasty hills,  none more so than the start finish line, soon put pay to that and all this mostly off road made it technically difficult. Therefore I was pleased to cross the 5k line for my 2nd lap on 21:51 and Tim on his 1st race for a while in 24:23 and the second lap seemed to be that much more difficult so to finally cross the line in 43:30 was great.  I only had time to catch my breath before Tim crossed the line 49.28 to receive our well earned medal. What I also liked was that with a 2 hour cut off many people could enjoy this event like my friend Debbie finishing in 1h17 who was being encouraged at the finish hill by a bloke on his 3rd lap as he was using it as part of his long run.  Hopefully we can get more Tuff's joining us next year
Pete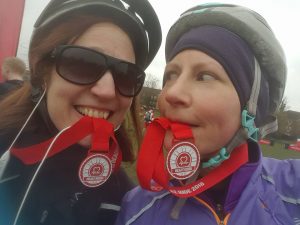 LONDON TO READING BIKE RIDE 
Rachel Brunning has been busy clocking up lots of Half Marathon runs, but this weekend it was a chance to get 'on yer bike' as she entered the London to Reading Bike ride with one of her friends. Setting off from the outskirts of London, they cycled through villages and the country mainly over a well signposted  route before finishing in the centre of Reading.  They covered the almost 42 miles course and all for a great cause- The British Heart Foundation.  Stating he had been under prepared but 12 flapjacks helped her along, and she collected yet more bling as seen above.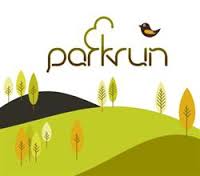 PARK RUN
Just club members out at Worthing Park Run this week; but a great turnout.  Having matched his PB two weeks ago, Antony Oliver went one better this week breaking his PB by 8 seconds crossing the line in 21:44. After their hilly marathon success last weekend, Danny Cunnett (20:51) and Jay McCardle (21:30) returned two strong times. Regular Park Runner James Oram was also present at his 62nd Park Run 14th overall in 19:43. Another regular competitor, Amanda de Ridder finished in 24:19 Tim Kenny (26:19) and Dom Amey who ran around with his son Freddie.
Tuff Fitty have seen a large upsurge in enquires about joining with over a dozen having joined recently and more coming to try some sessions.  Therefore it is great news to report that Roy Barraclough competed at Worthing crossing in 23:31, Ross Malyon who also signed up this month; he crossed the line in 25:00. Daisy Bashford is on the comeback trail and is one the latest ladies to come swimming and running with us as she completed her 16th Park Run; welcome to all three.   With Dave Priest providing friendly support marshalling a strong Tuff Ten Turnout.