Weekend Round Up 23rd 24th September
The first official day of Autumn – the Autumnal Equinox was on Saturday 23rd, but you'd hardly notice as Tuff activity continues apace. There is one great article to follow separately from the World Triathlon Championships out in Pontevedra Spain; James Togneri did very well in the Aquabike. We had members at the weekend's Tough Mudder, results awaited, but this still leaves the following to share:-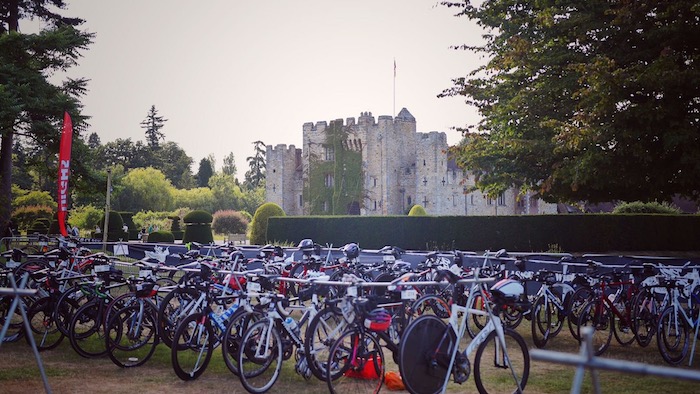 HEVER CASTLE MULTISPORT FESTIVAL
The Hever Castle Tri and Multisport Festival sees a weekend packed with swims, runs, Duathlons, Aquathlons and Triathlons across the weekend. Whilst no reports were received, it appears we had five Tuffs racing across both days.
Saturday saw Katie Young & Will King compete in the Sprint Distance Triathlon which comprised 750M / 20K / 5K and commenced at 9:15. Will had a straightforward race finishing well, but Katie made her race more of a challenge. Coming out of transition she realised a tyre was flat so rather than head straight onto the bike course headed to the event village to get it rectified. Despite this Katie used her strong swim and run to finish 13th female and first in her age group – impressive.
Next off at 10:30am was the Sprint Aquathlon and this contained a very competitive field as it doubled as the British Championships around the 750m swim 5k run course. Mark Walford simply hasn't stopped this season and raced home 5th in his age group just 1.5 minutes off a podium. Carey Woods also raced well and finished her race to clinch 4th in her age group –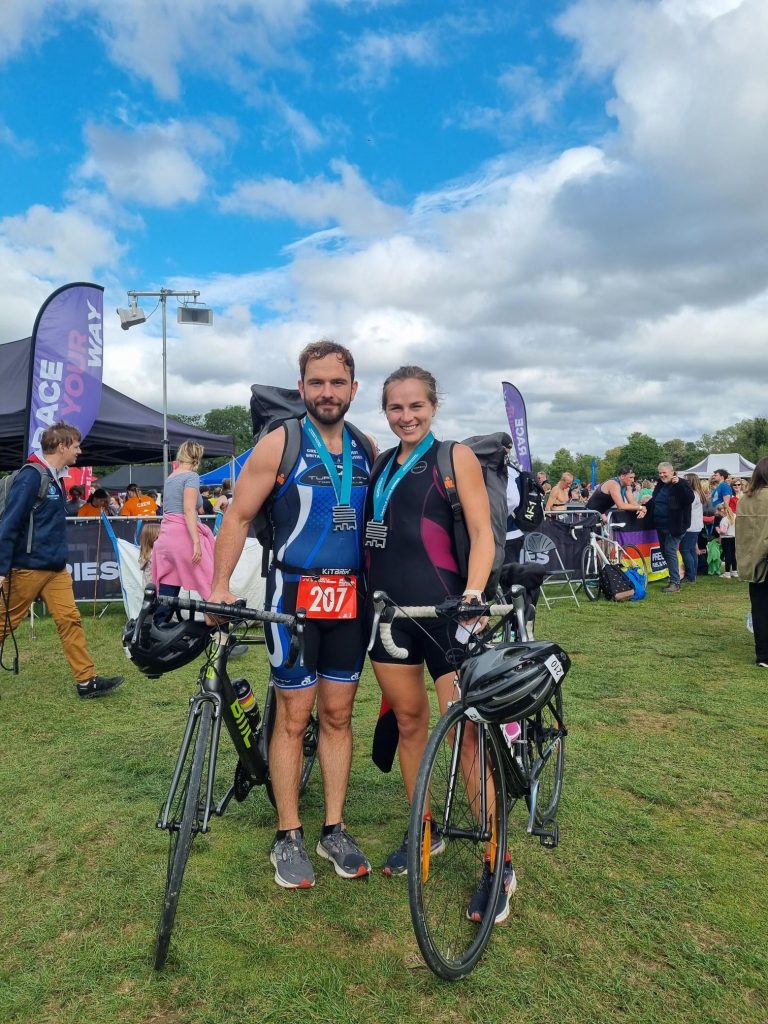 Gareth & Olivia
The Tuff action didnt stop there as Sunday saw the Standard Distance Tri around a1500M / 40K / 10.5K course. With a 9:30am start time Gareth Coombes finished in 2:45; 9th in his very competitive age group. Olivia Morey had a strong cycle and run and she was delighted to shave 6 minutes off her swim time over 2022. Great to see both Gareth & Olivia finish in style.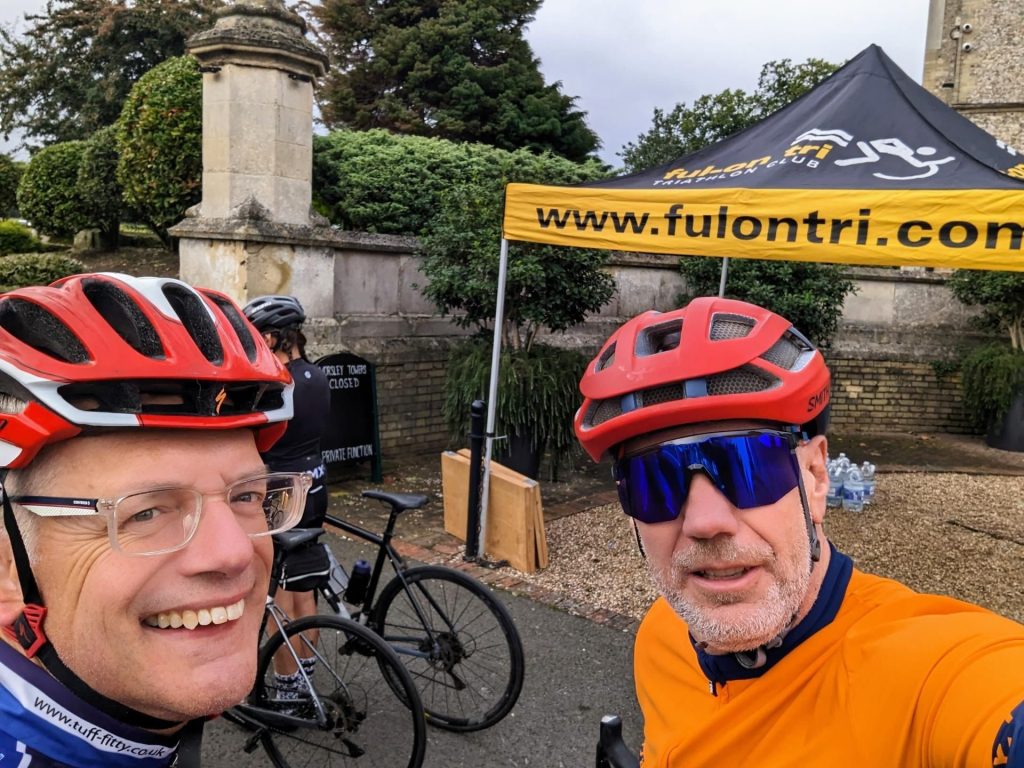 Dom & Jon
LEGS OF STEEL SPORTIVE
Back for the 15th year this popular Sportive has a choice of two routes, a 40km with 850m of elevation or an 80Km route covering 1,400m. Our intrepid cyclists this year were Jon Roper and Dom Amey with Dom reporting as follows:-
The Legs of Steel sportive in the Surrey Hills is run by Ful-on Tri club in memory of Dave Aitchison, raising funds for the Sports Aid fund which was set up in his name. The fund contributes to the careers of young triathletes and previous beneficiaries have included Alex Yee. It's a long standing event and although the start point has moved away from the top of Box Hill now the route remains mostly the same. 80km distance doesn't really tell the story, it's the 1400m of elevation that tests your legs. Jon and I had both done this one before so we knew what we were getting in to but we got in to it anyway.
There are 8 main climbs, the fearsome, 21% Winterfold climb comes halfway round. It's actually not that fearsome to be honest, it's slightly longer and slightly steeper than the Bostal but you can grind your way up it and it's soon over and done with. Fortunately, the road surface was dry there, I'd already had my back wheel spin out on me a few times on a steep, greasy climb. It wasn't a day for heroic descending either, heavy rain in the week had left a lot of gravel and debris on the narrow lanes through the woods but the worst junctions were carefully marshalled.
I'd last done this ride 9 years ago and I could vividly remember my quads cramping on a steep hairpin on the penultimate climb. It was by no means easy this time (the guy next to me who swore his way up it would confirm that I'm sure) but I was glad to banish those 9 year old demons and get up it with both legs in full working order. And then it was just a short battle into a headwind on the only stretch of main road of the day, a timed climb which I struggled to raise much enthusiasm for after the previous 7 climbs and then a cruise down to the finish.
If you fancy a day trip away from the South Downs to see what the Surrey Hills are all about, I'd thoroughly recommend getting your legs steeled up and heading up to this event in September.
Dom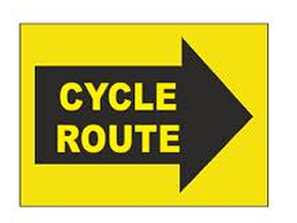 SAGE HOUSE SPORTIVE
One other Sportive to report on saw Dementia Support team up with Bognor Rotary Club for a fund raising Sportive. Grant Smalley was amongst the riders (gaining his third medal in as many weeks) and reports:-
This week was the inaugural 50mile sportive in aid of Sage Dementia Care-start/finish at Tangmere and taking lots of lovely Sussex hills and villages.
There's also a 25 mile option…great event and well signposted.
Grant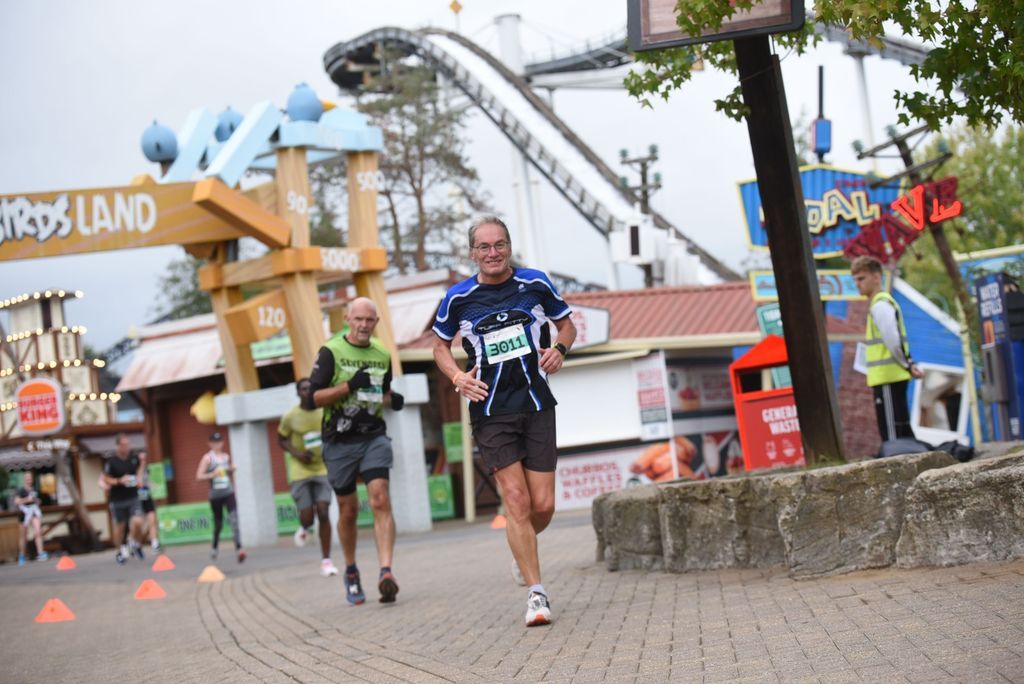 Trev in race action
THORPE PARK 10K
Next up a report from Trevor Harvey who attended a race that was also a fund raiser for a local hospice. just over 900 other finishers must have also thought it was something different as well – Trev explains.
A few days prior to the event I thought I'd give the Thorpe Park 10k a go. (5k also on offer).
Cost was £34 (+ £1.70 booking fee!), but that did allow you to stay in the park after the race at no extra cost. Starting before the gates opened, the 10k was a two lapper, winding through the park & the rides before an out & back.
So after the race you can be hurled upside down & round & round on the many rides. Given the park costs anywhere between £33 & £66 + to get in, what looked a big entry fee was in fact quite a bargain!! Big medal too!!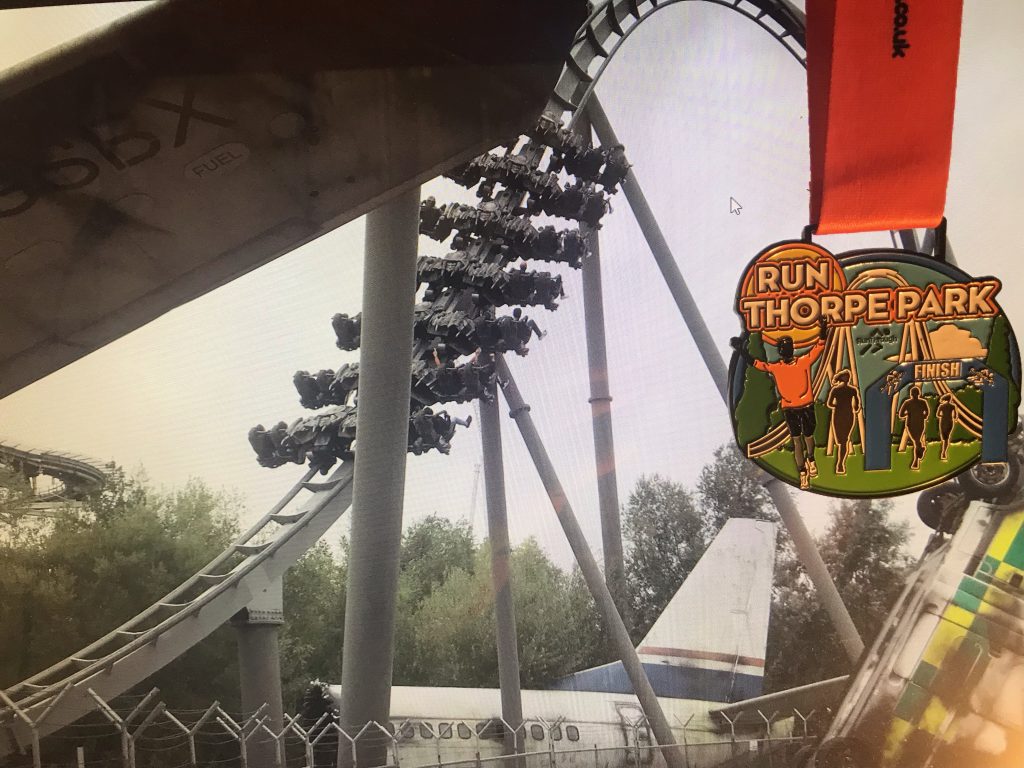 Trev rode this as a 'cool down'
Trev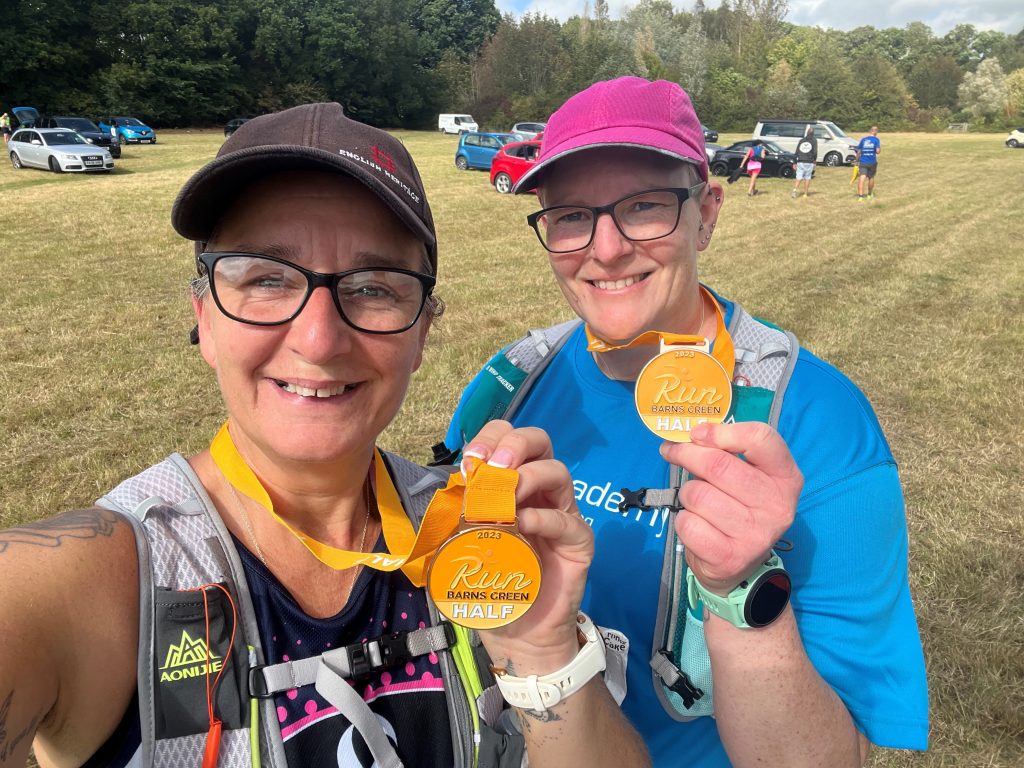 Sheila & Kate
BARNS GREEN HALF MARATHON
The Barns Green Half Marathon is a very well established fixture, with the course on closed roads and taking in Christ's Hospital. Beginning just after the first London Marathon this year was the events 41st anniversary. A 10k was added in 2016 and this year a 5k run was included for the first time. This year Tiff Orton ran with two of her friends and Sheila Bailey & Kate Evans ran together. Thanks to Sheila for reporting in. Inspired for next year ? the 2024 event is being held 29th September.
"Thanks to Kate, I somehow managed to get myself signed up for this event.
A reasonable start time of 10am meant there was no need for an early alarm 🙂
The event was very well organised, with lots of free parking and portaloos.
Whilst waiting for the start we happened to bump into Tiff for a quick hello and a hug.
The route was really well marked with lots of signs and plenty of marshals. An undulating road race, of two separate loops, Kate and I took our time, and had a great time singing and dancing our way round the route.
Definitely recommend the race to anyone who fancies a nice day out just up the road.
Sheila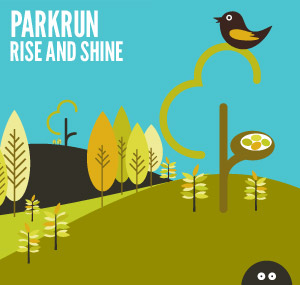 PARKRUN ROUND UP
The most Tuffs at a location this week was at Littlehampton parkrun, where our leader as first Tuff home was Fraser Kidd. Steve Bridgeman was next and Amy Kidd smashed her PB by 1 min 20 seconds over this course. Alastair Evans & Linda Wright were next, both superstars as they notched up volunteer credits as well as a participation credit.
Worthing parkrun is also a good place for some Tuff spotting and this week, well done to Simon Grundy who crossed the line in 19:53, his fastest Worthing time this year as he gets his form back post injury. Les Pearce was next home and then Edward Lay finished who was on pacing duty this week. To complete our Tuff quartet Elaine Rousseau claimed another run to reach her 161st parkrun.
Bognor parkrun saw one club runner this Saturday – Clive Harvey
Just one known parkrun tourist this week.
Trevor Harvey ran at California Country parkrun. Whilst the exotic name, the location is Wokingham where the course is described as a mixture of "greenway" and woodland paths (mud and tree roots will be encountered).
Well done to all eleven.