There is a quotation associated with sport attributed to John Bingham that says;  "The miracle isn't that I finished. The miracle is that I had the courage to start". Nowhere was this more appropriate than 5am on a cold, dark, windy and very wet morning in Weymouth as a large number of Tuffs ventured out into those very poor conditions as the following photo testifies.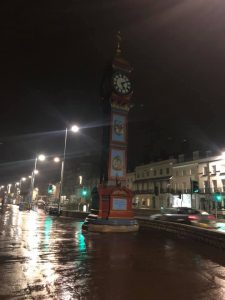 As is tradition for Ironman events, bikes had to be racked the day before and transition bags hung with bike and run gear in a big marquee but all the bikes were sitting sodden outside, often standing in several inches of water.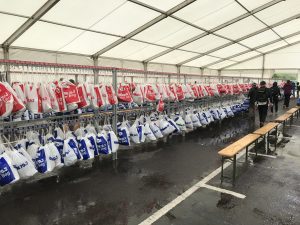 Arriving into transition in the dark, the puddles had increased as had the wind and everyone was getting cold.  The news came over the PA system that because it was still so dark the start time was being pushed back and partly because of the need to get people onto the course and partly the strengthen winds, the swim was to be shortened.  Groans from the stronger swimmers but most still changed immediately into their wetsuits and also pulled on the swim cap in an effort to stop the wet and cold digging deeper into the bones.  Ironman are now doing rolling starts which worked well spacing people out. Ollie stated that whilst the swim was cut short to 950m, "evidently everyone agreed it was a fair bit longer."  Despite the weather, he thought the water wasn't too bad.  Tiff thought the swim was awesome ("once I managed to get a spare pair of goggles from #414 she was my angel when I was panicking as I bloody forgot mine!!")  it was a shame it was cut short." However we each have our favourite disciplines and Sharon stated "I can honestly say I've never swum in conditions quite like that, at times I felt I was going backwards".
It was then into transition where although the gear was inside, streams of water were cascading across the floor from the conditions outside. Sharon remarked  "T1 was so busy the only space I could find was stood in a puddle;  I gave up trying to put my shoes on".  Clive had found a good space but put his socks on the bench which promptly fell off into the puddles so he had wet feet before he even ventured outside. Chris had more pleasant memories "I loved the camaraderie, whether in transition meeting six racing Tuffs (Clive H, Trevor, Nicole, Tiff, Joe, Phil) and two supporters (Jon and Clive PL), chatting nervously at the swim start with Phil Gamble (newest Tuff member)
Then the bike. As closed roads had locked in the route it was impossible to shorten the course but as the rain and wind came in, most were wondering how it would go. Many had thought to put jackets in their bike transition bag.  Simon decided to be Super Tuff and ride around in just his tri suit, A decision he did regret but pushed on to get around safely. Nicole stated she learnt a lot of lessons, and just a huge sense of relief at finishing. " I can be stubborn (surely not you say!) and prefer cold to hot race conditions, however insisting I'd 'be fine' in race vest and shorts was nothing short of bonkers.  (Should listen to Clive PL! …surely not you say again!!!)    Initially frustrated at a last minute short swim decision, I then shook so much on the bike I've got green/blue bruised quads from continually hitting the top tube. Being that cold meant nutrition would not go down so the 'run' could have been done under trade description!" Chris had reasons to be concerned over the conditions as he pointed out that "as most people know, I had a bit of a reputation for crashing during Ironman events, the prospect of torrential rain filled me with dread". "Interestingly, alongside the memory of getting absolutely drenched during the ride, and having numb toes for the first 30 minutes of the run, and spending nearly 15 minutes in transition trying to undress and dress with numb fingers, I have some extremely position memories."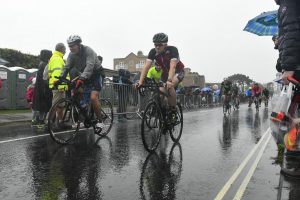 Clive had put a jacket on – left
The debris washed onto the road meant road grit covered drinks bottles giving everyone crunchy bits through the liquid, leaves and twigs across the roads were matched by floods; sometimes right across the whole carriageway. At the 40 mile point is the 'significant hill' and Joe recalled  "The moment I'll remember was being forty miles into the bike course and being overtaken so much that I stopped to check I didn't have a puncture…Tyres were perfect, it was my legs that had frozen! I couldn't clip back in as I couldn't feel my feet.   I spent the rest of the ride crawling up the hills and shouting at my garmin when autopause came on and then going as hard as I dared downhill (48mph was a little wobbly)".  Tiff  said "The bike was shall we say testing in that torrential rain and wind but I was very pleased to get round in one piece with no punctures." This point was critical as at virtually every junction there were bikes propped up roadside; some had simply given up, many more had punctures and some of those had wanted to continue but their fingers wouldn't move to get to work on the wheels. Ollie summed things up as "so tricky. A tough course in regular conditions with small country lanes and hills. Add in rain and crosswinds it became a sketchy ride with brakes fully on for most downhills!"  The various fears were justified as it looks as though there were circa 225 competitors that started the bike course that didn't finish it, which is a huge number but pleasing to report all Tuffs that exited T1 returned safely to T2
No Tuffs in shot but an indication of the atrocious conditions heading out of T1
There has been a lot of discussion over the cost of entry, although branded Ironman events are expensive, yet the prestige of the event did attract probably the biggest turnout in a club championship race this year.  Trev considered this point – "not at all cheap, but you can see how the money is spent all around the course, particularly on the cycle, and indeed without the completely closed roads, (lots of them major), given the conditions, the route could have been quite dangerous."
Luckily the rain was stopping as the Tuffs exited T2 and with the clouds retreating the sun came out and everyone could finally begin to say they were warming up for the first time since 6am. Tiff liked the run observing "it was 3 1/2 laps on the promenade when the sun came out and gave me a chance to see many other Tuffs". Sharon said she didn't mind the bike ride but trying to run on numb feet was somewhat comical. Ollie liked the run -"great first 10km and brilliant to see Joe, Chris, Gareth, Nic and Tiff for support with loads of support from the sidelines too. It helps so much! Didn't see anyone else I think I was either in the toilet or delirious…  " Gareth was going well giving hearty slaps on the bum to any Tuffs he spotted in encouragement.
Chris summarised with the following:- "Weymouth will certainly go down in Ironman history as one of the wettest and windiest 70.3s ever, but it will go down in Tuff history as our greatest day as a club! 100% completion, #1 in division II. We certainly Tuffenned the f@#k up and kicked ass."
So how did the other Tuffs feel.   Sharon stated, "what an amazing weekend and competing with so many club members was awesome" It was lovely to see so many Tuffs on the run course, from Tiff squeezing my butt and hi-fiving other Tuffs, I really felt involved in something special. The supporters were, well what can I say, they were truly amazing"  "When is the next one?" Trev, "a great event in the company of great Tuff competitors and supporters".  Joe stated "wouldn't change a thing, loved every minute.  where's the next one?" Tiffers felt that in summary "one of the best races I have finished and well done to all Tuffs who finished; When's the next one?" 😉   Tom agreed stating "Many Thanks for an epic weekend, I'm sure I'll appreciate it even more when I'm able to walk down stairs normally again!"  Ollie said "Great to experience the IM events and all very well organised, and Clive felt it was a much better course than when he raced here as a Challenge event.  Nic stated the "Tuff camaraderie, from both others racing and the amazing supporters, somehow got me up the carpet and over the line.  All in all an absolutely awesome weekend!"   However how about this final comment from James "Absolutely loved it;  Just booked a full one . Ironman Wales!"
Congratulations to everyone involved; despite some tales of caution out on the course, there were some cracking times.  Tom Frith crossed the line in 5:07:13 just ahead of Joe Pascoe in 5:08:25.  Gareth Piggot  in a swift 5:12:42 and Ollie McDonald 5:20:09. Chris Robinson 5:29:10.  James Togneri, Simon Thistlethwaite, Nicole Patterson-Lett, Dana Robertson, Sharon Tidmarsh, Trevor Harvey, Tiffany Orton, Clive Harvey, Philip Gamble & Ellie Williams. 
To top it all off there was the news that we won a team gold in The IRONMAN TriClub Programme division two – a fantastic achievement !
<
>