KMD IRONMAN 70.3 EUROPEAN CHAMPIONSHIP ELSINORE DENMARK
A week after Ironman 70.3 Staffordshire there was another 70.3  – The 70.3 European Championship in Denmark. Drew Gowland was our Tuff representative  and his inspirational report follows:-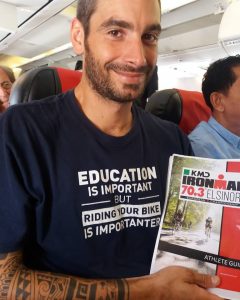 Last year I entered an ironman 70.3 event with a friend who then flaked out on me. I decided that I would turn this massive disappointment into a positive and go to an event that I would really appreciate and that may play more to my strengths. I wrote to ironman and they said basically "yes, pick any 70.3 race" awesome. I searched and eventually settled on a relatively flat course which just so happened to be the European Championship. Go big, or go home – the friend had effectively gone home, so I had to go big!
As soon as I entered and swapped I thought… what have I done? It'll be racing the cream of Europe… turns out racers came from all over the world, not just Europe!
Anyway, the wife and I managed to book the children in with the grandparents and we got a beautiful airbnb, our first long weekend away, without children, ever – we had already won!
We flew over a few days before to register and recce. Everything was going well, but I was a bit lost with the Ironman transition bags and faff, ah well it'll be OK. Then the Ironman talk, it reminded me of when I lived in the U.S.A… U.S.A… U.S.A… but what the hell, this is a big event, let's get into it! I clapped, I cheered, I felt proud to be there.
After the talk we checked out the harbour, sussing out the swim route then walked part of the run course, around the picturesque Kronberg Castle, before heading back home to let the girls (chickens!) out for a run.  The next day was a complete rest day; we decided to drive the bike course before racking the bike. The wife drove so I could keep an eye on the ups and downs, ins and outs and try and remember every corner, whilst reminding her to drive on the correct side of the road! We pulled up near the bike zone and when I checked my bike in it started to really dawn on me what an event this was. Sold out at 2,800 places and the transition made me drool… so… much… bike… porn… but the size of things also added a short run from the swim to T1 and then another longer run from T1 to the other end of the bike park = 5 minute T1, crazy. T2 consisted of a throw your bike at a volunteer who would rack for you and then the standard kit change, awesome.
The weather forecast was up and down, eventually seeming to be settling in my favour, dropping winds and cooling rain for the run…
Race day dawned, we quickly moved our hire car up another road so we weren't trapped once the bike road closures were put in place at 7am, the chickens were fed, the wife donned her I'm wifey Ironman t-shirt and we were off.
A quick check of the bike, sort out nutrition and get into the wetsuit before fighting my way through what felt like half a million other neoprene clad male and female swimwear models, supermen and wonder women to get as close to the front of the swim group as possible. I managed to wrangle my way into the first 40 odd swimmers, 10 rows back, it was a rolling start of 4 at a time, diving off the end of the pontoon every 4 seconds – brilliant! My time came, I had to jump to avoid a spinal injury, messed up my watch start and suddenly I was in the washing machine. The first wave was an estimated <29 min swim, so quite a mix.  There was tussling around the buoys but I eventually got into some space and could get into my own pace. I started well, but didn't have a clue on times, turns out I put in a solid 24 min 1900 m swim. Excellent, the game has commenced.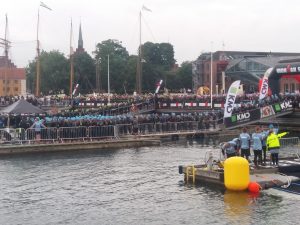 Out of the swim, into T1. Still in T1. Still in T1, eventually out of T1 and onto a strong bike. Slightly undulating course with 180 deg turns and the heavens opened. Once the rain stopped it became muggy and I saw a few crashes – mainly sliding out, nasty, I remained focused and happily safe. The bike was relatively uneventful, due to the strong swim I didn't see many people with me.  I overtook a few, a few more overtook me. On the return I passed a lot of non-drafting-drafting groups, you always will in big events I guess, still frustrating to see. Any way I did my work and came out with a 2hour 23min 90Km ride, superb.
The trouble was, that meant the run was next. I had no plan. Hold on to whatever I could, dignity at least. I failed. The forecast cooling rain had buggered off and it was hot. I was overheating and feeling like a fish out of water. A poor run meant I dropped positions massively and ended up in 63rd in age group and ranked in the top 20% overall. Still this isn't my distance, due to the run, I entered for fun and had a superb time. My overall time of 4 hours 49 mins was ok considering 7 minutes of transition and the fact my knees gave up around 8 miles into the run and I embarrassingly ended up walking quite a few times… However I'd hit my swim-bike goals (a target for next months World Aqua Bike race) so came away with a huge smile. I was only walking like a penguin for two days after too! 😊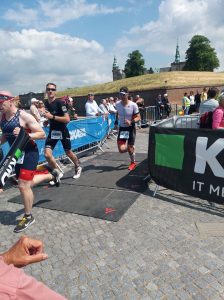 I would say that if anyone is umm-ing and arr-ing about a big event – just do it! Don't regret not doing it. I'll take a lot away from this race and weekend away. All in all I loved it and learnt a lot.
If you're still awake, thanks for reading and I wish you well on your next race!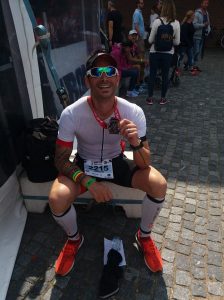 Drew