River Arun 3.8km Swim /Ardingly Swim the Lake
It was another packed weekend of action from club members out racing. We have already released Olly's inspirational Ironman Nice report and this report turns its attention to two swimming races: held in the River Arun & Ardingly Lake. A third post from the weekend's action is about to follow but for now we can concentrate on our 17 Tuff swimmers with one, Jez Garratt, competing at both:-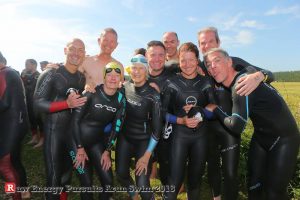 RIVER ARUN -3.8km SWIM
A firm favourite amongst Tuff's, Raw Energy's full Iron distance swim down the River Arun always draws a capacity crowd. With Registration at the Lifeboat station at Fisherman's Hard, competitors then board buses to take them to the start at Ford. Starting on slack water the swimmers then get the benefit of having the tide with them as they race down the Arun.
In this tenth year, once again there was a very strong Tuff contingent and congratulations to our Tuff ladies who had eight swimmers lined up at against seven for the men.  Those present were (in strict alphabetical order)
Phil
Baker
Jane
Custance
Ben
Evans
Nicole
Ewer
Wendy
Frost
Jez
Garratt
Serge
Kolas
Joanne
Meaney
Claire
Moyle
Adrian
Oliver
Jenny
Oliver
Nicole
Patterson-Lett
Clive
Patterson-Lett
Dana
Robertson
Charlie
Walker
Often it is a mid morning start, but with the tide this year it was an early morning start.  The competition looked strong with several attending from pure Swimming Clubs but that didn't faze Nicole Patterson-Lett. Always an excellent swimmer she did superbly swimming under the bridge and running up the ramp as 1st lady overall – in just 44:01,  ahead of swimmers from Eastbourne & Clacton swimming clubs in second and third.
Jez Garratt had already swum on Wednesday night up at Ardingly Lake's race but he was here again and crossed as 1st Tuff male & 20th overall.  Clive Patterson-Lett was next home and a great swim from Charlie Walker, she was just 17 seconds behind.   It is good news to see Ben Evans listed above as a River Swim competitor. Having previously been a member he has more recently come to our pool and sea swim training sessions and has acquitted himself well – welcome back.
Congratulations to all, particularly Nic P-L and to those who completed the Full Iron distance swim for the first time – another example of how Tuff Fitty and our swim coaches can assist your goals.
We have an inspirational report from Wendy Frost who fought back against adversity not only to enter, but to finish the race:-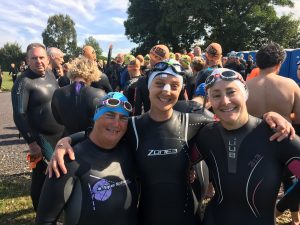 "After spending the past 16 months trying to recover from a hip and back injury, I decided that my one and only event this season was to be the Arun river swim. Unfortunately due to a mishap exiting the sea the week before I was faced with doing the river swim with a sore neck and shoulder and a face that looked like I had gone a few rounds with Frank Bruno! Race preparation consisted of sorting which dressings would be most waterproof and still allow the goggles to fit. Ably assisted by Jon we managed to stick some foam padding on my poorly nose to protect again getting bashed again.
The queue for registration was long, with 500 participants lining up. I had the pleasure of conversing with 2 gents from the Horsham Amphibians who struck up a conversation regarding my face and ended it with a discussion on lubrication and the problems with baby-oil and vaseline!
Once registered there was ample opportunity for chat with fellow Tuffs and time to sort kit and struggle into wetsuits. A bit more waiting until the coaches came to take us up to the field in Yapton, where we were dropped ready for the off. Photos and last minute ablutions were done before we trekked the narrow path to enter the river.
Claire Moyle had decided to enter the event for the first time and Nicole Ewer and she both agreed to swim with me to get my confidence back at the start. On a typical 'race day', much of my race preparation involves making sure my blood glucose is in range and trying to deal with the unwanted 'highs' that occur due to the effects of adrenaline. With other things on my mind, there was no adrenaline high for this event and instead I battled with ensuring that my blood sugar levels were not too low for the race ahead. Blood sugars sorted and race face ready….
The water was a nice temperature and in the sunshine was glimmering and very inviting. This was going to be a swim for fun, joining in with something that I didn't think I would be still able to do earlier in the week.
With fast waters the swim was good. My face hurt with the pressure of the goggles and I swam just to get to the end. It was actually one of the most enjoyable swims I had done and both the conditions and company were great. Another fantastic event organised by Raw Energy and one I hope to do again next year, minus the injuries."
Wendy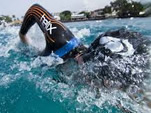 ARDINGLY SWIM THE LAKE
Another very popular swim race is Hedgehog Tri's Ardingly Swim the Lake held on a Wednesday evening. With a nice evening there was a good turnout across three distance races. There was a 3,000m swim, a 1,500m swim and a 750m swim. Pleasing to report there was a Tuff representative in each one. There was a strong result from Jeremy Garratt in the 750m swim. It turned into a sprint finish between two with Jez just missing out on 1st overall, only 5 seconds behind, but he did win a trophy for being first male.  In the one mile race well done to Ben Abbott.   The 'big one' was a 3,000m swim and Paul Atkinson entered this ahead of his long distance Bewl Water swim this coming weekend. Congratulations to all three