Weekend Round Up 23rd 24th June
Olly's Ironman adventure and the swimming races have already been listed on the Tuff website but this was not the end of the weekend action, this report is jam packed with even more races.  The fun started earlier; last Wednesday as you will see;-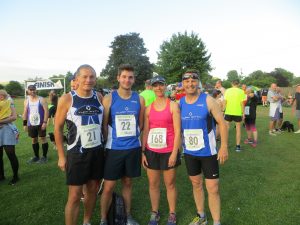 MIDSUMMER 5 
After a windy drizzly morning the evening was calm, sunny and very warm for the annual Midsummer 5. Normal service was resumed this year with the reinstatement of a burger and beer upon crossing the finishing line. The five mile route  from Lavant, takes in a lap of  Goodwood Race track before heading back and jumping into the burger queue. Stuart Harvey was first Tuff home, but exceptionally strong running from Steve Custance pushed him up the finishers list with Ian Bayley just 13 seconds behind. Next came Linda Wright and Clive Harvey – a great way to celebrate Midsummer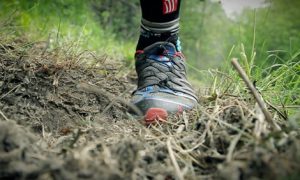 BRACKNELL FOREST FIVE
Trevor Harvey reported in from a local, (to him), race – a five mile trail race around Bracknell Forest which is also known for its numerous MTB routes.
"Held on a very hot and humid evening it is a race that I have taken part in over many years, although you have to avoid the Ascot traffic as the races always clash. A well organised race by Bracknell Forest Runners, and good value with a wooden medal; drinks bottle; fruit and a Mars Bar to recognise the effort over an undulating course".
Trev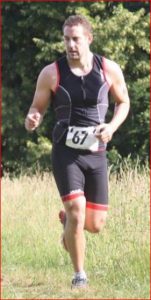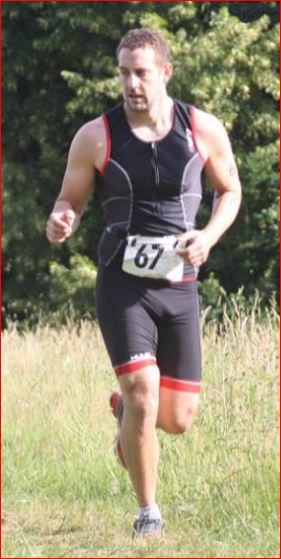 SWIM 1st CRAWLEY TRIATHLON 
Held at the Nuffield Leisure centre at Crawley Down, James Togneri entered this Crawley Triathlon. The event was a sprint race of 300m swim, 12.5 miles on the bike followed by a 5k run. The finishing line brought a T-shirt and medal. James has had a busy time with baby Logan but did well in his first Tri of the year finishing 11th overall – congratulations.
NORTH DEVON COASTAL HALF MARATHON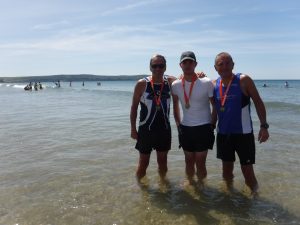 Post race cool off – with the hilly Baggy Point behind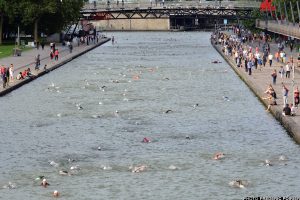 PARIS SWIM
Next up Susan Douglas has been travelling in search of different waters and reports in:-
"I've been to Paris! Not for a romantic weekend, no something much better, a 5K swim up a canal, the L'ourcq to be exact, for the Open Swim Stars event.
The swim wasn't until 6.30pm which gave time to walk the course. To be honest the water looked a bit grim, but you have to trust that the organisers don't want to kill everyone and the water has been tested!
Still time for a mooch around Paris returning to the Swim Village mid afternoon to register and then a half hour bus ride to the start of the swim.
There was still some time before the start and no toilets!! But fortunately we were allowed to use the facilities set up for a ladies football tournament. In true French style in order to get to the portaloos you had to pass an open urinal!
Anyway back to swim business. The 10k swimmers were gathering for their race. Lots of lean, mean swimmers, including Simon Griffith the founder of Outdoor Swimmer magazine, so expect to see an article about this event in a future issue. Off they went and about an hour later it was finally time for the 5k to start.
Although the majority were in wetsuits, the water was a balmy 21C, the sun was sunning with a bit of a breeze.
And we were off, 466 of us all heading upstream towards a large buoy where we had to turn left and come back on ourselves. Even though I was prepared for all the bodies, elbow, feet in my face, it still wasn't much fun.  Now, at least, we were heading in the direction of the finish albeit several kilomometers away.  With so many swimmers the usual calm of getting your own space didn't really happen. On the plus side it did feel like a race, unlike some sea swims where you don't see anyone until the last 500m.
So I set about targeting certain swimmers, Mr Orange arms, the annoying man with no sighting skills,  the annoying woman with no sighting skills, Mr Tattoo arms and so on.  Having walked the route helped, reassuringly noticing various landmarks, all was going well as I passed under the final bridge. It was then the weeds started to appear, big fat fingers reaching up at you and it that wasn't bad enough now there were also long strands of pond weed, all thoroughly delightful. Anyway I did my best to ignore and powered on to the finish in a time of 1hr 35 mins which I was happy enough with. I was 5th in my age group and 39th overall out of 101 woman, which considering most were in wetsuits I was quite pleased with.
Then I had a bit of a palaver finding my bag afterwards as the boxes containing them weren't in numerical order which didn't help.
Would I do the race again, probably not, but that's mostly because there are other swims to do. It was a reasonably cheap weekend: Eurostar £29 to Paris and £59 return. Shared Airbnb about the same cost and 40 Euros for the event.
Finally thanks once again to the Tuff swim coaches for keeping me fit enough to compete and able to swim in a straight line."
Susan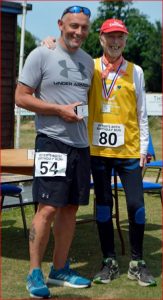 PETER CHITTENDEN'S 80th BIRTHDAY RUN
Next a report from Jason Rae on a very worthhile event which included in the runners was our very own Tuff, Linda Wright
"This week I got to take part in a race I organised and ran with lots of amazing friends.
5 years ago I was lucky enough to be able to set up the Bognor parkrun. From this an amazing core of runners have emerged who give up their time to marshal at my events and help out at Parkrun in line with the ethos of putting back into the sport they all get lots from. Nobody cares how fast or slow they are, none have egos that need massaging and if something isn't 100% right on runs they enter, they accept the marshals are giving up their free time.
One such guy is Peter Chittenden. I know him from my days as a Tone Zone Runner before I discovered triathlon. I hadn't really spoken to him much before Parkrun but soon came to realise what an amazing gent he is and regard him as a close friend . Running 50-60 races a year in club colours he felt himself and a few of his clubmates were never really recognised for their achievements which included between them, 100 marathon club memberships, SDW 100 completion without support or crew, and Petes achievement of a 100 mile Himalayan stage race at 70.
I often used to reassure him that the plastic trophies given away at club award ceremonies tend to go to people recognised because they are popular amongst the clicque that all clubs have and they attend more training sessions than anyone else, and that his quantity of runs were appreciated by his many true running friends.
What makes Peter even more special is he has been through a number of cycles of Chemo in the last 4 years fighting cancer, he has had ups and downs but still managed to fit almost 180 parkruns , 30 marshal stints, and all the races in his club vest in all weathers , on road , trail, park, flat and hilly, home and abroad. This year he turned 80 and rather than let his Illness get the better of him asked me to help him organise a run/race for his true running friends that would also benefit Chestnut Tree House.
Sadly he lost his wife Betty last year as well after a short illness, but his friends have rallied around to keep an eye on him.
He asked if we could use my Rewell Wood Course, so we adapted this down to 5 miles by removing the more testing hills. Entry was by way of a donation to the charity (£10 was suggested) 110 people turned up. Friends of his  from another event company did the race timing and I had no problems arranging marshals for the course, registration and a raffle and cake sale to make. We set the route out on Sat eve and checked no arrows had been removed on Sun morning.
It was great to see so many of his friends old and new show up to support him. Himself and a few runners who knew they would be slower set off about 25 mins early and I did the race brief explaining there were cows in one of the fields, obey the countryside code etc. We lined up and were off. I had asked everyone to get a selfie with Peter as they caught him up which loads that were carrying phones did. The temp was about 25 degrees and no wind which made the route challenging at the speed you run shorter races. From Arundel Cricket club towards Slindon, for 2 miles then turn into the woods and follow the footpaths across more of Rewell woods back to the cricket club. Having explained the route as comprehensibly as possible and marking it with flouro yello arrows and yellow chalk spray some runners still managed to not stick to the route. When one does this runners behind tend to follow so about 6 runners went off course adding about a mile to their distance. Welcome to trail running !!!
This meant that when I got to the end I crossed the line in 4th place so knowing the route had paid off. My other half Alex finished 10 seconds behind me and was 1st lady overall due to the other female in front of her following the runner who went off course.
After cooling down I went back out on the course to bring some marshals back and also support Peter who was really struggling. He had managed 4 miles which was probably harder in his condition than anything I could ever imagine doing in my lifetime.
I drove him back the last mile and dropped him at the edge of the cricket ground and he ran in the last 100m to the finish were he was cheered in by everybody who had formed a brilliant funnel of noise. It was a very emotional but amazing day and one that raised almost £1,500 for CTH
Jason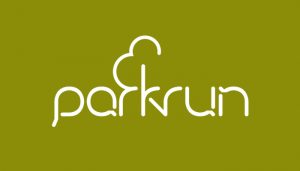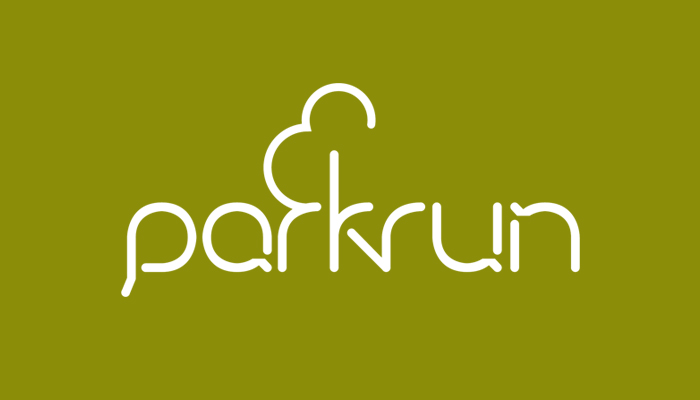 PARK RUN & DOWNLAND DASH FUN RUN LEAGUE
At Worthing Park Run we had Antony Oliver running – just 12 seconds outside his PB in 21:51. Also running, Amanda de Ridder, Cathy Oliver (who's turn it was pushing Eddie in his buggy) & Elaine Rousseau.  Tim Kenny helped on the staff this week. James Oram pulled on his running club vest to pace around in, for him, a restrained 24 minutes before shooting up to Burgess Hill for a 12:30 start at the West Sussex Fun League race 6 – Downland Dash. This is a 5 mile multi terrain flat course through fields, footpaths and woods where he completed his double run
Across at Bognor Park Run Jason Rae was back in action after his marathon last week in 22:56