For the third consecutive week we have had members of Tuff Fitty racing Ironman branded events, but this week it was the full distance 140.6.   Ironman France held in Nice on the Mediterranean Coast, Cycling in the Alps, and running along Nice's historic waterfront.  It is fantastic to welcome two new Tuff's to our Ironman hall of fame. Congratulations to Olly Sampson & Simon Willard.  We have a great report from Ironman Olly below; an inspirational story which must have other club members thinking, should I?

This was the 40th running of this race but only the 12th Ironman France, it is the second oldest long course race in the world, second only to Hawaii. Raced by Mark Allen 10 times who won it 10 times.
This year some 2800 competitors took part a 10th of those being women and the current champion Lierde taking part and trying to win for the fourth consecutive year.
After landing in Nice on Wednesday I had a few days to acclimatise to the heat and soak up my first Ironman experience, the expo and registration opened Thursday and from there on in the organisation was flawless. After being inspired by the likes of Matt Whittaker and Wardy last year I really wanted to enjoy the journey with the training and help from other Tuffs and draw on the wealth of knowledge in our club and for this I am truly thankful, whether it was Steve or Paul at swims or out on the bike with Phil and Johnny there was always something to be gleaned.
Friday was the pasta party with enough food there to sink the Titanic and my first true experience of the razzmatazz of Ironman! I did try finding Simon Willard (the only other Tuff racing) but alas no joy, cracking time from him though of 13:08:28 and a solid run at the end, well done.
After all the build up and waiting around for what seemed like weeks now I knew I was ready to take this on, but not having done one I was deeply aware that advice about pacing and looking after myself with taking no risks and hydration were key.
So good start to the day, I overslept on the morning of the race, HOW! Probably too relaxed, anyhow I made it to set up in plenty of time at 5am for final bike check and drop off drinks. I have my wife Kathryn with me for support and I feel calm and ready. Now you know how they say if you haven't done it in training don't do it on the day, well classic rookie error, just before I left `i bumped into Johnny "Five Cakes" Roper, he was saying good luck and how he used to wear a pair of cycling shorts over his tri shorts on the cycle for padding. So what did I do, I went for it, and do know what it was the comfiest cycle I've ever had, thank you.
The swim was directly off the Prom de Anglais in the beautiful med waters, temperature was 22 degrees, flat calm and crystal clear, I could not have wished for more perfect conditions, it was a 6.30am start for us after the pros and we were all corralled into our respective swim times for a rolling start, the music was pumping and the crowds were just something else up above us on the Prom. The hooter went and we were off, but for this weird pause of waiting to roll in, the start though was so civilised though and within a couple of minutes I had clear space and found a nice rhythm of the 2 lap 3.8km swim. This year had no "Aussie turn" i.e. out the water and back in, but it was still great for the crowds because we went out, came back close to the shore and went out again. At mid point I did get smacked and lost my goggles but Tuff training kicked in and I rolled onto my back swore in french and reapplied. The swim I just loved and to be honest I could have swum all day but it came to an end. A strong swim for me but paced and I surface in 1:12:58, I'm happy with that.
Transition is well organised again, the weather is clearing now into bright sunshine so I brush my hair slap some lotion on and off we went for part deux.
The first 10 km is beautiful flat smooth roads and then we climb and climb, oh and did I say climb, culminating in the famous stretch up to Col de l'Ecre, 18km of climb, my average speed has dropped off and oxygen is becoming thin up here!
Finally it plateaus out and we are treated to some of the most spectacular scenery I've ever seen, the bike persists with a further 3 climbs, 2100m in total, but in-between some death defying descents down through mountain passes, again you are reminded all to well of the issues of if you push it passing crashes and blow outs all again amazingly attended immediately by IM medics, speeds upto 60km an hour and just trying to concentrate and get the average pace back up. Every 16km there were aid stations with all you needed and this made for a much easier experience.
Finally we level out on the coast again and come back into Nice a welcome sight, sort of, the bike had been fantastic and due to long climbs there was lots of chats with fellow Brits and Canadians, Americans, overall people from 62 nations took part in the race.
Back in Nice we were greeted A) by people on the run already and B) by huge crowds and thumping music. I was just elated to be in from the bike before the first pros had finished, always a positive sign. 6:53:58 for the bike I'm made up with that.
Again it was hot now and after brushing my hair again and applying some more slap I set off for part trois. I started the run feeling so happy I had come this far, it was an out and back 4 lap course along the flat Prom de Anglais receiving a band of envy each time, yellow, red, blue then into the shoot.
Being a virgin I set off to quick of course and then calmed down bar the fact I then realised I hadn't been to the loo and tried to go, nope OK I'll keep running but I needed the loo again, nope and you get the gist! Finally lap two I settled into, for me, a nice 7min per km shuffle pace remembering Matt Whittaker's words of wisdom that had been passed down to him of the mantra JKR, Just Keep Running, I figured shuffle counts so on I went, walking aid stations which were every 1.6km with again everything and even walk through showers to cool you off.
Lap 3 was my darkest hour and I had to walk and reset for 1km took on another gel and sipped some coke, god it was good, off again and then lap 4 I hook up with 2 runners from the US and Ireland they're a lap behind but we jog on together and then I can hear it and see it ahead, the finishing shoot and "You Are an Ironman" being screamed out. The crowds were both sides for last 1.5km and now I'm running on shear adrenaline, I see my brother and mates just before the finishing shoot and hug them, then wifey who had supported me all day and on this whole journey, she gets a big smacker on the lips and then I hopped, skipped and punched the air down the shoot to hear those iconic words "Olly you are an Ironman". 13:31:36, I would have liked to be a bit quicker but I PB'd and the time was competent.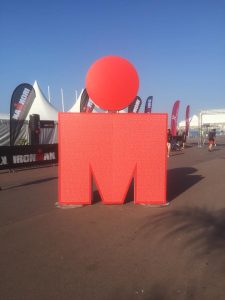 I was speechless almost lost, I'm greeted by a man who puts a medal round my neck and congratulates me and I've done it. What a day and something I will never ever forget, so well organised even as the last lots being attended to in the athletes village for medical needs, but I feel good and so I wandered out, met up with family and friends collected my kit and went and had a huge steak and chips.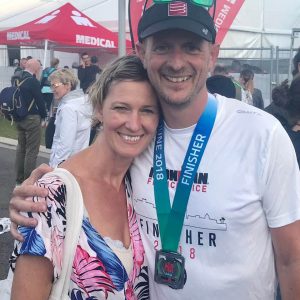 To anyone thinking about can you do it, you can, I had fallen off the triathlon wagon only a year ago and became inspired by other members, I booked it, trained hard again for a good 9 months and now I've done it. Be inspired and in the words of Tuff Fitty and Ironman "anything is possible".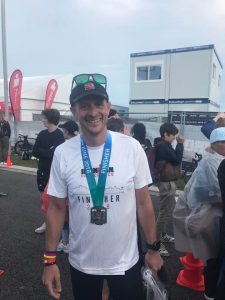 Olly