Tuff Fitty Lido Race – July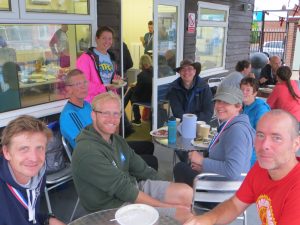 TUFF FITTY LIDO SUMMER LIDO EVENING -RACE 2 
The second in our series of Tuff Fitty's Summer Lido races; although people could be excused for asking where the 'summer' in the title was due to the ending of our hot summer this weekend. The Met office had a yellow weather warning until mid afternoon. Would the weather improve? Would anyone turn up?
It transpired the answer to both these questions was a definite yes. The weather did improve, and the rain pretty much held off throughout, leaving good conditions for the traditional 400m swim and 5k run.  Twenty competitors raced, either as a solo participant or as part of a relay. Overall 28 members were in attendance and whilst this was the lowest for many years, considering the atrocious afternoon weather the event proved a success.
There were some excellent split times with Nicole Patterson-Lett, Chris Robinson & Joe Pascoe gaining the quickest swim splits with the three quickest run splits almost identical from Andy Crawford, Joe Pascoe & Clive Patterson-Lett.  However a big vote of thanks from Clive Harvey to everyone who made the effort to come along;  playing their part in making the event another fun & successful evening.
Whilst the competitors were out on the course Glenn Parisi & Trevor Harvey were busy cooking; Catharine Western had once again prepared her delicious salads, Wendy Frost had brought some party food and having catered for more, no one left the Lido hungry; we even asked the lifeguards to tuck in.
As usual the event is more about bringing club members together than an overtly competitive race but some asked for their split times. Steve Custance was on duty with the camera whilst Clive Harvey was timing and handing out medals.  The photo gallery and times follow:
Our Lido Race for August is at 7pm on Friday 17th August 
<
>
| | | | | |
| --- | --- | --- | --- | --- |
| Swimmer | Runner | Swim | Run | Total |
| Joe Pascoe | | 06:05 | 19:03 | 25:08:00 |
| Chris Robinson | | 05:56 | 21:19 | 27:15:00 |
| Simon Thistlethwaite | | 08:05 | 20:26 | 28:31:00 |
| Paul Atkinson | | 07:45 | 22:01 | 29:46:00 |
| Ben Abbott | | 07:05 | 22:42 | 29:47:00 |
| Andy Vincent | | 06:50 | 24:48:00 | 31:38:00 |
| Sam Maton | | 08:10 | 26:49:00 | 34:59:00 |
| Francesca Mordell | | 07:45 | 28:43:00 | 36:28:00 |
| Catharine Western | | 09:40 | 28:38:00 | 38:18:00 |
| Nicole Ewer | | 08:40 | 30:01:00 | 38:41:00 |
| Jenny Smith | | 09:51 | 31:51:00 | 41:42:00 |
| Susan Douglas | | 07:20 | | |
| | | | | |
| Nicole Patterson-Lett | Clive Patterson-Lett | 05:52 | 19:10 | 25:02:00 |
| Graham Liddell | Andy Crawford | 07:52 | 19:02 | 26:54:00 |
| Nancy Liddell | Tom Gray | 07:27 | 22:13 | 29:40:00 |
| Jane Custance | Stuart Harvey | 06:55 | 23:19 | 30:14:00 |