Clive Patterson-Lett reports in from a weekend on the Pembrokeshire Coast, where the main focus was a 5 mile run and 3.5mile swim with the added bonus of the events proceeds earning over £20,000 for charity. Clive opened his diary as follows:-
TUFF TENBY WEEKEND DIARY 2018
The picture below has no "baring" (geddit?) on the Tuff weekend in Tenby and is merely included to catch the ladies attention……I should point out that the Harvey's didn't spend the whole weekend naked!. In all seriousness they both deserve an extra medal over and above the swim and run finisher medals for spending the weekend in this confined space with Glenn Parisi!!.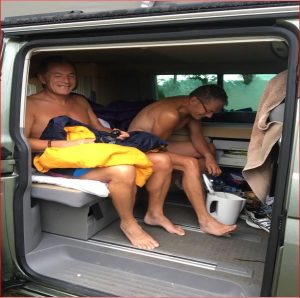 THURSDAY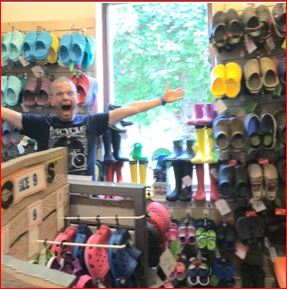 Anyway onto the weekend. Nic and I arrived on Thursday and went into town for a bit of retail therapy and a visit to Feet First the biggest collection of Crocs in Wales. Nic took the plunge and added some flip flops to her collection but I just couldn't make my mind up (see pic).
Tenby is a lovely place and the locals are really supportive of multi sport, with Long Course Weekend taking place the weekend before we arrived and the savage IM Wales taking place each September.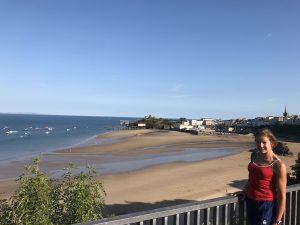 FRIDAY
Friday saw the arrival of Glenn, The Harveys, Jon and Tiff to add to Jane and Steve, Rhiley , Nic and I. We all made our way over to Saundersfoot for the Footstep Run on Friday evening. A charity event with funds going to Welsh Air Ambulance we mooched about and
some Tuffs fuelled up for the upcoming 5 miler….(3 and 1 mile options were also available).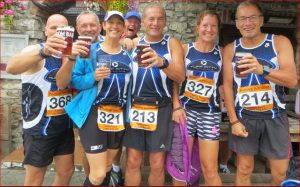 This appeared to give some people the "Dutch Courage" to approach Wales and British Lions star Ian Gough for a selfie…..poor guy didn't know what had hit him and all Nic did afterwards was go on about how "lovely" he was.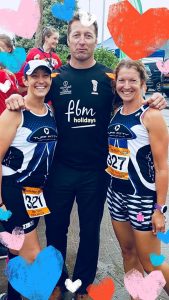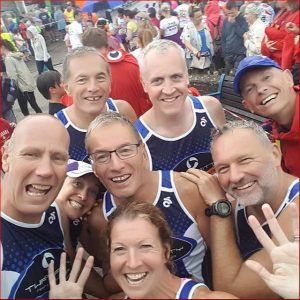 Anyway after all the shenanigans the race started with all Tuffs running strongly with a remarkable performance from Paul Howie who arrived with minutes to spare after a fraught journey from Sussex. A Footstep Medal was the reward for all finishers and this doubled as a fridge magnet. (Editors note: Clive PL neglected to point out he came third)
A further reward for us Tuffs was fish and chips before a taxi back to our campsite in Tenby for a few beers and a race debrief.
SATURDAY
Saturday dawned a bit grey and drizzly. We all took the walk down into town to register for the Footstep Swim….5kms from Tenby Beach around the coast to Saundersfoot (site of the previous days run). We all got into our wetsuits and inflated our tow floats (compulsory for the event) whilst Steve Custance made inappropriate comments to a group of local ladies he had managed to corner.
There was a big photo call for all the swimmers and after a countdown we were off!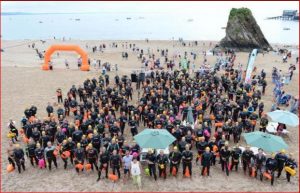 Boy was the swim tough…..despite the flat calm sea 5km + is a bloody long way. We got out at the half way point on a lovely secluded beach for a medical check, water and jelly babies. The last bit should have been a warning for what was to come!!!! On the first leg we had seen a few jelly fish, but around Monkstone Head into the second leg there were thousands of the bloody things….everyone got stung….. not nice but not fatal. Paul and Nic led the way for Tuff Fitty with Nic getting interviewed by the local paper in the company of the local mayor!!!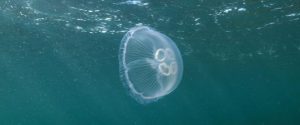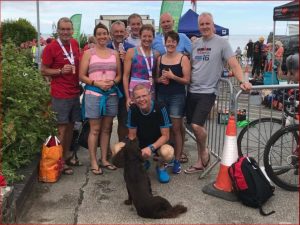 All safe and accounted for it was back to Tenby for a shower then a massive pizza at Top Joe's www.topjoes.co.uk in the town (highly recommended)
SUNDAY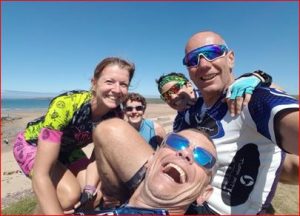 As you can see from the photo the weather on Sunday was amazing. Trev, Clive and Glenn left us as Monday at work beckoned.
Jane, Tiff, Nic, Jon and I decided to ride part of the IM Wales bike course. We had a lovely ride on fab roads stopping at Freshwater Bay Café Mor for a coffee and the best brownie I've ever had, again highly recommended.
A word of warning the part of the course we did was relatively benign, and the great weather helped. After a while we dragged ourselves away from the amazing view and got back to Tenby for more pizza!……One of my favourite rides of the year.
MONDAY
Jon and Tiff left in the morning so Nic and I took on the IM bike course again (after a last cheeky coffee and cake with Jon and Tiff!!!)
We put off our departure for the ride until the weather brightened up!!!!! We set out in good weather but from there it was all downhill as a fine a persistent drizzle set in just as we hit the climbs!. Our ride on Sunday was done from my memory of Long Course Weekend 2 years ago but the second part is very hilly , narrow and complicated which meant lots of map checks. As we battled through the weather and numerous climbs to Narbeth and across to Wisemans Bridge and Saundersfoot ( very very steep) the sun did start to come out and we reflected that anyone completing IM Wales is made of tough stuff, the bike course is very tough and the run around Tenby is very hilly too.
A great training ride and so I rewarded myself with one of Paul Howie's Tuff Brews (very nice) opened with my Tenfoot Swim medal which doubles as a bottle opener (genius!)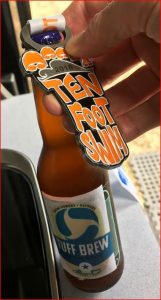 TUESDAY
Nic and I had a quiet last evening then had a last paddle in Tenby Bay before leaving for home………………………But whilst wandering around Tenby we saw this poster: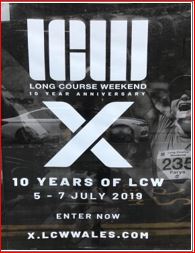 Much discussed by Tuffs over the weekend……a brilliant event just a slightly tuffer!!!!! version of our Tenby weekender!
The Tenby Album follows:-
<
>
Clive