The Outlaw Full Distance Triathlon
2018 would see Phil Baker's third trip up to the National Watersport Centre at Holme Pierrepont in Nottingham for the full 140.6 mile Outlaw Triathlon. His story of pure determination is a compelling read. Congratulations to both Phil & Steve Cathcart who joined him as Phil takes up the story:-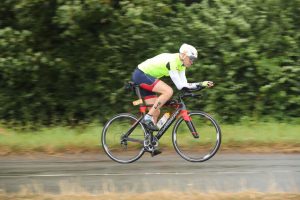 THE OUTLAW TRIATHLON
Apologies if this is longer than the usual race report, but Outlaw has been a four year journey for me. Ups and down, highs and lows. This is me putting pen to paper, so to speak, so that at some point in the future, these words will let me relive the adventure. To set the scene, in 2014 I raced Outlaw after a relatively short 14 week build up. I completed it in 13hr 16mins and loved every minute of it. Despite the 'never again' feeling afterwards, I signed up to the 2015 event the day entries opened. I just wanted to go back and experience Outlaw again. The venue, the organisation, the course and the people make it such an inclusive, brilliant race. I also wanted to see what I could do if I trained properly for it. When race day came, the weather wasn't exactly 'nice' for long distance triathlon and I made some bad clothing choices, had a mechanical and got near hypothermia on the bike. At T2 I bailed. It wasn't even a choice. I was in a bad way. I'm comfortable of the choice I made, but I didn't finish and it tarnished my memory of the previous year. Fast forward to this year's race, I had once again signed up the day entries opened (you got a free t-shirt (sucker)). Myself and Steve Cathcart (Tuff in waiting) travelled up on the Friday to a weather forecast that gave me deja vu. The heatwave was forecast to break into stormy weather over the weekend, but it nearly always improves the nearer you get to an event, right! Numerous checks of the weather app on Saturday and it wasn't budging. I had trained so well for this race and was confident of my swim, my bike and my run. I was ready to 'stay all day' and post a good time, but in the forecast conditions, it's a different animal. Steve and I registered, sorted out our T1/T2 kit bags and racked our bikes with a slight trepidation of what was to become of us the next day. It was going to be cold, it was going to be raining most of the day and the wind was going to be 20mph, rising to 40mph on the bike. There was an announcement that the water at the far end of the lake where it is more exposed was too dangerous to swim in and the swim had been changed to 3 shorter laps with an Aussie exit after each. No swimming off into the sunrise this year then! Got to bed at 8:30pm and fully expected not to be able to sleep much. However, if I'm honest, the conditions had made my heart sink somewhat and I wasn't feeling as nervous as I thought I would. More "oh well, you've come to do a job and the job must be done, even if you don't want to". Slept OK and when the alarm went off at 3am, my natural feeling was of enthusiasm. It's 'showtime'. Checked the app again whilst I made a really strong coffee. No change. Steve and I agreed, this wasn't a day for time targets, this was a day to tough it out. Race tactics were more focused on kit and clothing choices and not making race ending mistakes.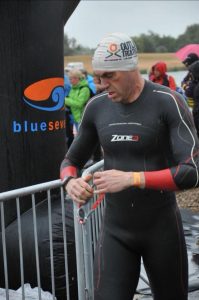 Walked over to transition from the campsite and into the marquee to change into wetsuits. 35 minutes to go, checked the app again, wished I hadn't, forecast was now worse. I had two thoughts in my head, first was about this not being great and how I wasn't going to be able to post the sort of time I knew, not thought, knew I was capable of. Second thought put a wry smile on my face. If I've come back to Outlaw for some sort of redemption, it was as if the triathlon gods had got together and said "come back to put the record straight have you Mr B?, well you need the cold and rain again don't you? Got to replicate the same conditions! Oh and here's some strong winds too. What do you think about that? I had my stage. I had the perfect opportunity to put the record straight and lay that ghost to rest. I walked to the lake knowing I wasn't going to yield to anything. Today was MY day. Swim was just crazy on the first lap. I love a good mass start, but this was insane. 1000 athletes heading to a turn buoy at the same time meant it was stop start on the outward leg. Turn buoy was nuts and it didn't thin out and give any clear water until lap 3. Aussie exit and re-entry was a 30second queue on both for the first lap, second was better and got into a good flow. Exited the water to a swim split of 1hr 15:41mins. That's good for me, really good. Anything under 1hr 20 was the target. Steve got out in 70 mins and small change.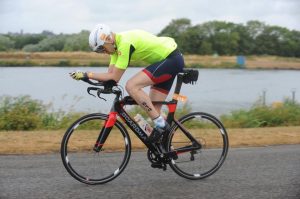 T1 – put on a Castelli Gabba short sleeve jersey and put a pair of arm warmers in the rear pocket. Neoprene toe covers over my cycle shoes and off I trotted to my bike. Calmly mounted and used the 3 mile section around the lake as a warm up before out onto the open roads around the Nottinghamshire countryside. Cold and windy with only a slight amount of rain, but I was confident of my kit choices. The Outlaw bike course is flat to undulating, just 3000ft of climb. But, it is open and exposed. I knew roughly where it would be tough. Averaging 19 mph through the first hour and around the Southern loop. Following wind on the link road up to the Northern loop and average was ticking up to 19.3 by now. Rain really started to come down at about mile 40 and by half way I was getting cold so stopped and put on the arm warmers. Cost me a couple of minutes but was worth it. Made a real difference. By now the wind had really picked up and was causing challenging conditions with strong cross winds. Lots of farmers fields with gaps in the hedges meaning the cross winds would hit you suddenly. Fast sections were scary. This was now hard going. At 70 miles we headed south, back to the Southern loop, which you do a second lap of before heading back to transition. 15 miles straight into gusting wind with no option but to power into it. If you didn't, you weren't going anywhere. It was cooking the legs, but it was that or get off. Southern loop was tougher and slower second time round. Past quite a few competitors on disk wheels who were really struggling (they did say not to use them). Last 10 miles felt ok, bit tired, but generally strong.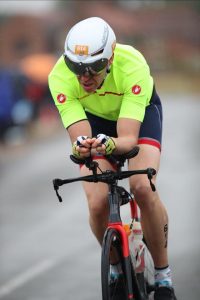 Back to T2 in one piece in 6hr 13mins at a smidge over 18mph average. Steve had stormed round the bike course in 5hr 57. Run – started the run with legs that weren't too bad, but after half a mile I had my customary tightening of the quad and hamstrings and a bit of cramp. This always hits me and I've learnt that if I walk for 10-20 seconds and a quick stretch of the offending muscle, it fades away after a mile or so, so no drama. I had taken my own 500ml drink out of T2 with me so no need to stop at the first two aid stations. A caffeine and electrolyte drink to give me a boost. Plan was to keep a steady pace and a short walk at each aid station to take on the liquids. Either flat coke and water, or flat coke and High5 zero drink. No need to tip any water over the head, the wind and rain were keeping you cool! The run course you either love or hate. Lap of the lake (3 miles), an out and back section along the river and over a bridge, a section around a park and then back to the lake, bringing you back to the lake at 10 miles for another lap around.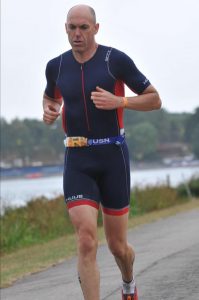 Dark thoughts at this point. Why am I here? This isn't fun. Why did you think this would be fun? Never do this again! My training for this event had focused not only on the physical, but also the mental side. I had put myself in situations I knew I would hate, would not want to do, would not be fun. I had run a marathon the day after a 81 mile sportive. Hilly bike rides the day after a 70 mile TT ride etc. I had trained myself to just accept what was in front of me and just carry on, don't think about the end, that will come eventually if you just stay in the moment and keep going. It'll be over in a few hours and when your mind realises you aren't going to give it a way out, it just calms down and finds a bit more. Through half way in 2hr 07mins and holding up well. If I could get under 4hr 30 for the run, I could knock an hour off my 2014 time. Back onto the out and back section and at mile 14 the heavens opened and it lashed it down. Got really cold and still a way to go yet. Still running steady, not fast, but I wasn't walking and most around me were. Over the bridge and back again to the lake. A lap of the lake brings you back to the finish straight and the red carpet. But! still one lap of the lake to go. I had been trying to do the maths in my head about times, distance to go etc and it wasn't really making any sense, my mind had gone. Just keep running. It didn't feel any better when I walked at the aid stations anyway. Past the finish straight and over a timing mat. Commentator called out my name and Tuff Fitty Tri Club. A fist went into the air, the crowd roared. Looked at the finish gantry clock, 34 mins to do 3 miles and I'll have a one hour PB. I was averaging a shade over 10 mins per mile so if I didn't stop to walk, I had this. Collected my third and final band and carried on round for the final lap of the lake. Just coke now, dehydration was not an issue, it's worked til now. Down it and go. To the bottom of the lake and round the bends, onto the finishing straight, a long 1.4 mile road into that damm wind. Still I was running, I hadn't yielded to anything all day and I wasn't going to now. 1km to go sign, then 500m to go sign, I had a 'moment'. I was going to do this, watch said 12hr 10 mins. As I approached the red carpet finish straight, a marshal was calling out about bands so he could direct runners onto another lap or down to the finish. He asked the guy just ahead of me, one band, poor ba…rd. He looked at me. I already had my fist clenched and thrust it forward. I looked over my shoulder, nobody behind me and nobody in front. That was MY red carpet. The crowd cheered, the commentator bellowed my name, I punched the sky. This is it, you've done it. More fist pumps. I looked at the clock, 12hr 13:46mins. A PB by 1hr 3mins. Marathon time was 4hr 28 mins. Another 'moment'. I was an Outlaw once again. The feeling in the 30 seconds after you cross the line is indescribable. It is every emotion all rolled into one amazing feeling. I wandered around in a daze for a few minutes, then into the bag/change tent. Chatted to and swapped stories of the day with fellow Outlaws as I got into some dry clothes and then to the food tent to find Steve. He'd run a 4hr 27 to finish in 11hr 54mins. Got out my phone and messaged the Tuffs that had been tracking and commenting all day. Told them never, never, never again. I had what i came for. A PB, redemption, an amazing day. Triathlon gods, whoever you are, stick that up your ……………….!!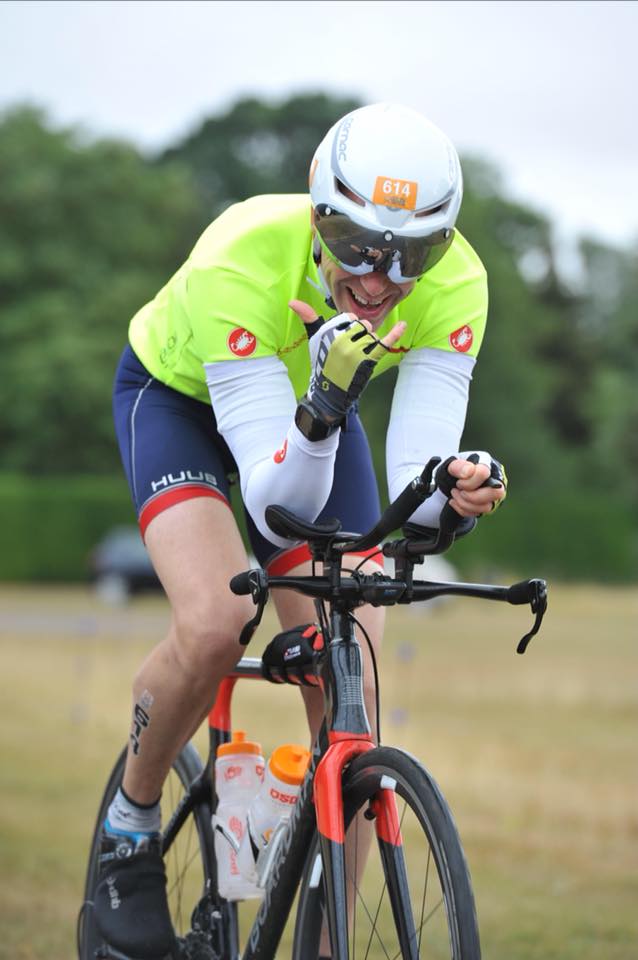 Phil.