Ironman 70.3 World Championships – South Africa
Dear All, Clive H asked me to put together a few words about our South Africa experience. Jon and Tiff gave me a bit of feedback on the way back from Kirstie and Strongies Wedding……basically; "make sure its not boring"!!!
So, sticking with Jon and Tiff's advice (I hope!) here are my IM 70.3 World Champs Top 10 :
South Africa is a great country with amazing people and scenery that combined to put on an amazing race.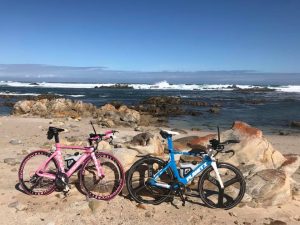 2. It was a huge culture shock…..I've seen some poverty in my time but the contrast between the have and havenots is stark in SA.
3. Getting to SA was a long haul and included one missed flight, though we did have it easy in that we arrived only a few hours late with      all our bags and bikes………..lots of people ended up racing on borrowed/hired bikes and buying new kit as theirs was lost in transit.        (top tip; always travel with shoes, pedals race kit and helmet in hand luggage).
4. If you go to SA take in the Schotia Game Reserve for a Safari   www.schotiasafaris.co.za ..its bloody amazing ….we saw all the Big 5           really close up
The razzmatazz around the IM 70.3 World Champs is off the scale with loads to see and do. We made sure the Tuff Fitty name was out there signing the massive IM banner at registration.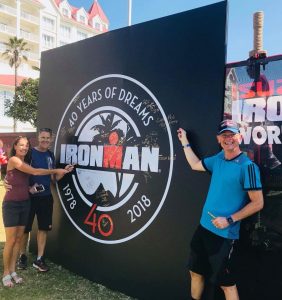 SWIM; lovely clear water but bloody freezing (16 degrees) though this didn't stop Nic doing 3 laps of the training course just to make sure!!! Nice and smooth once out past the breakers……one of the waves in the men's Race was swum over by dolphins!!!!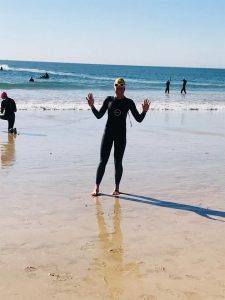 7. BIKE; The roads are smooth and well looked after which made for a great bike course out into the countryside and back along the coast.
RUN; A great run course along the sea front of Nelson Mandela Bay right in front of our hotel. Despite the rain the support was out of this world…….I adopted a "ride for show, run for dough approach"!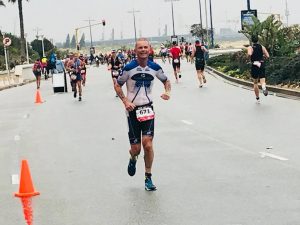 I had an amazing day and made a conscious effort to enjoy the whole experience and achieved my goal of not coming last in my AG!!! What put the icing on the cake was being able to race alongside my great mate Pete Buckingham from Cambridge Tri….he has a VERY similar sense of humour to mine so we had a great race week, laughing at each others jokes in a sort of mutual appreciation society!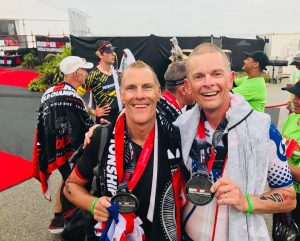 Post race, Pete, Julie (Pete's better half) Nic and I all fancied a Monday morning leg loosener so we set out along the coast road towards Cape  Recife Lighthouse to see if we could see the penguins (yes really!!!). Sadly no penguins but we did see IM Legend Dave Scott out on his morning run which capped off a brilliant week in SA.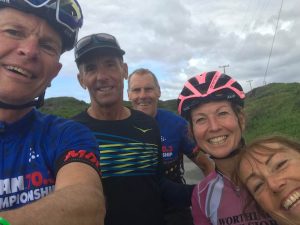 Finally………I don't want any one to labour under the impression that getting to SA for the Worlds has anything to do with talent on my part……it didnt. I picked my qualifying race carefully, knowing qualification would only come through the roll down.
Once in South Africa the amount of true talent on display was immense and this is something that the Triathlon Industry should be more honest about when selling you the latest "must have gizmo". Buying that new set of wheels or changing your nutrition plan will not make you talented……that is something that you are born with and no amount of training or new kit will change that.
Witnessing what I did in SA, the pace at which the title contenders (the rock stars as my mate Pete calls them) both pros and AG's raced at, convinced me of the old cycling analogy that "you can turn a donkey into a faster donkey but never into a racehorse" ………I'm a donkey that trained hard.
Thanks to Nic for her amazing support along the way and making South Africa a real life experience, to Stew Smith for his coaching, Vicky Vickery http://vvsportsmassage.co.uk for her excellent sports massage, Steve Belt for his swim coaching and all the Mon/Wed/Fri crew who put up with me getting in the way when they lap me at training!! and my fellow Tuffs for making the whole triathlon thing such a laugh!!!!
I would highly recommend SA for a visit, we only saw a small part of this amazing country but enjoyed it immensely……..it was MY Kona!
CPL