Our event organiser Mike Barrett delivered the goods again, this time with the second successive Olympic trip to London and following his introduction below he has gathered the thoughts of some of the participants:-
This is the second Olympic Tuff Day Out and it was just as good as the first. Everyone plays their part and makes the day one to remember for all. From the time the minibus arrives to pick you up, banter and like-mindedness attitudes kick in, through to the time you're dropped off you are embraced by the Tuff love, positivity and fun that goes hand in hand with a Tuff event. The Olympic day out is epic because of the nostalgia associated with the Olympics games and the location, this and the other days out/weekends/tours that are organised are done so, so that you walk away filled with a massive sense of achievement… that you are pushing yourself to the edge of your comfort zones, trying new things. And, that you return back to work on Monday waiting for that person to say "What did you do at the weekend?" …. Well how's this for a starter…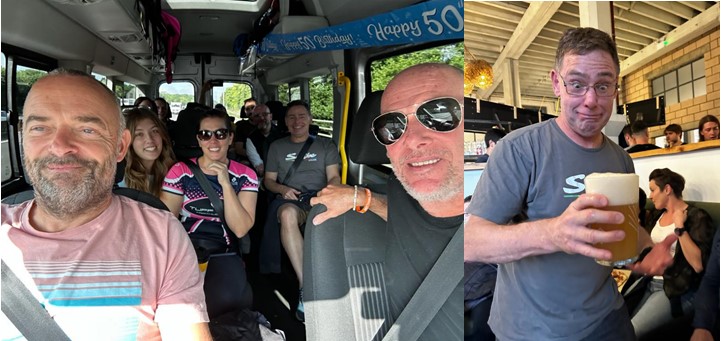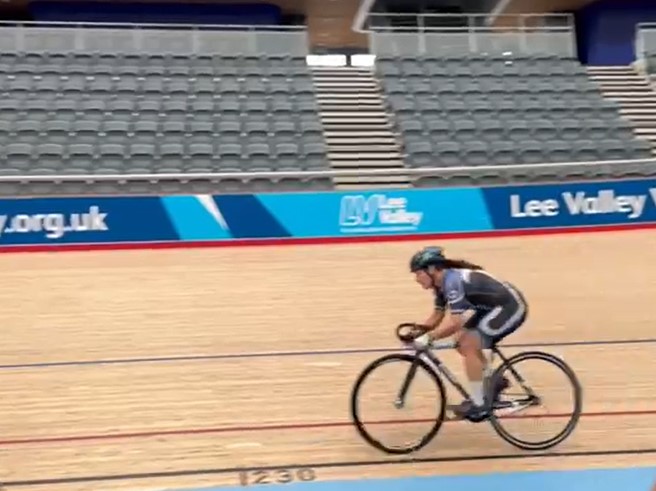 VERITY
Wow what a day, the Tour Bus rocked up 5 mins early and in typical Verity style, I wasn't quite ready but I'm blaming the child!
First stop, healthy breakfast fit for top class athletes……ok McDonalds
We arrived at the Olympic Park and after a short walk we were at the Aquatics Centre ready to swim.
After a short swim we did some dive practice off the blocks and started our timed 100m swims. Pretty sure we all went out too fast leaving the final 50m feeling a pretty long way!
Next stop was watching Mike and Iris abseil down the ArcelorMittal Orbit tower whilst we stuffed our faces with more healthy food!
It was finally time to go to the Velodrome, probably the part I was most excited about and it certainly didn't disappoint. The nerves quickly disappeared after the first few laps and once you had been halfway up the track and realised the bike will stick, it was all guns blazing into the flying lap.
After the flying lap we had half an hour to just ride the track at our leisure, I took the opportunity to speak to the coach about different track skills, accreditation, bikes and a whole lot more, it was so interesting and left me wishing I lived nearer the track! Incredibly the women's world record for the flying lap is about 14 secs and the men's 9 secs.
Final part of the day was a run round the Olympic Park in torrential rain and hailstones. Myself and Darcie bailed after one lap and gracefully waited in the warm for the others.
After spending an hour gassing in the showers we decided it was probably time to relieve the boys of the long wait and head out for pizza and beer!
Honestly it was an amazing day with amazing people, I don't think we stopped laughing all day. Definitely be booking for next year…..all aboard the Tour Bus
IRIS
I was unsure of what to expect from the day so there was a lot of anticipation building once the early alarm had gone off.
Seeing those on the bus immediately made me feel relaxed I just hoped I'd remembered to pack everything.
We stopped at services for coffee and breakfast with the lovely Mark Sole being driver. We needed to make sure he was well looked after.
Nearing the Olympic park I caught sight of a large red structure which looked like a rollercoaster but Tiff confirmed it was not one of those.
The pool was impressive but hard work. We had fun doing a timed length and mine certainly felt quicker than it was.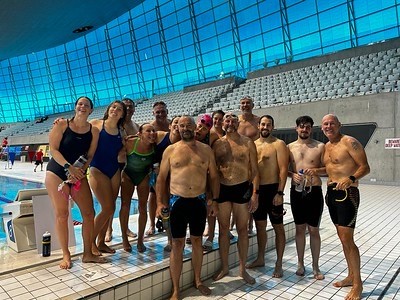 60 minutes later and Mike told me he had booked us an abseil from the top of that roller coaster looking structure. My heart raced and I was nervous and excited. Quick change and off we went to get harnessed up and ready. I was feeling pretty confident until we were at the top and open to the elements. Clipped on and being asked to lean back into the harness had my mind catastrophising and for a moment I thought I can't do it. Knowing I would not let my mind get the better of me I was soon leaning back, relaxing my shaking legs and walking myself down the tower. It was high but I loved every minute of it and tried hard to take in the views and not rush the adventure. It was amazing.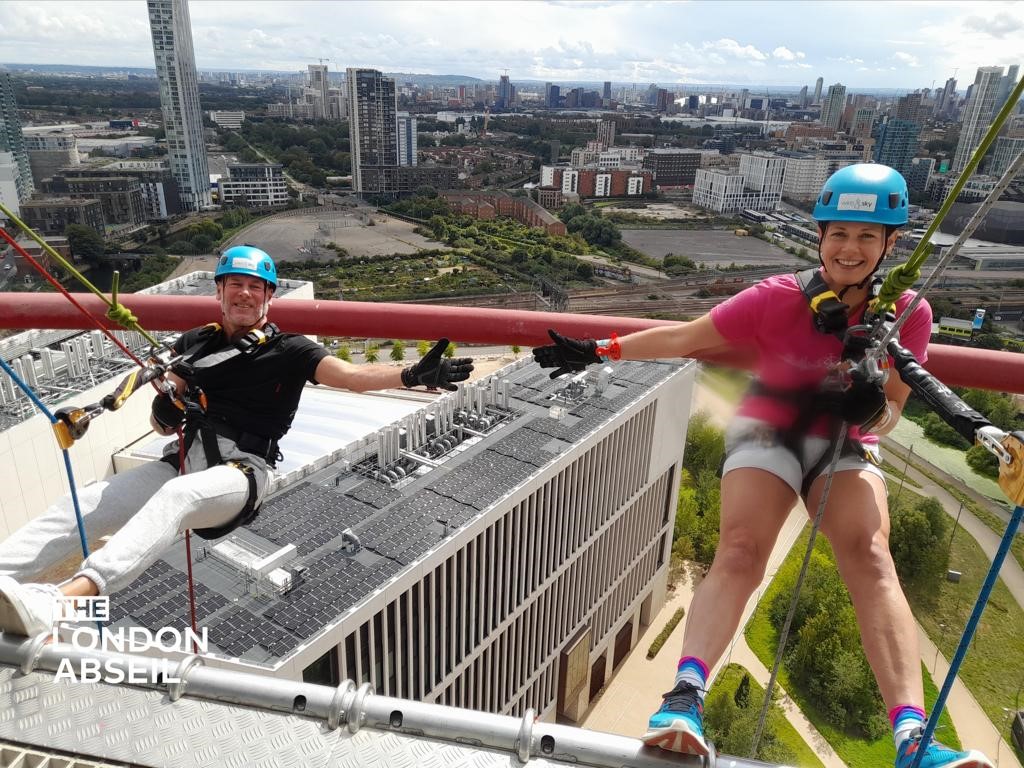 Filled with adrenaline it was time to head to the velodrome and grab a very quick bite to eat and start the cycling. The circuit was impressive and looked fairly steep. I was nervous and felt like a lot of cortisol was running through me. As always I am not one to be beaten by my nerves so I had to keep myself positive and calm and breathe! It paid off and as the lesson went on I grew in confidence and really started to enjoy the experience. 90 minutes passed in a flash and I was happy with my flying lap!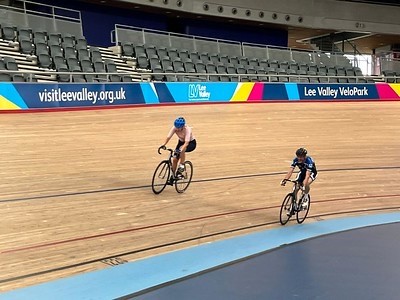 Time to complete the trio of events (although technically I had now done three and possibly could have relaxed at that point) but who doesn't want to run in the thunder and hail? Off we went for a group run choosing how many laps we wanted to do.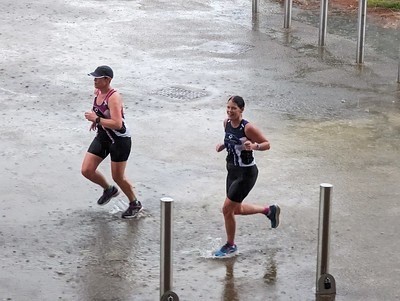 It was actually very enjoyable to run in the rain and thunder and just feel alive. Feeling thankful that I was surrounded by people just as crazy as me!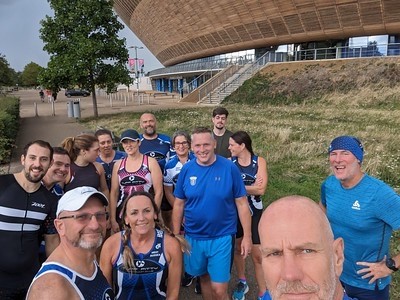 Time to shower and change, have a long catch up with the girls whilst the boys wait patiently and time to head for pizza and beer. Getting older, the pub was noisy but the pizza and company were great. Results announced and prizes given and we celebrated Mike's birthday too.
An absolutely super Saturday, could not have asked for any more from a day out.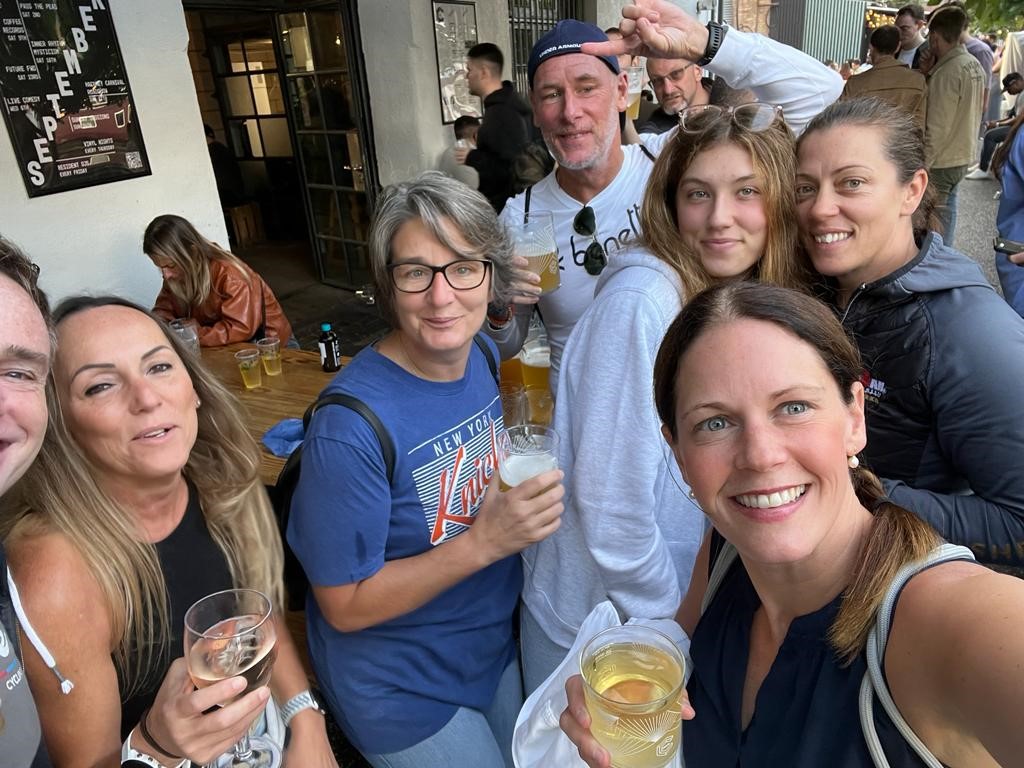 Cannot wait to do it all again!
TIFF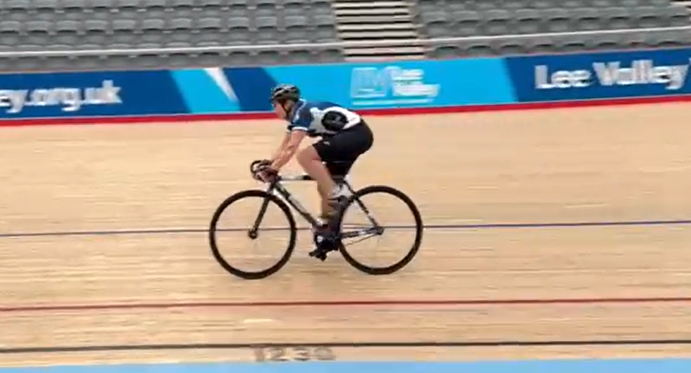 Tuff Olympics day out. Epic adventure started with swimming in Olympic 50m pool. I managed to dive (well fall in!) off the diving blocks, a first for me! Surprise of the day was Mike paying for him and Iris to abseil down the ArcelorMittal Orbit tower, they did great!!
Next onto Lee Valley velodrome. This was sock change number 2 🙂 Humbling to be at a venue where so many famous sports people have been before. I had cycled a fixie at Calshott velodrome before but the adrenaline was still pumping. After some skills training we were let loose for our flying lap, I felt like I was flying it was amazing.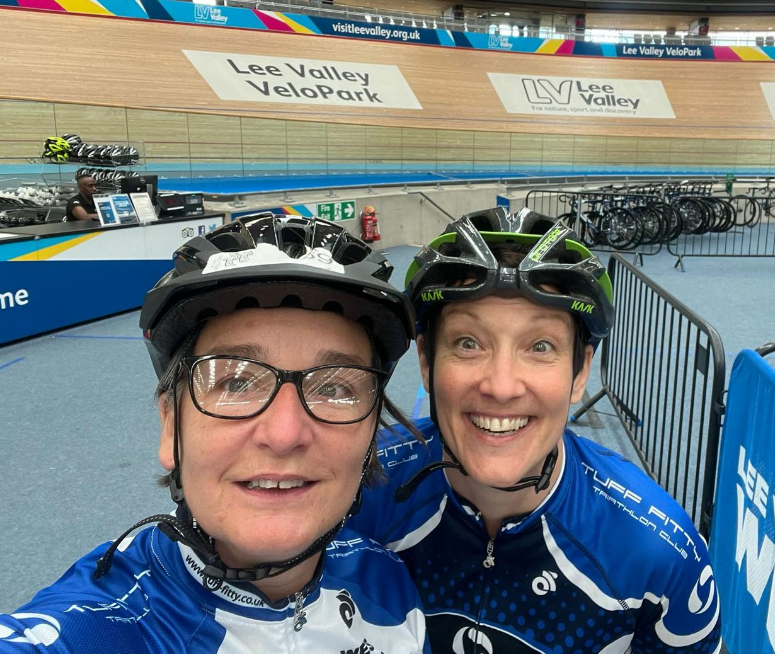 After some free ride time (I didn't want to get off!) We got changed again (sock change number 3) into run kit for 1/2/3 laps of the velodrome to complete the obligatory 3rd discipline. Running through biblical rain and hail was hilarious (and thanks to Iris for splashing me!) and I did 2 laps before hitting the showers (thanks Carey you know what for)
Sock change number 4 ready for our night on the town for drinks and pizza. Bloomin marvellous day out with the loveliest of company. Big thanks to Mike for organizing, Mark for driving and everyone there for making the day so magical 🙂
SHEILA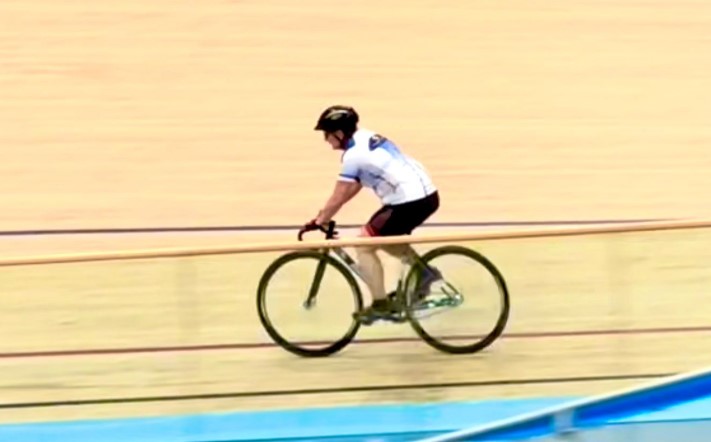 Since joining Tuffs in July 2020 I have been on some amazing adventures, doing things I never dreamed were possible and this weekend was no exception:
Firstly, huge thanks to Mike for organising, Tiff for encouraging me to join in, and the rest of the team for making the day so epic.
An early start to the day but so worth it, a drive up to London full of laughter, banter and of course a stop at Clackets. We arrived at the Velodrome with sufficient time to walk to the pool ready for slot. We got in, Verity gave my lane a warm up and some drills which we all did 🙂 we then started to practise our diving, this caused quite a lot of laughter. We all did our fastest 100m's some more swimming and diving before it was time to get out.
Mike had arranged a fantastic surprise for Iris, which gave the rest of us time to chill and grab an amazing chicken gyro's, some fantastic laughs and rest before we headed off to the Velodrome.
On arrival at the velodrome Mike took us upstairs to look do onto the track! Crikey, that looked high! There were a few of us that had not done it before including me and there were a lot of nerves. The more experienced riders were amazing and talked us all through what to expect and helped to allay some of those fears. The lady trainer from the velodrome was amazing and so patient. I am really not very confident on a bike but I was determined not to miss out, so I started of slow and stayed on the light blue for an extra few laps, but watching everyone else get higher and higher on the wood was just inspirational and on my flying lap I managed to get up to the red line and bloody loved it. After a few more laps it was time to head off to get changed for the run part of the day.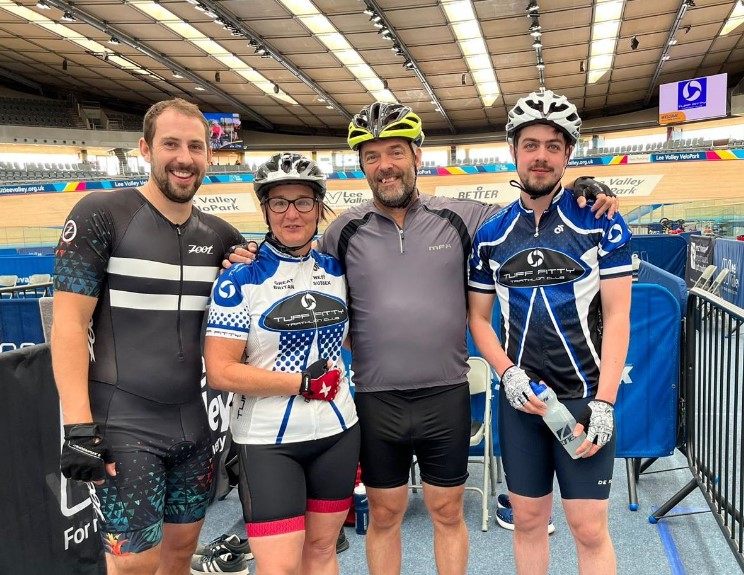 As we headed out for the run, we could hear the thunder rumbling away, but we all went out anyway, half way round the first lap the rain started. I followed Adrian and Jon up a ramp so we ended running around the covered outside of the velodrome viewing area in the dry, whilst everyone else was out running in the rain and hail.
After the run and an absolute laugh with the ladies whilst getting changed ( you will need to hear the stories first hand), we headed out to the bar to drink beer and eat pizza.
Mike had arranged for a prize giving ceremony, certificates and lots of laughter, we sang, danced and laughed the evening away until it was obvious we were all getting tired.
We returned home with a bus full of happy, laughing people who are all just amazing. There is no way I would have done any of the things I achieved today without the support, encouragement and knowledge of every single person on that mini bus.
Huge thanks to Mike for arranging, Mark for driving and heading the loudest cheer squad, Tiff, Carey, Iris, Verity and Darcie for all support encouragement and the girl talk in the changing rooms. Ed, James, Andy, Jon, Sam and Adrian for providing laughs, photos, encouragement and support for everyone all day.
Thank you to each and every one of you 🙂
ADRIAN
The second time did not make it any easier – the 50m pool was still a long way, the 250m lap on the velodrome was an eternity, and those velodrome banked corners still felt like a wall. But the day was incredible with an outrageously Tuff bunch of athletes.
Highlights for me:
– Spending the day with a great bunch of friends
– Cycling at the top of the banked track corner without falling off
– Completing the 250m flying lap without falling off
– Spending time just going around the track trying to keep up with Mike – boy, was that hard!
– Lunch while watching Iris and Mike plunge off the side of a building.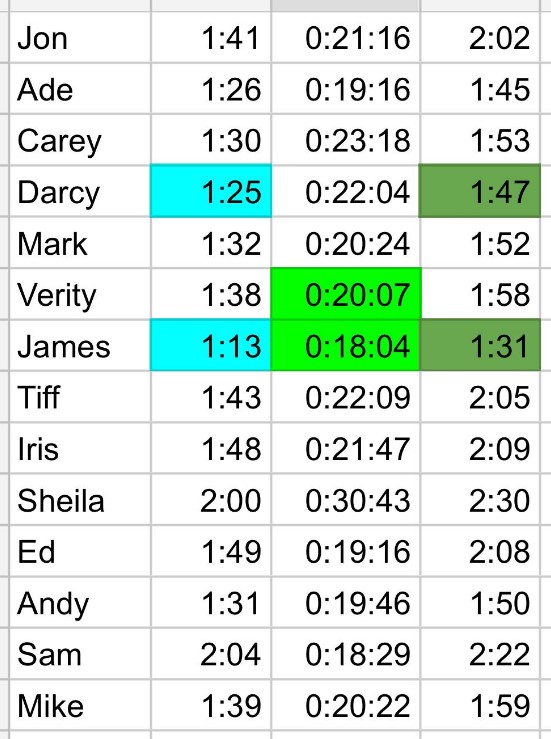 Can't wait for the next Tuff adventure – Wales, here we come!
CAREY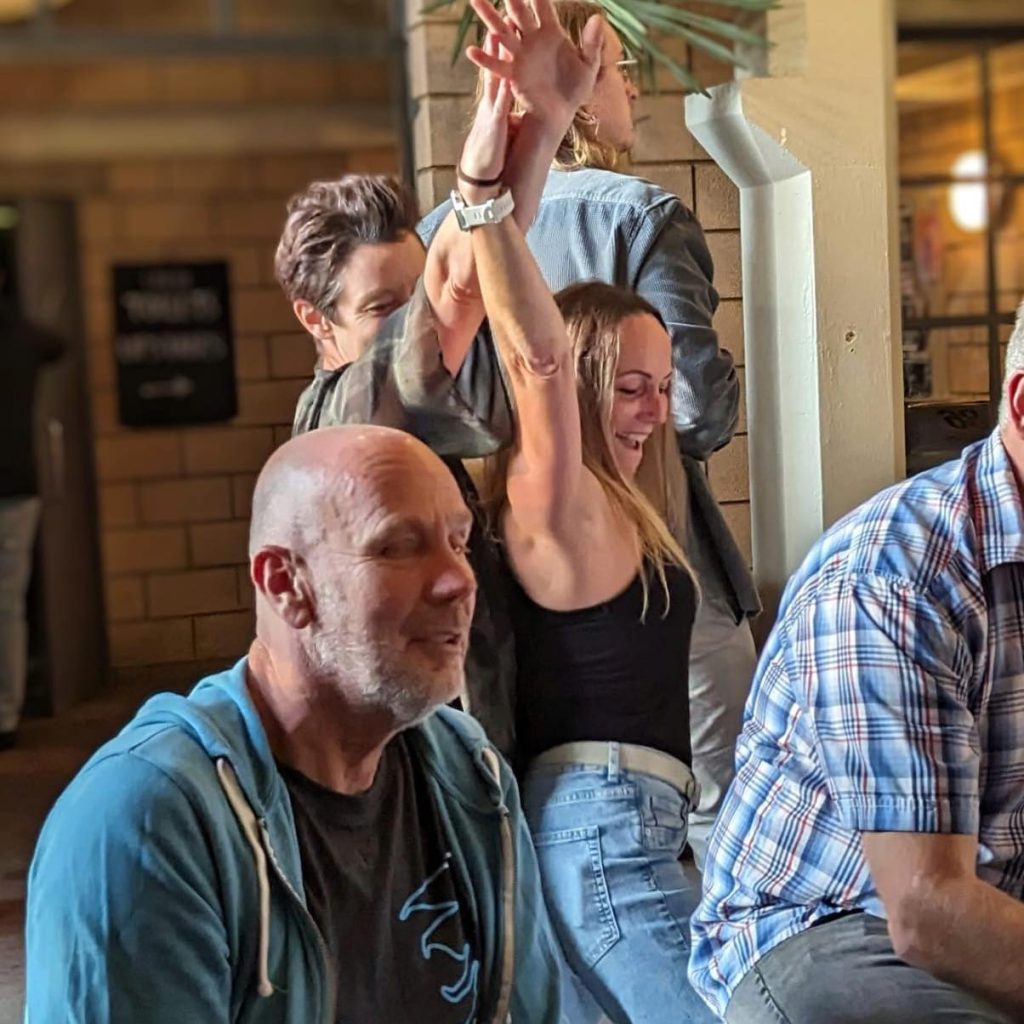 So I booked this experience, mainly for the Velodrome!!
If you know me, I don't even clip in on my own bike & not very good at my bike…LOL
We all got there safe & sound, thanks to Mark, whilst Shelia & I was bricking it all the way there, as we both felt the same about the velodrome.
The swim in the 50 mtr pool was amazing, loved it so much, but I was also lucky enough to do the 50mtr pool experience on the Majorca Tuffs Tour this year too, but outside.
Next up the velodrome….
I absolutely loved it.
The lady that took the lesson, was amazing, very calming & encouraging.
You're clipped in, no brakes & just can't stop like normal…
We got kitted up and off we go…
Well Shelia & I was almost in tears & our hearts nearly exploding out of our chests with fear!!
It was an hour and a half session, in 4 sections, for all of us.
Very well explained & safe.
Flat blue area first round, then stopped. Next was the light blue area, going round on the bikes, obviously…
Then higher up again on to the wooden marked out aera's.
Then we all had a go at a speed lap after, on our own, which was an experience, the adrenalin was pumping after that. Shacky hands.
So glad Shelia & I did the whole thing, without giving up – well worth it, just for this part of the day – truly loved it.
Then out for a run after, as the heavens opened on us all ….
Had a lovely shower (thanks to Tiff & Sheila…LOL) & then out at a trendy bar by the river, with pizza, good music, beer & a good time with all.
Would highly recommend it & will be going next year
Thanks to Mike for organizing, it all.