Weekend Round Up Sept 29th & 30th
Whilst another month draws to a close there were still plenty of races being attended by club members:- read on:-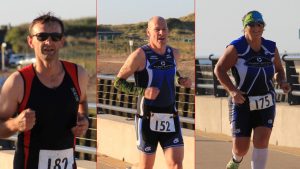 L to R : Matt, Mike & Claire
LITTLEHAMPTON TRIATHLON
A local sprint triathlon held at Littlehampton. The 400m swim was in the Freedom Leisure Pool, before mounting the bike for a 25k ride. This took competitors out through the town and onto the A259. From there it was a straight out and back ride to Bognor. The run was along the promenade to accrue 5k.
There were four Tuffs racing with Drew Gowland going well. Normally preferring open water swims he still smashed out a commanding time and didn't let up the pressure on either the bike and run to finish first overall by 1.5 minutes; Congratulations.  The good news didn't end there as Mike Barrett was only just off the podium; fourth overall. Matt Staniforth  was 14th and Claire Moyle was in action again. Our newest member who has started to come along to Run training, Michael Goman, was injured but was present marshalling. Claire has reported in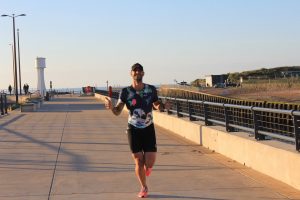 Drew led from start to finish
"On a lovely sunny Sunday morning it was nice to do a local event with not too many participants. The 400m swim was done in a snake format which I hadn't done before but quite enjoyed and was just beaten out the pool by Daphne Belt. I got on the bike and was determined to catch her so I chased her all the way to the turn point and passed her just outside Climping.  By now the sun was up and it was getting warm so I ditched the jacket and set off for the run, I had forgotten how hard it is to run off the bike, but I got into my stride and put in a good solid run. A good way to end the tri season.
Claire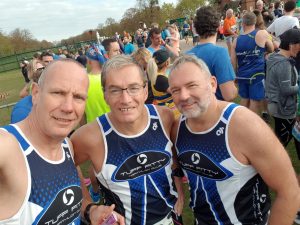 WINDSOR HALF MARATHON
Trevor Harvey reported in from the Royal Borough of Windsor:-
"Five go to Windsor; not an Enid Blyton story, but five Tuffs participating in the Windsor Half Marathon. (main banner pic)
Perhaps rather foolishly, myself and Tiff were part of the five, (one week after Weymouth 70.3), along with Jon, Glenn and Rachel.
We used my local knowledge to park a short distance away to avoid the 6,000 other runners trying to park in the Great Park.  After a cool dawn, the sun came out for almost ideal running conditions.  The route is entirely within the Great Park on closed tarmac roads, but whilst scenic, the route is best described as very undulating!
Glenn had the honour of being first Tuff home, followed by Jon, myself, Tiff and Rachel, (the latter still ticking off halves for her quest of 50).
Always a good organised event, which I have done several times since my first foray in 1988!  Agh 30 years!   Anyway, a good bit of bling…. and yet another T shirt for the huge collection.
Trevor
Jon Roper added his thoughts:-  "Great run round the Park, nice bit of bling and a t-shirt and Trev's world famous  lasagne" .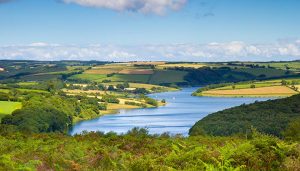 EXMOOR OPEN WATER SWIM WIMBLEBALL LAKE 
Susan Douglas reported in from her race in Somerset on Sunday 30th:-
Last big open water swim of the year, at least in this country!!
The day before the weather was gorgeous and sunny, but the day of the race was a bit grey, but fortunately not too cold. The lake was a balmy 16.6 C.
There were three races, 6k only for the super speedy, 4k divided into 3 waves, slow, medium, fast and 2k also in waves.
The 4k started at a very civilised 10am. I was in the 2nd wave and we entered the water, walking on red carpet to save being knee deep in mud, although there wasn't much avoiding it as the carpet came to an end, still I had lovely soft feet after.
Once all in the water the buzzer sounded and we were off. Usual bun-fight, but soon got into the swim, which was well marked with big yellow buoys and as we were swimming the perimeter of the lake, even the worst sighter couldn't go wrong.  And the best thing about swimming in a lake, it's flat, and much as I love the sea, it was really nice to just be able to swim without battling waves , current or jellyfish.
Soon I was catching up with the first, slower wave, in purple hats and so began, picking off the purples, well it worked for me, unfortunately the dark blue hatted fast wave were playing the same game with both the purples and light blues (medium wave).  As each one passed I tried to draft, but the early ones were too fast, damn them, but had some marginal success towards the end of the race.  A nice easy line to the finish, and a proper race to the end.
I came in with a time of 1hr 21 mins which I was quite pleased with. Out of 275 there were 18 (3 men & 15 women) skins swimmers, I was 5th fastest lady,  overall 141, 53/118 women, 12/28 age group.
The winner was an annoyingly talented 15 year boy old who sped round in 51 minutes!!
So not a bad way to almost finish my season. No medal but a useful reusable coffee cup.
Stick in your diary for next year, beautiful location and well organised.
Susan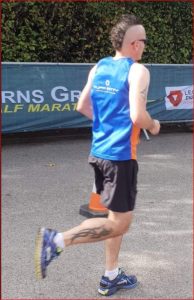 BARNS GREEN HALF MARATHON
A very popular event with over 1,000 runners completing the course, There were four club members who entered and whilst they enjoyed it a comment was made about the entry fee. Whilst accepting it is for charity if you enter on the day, and the same for 2019, then you need to part with £40. Tim McGrath (pictured above) was the first Tuff home with Ian Moore next Jason Rae & Clare Worgan
"A lovely day for a run around the leafy lanes of West Sussex , I did forget how up and down it was . I finished in 1h 40 m 23 sec just off a PB so happy 🙂 .. I saw Jason Rae and Ian Moore, Clare Worgan, fellow tuffs out on the course and Joe Pascoe on childcare duty at  the end (as wife Tania ran)… the race was well organised, parking toilets, etc , the goody bag was worth bothering with
Tim
PARK RUN                                                                                                                                             FUN RUN LEAGUE
There were seven club members running at Worthing Park Run on Saturday; Jay McCardle crossed the line in a spritely 20:20 with James Oram in hot pursuit in 20:35. Roy Barraclough ran as did Amanda de Ridder. Francis Blake was back in action with Tim Kenny and Clare Worgan to make seven club members racing. Across at Lancing Green Park Run Dave Priest was in action along with Elaine Rousseau.
Sunday morning saw West Sussex Fun Run League Race number 12 up at Windlesham School 4 at Washington adjacent to the A24. The four mile route was undulating of mixed terrain with three club members present. Congratulations to Roy Barraclough  home in 35:22 flying the Tuff name with Linda Wright and Elaine Rousseau racing in their running club colours