Weekend Round Up March 2nd 3rd
Storm Freya couldn't stop Tuff activities over an important weekend. Usually the above banner shot is chosen to include as many Tuffs as possible who have raced. This week however it is dedicated to all the volunteers who made the 24th staging of the Frosty Aquathlon a success:
Drew Gowland
FROSTY AQUATHLON
Storm Freya couldn't have hit the South Coast at a worse time with torrential rain and wind, yet the number of no-shows were considerably less than the previously. As competitors emerged from the warmth of the pool the conditions really hit home with the bright yellow race numbers and marshal hi-viz jackets standing out on the gloomy promenade.
Tuff Fitty's constitution states amongst other things the promotion of multisport and the Frosty was a case in point with several nervous 'newbies' taking part in their first event. The revenue from the event also secures our club financially enabling us to continue to stage a variety of activities throughout the year. Clive Harvey wishes to thank everyone on the committee and to everyone who turned up to help. This was greatly appreciated. The event, as usual was run under BTF governance and the post race report from the referee ranked all categories as "excellent" except one which was "good" (and that was only due to the inability to get more caution runner signs out in the storm).
To those who competed, in the Frostbite it was fantastic to see the return of Drew Gowland. Still on the comeback trail, and with colds in his household, but this did not prevent him looking at ease out on the course together with his renown super smooth swim. Drew still finished 7th. Dave March was 10th overall with quick splits on his swim as well as his trademark swift run. James Togneri was another one going well finishing in 15th position. Juliette Reader was 5th female overall and then Becky Lintott-Clarke, Adrian Oliver & Francesca Mortell. Susan Douglas, & Jenny Oliver completed the nine Tuffs to cross the line.
In the longer Frosty, Henry Teague-Smith had a great result returning home 2nd overall in just 50:25. Next four Tuffs were next to each other in the results with just one minute separating all four – quite a battle. Well done to Simon Thistlethwaite; Alex Webb, Pete Littleboy & Andy Heath. Simon & Alex were separated by just 1.5 seconds across their rapid 41 minute runs and Andy got into the act by achieving the best swim split of these four. Jon Babbage was next with a strong 42 minute 10k run, then Clare Worgan, Steve Bridgeman and Claire Moyle. Great work in those conditions

To all club members; please make a note of Sunday 1st March (provisional) for next year's Frosty Aquathlon. Why the rush? 2020 will be the first staging of our event in the new Littlehampton Wave, and importantly it will be the 25th anniversary of the event. Your committee are looking at ways to get other volunteers or family and friends along as the plan is to get every Tuff who wishes to race, racing. So rather than the current fill marshal positions first and then race, it will be find racers first. We want to make the event a great celebration of 'Tuffness', perhaps a tilt at the team prize? Any ideas please let one of the committee know.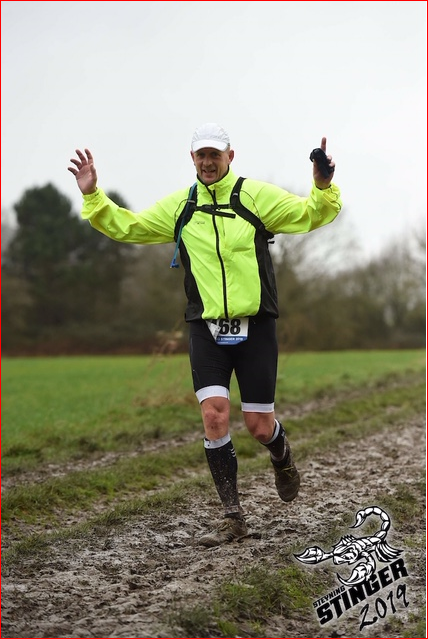 STEYNING STINGER
The Steyning Stinger was also affected by the storm and we have three of our roving reporters write in: There was a marathon distance where Olly Sampson and Jason Rae competed. There was also a Half Marathon where Ollie McDonald had a fantastic result finishing 7th overall out of 302 finishers in just 1:47:56 over the tough course. Jay McCardle also ran and Linda Wright completed the Tuff trio in that event
Olly gives us his thoughts together with Jason's and then we have a report from Ollie in the half:- :-
"The Steyning Stinger was my first venture into trail marathon running and wow what a baptism it was! Conditions up top the Downs couldn't have actually been any worse and how those Marshall's stayed in place and did their jobs I don't know. From start to finish the race was wonderfully organised and if you could have seen anything that day probably amazing views as well. I trundled out at 7.40am on the rolling start and found my Diesel engined pace, at half way you were given the choice of chopping in and doing the half or continuing, I can only think that by this time my brain was not attached to my body and I ploughed on into the wind, being blown backwards downhill at some points. The course was gruelling and at 30km I felt strong but then the last two hills finished me and survival mode kicked in. I finished in 5hrs 21mins and considering the conditions I was made up with this. Certainly would have a crack at it again just in better conditions and when I can walk again!"
Olly
"The last time I'd ran was the Dreadmill marathon in the luxury of David Lloyd in Worthing back in mid Feb.
Since then my wrist had been particularly painful and has forced me to withdraw from a couple of Ultras in April and May due to no training. Peer pressure forced me to enter the Steyning stinger so I grabbed one of the last few places. Race prep was a night out at Casa Brazil eating half my body weight in various meats and a few beers. I slept through my alarm but had already got my bag ready so a rush to the Steyning leisure centre in the rain had me wondering if I was doing the right thing. The registration was complete chaos with 2 desks giving out over 500 numbers to runners. Eventually I had mine and went to change. I bumped into Ollie Mcdonald who was running the half. He tied my laces for me as I still cant put any pressure on my right wrist due to the 2 fractured bones. I went outside and into the field for the rolling start. The first couple of miles were rolling through Wiston picking up the SDW as it drops into Washington. Once through Washington it's back up the SDW for a bit before heading back over the A24 at Windlesham. Low cloud meant poor visibility and a very gusty wind and 26 miles of mud and wet chalk made the course what you would expect of a race called the stinger.
Ollie came flying past me up the climb to Chanctonbury. I was tempted to turn off here and just do the half but the stubborn voice in my head made me carry on with the marathon route. I got into a nice rhythm for a few more miles around Cissbury and the golf courses recognising the routes from various STE races, the hangover five and the 3 forts. My unfitness was beginning to catch up with my legs now but an out and back section meant lots of encouragement from passing runners. A quick loop out near passmores farm (one of my former event locations) and I had completed 22 miles.
You've done the hardest part now the marshal said – except for the 1 ½ mile climb back up to the SDW above Steyning 22.5-24 miles. Even the last downhill section was really difficult, made even harder by not wanting to fall in the thick mud onto my heavily strapped up wrist.
The route was a really good but very tough one deserving of the name Steyning Stinger. The marshals were brilliant, standing out in that weather for so long and all being so cheerful. The feed stations might have had a bit more selection for a race of that level to keep the runners going. Def glad I've ticked this local marathon off as my 49th official marathon/ultra."
Jason
"For me I really liked the rolling start, as it spread out the field nicely. I set off with a small group at 8:45 and intended to take it steady for 10k at least. Storm Freya in full swing it was wet, muddy, very windy and of course …..hilly! The second hill was barely worth running up it was so steep, and went on forever. Up top it was so windy you could barely run, and then the fun downhills avoiding tree roots/runners/rocks! I felt good towards 10 miles so started pushing the pace and was followed closely on the long final descent by a another runner, which made it a fast downhill. Being slightly longer than a half, the final 500m was hard but pleased to finish 7th of 302 in 1:48. Strangely I enjoyed every minute of this race – the mud, wind, rain was so bad it was funny. Maybe not for a full marathon but the half was genuinely great fun!
Special mention to the marshals here and at the Frosty on a 'challenging' weather day.
Ollie
CHICHESTER CORPORATE CHALLENGE
The Chichester Corporate Challenge is a three event series on Wednesday evenings around Chichester City centre. Runners start in two waves to segregate the faster runners around a course of 2.8 miles. Strong running from Henry Teague-Smith in 14:33 in 15th position overall. Other Tuffs competing were Chris Sloggett, Juliette Reader and Matt & Debra Cauchy-Duval. The next two events are on the 13th & 27th March
PARK RUN
With everyone struggling in the wet; one of the standout performances with liquid was Gary Edge – who was over at Butlins in Bognor for the "Soul Weekender" A 10 hour session with 'liquid' and four hours sleep just for starters on Friday night. Then Gary went across the road to line up for Bognor Park Run. He had been one of the participants at the recent Activation seminar, but he stated he would have needed to be plugged into the mains to get the right activation, but complete he did before returning to be a Soul dude for the rest of the weekend – Class act; respect Gary. Becky Lintott-Clarke also ran using the event as a warm up for the Frosty the next day.
Across at Worthing Park Run: James Oram, Chris Sloggett, Ed Lay, Amanda de Ridder, Tim Kenny, & Elaine Rousseau were in action.