Weekend Round Up 8th 9th June
The season is motoring along; A huge range of events covered by Tuffs out on location; including Swim, Cycles, runs and also putting them all together in several Triathlons. We have a bumper edition for you:-.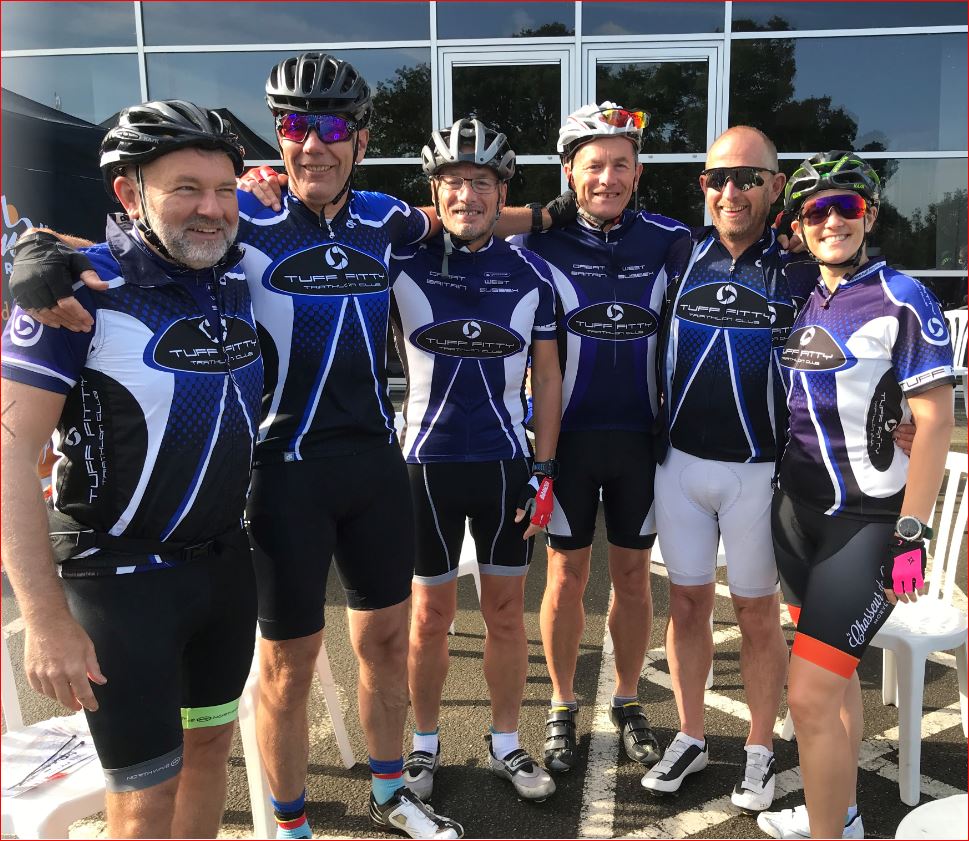 KING OF THE DOWNS SPORTIVE
Starting from Evans Cycle HQ at Crawley; a route packed with undulations under the heading King of The Down's Sportive. A grand total of 14 club members took part. The course was billed "for riders who are looking to challenge themselves". The biggie was a full 115 miles through the Surrey hills, North Downs, Ashdown Forest and Kent.  A figure of 8 route covering 10 hills amassing 9,100ft of climbing. Hats off to the following Tuffs : Phil Baker, Drew Gowland, Callum Lelliott, Pete Littleboy, Chris Robinson, Olly Sampson, Gavin Sewell, & Andy Ward. The two loops could be ridden as separate rides with Tiff Orton and Jon Roper taking the Eastern route of 61 miles with 5 hills including Kidds Hill (aka The Wall), Yorks Hill and Titsey Hill. This left the western loop of 54 miles covering the other five 'undulations' which included Leith Hill, Combe Lane and Box hill, where Clive Harvey, Trevor Harvey, Murray Hodge & Glenn Parisi followed the signs. Our banner shot is our 'Long course' riders, whilst the photo above is of the 'Medium' riders.
Gavin Sewell has reported in with his thoughts on the day:-
"I was picked up by Olly Sampson's with Pete Littleboy riding shotgun at 5.40. At least it was sunny at this stupidly early hour. Bikes packed and off we went to meet the rest of the group at Evans bike store in Crawley. At registration we met up with Wardy, Chris Robinson, Drew, Callum, Phil Baker and Mark Potter who rode with us.
The weather was good but we were warned of bad road conditions due to the weather over the last couple of days. And they weren't wrong. Leigh Hill was the first climb and the amount of crap on the road was dangerous on the descent.
At about 17 miles I got a puncture and told the guys to carry on. Olly Sampson stayed with me and after about 10 mins of faffing we were moving again. We weren't planning on stopping at the first aid station 25 miles in, but needed to top my tyre pressure up with a decent pump. From there myself and Olly ate up the miles and hills and were feeling good until the 8th climb (I think), The wall. It was a beast and known as one of the toughest. Me and Olly regrouped at the top and set off where our next break would be a aid station at 90 miles.
Needing the aid station to refuel, we tackled the 9th climb which the aid station was at the top of. York's hill was the toughest in my opinion. The gradient topping out at +20%.
With my Garmin going into auto pause and me struggling to stay upright I got to the top. And to our surprise Wardy, Chris, Pete and Phil were grabbing some food. Callum and Drew had ridden into the distance about half way setting a great pace. From there 25 miles home and the miles were flatter and a little easier. The burger and coffee at the end were well needed. Great day in the saddle and my favourite climb was Box Hill. Lovely weather and really enjoyable climb.
Won't be rushing back to this event. Give me my TT and undulating roads any day."
Cheers
Gavin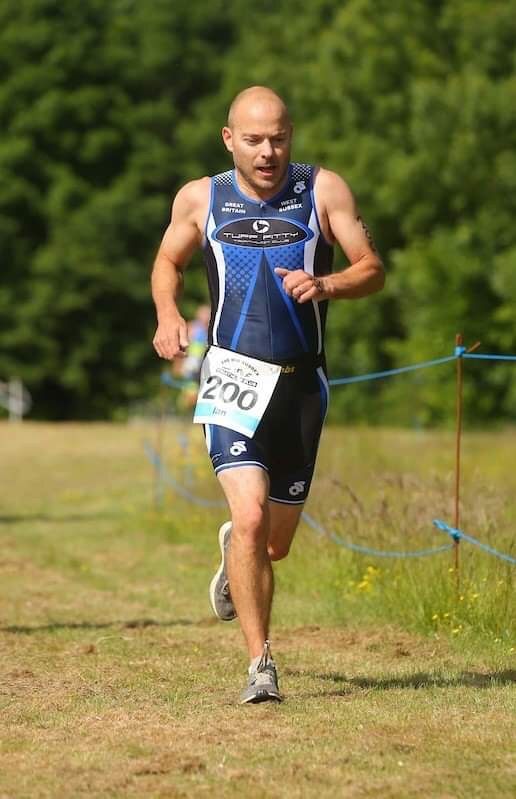 MID SUSSEX TRIATHLON
A traditional favourite amongst Tuffs. This Sprint triathlon comprises a 400m swim, 25k bike and 5k run and as the swim is a continuous snake swim, it gets everyone out on the bike course quickly so you can sit back at home with a coffee and a smug contentment of a good mornings work. There were a trio of Tuffs present as Ian Moore explains:-
" I acted as pacer for the Horsham Park Run the day before, assigned the 30 minute slot. I achieved 29:48 so that was pretty close and I joined Tony Pearce and Chris Evans at this event. Tony did well, second in his age group, just 31 seconds off 1st in category. Pleased to report my time was almost exactly the same as when I did it last time (2014). I was surprised there weren't more Tuffs there, it's a very well run and friendly event"
Ian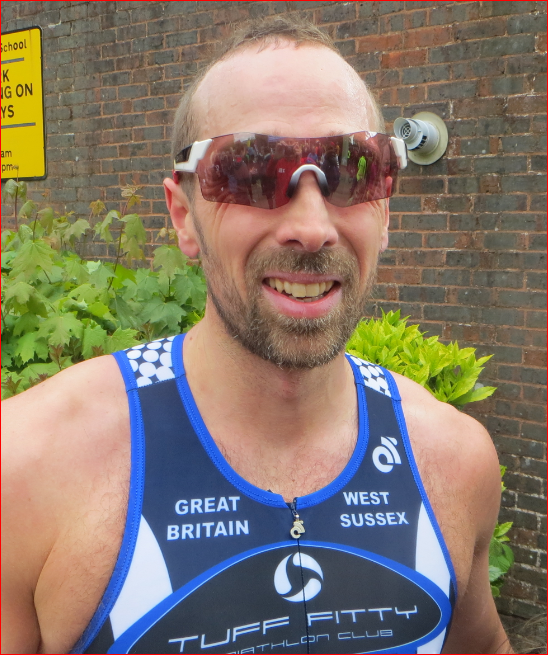 THORPE PARK SPRINT TRIATHLON
Further up, in Surrey; Steve Woodbridge reports in:-
"I entered the Thorpe Park Sprint Tri simply on the basis that the family got free entry to the park after the event; a great way to justify a race entry!
The swim took place in one of the lakes in the park and after some faffing about beforehand I ended up starting at the back of the pack. Not a good start, and struggled to find any clear water throughout. Still, the lake was a pleasant temperature and fairly clear.
The bike course was a reasonably flat course on the roads surrounding the park and was a good opportunity to make up some ground. There was a lot of riders on course at once and is always enjoyable passing so many.
Back into the park for the run; a 2 lap affair through the attractions. The atmosphere was amazing with so many runners and spectators about. Finished in a pedestrian 1:12:09, for a lowly 49th place overall (out of 313), but the main objective of enjoying a day in the park with the family after the event was achieved! A great event that I'd thoroughly recommend."
Cheers
Steve
CHICHESTER LAKE TRIATHLON
Westhampnett Lake was the HQ for Tribal Sports Chichester Triathlon. There was a choice of Sprint and Standard races and Tuff Fitty had two signed up members racing in the Sprint. Firstly Jon Babbage who did well finishing 17th overall. That would be sufficient for most people especially packing 660ft of climb onto the bike leg, but Jon rode over and back from Littlehampton; a round trip of 28 miles – impressive.
However the good news doesn't end there as there was a great performance from our newest member – Christine Holyoake. The photo above is from an earlier event but clearly a very worthy Tuff crossing the line at Chichester, 1st in her age category and 9th female overall. Welcome Christine and congratulations to them both.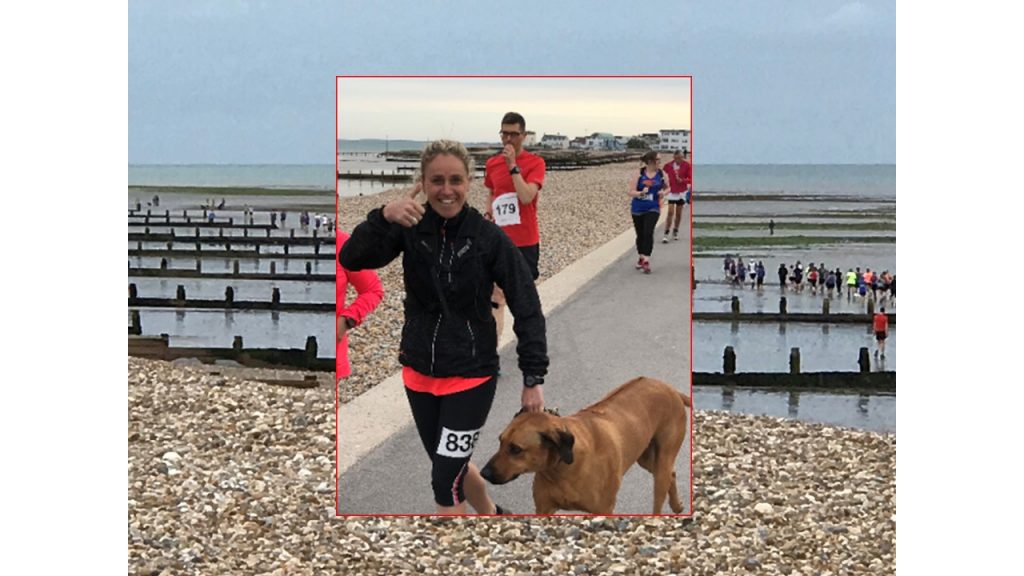 FELPHAM FIVE
Clive Harvey reported in from the Felpham Five, a five mile run along the seafront:-
"Our own Jason Rae organises cracking events and so I volunteered to help, being handed a laptop to record the results. A very reasonably priced run which entailed an out and back seafront run. Out was fine but there was a headwind on the way back. First Tuff home was Debbie Boxall who entered the Canicross class with Obi. Debbie finished well up the Cani- class as usual and received a stonking medal , shampoo and a Magnum ice cream.
Jason's Southern Multisports have their David Lloyd Ultra in June (with a relay) and David Lloyd Triathlon in July which will be good. As chairman I will also be nagging sorry encouraging all Tuffs to enter September's Rewell Wood Running Festival in September. Why? well we won a rather splendid trophy in the team competition last year and so we will need to muster a strong team on Saturday 14th September to do ourselves justice. "
Clive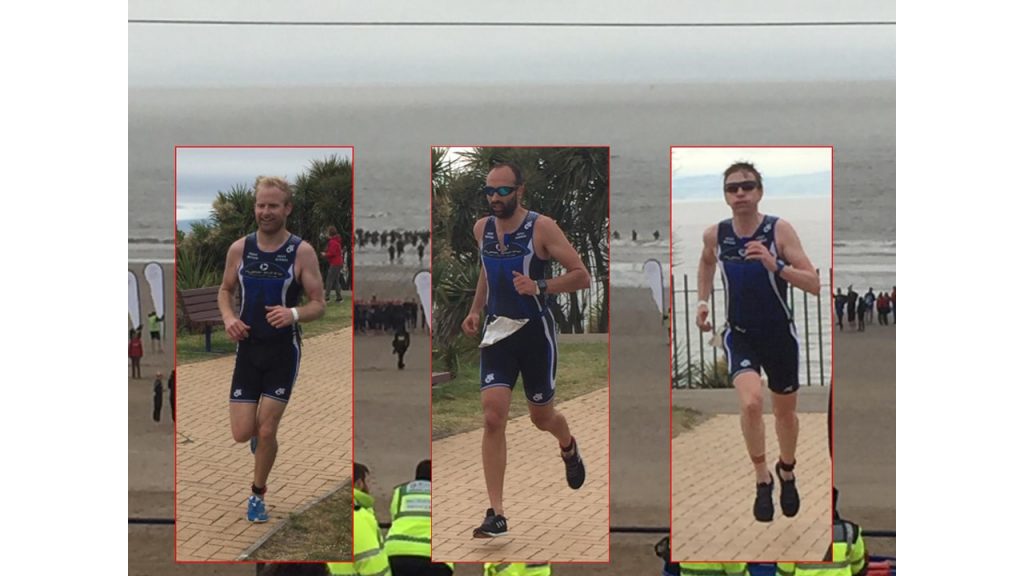 SWYD BARRY ISLAND SPRINT TRIATHLON
We acknowledged the strong exploits previously on Barry Island for this Sprint Triathlon . Having returned from abroad; (Wales and then Ireland!) Andy Crawford regales us with his time in Wales and it is simply too good not to publish:-
"Standing in the early morning mist looking out over the waves crashing into the beach you could be forgiven for thinking this was madness. It was also very obvious to everyone that the right-hand side buoy was rapidly drifting away from the shore.
"We take your safety very seriously", the race director was telling us, "and this half hour delay is just so we are sure".
All week I had been practising mindfulness techniques designed to convince myself that I was unlikely to die during the sea swim.
"Someone died during the swim last year!" I heard one of the competitors say as I stood there shivering. Very sadly this was true, and so the race organisers were being over-diligent.
Nevertheless, the horn sounded and off we ran into the murky foam. It was tough. The waves were properly crashing down on top of us. I would sight, not see anything, take another four strokes, sight again, see nothing, and so it would continue. Eventually every third or fourth attempt you would see the buoy and try to correct where you were being pulled. Barry has the second largest tide in the world, and so for a while swimming hard seemed to be getting us nowhere. Needless to say a lot of people pulled out and headed back to shore.
We battled on though. Despite the conditions Joe's swim was immense and he covered what was actually closer to 1000m in 14 minutes. Tom and I landed together a bit after, just about in one piece. This is where Tom's race was wrecked. Despite practising everything we thought we could possibly come up against, Tom couldn't get his Velcro undone on his wetsuit. He tried for a while, but the rip cord was stuck on the wrong side. Catharine and Ellie stared on in horror, desperately wishing for it to come loose. Eventually he needed a marshal to undo it, but we were gone. Draft races are great, but they can be a cruel mistress if you miss the draft on the lead pack. Our cycle times were all similar, but the fact that Joe and I sat in packs of 10-12, and Tom had to do it on his own was credit to his cycling, but that effort destroys your run. Joe and I ran in around 20 minutes, but Tom's race was over.
I think it's fair to mention that our support group for this race excelled themselves. Catharine Western and Ellie Crawford had boosted their own confidence with strong park runs on the Barry sea front on the Saturday, making us very proud. Ellie in particular was screaming so loud as the three of us cycled and ran round I could hear her calling me in from about a kilometre out.
Both Joe and I finished within the 115% needed to be eligible to qualify for the Worlds. Joe was third in his category and I was fifth. The first 4 automatically qualify. I was quite looking forward to backing off the training, but really this means I ought to keep going for the last qualifier in September. Just as well really, because we still have to get Tom over the line. Mind you, most of his training sessions will just be on how to use Velcro.
Andy
WEALD CHALLENGE TRAIL HALF MARATHON
Rachel Brunning accompanied two of her chums out to Muddles Green (near Lewes) for a trail half marathon through – "the Picturesque & Undulating" East Sussex countryside. The goal here was completing Half Marathon number 45 in her quest to reach the big Five Oh, but free homemade cake, bespoke coffee mug and medal added to her achievement. Well done Rachel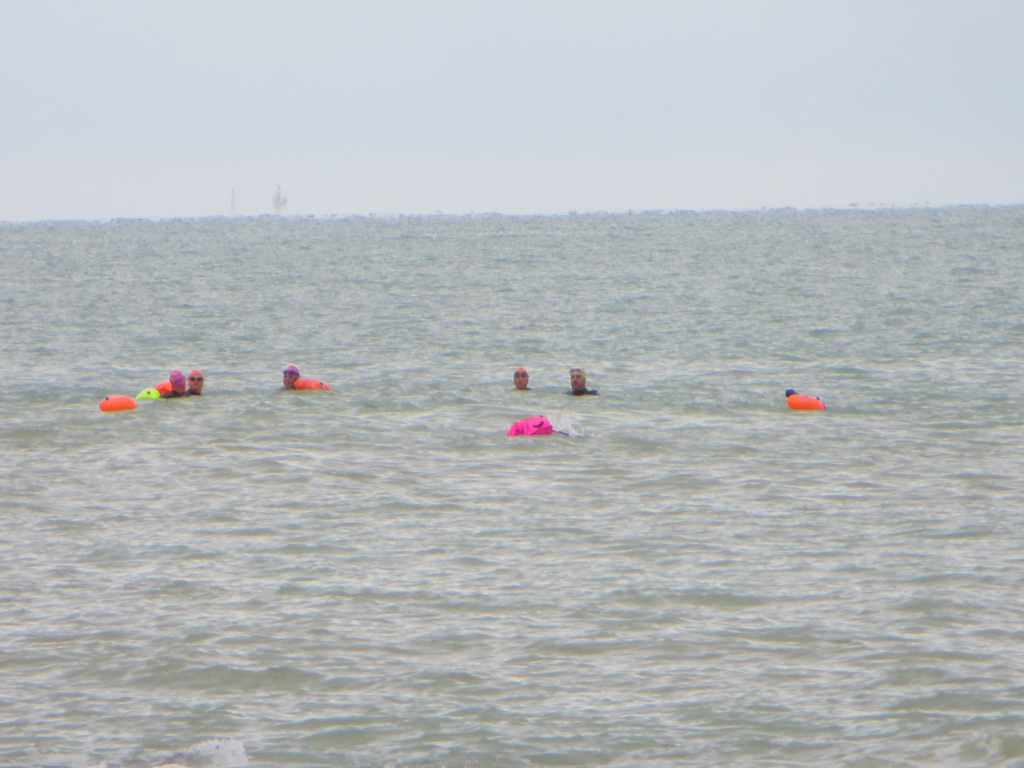 SEA SWIM
A further sea swim occurred early Sunday evening and in a reversal of fortunes the sea was nice and flat, it was the spectators on the beach who had to contend with the chill wind. A good number of swimmers this week enjoying the conditions. The times vary depending on tide with the next scheduled swim Sunday 16th June at 12 noon.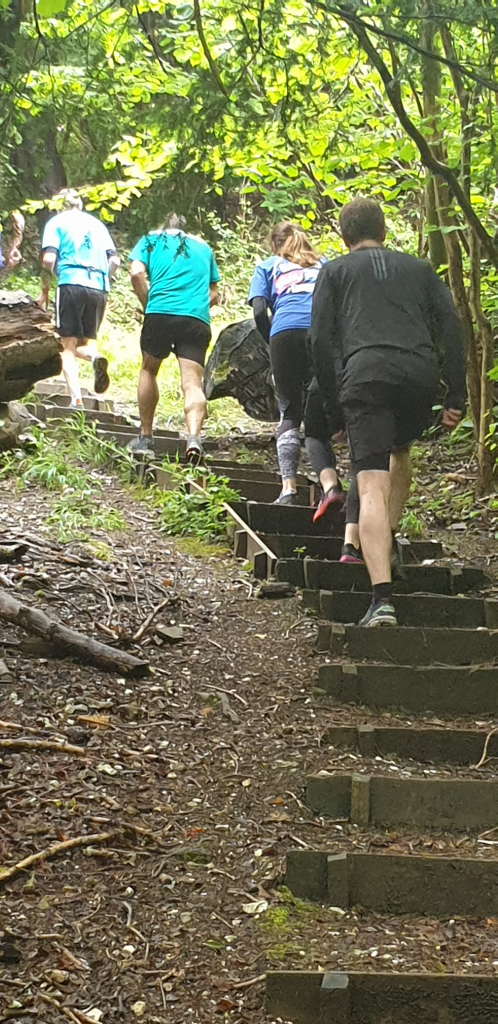 SATURDAY MORNING RUNS
Saturday morning runs continue at 7:30am from Arundel and they get a mention here as Jon 'Fivecakes' Roper took some snaps. Please continue to send in photos of Tuffs in Training. The Saturday Run goes off-road to get undulations and this week included the infamous 85 steps up from Fairmile (which is part of the route for September's Rewell Running Festival.) As with all Tuff Training, simply turn up to enjoy the fun.
WORLD RECORD ATTEMPT
Wendy Frost reported, getting Tuff Fitty a mention as she prepares for a Half Marathon later this month – good luck Wendy:-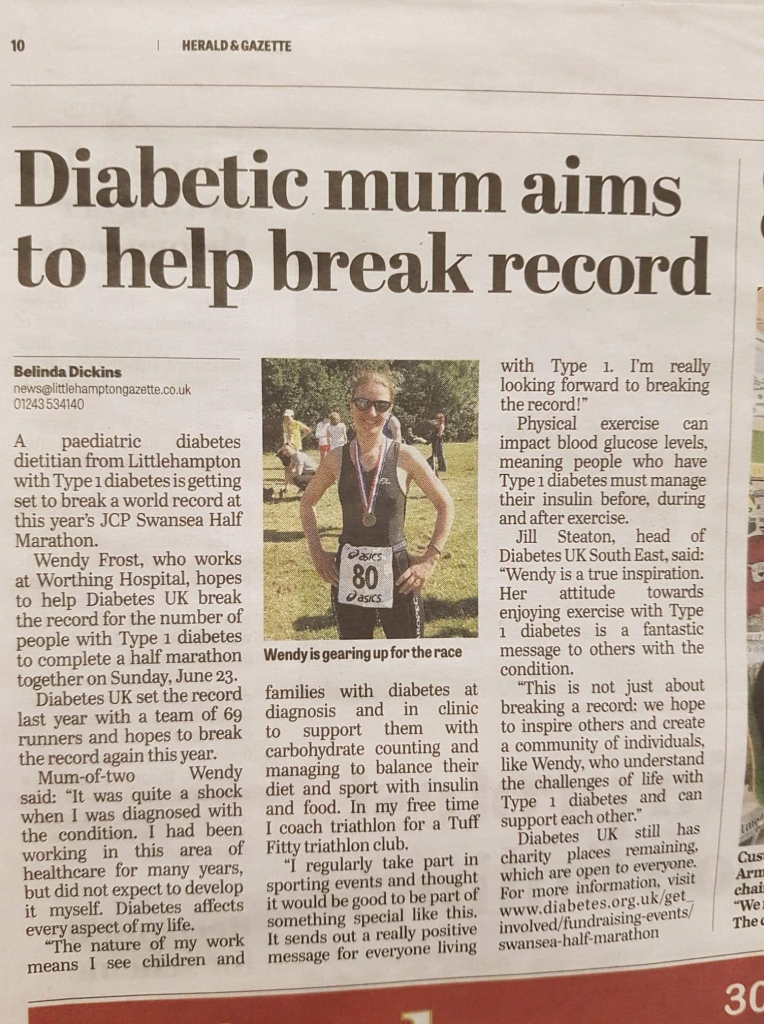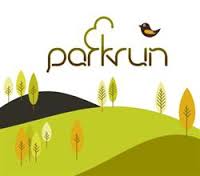 PARK RUN
At Littlehampton Park Run, well done to Bob Thomas. Up at Horsham Park Run, Ian Moore has already mentioned his attendance as pacer. However Leigh Moore was also running with Ian coming in 4 seconds ahead. Further up, at Maidenhead Park Run, Trevor Harvey ran. This left the ever popular Worthing Park Run with Danny Cunnett first Tuff home in 20:42. Chris Sloggett was next with Amanda de Ridder 7th female and this took Amanda to her 99th Park Run. Elaine Rousseau completed the 8 running.