Weekend Round Up Sunday 15th Sept
The third instalment of last weekend's Round Up. This was to include most of the action from Sunday. However we are proud that James Togneri became our latest Ironman, and he kindly accepted the request from the editor for an article. It is a cracker so is being released separately. This doesn't take away from other great race action and reports – so read on:-
BRIGHTON & HOVE TRIATHLON
Brighton & Hove Triathlon has been building in stature & whilst the bike course is 8 laps for Olympic & 4 for the sprint, the event is building year on year, becoming very popular and there was a quality Tuff Turnout. The sprint race of 750m swim, 20k bike and 5k run was first off at 8:30, with the longer Olympic distance competitors not starting their run into the sea until 11:50.
For the sprint, Joe Pascoe was first Tuff home in 1:10 grabbing the best Tuff swim and bike splits. Tom Goddard finished in 1:12 nabbing the best Tuff Bike split. Andy Crawford finished next in 1:15 with a great 19:36 run split and the Tuff quartet in this distance included Edward Lay.
Joe reports:-
"Normally there's not much to tell about a sprint race. Everyone goes fast and it's all over in hour and a bit.
Tom G and Andy C's adventure starts with a hostel in Brighton the night before – this could become something like the Gavin and Brynn fishing trip, so I'll let them tell that bit.
We racked the day before, Eryn took part in the Scootathlon, then it was home to bed thinking everything was set up ready to go. I was feeling all smug that I'd swapped my wheels and rear cassette myself and got my gears all lined up.
A leisurely 8:30 start meant not getting up too early, so I dragged the family along with me again.
All set up and ready to go, I met Andy and Tom in transition and our warm up run ended up being a run to the swim start to just catch the end of the briefing.
The swim was packed and the tide was pushing everyone East which meant rounding the first bouy was more like a washing machine.
I got out the water in around 30th and jumped on the bike as per usual and then the fun started. Things were a bit wobbly and the two riders I was with disappeared up the road. Then the next group came and I couldn't stick with them either. The first big U-turn came and as I stood up to push hard out the corner the whole back wheel wobbled, the brakes slammed on and the gears jammed. This happened on the next 6 U-turns. As Tom came passed we heard news that the race was being stopped. Tom kept up with his group as I continued to wobble round on strangely empty roads. There was no one on the bike course at all.
I was just thinking about how I could redeem a bit of dignity with a hard run, or jack in and go for ice-cream, when I met the entire sprint race waiting for me in the road. Including Tom who had kindly been looking to see if I was okay. I forgot about the race completely and stood chatting to a man who was bleeding quite a lot.
The race had been stopped so ambulances could get through – there had been at least 2 pile ups. Andy was held on the other side of the course. It was only after a minute or so that I thought I'd look to see what was going on with my own bike. When I lifted the bike up the whole back wheel fell off! Turns out I hadn't tightened the skewer!
As I was fixing it (imagining CPL shouting insults at me), the race started and I was left rolling into transition on my own in about 70th. Luckily though, due to the race being stopped, everyone had very similar bike times and there were lots of people to catch on the run.
I managed to climb to 38th overall.
It was great to have Tania, Katie, Ellie, Graham and Nancy supporting. With Chris, Gav and Wardy, who had cycled over, supporting on the bike course.
The Olympic distance Tri saw two further strong performances. Drew Gowland crossing the finish line in 2:18 which included a top ten swim split and Stephen O'Donnell in 2:29 who recorded a strong run split. Congratulations to all six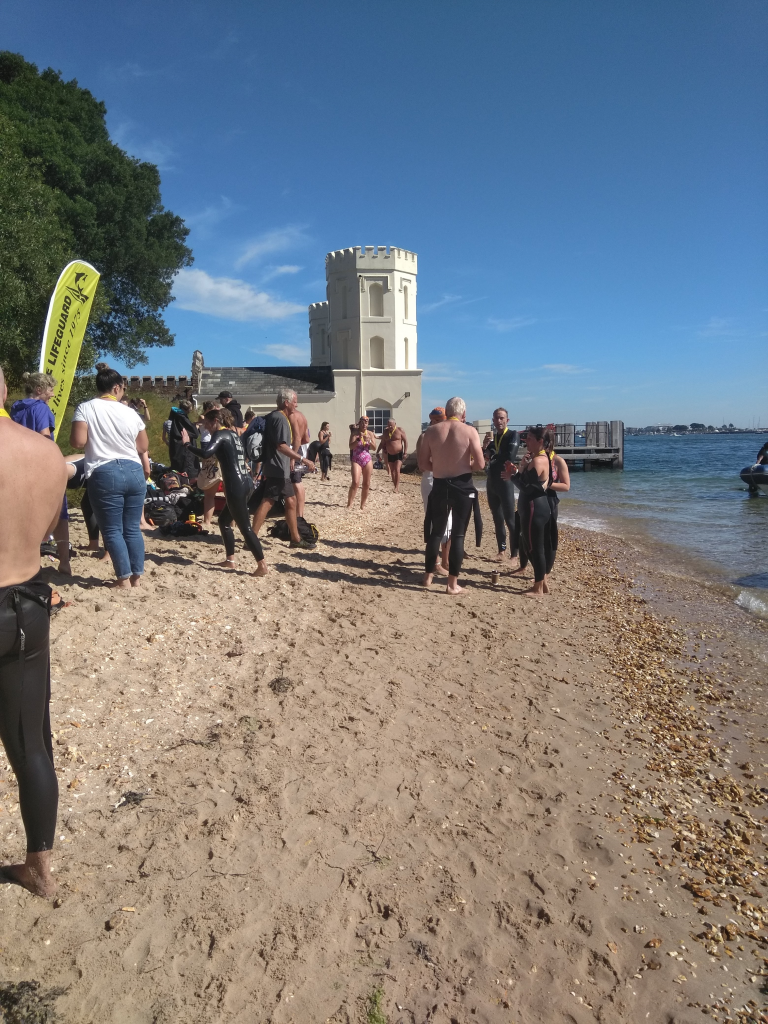 BROWNSEA ISLAND SWIM – 6.5K
This weekend saw Tuffs competing at three open water swims. This swim in Poole Harbour circumnavigates Brownsea Island as Susan Douglas explains:-
"This is one of my favourite swims, I think I've done it five times now and this year the weather couldn't have been better.
The race was scheduled to start at 9.45am, very civilised, although I still had to leave home at 6am to get there in time for registration and not to miss the ferry across to the island.
As we prepared to enter the water, first shock of the day, another woman in a bikini!! How very dare she. Anyway I gathered my composure and prepared for the "in the water" start. A fair mixture of skins and wetsuits with perfect water temperature, for me at least. The start was the usual mad mellay of bodies, arms 'n' legs, but after not too long I had my own space. Navigation is reasonably easy, just keep the island to your left. Buoyed by 12th/106 place lady at Lyme Splash (Nikki Gatland 3rd) the week before, I cracked on, hoping to get round in less than 2 hours. I stuck on the tail of a man in pink trunks with palm tree print, until it was time to turn on the speed (thanks Tuff swim sessions) and pass him and set my sights on what looked like a traffic cone ahead, well a man in white bodied wetsuit with orange arms. I continued on and lo and behold it was the "other woman" in a bikini, she had a weak stoke, so I left her in my wake Haha!!
There is a bit of tidal flow which increases once you've past the halfway mark. Keeping up the pace I turned the final corner and headed for the finish and a welcome hand to get out of the water. I was 112th/287 overall with a time of 1hr 53 mins my fastest time to date and I was pleased to see I'd come 2nd/11 in my age group and 11th/40 lady skins. Lovely swim, perfect weather and I even saw a red squirrel on a wander afterwards. "
Susan
OUT RUN CANCER 10k
Starting from the Fox Pub above Angmering, this 10k/5k trail run took competitors around the Angmering estate. Kudos to the Tuffs who raced as they had participated in the tough Rewell Run the day before. Another hot day and thanks to Jon Babbage for taking up the story:-
" Shelley and I try and do our best to support this local charity that helps people dealing with cancer fight cancer with fitness. It's a very close one to our hearts. When we did the last run back in Arundel in February I wrote in my Tuff report about a robin we saw just as we were walking to the event and how we saw it and made us think about our best friend we lost in 2013 to cancer. Guess what yep you guessed it we parked the car at the side of the road by the Fox got out and next to the car we see a robin just sitting there. We manage to get real close and say hello. Anyway I have a friend who is fighting cancer at the moment who used to be a runner but has not done any for 2 years now since fighting cancer. I see him most days in the builders merchant and a week ago he was telling me how he really wanted to try and get running again. I told him about Cancer United and the run they had coming up. Before I knew it we had agreed he was going to attempt the 5k without him knowing, I manage to downsize my run from the 10k to the 5k to help and support him through it. Shelley myself and Stuart got to the Fox early Sunday morning picked up our race numbers and had a walk around to see who was about we had a few words with Jason Rae who was leading the runners out on his bike after a busy day at Rewell Wood running festival which myself, Shelley and Paul Martin did the day before. We then met up with Paul who loves running in that area its sort of the same as the bluebell which is one of his favourite races, but he didn't do this year so his wife brought him a place on this race. Tim McGrath cycled up to support the Tuffs and Striders. A few photos were taken and before we knew it we were off. Paul and Shelley were off on their 10k whilst myself and Stuart started to take on the 5k; this was his ever first trail run and first event in over 2 years. I really enjoyed running with Stuart we got to have a good chat and we only had to walk a couple of times even though the stent he has was really hurting with the uneven ground. The thought of the pint of cider I promised him carried him through we finished in 44 mins then just under 45 mins Paul was home with Shelley home in just over the hour with her 2nd fall of the weekend (HA HA YOU FELL OVER) The pint of cider was consumed and then that was it another great event held by cancer United looking forward to their next one in feb. Stuart has found his passion for running again and is taking on the Goodwood grand prix 10k this Sunday
Jon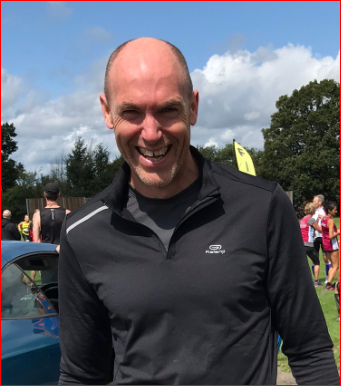 INTERSPORT RUN REIGATE HALF MARATHON
Another Tuff out clocking up the miles was Phil Baker who has submitted his report from a Half marathon which was gold winner of the 'Best UK Half Marathon' in 2019
"After missing the deadline for entering Rewell Wood half, entered Run Reigate Half Marathon as a training race leading up to Abingdon Marathon in October. What a great event. Easy parking, really nice race village set up in Priory Park, slick organisation, fully closed roads, bottled water drink stations so you don't choke whilst maintaining your pace, scenic countryside route, couple of hills to keep it honest, nice t-shirt and medal at the end. Run Reigate has pretty much nailed it. They even brought the sunshine, which was a miracle as I had entered. I had a solid run after a full weeks training and crossed the line in 1hr 39mins. Need to find a couple of minutes over the next five weeks though #project327
Phil B.