There were fantastic runs times from all our Tuff runners at the London Marathon and some great tales to tell as the following write ups testify
Simon Thistlethwaite reports:-
After almost 4 months of struggling with a hip injury, a marathon was the last thing on my mind although it was in the back of my mind ever since getting picked out of the Tufty hat. That said Id completely given up the thought of entering and only gave it a second thought once I realised my ticket was non transferable to the disappointment of Pete Littleboy who was hoping to run in my place.
Id not been on any long runs since November's Bear Grylls and I'd never taken part in a marathon / only ever ran 1 half marathon which was over a year ago so if there was ever a sensible way to approach such an iconic marathon then this certainly wasn't it.
I felt the decision to compete last minute had been made for me after Jason Rae kindly collected my number saving me a trip up to London, my digs in London were provided for free, rail travel was free for all runners on the day and one of the finest running coaches in the country was to give me world class advice and preparation the night before the race. With all this in mind I simply had to turn up on the day and put one foot in front of the other for 26.2 miles. Lets face it, if we went through life making sensible decisions all the time we would never have any fun. So two days before the Marathon I decided the game was on.
I stocked up on blister plasters knowing blisters would be my downfall over that kind of distance, I also made sure I was carrying plenty of gels and well hydrated the night before. Two beers each, a sausage roll and two huge pizza's, "if its good enough for the Brownlee brothers its good enough for us" said the coach.
 With this expert advice in mind I felt well prepared and somewhat at ease after Marchy breezed us through the stations from Southfields to the event on the morning of the race. We did get a little worried on route after a 15 minute stretch on the tube saw us as the only two runners on a very empty looking train but his was soon to be changed as Charing Cross became our Mecca and a huge sigh of relief from us both.
Three loo stops for me in as many minutes as the race nerves start to kick in and through bag drop with around 15 minutes to the start left no time for our usual track warm ups.  The start saw us in different piggy pens and there was no sign of coach or any other tuffs through the entire event. I think coach was too embarrassed as we had matching compression socks on and clearly his were better than mine on the day. I think mine were faulty hence the two minutes in our times at the end 🙂
So off we went, straight away I found clear space and settled in behind a boat and three men hoping to get in the slipstream but it wasn't long before the boat disappeared and it was obvious that they were keen to get through the course in under 3 hours catching and passing the 3 hour marker whilst I was happy to follow a short way behind.
My pace was short lived and after the first 12 miles I decided that it was too quick for me as my feet had already started burning. I decided to get them looked at early on to ensure I got to the end so I pulled up at one of the aid stations. St Johns did a great job and padded out my blistery trotters until some guy started taking down my details, I asked him if I could go as my Garmin was still running and I wasn't. 5 Minutes later ( to be deducted from my final time) I was off again and soon got back into it and soon picked up the pace again after I felt a little rested. Passing people felt good then with a 10k and a park run left I started to feel pretty tired and the hip flexes were aching and stopping me from lifting up my legs. I felt the strides become smaller and stopped a couple of times especially in the tunnel where there were no cameras to see.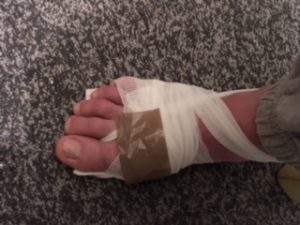 that looks sore!
I kept going out of sheer defiance not to stop and The NSPCC stands gave me huge cheers every time I waddled past them as I was wearing my old NSPCC vest from my last fundraiser. This too was a huge boost but that soon deflated that when I was passed by Mr Potato head and a witch on a broomstick came poodling past me like they were out for a Sunday stroll.
I remember thinking how in awe I was of all the runners that passed me and how they made it look like it was a breeze. I  then realised how fortunate I was to be part of such an event and so no matter how much pain I was feeling I had to keep pushing and pushing. The only thing that could let me down now was me and that was never an option. The finish line was a welcome sight and I was just beginning to really struggle and felt a pain in my right leg but it was done and I was alive. Medal please.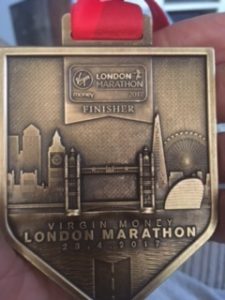 Meeting up with Coach again and it was off to the Gourmet Burger Company where we were treated like royalty and were given free burgers for our efforts.
Simon.
Dave March reports:- 
The world famous London marathon, the one that EVERYBODY knows. The  only marathon that's full distance of course.
I've had better weekends, I forgot my registration letter, missed out on a pre-race goody bag and clocked up more than 15,000 steps when all I wanted to do was put my feet up and relax!
The day got better after meeting Simon Thistlethwaite, we settled down for the evening, sorted out our race prep and put some carbs away.
Race day arrived with perfect conditions and we got to Greenwich ready for the start. The marshalls and volunteers were the best around, and the organisation is world class.
As for the race itself, there was more support than ever before. We let the Kenyans and Ethiopians get ahead knowing for certain they'd pay later on for a quick first mile. Turned out they actually were that fast, should've stuck with them!
We spent the next few hours enduring/enjoying the sights on our whistlestop tour. The Cutty Sark, The Shard, Big Ben, a couple of underpasses (you never see those on the telly.) Maybe we enjoyed them a bit too much as we were both overtaken by 3 men in a boat and Mr Potato Head. We crossed the line within minutes of each other and helped each other stagger through to find some grass to collapse on! We both swore never to run one of these again and that anything over half distance was unnecessary.
We trekked back across London flashing our medals proudly at everyone, free tube travel to runners, although no-one told staff at the station we got off at. Being unable to climb over the barriers, we had only one choice, slide under them and pull ourselves ungraciously to our feet. Undeterred, We flashed our medals once again to claim our free burgers in a posh burger chain restaurant. Winner Winner Burger Dinner.
London marathon, always an amazing day, fantastic Tuff company, and freebies that make it all worthwhile.
Winner winner burger dinner
Marchy
Jason Rae's take on events:-
Well my Marathon Weekend started on Saturday morning , waking up to what felt like torn ligaments in my foot realising it was to be another bout of the late forty somethings ailment, Gout. After raiding my medicine cabinet and also taking some vit C tablets I eventually got on top of it at about 8.00 am on Sunday morning.
The trip to London started at 4.45am picking up Jason Macardle and his friend also called Jason. I had found a David Lloyd Club about a mile from Blackheath so did not have the big event ritual of standing in portaloo queues for an hour to endure. We arrived here at 7.00 parking the car then enjoying a lovely breakfast in the quiet health club which seemed a world away from the atmosphere just over the hill. At half past seven my phone rang and I was asked by my other half Alex where I was. "In London" was my reply to which she asked "Well why is your kit bag still on the sofa" Luckily I had my chip on my shoes and my Tuff vest on with number pinned to it on already. After a small panic I borrowed a few gels from Jay M and decided nothing more could be done so it was best to just move on. at 8.45 we left the club and headed to Blackheath. A few quick photos and we were loading the 2 bags we had between the 3 of us onto the lorries before heading to our starting pen.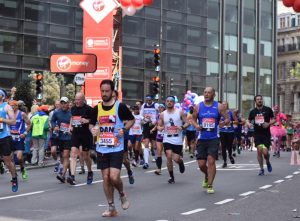 Before long the runners started moving forward as 10.00 approached. we could see the Start on a massive tv screen and we were off. Having run Brighton a few times I was completely overwhelmed at how many supporters there were lining the whole 26.2 miles of the route , almost 10 deep in some places. I had hoped to run at 4.00 hour pace but ended up running at 3.40. It felt good but deep down i knew I wouldn't be able to sustain it. Jay stopped at 2 miles for a loo stop so I pressed on getting into a pretty consistent pace. The miles passed by and there was entertainment everywhere, Bands, dancers, drummers and also the famous sights around London. I spent about 3 miles running next to a guy dressed as a telephone box. At 6 miles a few Arunners were spectating and called out, I saw them again at 23.5, At 12.5 miles I spotted a friend in her Cow hat, turned a corner and Tower Bridge was in front of me. This spurred me on but I also hit a low soon after as Alex was going to be at the halfway point but the sheer volume of people meant she didn't see me so I didn't get a blast on the air horn, I did get one on the way back at 22.5. I picked up again and at 16 saw a friend from Tone Zone so had a chat with him as we ran along. By now i was thinking that the wheels would fall off soon but didn't know when. the temp had risen as the sun had come out and the wind was shielded by the tall buildings I made it to 20 before the water , gels and lucozade told my body a pee break was due . After I stopped at the next portaloos My legs had realised they felt better not moving or moving slowly than going at a pace far too high for my weight, so for the next 5 1/2 miles I was run/walking to the finish. I stopped at 23 miles to briefly chat with the Tone Zone cheer squad then got going again. I could now see my 4 hr target was slipping away so I just focused on keeping moving forward looking at all the sights around the river bank. The crowds were still growing and the noise was getting louder and soon I could see The houses of Parliament. The run to Buckingham Palace seemed to take forever but turning into the finishing straight gave me another boost of energy for the final 200 metres. Crossing the finish line was an amazing feeling at such an Iconic marathon, Definitely worth the 6 years of rejected ballot places.
Still smiling at mile 23!
Jason
Jason MacCardle is continuing his count up towards the 100 marathon club and he reports because of that he adopted the attitude of  "As I doubt I will ever get in again I wanted to enjoy it and 'Look up ' something you don't do when your racing and take it all in, so did just that ….."..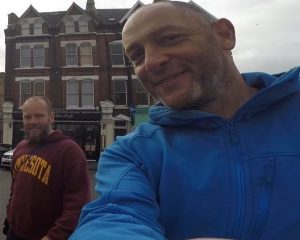 Jay & Jason
Jay 
Becky Lintott-Clarke stated the race didn't develop how she wanted as her target had been under 3:30, but her time was still a cracking result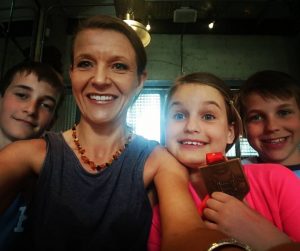 Bex enjoying her post race meal with family
Congratulations to all our runners. Also a big shout to Leigh & Ian Moore, two Tuffs who volunteered at the start in Greenwich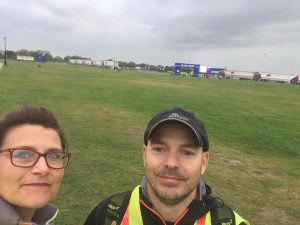 Leigh & Ian