Weekend Round Up 6th 7th May
More Tuff action to report this week and this was all the while we had a Tuff contingent out for the very successful training camp in Majorca. No doubt a separate report will follow for that, but we still have the following superb results.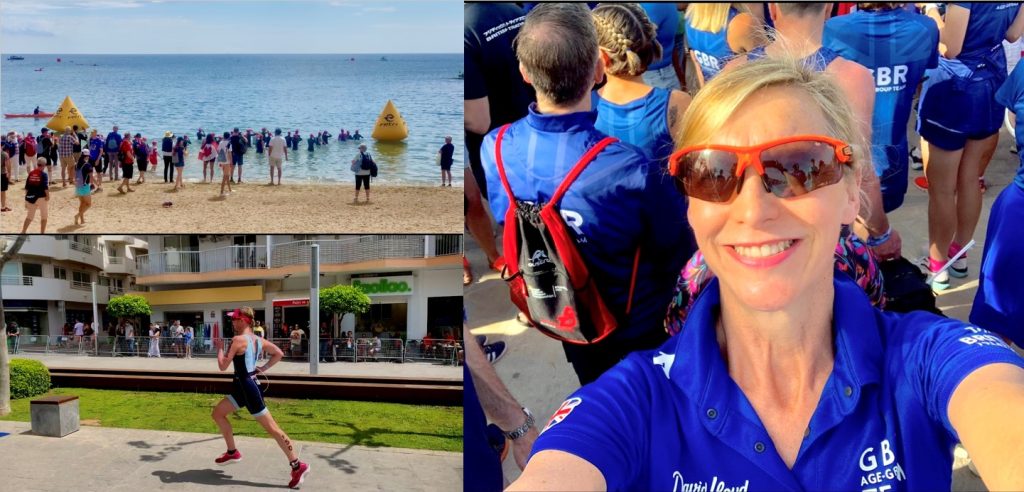 IBIZA MULTISPORT WORLD CHAMPIONSHIP 2023
The multisport World Championships in Ibiza was full of different disciplines; Duathlon, Cross Duathlon, Cross Triathlon (Cross equals MTB), Long Distance Triathlon, Aquabike and an Aquathlon in which we are delighted to report both Katie Young & Maisie Johnston participated. (who take this week's banner photo). With different disciplines spread across the isle of Ibiza, the Aquathlon was held in Santa Eularia. Back home, we are pleased to publish a report from Maisie.
"Just home after an amazing trip through Europe to the Aquathlon World Champs. Bit early in the season to be hitting peak performance but couldn't pass up the opportunity as multiple events were taking place across the island over 10 days. Practically tripping over elite Triathlon stars at every turn. I found myself at breakfast sat next to the Italian Duathlon Relay team, who took gold later that day! "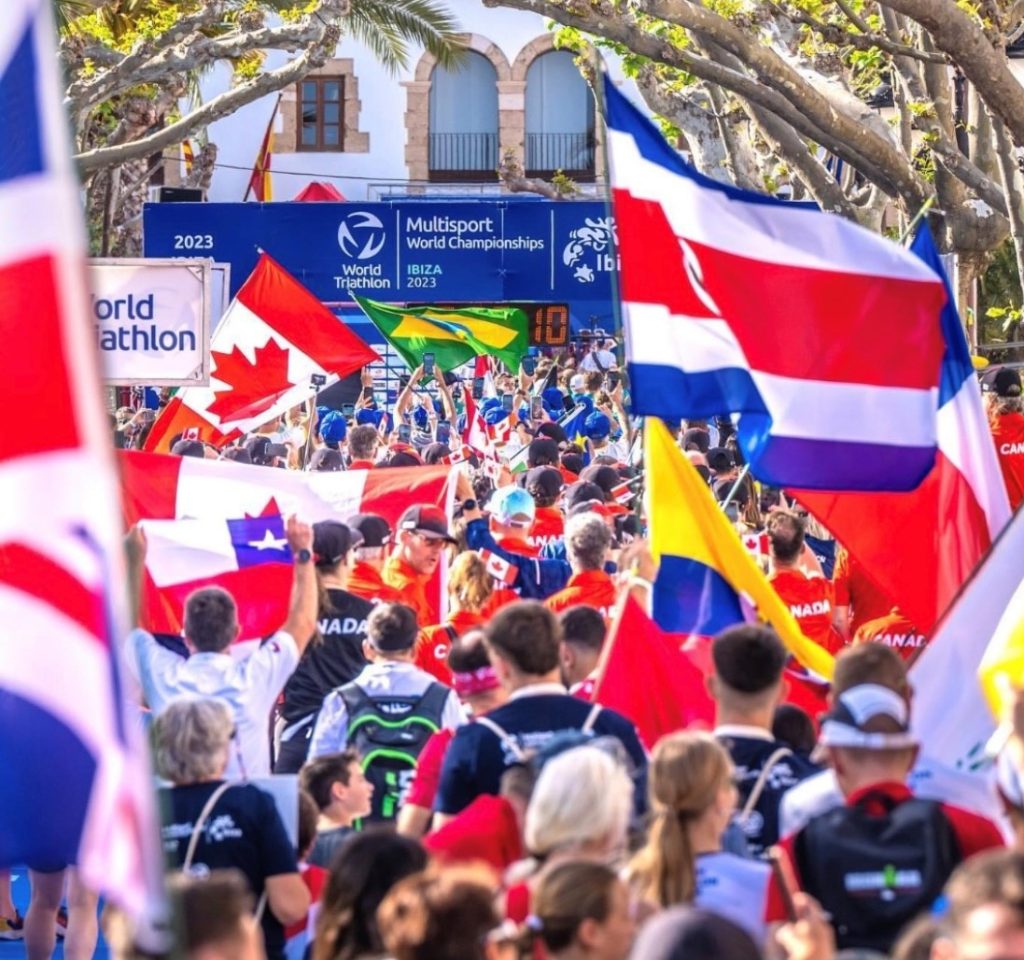 "The Opening Ceremony with all the teams and flags was unbelievable! We all marched round the sea front of the town, where it seemed that everyone had come out to cheer us".
I digress though, back to business….
Race day, start time 12 midday with a blistering temperature of 26.4C. Slightly overcast with a breeze. Wetsuit optional swim, I'm afraid I went with crowd……I had done plenty of sea swimming and the water temperature was actually fine, but they say 'faster with'.
[FYI. I did a comparison wetsuit verses non wetsuit training swim and was 3 seconds per 100m faster with the wetsuit. Not sure how scientific my results are though!]
Originally down as a beach start but then changed to 'in the water' start. So over the timing mat we went, then held by the start buoys for about 3 mins, before the famous heart beat start.
1km Swim was a challenge, we swam directly out to sea-fine spotting the big orange turn buoys….heading back not so easy! You're only as tall as your head and racing through swell, chop and other swimmers, I think we all went a bit wonky.
Swim over, headed into transition, no bike just running shoes!!! Easy peazy, straight off on the 5km run. I think at this stage I was 9th but was overtaken about 1km in. I held my position for an up hill charge on the beautiful blue carpet to the finish arch amongst screams and cheers from spectators waving flags from all over the world. Amazing……
Waiting at the finish was Katie Young, who had come storming over the line in 6th and 2nd GB lady so many congrats to her! I finished 10th and 4th GB lady.
Two Tuffs in the top 10 – not bad at all!
Maisie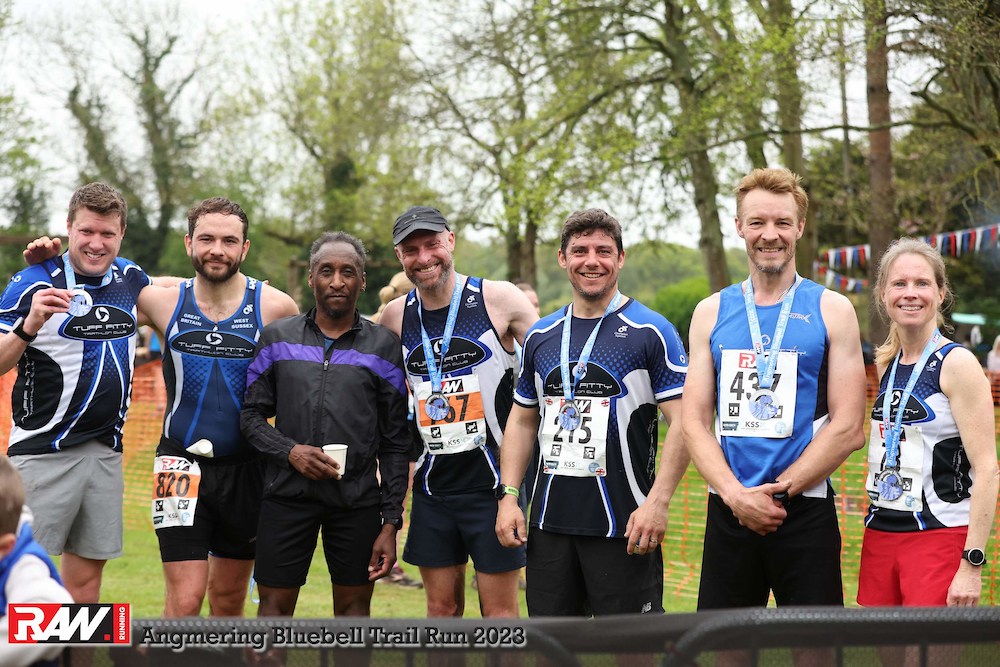 BLUEBELL 10 MILE/10K TRAIL RUN
First off was the 10 mile run and here we had 8 runners with Alex Webb running well to cross the line 10th overall in 68:33. Gareth Coombes finished in 13th position. Olivia Morey had a great run to finish 12th female overall with Pete Littleboy 8 seconds behind. One minute behind Pete came Stuart Harvey. Jess Coombes & Leah Simms followed, then Janet Shepherd crossed the line. Thanks to Pete for his thoughts:-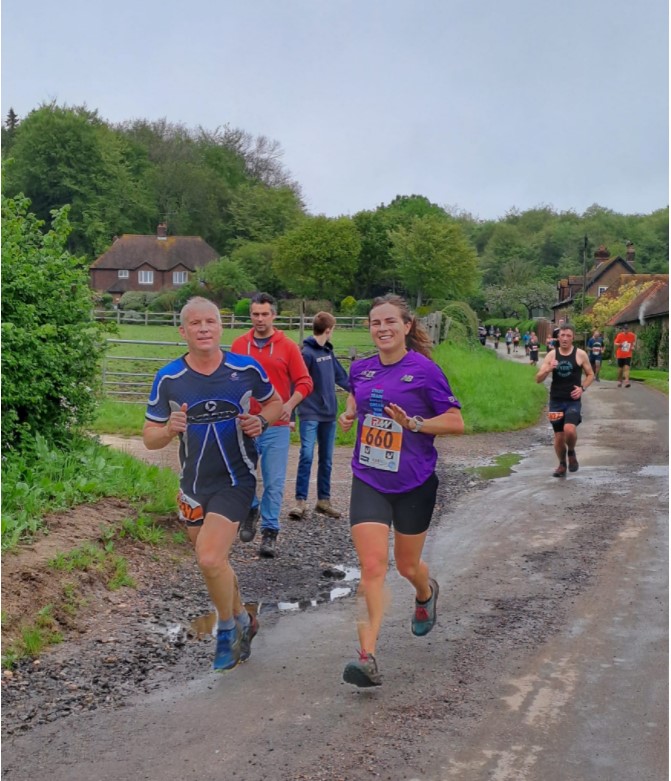 Pete & Olivia
"The previous weekend I had taken part in the HH sportive on the Saturday and WHM on the Sunday, so this weekend I took part in the Bluebell 10miler as practically being on my doorstep. I decided to cycle beforehand as it had rained hard on the Saturday, parking was limited and going to be muddy. It didn't disappoint as it never does, however it doesn't get any easier and the terrain was tuff going and my legs soon let me know, as they felt like lead weights by mile 3. so it was a case of just complete, not compete mode which was activated with a smile of course. When I was joined by fellow tuff Olivia for the last few miles it gave me a much needed boast to finish that HILL. Then as we were at at the Fox pub it would be rude not to as it's 5aclock somewhere!".
Pete
Fifteen minutes later the 10k runners were off. First Tuff home finishing fourth overall and first Vet was Simon Thistlethwaite in 41:35. Sixth position overall and second Vet was Simon Grundy. Jon Babbage had a good run to finish in 8th. With Oliver Thomas 14th it was clearly a 'good day at the office' for Team Tuff. The good news didn't finish there as strong running from both Malcolm Brown and Paul Martin negotiating the trail course with the steep climb both finishing in under 50 minutes. Kate Cooper punched out her usual strong running to cross the line as second female vet. Wendy Frost, Karly Martin & Claire Moyle crossed the line at the Fox Pub to join in the celebrations of our 10 10k-ers.
Not only did we have the largest club contingent racing; the Raw Energy Team had many Tuffs helping to ensure the 18th Bluebell run was another success. Well done to Andy Rossiter, Andy Ward, Clive Harvey, Race Director Debbie Boxall, Jon Roper (who cycled miles setting up the course and acting as lead and sweeper biker), Marc Rice, Tiff Orton & Trevor Harvey. These 8 together with our 18 runners, and several others supporting, yet again demonstrated the depth and strength of our club.
Thanks to two of our 10k runners, firstly Alex & then Claire for reporting in:-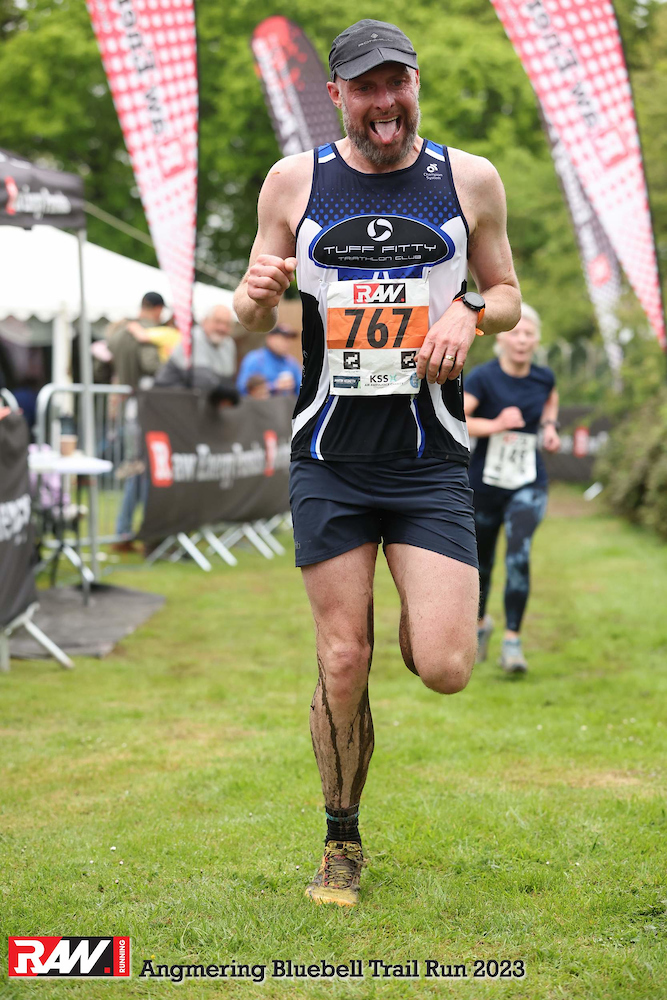 "My first time doing the Bluebell. It's always been on the bucket list but have never managed to run it due to one thing or another. This time both my wife and I signed up for the 10 mile".

"After the recent heavy rain we were expecting mud. The first half was surprisingly firm, although the hills were a killer. But after the 10km point it got very wet and muddy and that really sapped the legs. The final hill was tough but I knew what to expect and pushed hard for home (as evidenced by my lolling tongue in the above photo)".
The Guinness went down very well later that day."
Great to see so many Tuffs there and special shout out to the Tuff volunteers helping to organise it – including Tiff, Wardy, Clive and Trevor.
Alex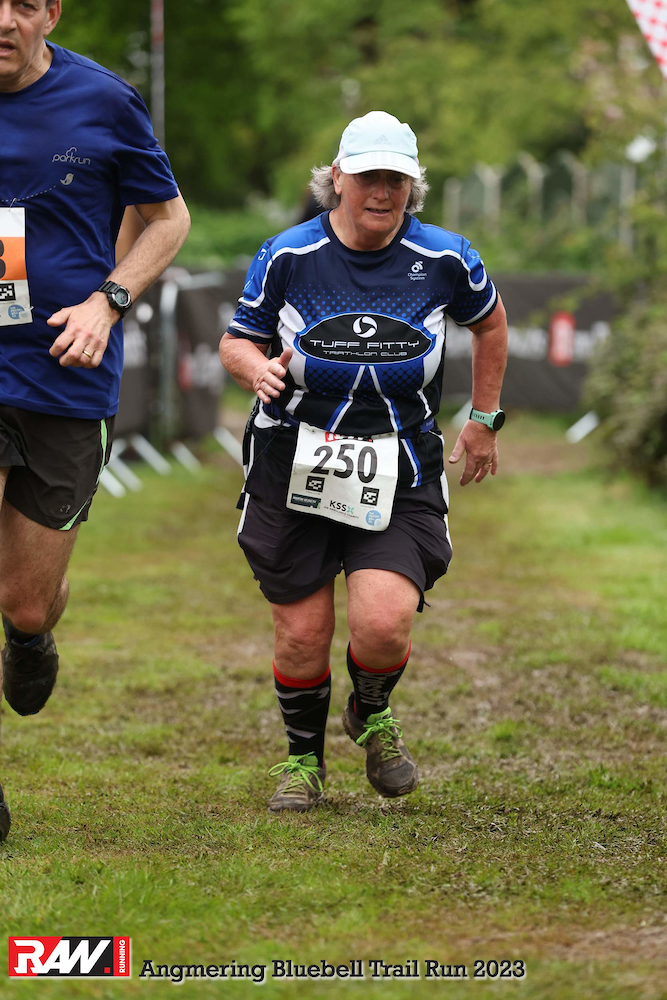 "This is an event I have wanted to do for ages and I have either been too late to enter or it has clashed with other events I have already entered. This year I got my timing right an entered, also with my daughter and Rex our cockapoo. Despite the bad weather leading up the to event it wasn't as muddy as I had expected. Well organised, friendly and with beautiful bluebells what more could you want on a run. Despite an issue with my glutes I really enjoyed this event, even the hills and there was plenty of Marshall's and other runners to support you. Great medal at the end too".
Claire
The flickr album has a mix of Sussex Sports photos together with others including Sue Simpson who was taking pics out on the course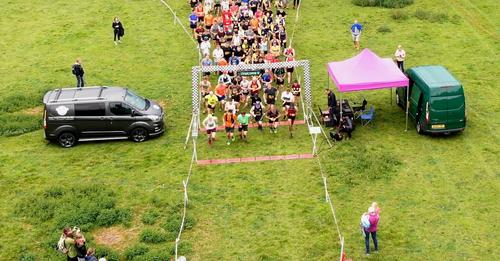 MIDHURST MILERS – COCKING TRAIL 10k
Starting from Cocking, nestling at the foot of the South Downs, it was perhaps of no surprise that from the off the first mile contained 600ft of ascent. Rdemption at the top came in the form of a bagpipe player! A fast descent followed only for a further climb to the highest point. The scenic views at the top were rewarded with a fast downhill to the finish. Two club members were present who both ran well despite having completed parkrun the day before. Katie Young finished the very undulating course in 56:01 which placed her 6th female overall and 1st Female supervet – brilliant. Will King also ran but was in no way a supporting act as he ran well in 64 minutes to finish well up the field of 215 finishers.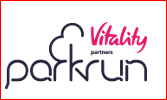 PARKRUN ROUND UP
Bognor parkrun was cancelled due to a Coronation big screen event, which was in itself rained off at the last minutes leaving it too late to reinstate the parkrun. With some regular runners out in Majorca for Tuffs on Tour, rain and the Coronation, eleven parkrunners is the lowest we have seen for many weeks, but still some strong runs recorded.
Littlehampton parkrun saw the largest Tuff contingent this week with Katie Young crossing as first Tuff home as 6th female home. 18 seconds later Kev Pearson crossed the line. Will King was next and then Colin Simpson on his 225th parkrun. Clive Harvey was followed by Steve Bridgeman & then Sue Simpson who was once again on Cani-cross duty. Alistair Evans notched up his 125th parkrun.
Worthing parkrun unusually saw just one club member running – Jay McCardle who was on pacing duty this week.
Lancing Green parkrun saw Sue Pinky return to action after her marathon.
The parkrun tourism this week came in the form of Upton Court parkrun close to Slough where the run covered grass terrain. Trevor Harvey was present at this one.