Weekend Round Up 29th 30th April
Tuffs are busy people, but for this Round Up you need to find a spare 5 minutes as this week it is rammed full of race action. Grab a coffee and sit down to read about some fantastic performances. Such is the quantity of races this was almost split into two editions, but with further reports awaited from the Hyrox Doubles event in London & the World Aquathlon Championships in Ibiza, these will be carried forward. Read on:-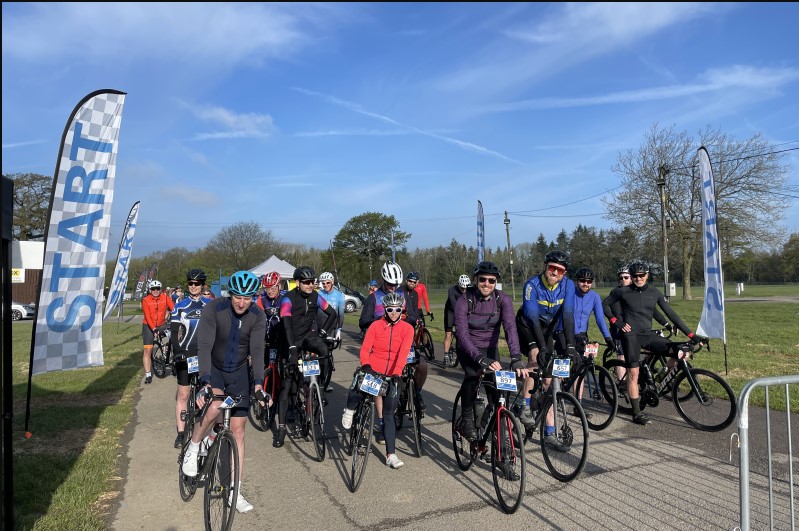 HAYWARDS HEATH SPORTIVE
Starting from the South of England Showground, riders could choose between, Long course of 163km which comprised a figure of 8 course almost down to Lewes and up to Edenbridge. Medium course covered 105k and a short course. All riders had to commence before 9am and it was a strong Tuff turnout.
Entering the long course were Dom Amey and Clare Worgan riding around the course with 1,850m of ascent. A 100 mile ride would be impressive at any time but they both deliberately signed up for the Worthing Half the next day. Mike Barrett had signed up to take the longer route, but in the end followed the middle route.
The middle distance route like the long course saved most of the hilly bits for the second half of the course. There was almost a peloton of Tuffs. A group of Gareth Coombes, Olivia Morey, Phil Scales & Mark Sole, all finished together. They were soon joined at the finish by Liane Davids. Pete Littleboy finished next, Callum Kalbfell, Jess Coombes and Iris Bennett with Adrian riding with Jenny Oliver. It was unfortunate news for Nathan Bilham who realised taking his TT bike was not within the rules. He still undertook the route to finish amongst the Tuff riders. Kudos must be bestowed upon Mark Sole, & Pete Littleboy who also were entered for Worthing Half Marathon the next morning.
That's a super Tuff Fifteen who cycled around Sussex and thanks to Barry Davids who became the 'Tuff eye in the sky' again with his drone footage below:-
LInk follows:- https://www.flickr.com/photos/161223254@N04/52861990456/in/album-72177720307929421/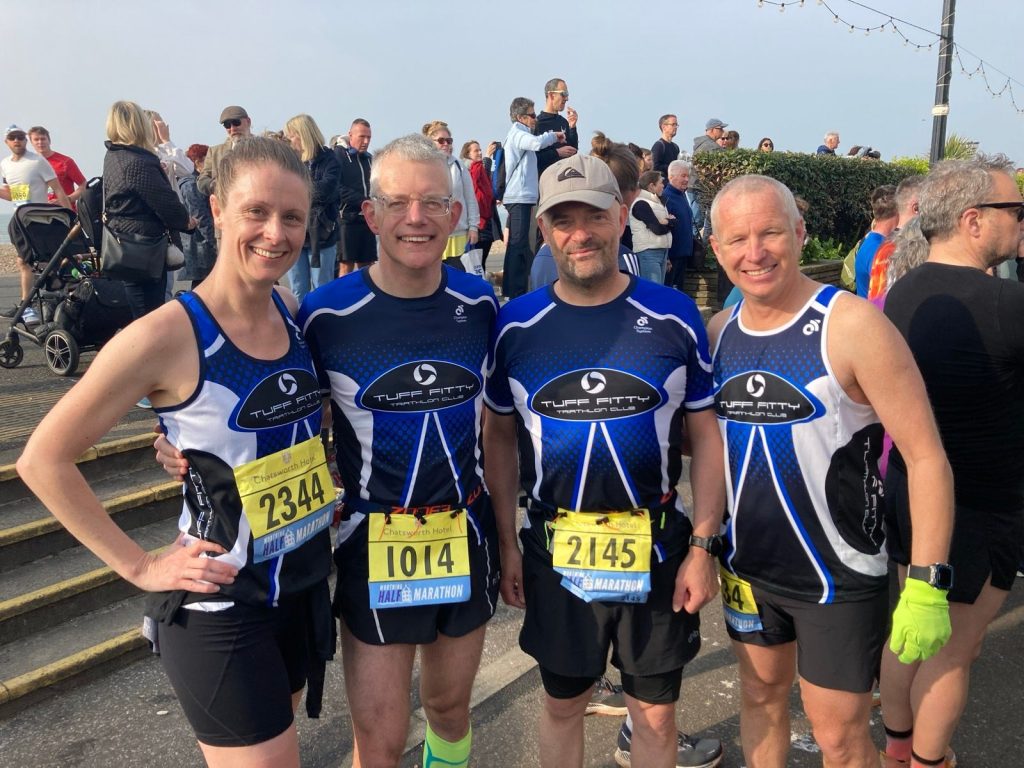 WORTHING HALF MARTHON & 10K
Worthing Run-Fest on it's second staging under new ownership saw 1,830 competitors finish the seafront course from Worthing centre. This saw an increase of 300 finishers across the Half Marathon & 10k and this was before the new addition for 2023 of the 'Family Mile'.
In the Half Marathon, Dave March was first Tuff home in 1:37:32. Pete Littleboy did well off the back of HH sportive finishing next in 1:38:47. Esther Fair was next home in 1:39:07 an impressive 5th in her age group. Dom Amey was another combining the HH finishing in 1:42:04. Mark Sole (also cycling yesterday) was our fifth Tuff home & then it was nice to see Stuart Harvey back on the race scene after taking time off through work. Strong running from Clare Worgan after yesterday's Sportive. Vicki Hedger ran with Ness Green with Nina Tully completing our Tuff Ten finishers. Thanks to Kate Cooper who was on marshal duty and to many other Tuffs out on the course (too numerous to name) cheering and taking some pics:-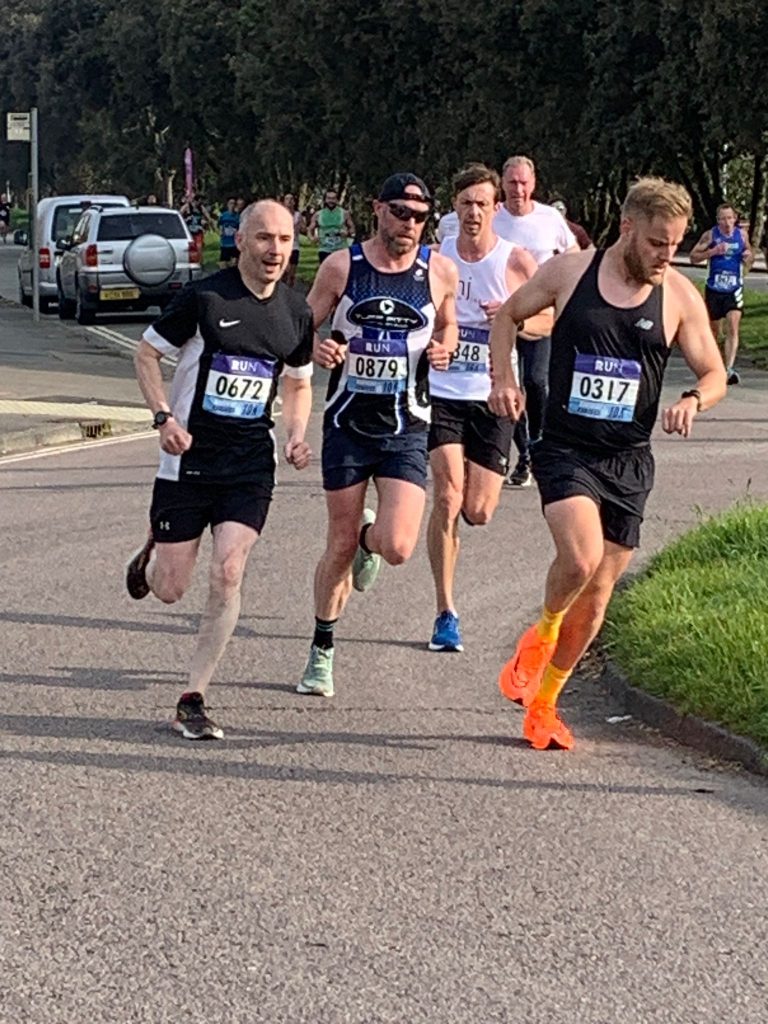 In the 10k there was a fine performance from Alex Webb 39:20. Jon Cassell was next in a strong 41:23. Paul Martin, Vicky Cooper, Kate Evans & Karly Martin completed the Tuff sextet with Alex reporting in as follows:-
"Second time running the Runfest 10k. Saw a few Tuffs at the start, some doing the HM, some the 10k. Slightly different route and finish to last year but thought the changes worked. The race itself felt bigger and there was a nice atmosphere to accompany the lovely weather – perfect running conditions".
"I went hunting a PB which I managed so can't say much fairer than that. I was also delighted to learn I came second in my age group."
"Next up, Bluebell run on Sunday 7th. Very different sort of running! "
Alex
Click on the photo below for an album of shots on Flickr for shots of some of the Tuff sixteen on the prom.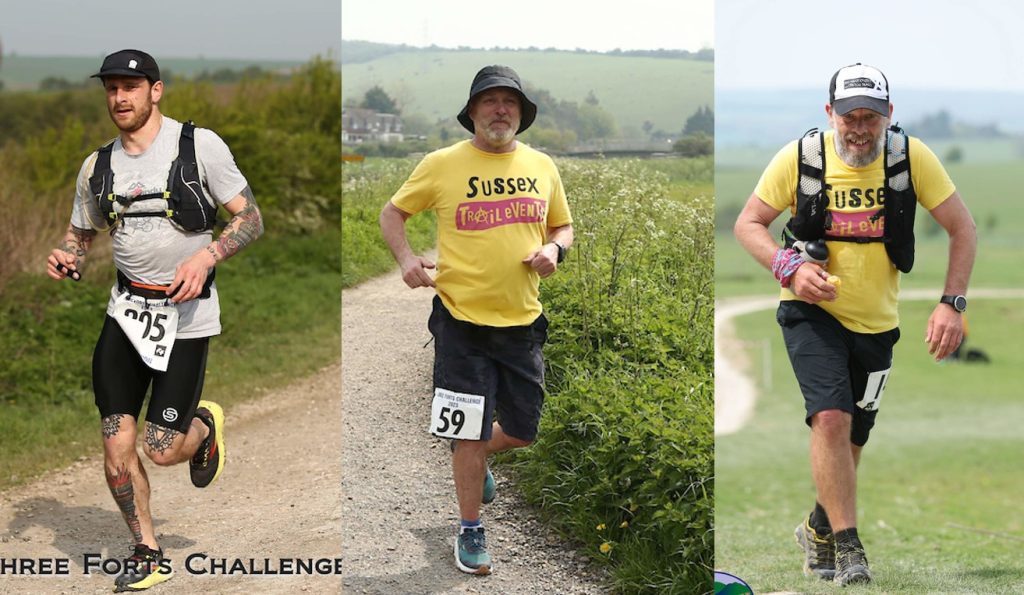 THREE FORTS CHALLENGE
With the option to race the full marathon, half distance or 5 mile trail, the race is known as 'The tough one!' including circa 3450 ft of climbing with stiles and rough tracks underfoot. The scene is set from the start at Hill Barn climbing up to Cissbury Ring, and then across to Devil's Dyke before returning. There was a trio of Tuffs entered for the full marathon as the event shot here highlights – Ben Thomson, Danny Cunnett & Jay McCardle. Especially in view of the terrain and that the marathon is longer than a standard at 27.2 there were three impressive results.
Having made his event debut at Splashpoint recently, Ben Thomson had a superb run finishing third overall in just 3 hours 35 – almost four & a half minutes ahead of fourth place; fantastic work. Our two mega ultra marathoners followed in the form of Danny Cunnett & Jay Mccardle sporting their Sussex Trial Events branding.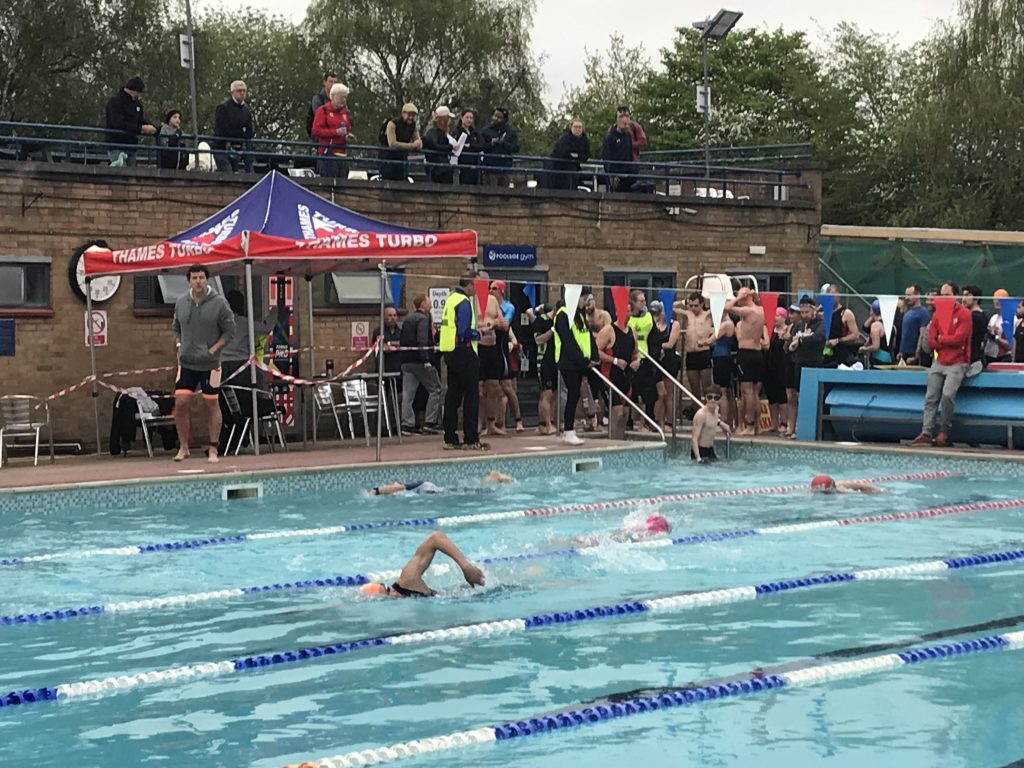 HAMPTON POOL TRIATHLON
Hampton Pool on the edge of Bushy Park was opened in 1922 to try and stop swimmers going for a dip in the nearby Thames. It is also the home of Thames Turbo Triathletes and Trevor Harvey has reported in:-
"I thought I'd have a go at a local-ish, (for me) Tri, and hence I headed to Hampton open air pool for the Thames Turbo Sprint Tri on Bank Holiday Monday".
"Ugh – the first number on the alarm was a 4, but after registering I was standing around the edge of a pool absolutely fffffreezing. Luckily, the pool was heated for the weird distance of a 426m swim. Start in one corner, up, down, under the ropes exiting at the opposite corner of the pool. Off on the bike for a flat, (potholed), ride to Hampton Court and then back & out to Shepperton, with a 7 minute non-compete final section. It included major traffic lights; everyone was given the 7 minutes, but if you were over, that was added to your time. After racking, a scenic 5K run around Bushy Park, where the finish was. A gentle stroll back to the pool thereafter".
"Whilst warmer temperatures would have done, a well marshalled race………the only gripe – absolutely nowt/zilch/sod all at the finish. Now, I've got enough medals, (you could buy on the day for £6 [no thanks]), but you did have to state T shirt size at the outset and the maps detailed a gazebo to collect your shirt! Whilst I've got plenty of T's, it did imply you'd get one….and for £49, not even a sweety at the end! (They also lumped all the old gits into the 50+ category, not all the usual groups). Nevertheless, an enjoyable outing". (Editors note: Trev subsequently worked out he came second in his BTF grouping, just 40 seconds off 1st, including as he put it' fastest old git in the swim!')
Trevor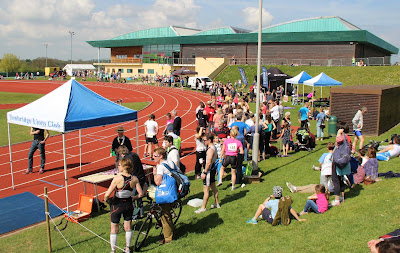 TONBRIDGE TRIATHLON
The Tonbridge Triathlon is a long established event, first held in 1994. Indeed some of our longer serving Tuffs will recall this as a regular Club Championship venue many years ago. This year Mark Walford was our representative. Mark's thought are below, although he neglected to point out he came third in his age group – nice.
"I entered Tonbridge triathlon as an early season sharpen up. Bank Holiday Monday and to my delight a 10.30 start for me, meaning a lay in and a race. My main objective was to see where my fitness was and make a few mistakes to learn from. In transition I was shocked I hadn't forgot anything apart from an elastic band, which isn't really needed but someone kind gave me one. Down to swim start, it was a rolling swim start in a pool, odd but seemed to work, I managed to get a lane to myself for most the swim which was nice to get true gauge of speed. Long transition to the bike, all went smoothly. Onto 25km bike 18km of which was uphill! Challenging ride but managed to ride well, minus a few traffic issues, then nice transition into a 5km run on grass then adding 300m to finish on a track. No major mess ups, looked at results and very happy until I saw I have now officially become a vet in the eyes of BTF. All in all, a good start to the season, would recommend the race but if nervous on bike maybe not for newbies".
Mark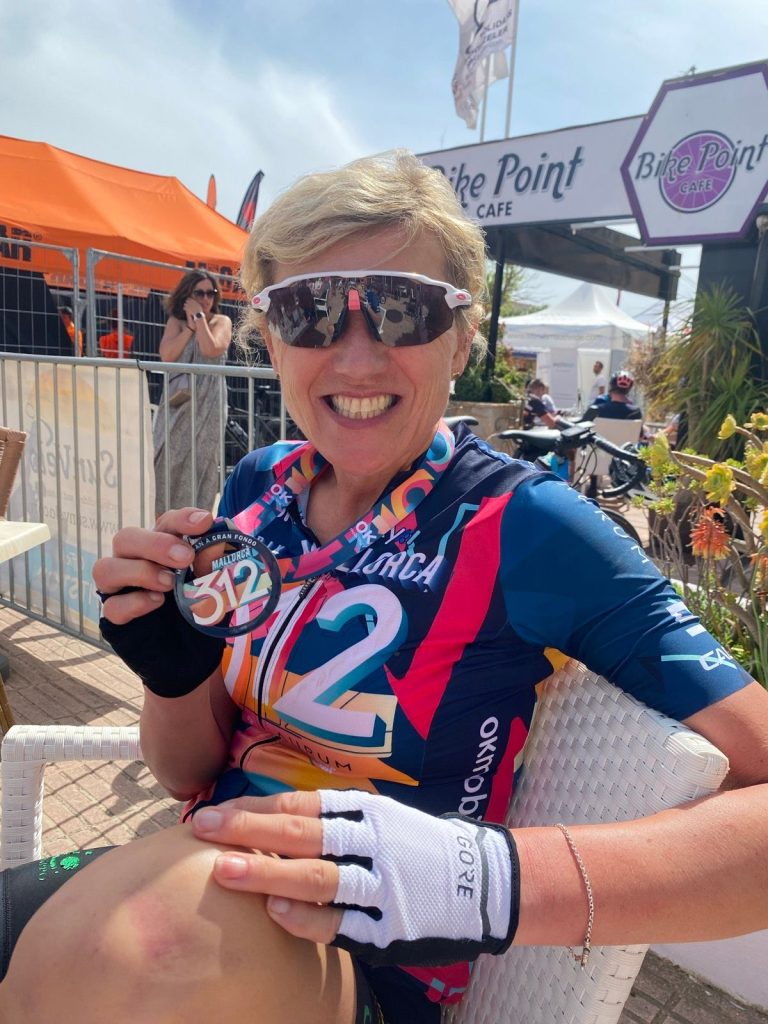 312 MALLORCA
The starting point must be, what is the 312 Mallorca? Mallorca 312 is a famous cycle sportive in Europe, a claim backed up as it is held in a spectacular cycling destination on totally closed roads. It's also got a reputation for being one of the hardest amateur cycling events out there. There is a choice of the full 312km (194 mile), the 167Km & Mallorca 225km. Over 8,000 riders register annually and in amongst these was Sue Neilson who undertook the 167km route which contained most of the ascents as Sue climbed over 7,200ft.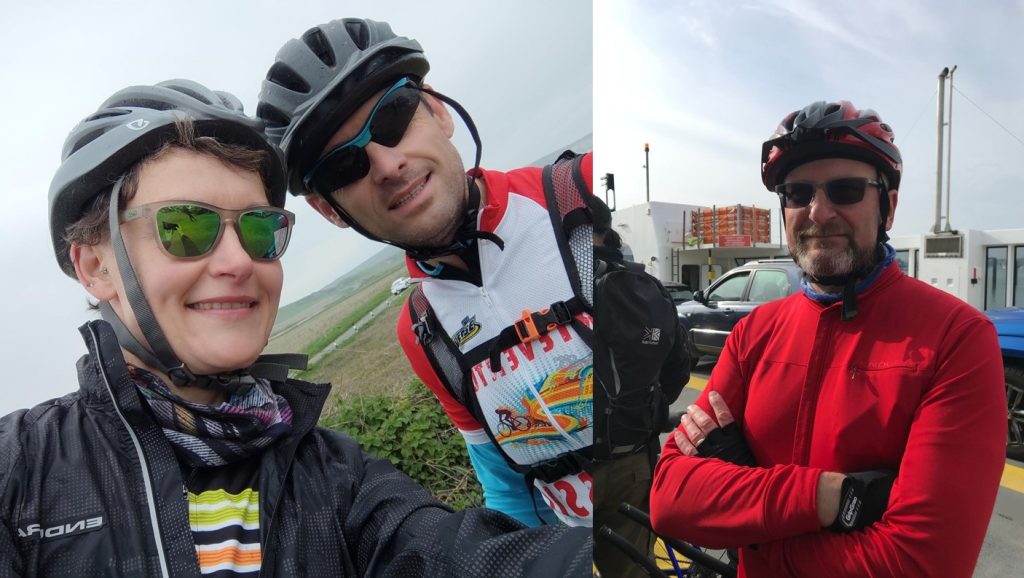 Emma, Spencer & Ed
ISLE OF WIGHT RANDONNEE
The plethora of Tuffs riding the Isle of Wight Randonee last year inspired four further Tuffs to return or ride for the first time this year. The Randonnee follows the Round The Island cycle route following the iconic blue road signs in a clockwise direction. Always popular (& Free to enter) 3,000 rider took part with the route always clockwise to enable riders to spread out before they reach the chain link ferry at Cowes. This year there were four Tuffs cycling; well done to Edward Lay, Emma Hinton, Spencer Scott & Leah Simms. We are particularly grateful to Leah for reporting in:-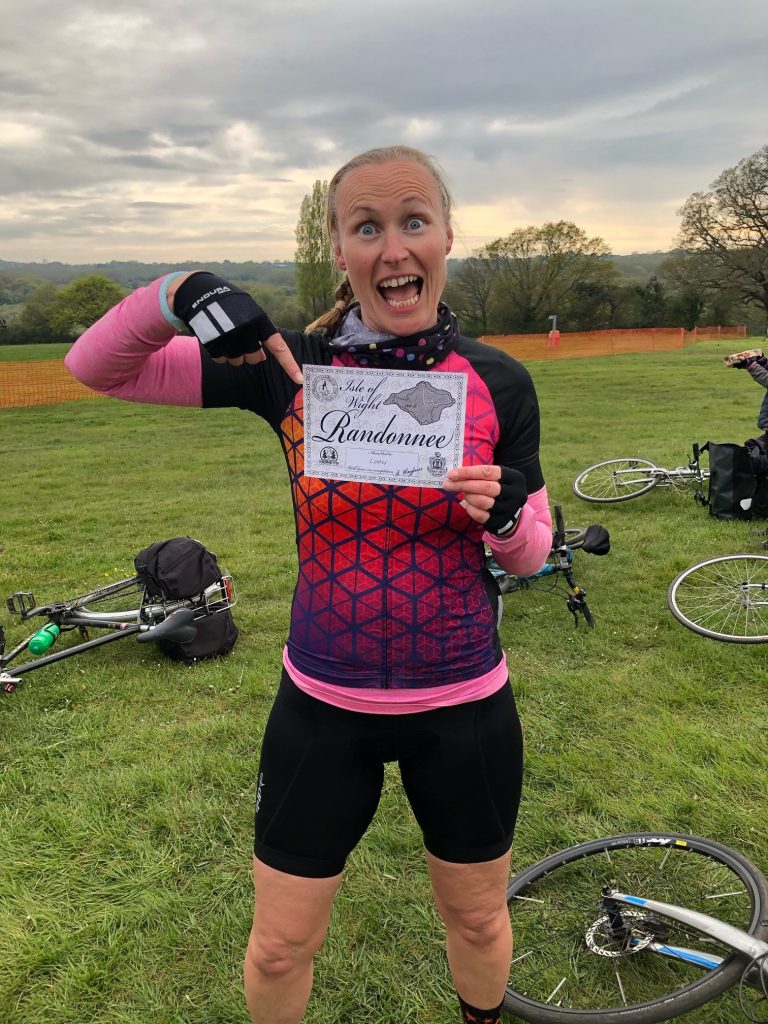 Leah
"Having been inspired by the Tuffs that completed IOW Randonnee last year, it was on my list of events that I really wanted to do this year".
"What could be more lovely than to ride 66 miles around the IOW with no pressure of a race environment or finish lines. They clearly stated, it is not a race or a sportive. I'd give that a go".
"I heard it was going to be hilly but, I totally underestimated just how hilly it was. The hills just kept on coming, up and down up and down. It was relentless at times".
"The weather (albeit foggy) and the food and drink checkpoints were a light relief from what seemed like a hilly ride with the occasional flat road".
"If you blinked you could have missed the road signs that you needed to follow. Was it white on blue island or blue on White Island that we were following??? It all depended on which way you were going around the island. One of the turns had 2 choices (that I missed) and therefore I took the gravel track instead of road route which was interesting on a road bike".
"Time was not on our side, we missed our booked ferry slot home but, we got to our final checkpoint with minutes to spare. Seeing Emma Hinton and Spencer Scott on their way out for a quick hello".
"Wight link ferries were very accommodating allowing us to squeeze onto a ferry that was leaving imminently what with our late arrival for our booked departure".
"All in all a good day albeit tiring at the end".
Leah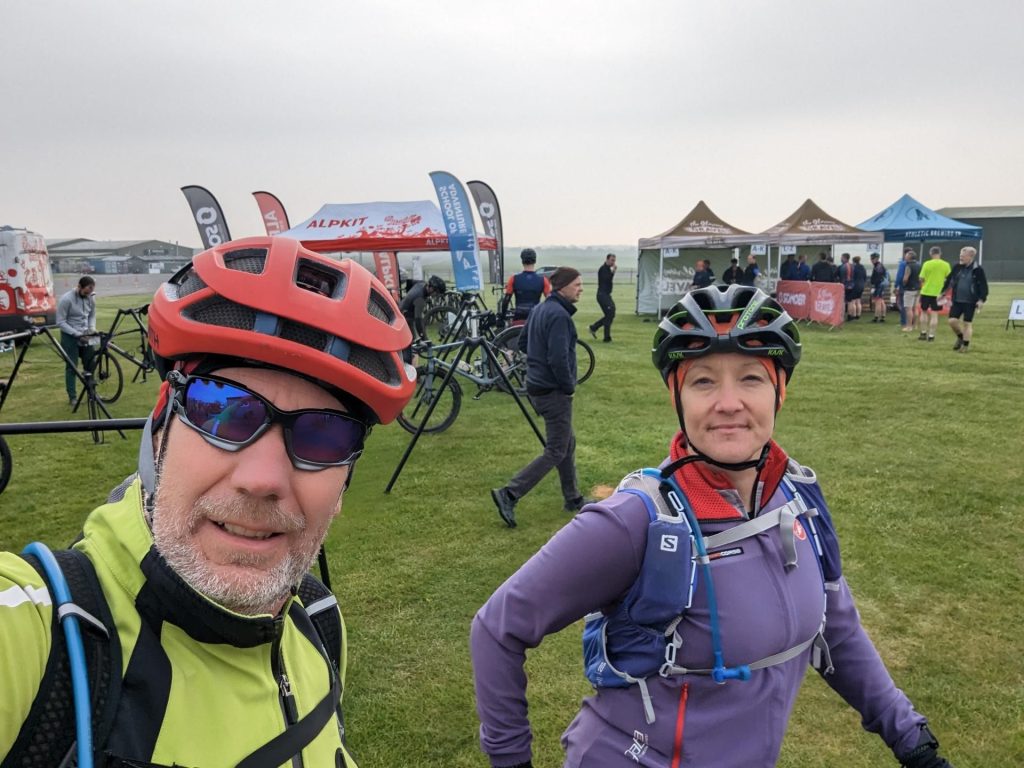 Jon & Tiff
GLORIOUS GRAVEL -SALISBURY
Part of a series, Glorious Gravel Salisbury was a mix of road, singletrack through the woods and gravel trails across Salisbury Plain. There was a choice of 86km medium or full 119km long route with aid stations every 30k. Tiff Orton and Jon Roper took part across the medium distance – a route with a 3 out of 5 star difficulty plus 1,000m of ascent.
Tiff reported that it was a great event, beer and coffee at the finish, as well as bling, and a highlight was getting buzzed by two very low flying Chinook helicopters as they rode across the Plain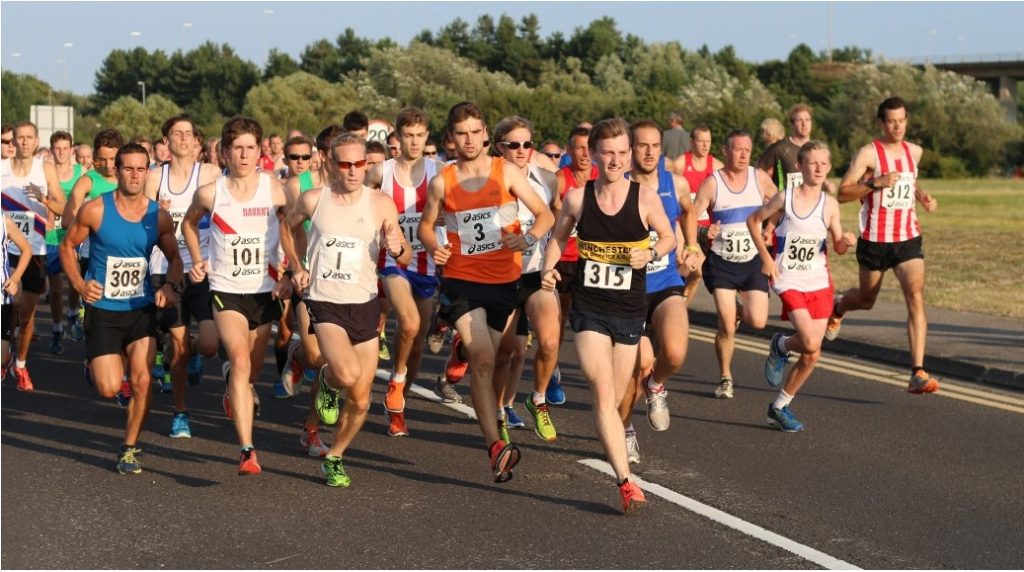 LAKESIDE 5K SERIES
A series of 5 Wednesday evening 5k runs held at the Lakeside North Harbour complex at Cosham. With a 7:15 start Nathan Bilham was present. A strong run from Nathan who finished in 21:04. Four more meets are scheduled on a monthly basis.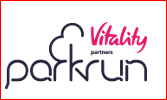 PARKRUN ROUND UP
Our latest batch of new Tuffs are doing well as illustrated at Littlehampton parkrun. Simon Grundy is on the comeback trail from injury and whilst still off his sub 20's PB still finished in 21:24. Another club member getting back into his parkrun, Richard Jay was our next club member home.
Worthing parkrun saw Steve Feest as first Tuff home this week. Les Pearce was next on his 193rd parkrun.
Maidenehead parkrun saw Trevor Harvey in action twice. Firstly as course set up marshal and then running the event.
Bognor parkrun had just one Tuff this week as Clive Harvey ran.
Whilst not so many Tuffs at parkrun due to the packed race action, there was still some parkrun tourism by Sue & Colin Simpson at Moors Valley parkrun. The one lap course around the Moors Valley Country park and forest is just outside Ringwood. This venue was a first for both of them as this represented the 73rd different parkrun venue for Colin and the 64th different venue for Sue – very impressive parkrun tourism.