Weekend Round Up 13th 14th May
Mid May and we have yet another action packed Round Up to share with a wide range of events and terrific results to report on:-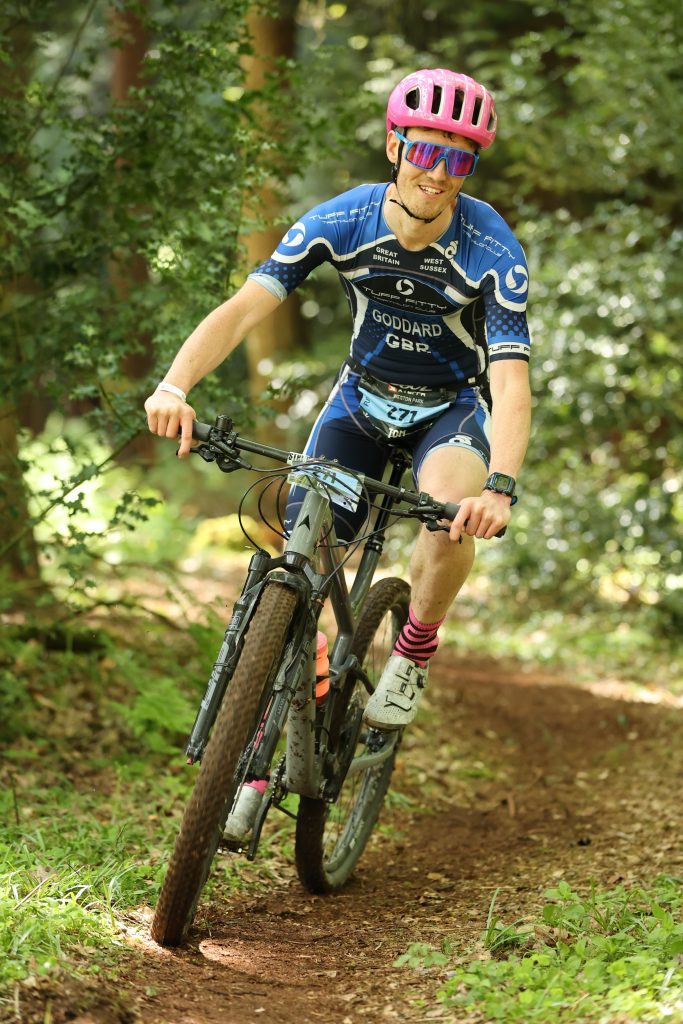 XTERRA TRIATHLON
Weston Park House was the setting for Xterra's event, where competitors could choose between the standard distance, Sprint distance as well as a Duathlon. Tom Goddard raced the Standard and has submitted the inspirational report below:-
"On Saturday 13th May Xterra racing returned to the UK for the first time since 2015. For those who aren't familiar with the format it is a standard distance triathlon with an open water swim, a mountain bike ride and trail run, usually with some other unique and challenging obstacles along the way! This year's race was at the stunning Weston Park in Shropshire and consisted of a 1.5km lake swim (which felt like it was off-road with the amount of pond weed in it!), a 28km bike and an 11km run. There was quite a lot of hype around the race with a certain double Olympic champion from Yorkshire making his off-road debut.
Now, I had been at a wedding the night before, with much drinking and dancing, and oblivious to the hype, was quite surprised to bump into Mr Brownlee at the swim start! I reminded him of how close I had pushed him when he became European Champion in Kitzbuhel in 2014, and he reminded me that since then I have had two kids, barely done any training, and that 20 minutes down isn't that close!
The sun came out for the race start and we set off into the murky, 14oC water serenaded by Meat Loaf singing Bat out of Hell. I had an alright swim thanks to the two Tuff Thursday swims I had attended this year but didn't manage to stay on Ali's toes as he led out of the water.
Onto the bike, and this is where the real suffering fun begins! The course was well designed, and great fun, but with constant switchbacks, mud, steep climbs, roots, rocks and ditches there is no freewheeling! Being a two lap course there is also a lot of overtaking to do as you lap riders which involves sprinting flat out at any opportunity where there is a bar-width sized gap to sneak through.
Miraculously I survived the bike without falling off or getting cramp and felt surprisingly good heading out onto the run. Brownlee had dropped to second place behind France's Maxim Chane (a regular on the Xterra circuit) on the bike but was chasing hard. I was reclaiming time on the pure mountain bikers and it was very satisfying picking them off. We headed back into the woods and were confronted with a classic Xterra surprise, a cliff with two ropes to pull yourself up on! It was great fun. We then headed down into a gorge where I regretted my elastic laces losing a shoe in a bog! Tying them as tight as I could the rest of the run was a blast and the atmosphere at the finish electric.
It is without doubt the most challenging, but also most enjoyable format of racing I have ever done and I'd thoroughly recommend it to anyone. There is also a brilliant atmosphere which is more relaxed and fun than road racing. I'll certainly be back next year! I think Ali will be too as he managed to overtake Maxim in the run to win by 45 seconds!
Tom.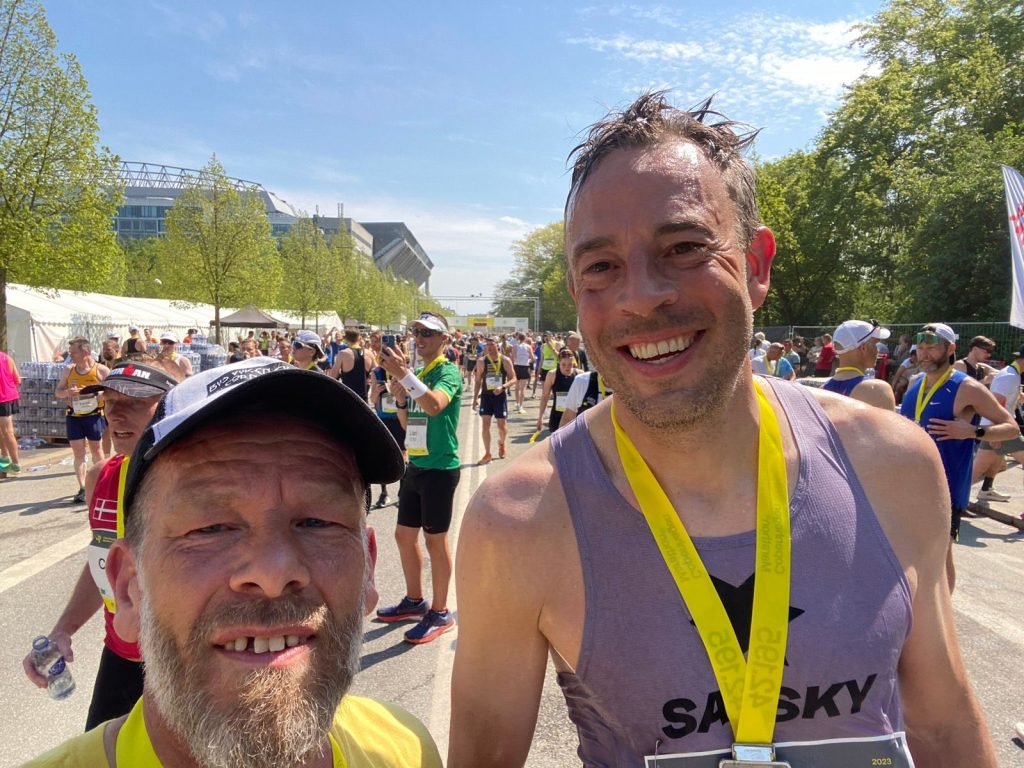 COPENHAGEN MARATHON
Copenhagen Marathon is a certified World Athletics label road race with 12,000 competitors stated to be around a fast and flat course. This year we had a Tuff representative running – Jay McCardle
"Back in my youth I shared a flat with 5 people and one of them was a Danish bloke called Henrik .. We hadn't seen each other for 23 years and as we have both outgrown our party days it seemed a good call to catch up with him and do the Copenhagen marathon. A beautiful city to run around and was a rather hot day which came out of the blue for them. I was just ahead of the 3.40 pacer group and would have liked a 3.30something but the bike lanes and the curbs for them are everywhere, so me being me went straight over a bit of a roll and cut my arm up so the pacer train disappeared and I limped in. Still happy with a 3.44 though, legs are pretty beat up after 3 Road marathons in the last 2 months so back to the trails for me. Western states here I come !!!!!! Eek"
Jay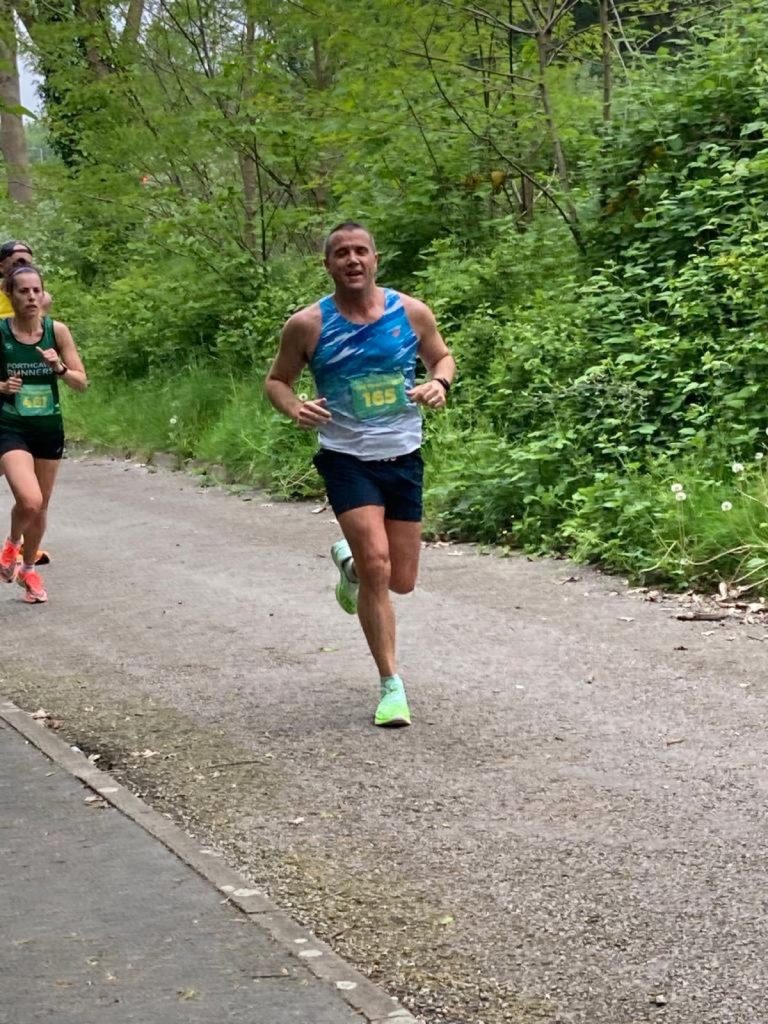 Fraser
BRACKNELL HALF MARATHON
Two of our more recent members, Fraser and Amy Kidd have getting back into sport following the birth of their daughter Georgia. We have already seen Amy's super quick swim credentials in the pool and this weekend it was the turn of Fraser who completed Bracknell Half marathon. It was a great comeback race for Fraser who modestly omitted to say he was in the top 7% of finishers. Fraser reported:-
"A sunny anti clockwise undulating route around Bracknell, Berkshire. It was never going to be a PB course with the hills, trails, underpasses, and corners. I kept my pace disciplined by keeping within 15 metres of the Bracknell Forest Runners 1:35 pacers for 12.5 miles, before pushing to the finish. Happy with a 1:33, after 8 weeks of training. Next up the run leg for Team Frost Kidd's on Sunday!"
Fraser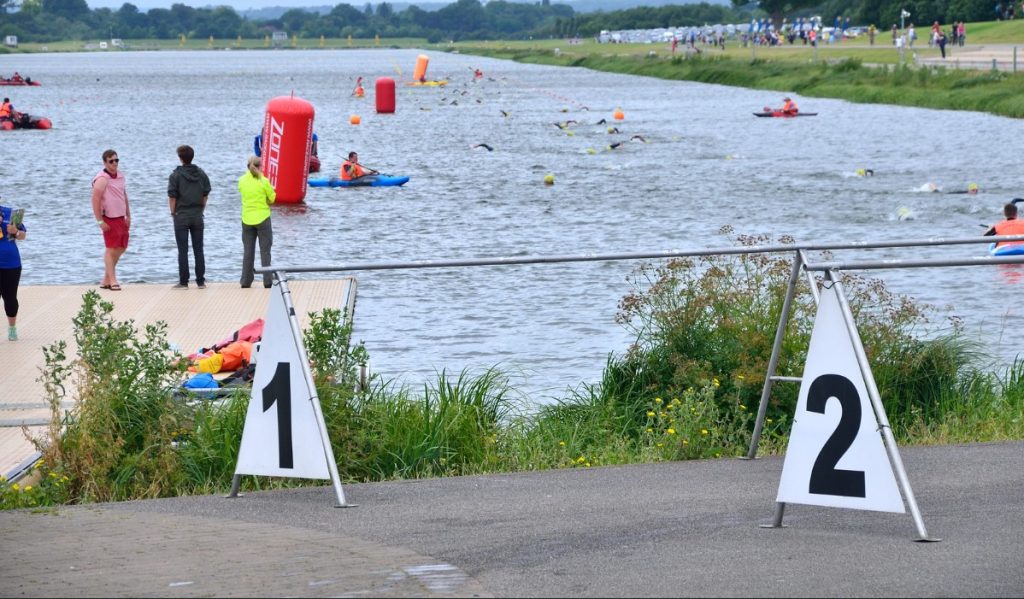 ETON SPRINTS WEEKEND
Dorney Lake, home to Eton College Rowing Club, holds regular triathlons throughout the year and this weekend Human Race staged SuperSprint and Sprint races. The Sprint distance of 750m swim, 21.2km bike and 5k run, was a qualifier for the 2024 European Sprint Championship. As the only qualifier in the South of England it attracted a large and quality field. In amongst these we had James Mapley along with Sue & Colin Simpson.
James recorded some great split times, his season has started well and he neglects to point out he achieved the second fastest bike split of the race. Pleasing to have two reports; firstly from James and then Colin :-
Dorney lake hosted the first European sprint qualifiers of the year last Sunday. A misty start gave way mid morning to the forecasted sunshine with negligible wind.
My wave was the open under 35's. The mass swim start was everything I expected – a complete bun fight but no hoofed noses or speared elbows were shown. I ended up around 30th out the water having swum at or near pb pace before making my way to transition. I made it out of T1 and into pack 2 on the road for the bike leg. This was my first draft legal event and, as suspected, had most been left to do so, we would've ended up pootling around for a 5km sprint run. Fortunately, after a few unsuccessful attacks, myself and two others bridged to the front group, which eventually swelled to around 12 riders. It was the group to be in as we gapped the next bunch by 1m30. The legs were a bit battered from the attacks and it showed on the run. I picked up the pace on the return leg but did lose some places in the final 1km. I crossed the line 12th in my race and once the day was over with all age categories included, I ended up 15th. I came away pretty satisfied, knowing I'd emptied the tank. Next up, Arundel Lido!
James
"Sue and I travelled to Eton on Sunday for the ETU sprint Euro 24 qualifier .
As often happens preparation doesn't always go to plan! Sue was suffering from a cold but decided to go ahead anyway. Whilst final cleaning and checking of bikes on Sat p.m. my Di2 decided to malfunction. A quick decision by me to get the old trek out of the garage and go with that; after all it did get me round an ironman 20 years ago!!!! Sue's race went pretty much as expected with a tired body but she finished to try another day. My race went fairly well, a fair swim…slow transition trying to get wetsuit off – those chips on your ankle are getting bigger and bigger. Onto the draft legal bike, whilst packs zoomed past me I did manage to hook up with an even older guy for a couple of laps which helped. T 2 was perfect. I started the run well but soon slowed in the noon day sun but finished strong. Final position was a creditable 4th in 70-74 (the advantage of a late in the year birthday) This should secure me a place in the Euros when they decide where it is!
James had a fantastic race..15th overall in a top quality field..also 4th in age group….Sue can testify to his ability as he flew past!!!
A few admiring comments on my old bike including one guy with the same model….
Colin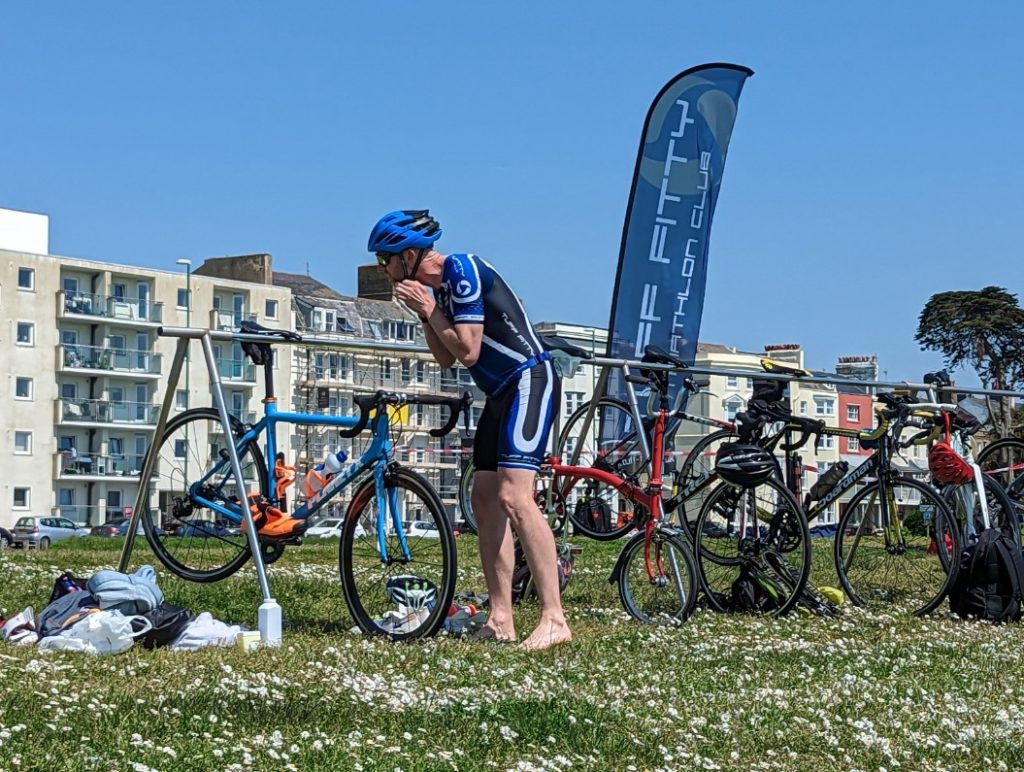 TUFF FITTY'S TRANSITION TRAINING
Swim, Bike, Run, are the official three Triathlon disciplines, but everyone ignores the fourth one – transition; at their peril. Therefore with the multisport season starting to get underway Tuff Fitty staged a practical Transition session with the session facilitator Mike Barrett. Held on the Green at Littlehampton it was a safe and spacious area to put advice and tips into practice. The first segment saw an explanation of the flow into and out of transition, etiquette of racking and tips on how to find your bike. This section was led by Clive Harvey who also explained the BTF rules of transition including bike mount and dismount lines. Tiff Orton and Mark Walford demonstrated kit layout and then all participants reached for their bikes to practice the best way to control their bikes running in transition. Tiff & Mark then demonstrated the different methods of mounting and dismounting the bikes, before everyone practiced through the pre-marked area. It was rewarding to see everyone trying the different techniques and gaining confidence; it proved to be an enjoyable session.
The next section was led by Jon Roper who took participants through how to change a tyre. Once complete then everyone was supported to take their own wheel off (the back as the hardest), to gain confidence and ensure their own repair kit contained what was required for their bike. It was great to see the smiles having learnt techniques and able to face potential future punctures without trepidation.
To round the afternoon off, the participants moved to The Wave where Wendy Frost & Catharine Western provided a seminar on nutrition rounding off with a question and answer session before Tuffs Saturday swim.
Thanks to Mike for organising the afternoon, and to Tiff, Mark, Jon, Clive, Wendy and Catharine, with coach Barry also supporting. The feedback from the attendees has been excellent and it is particularly gratifying how the depth of experience within Tuff Fitty can be shared for the benefit of all. Some photos/clips are shown in the following album.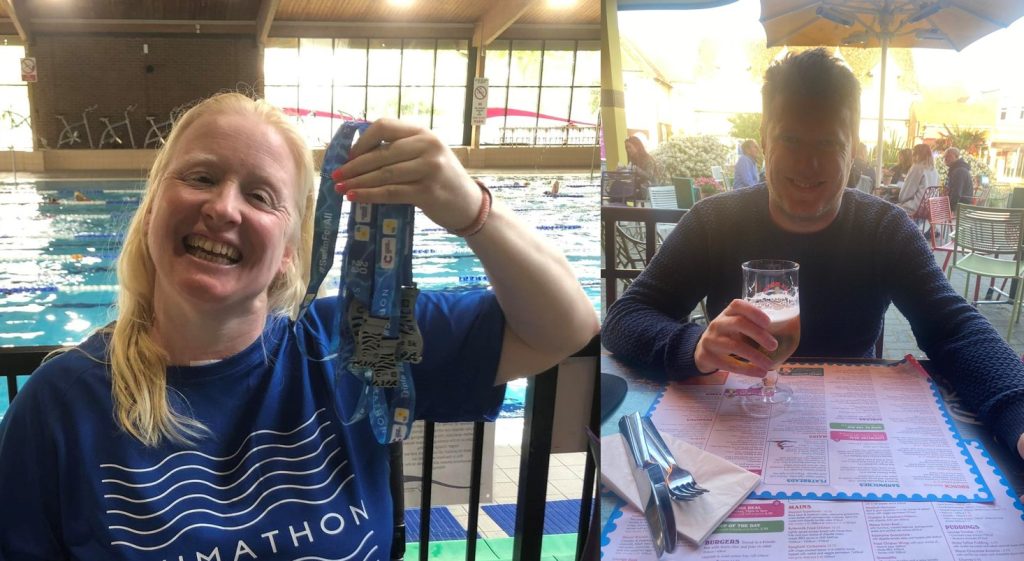 Helen & Oliver
SWIMATHON 2023
The weekend saw the return of Swimathon held over in over 450 pools across the UK with the fund raising helping Cancer Research UK and Marie Curie. There were two superlative efforts swimming three consecutive 5kms that deserve a mention – Helen Bull and Oliver Thomas. This was a great commitment from them both and thanks to Helen & Oliver for their thoughts below. With participation spread around the country it is likely that some Tuffs are missing from a 'shout out' but in addition to our two Triple 5K's it is learnt that Pete Littleboy, Katie Young & Will King also took part. They are pictured below with distances of 2.5k for Pete and 5k for Katie & Will – well done to everyone who took part.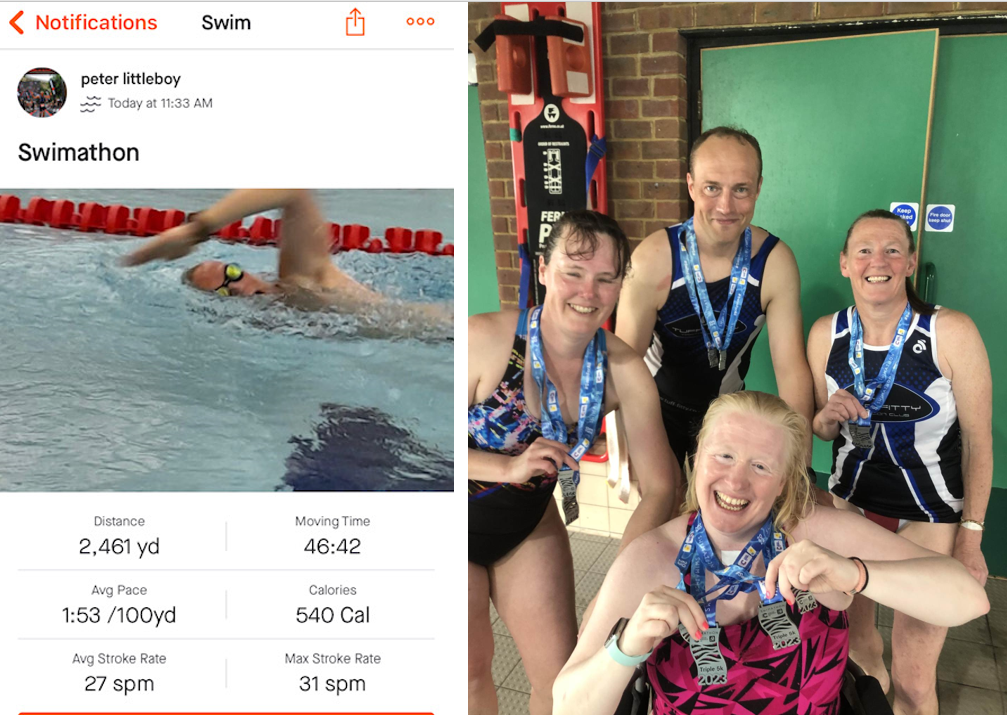 Pete, and Will, Katie & Helen
'I'm always looking for opportunities to challenge myself – the Triple 5km seemed a perfect opportunity to do just that! My fitness hasn't been great lately so I was just happy to complete the challenge. Actually surprised myself by finding cruise control mode!'
Helen
"The triple 5k was harder than expected. I was really happy with my first two time of 1 hour 15 and 1 hour 16 but by the third I didn't have much energy. Overall it was a really fun event with a great sense of achievement. Swimming to raise money for Cancer Research definitely helped during the hard moments".
Oliver
"I've been taking part in the swimathon event ever since the Aquarena days raising much needed funds to a charity close to my heart as cancer I believe has affected us all in some capacity. Therefore I don't consider this a race report but here we are perhaps bringing it to peoples attention? It's a pool swim and you choose your distance or distances and there's even a relay option. It's for all ages and so this year I chose Christ hospital Horsham on the Sunday and with a fantastic atmosphere I completed my 2.5k in 50min and received a round of applause and my medal. So see you next year?
Peter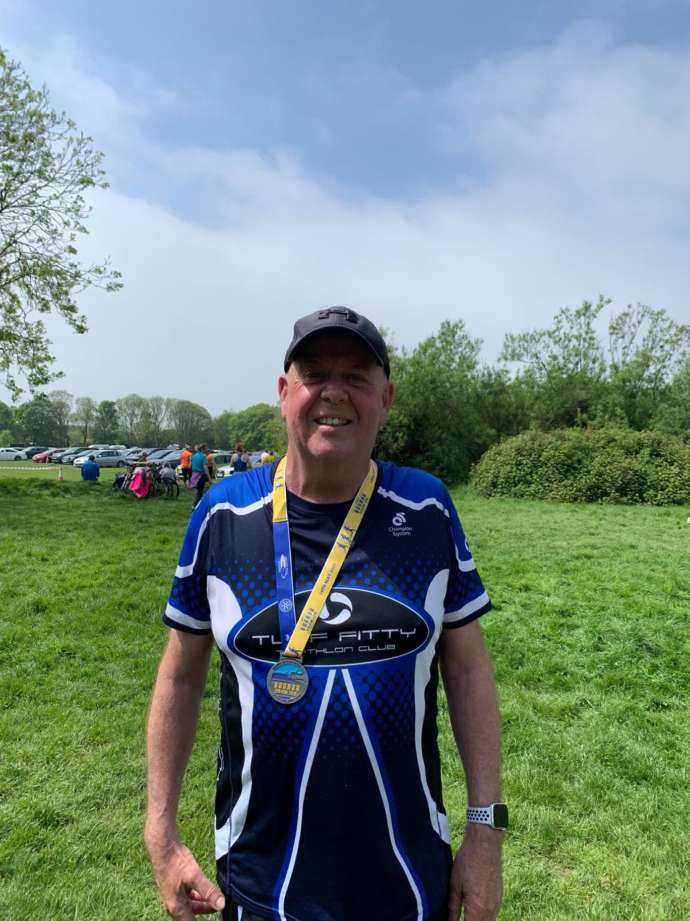 BOGNOR PROM 10K
Bognor Prom 10k is normally a good place for some Tuff spotting, and this year was no exception. In amongst the 1,200 finishers Mark Walford had a very strong run (particularly after standing in the sun the previous afternoon demonstrating his flying transition mounts). Mark finished in 37:34 – a new PB for him. Nathan Bilham was next Tuff finishing in 44:02 accruing a pb across 5k in the process. Katie Young followed notching up noteworthy statistics as 2nd in her age group and 24th female overall. Will King was next and delighted to have achieved a new 10k PB and then Alistair Evans. Thanks to Mark, first report & Al who have reported in as follows:-
"Sat in a pub just after Xmas with a few friends, who decided they wanted to get fit but have something to aim for. So 4 of us signed up to do the Bognor 10km. 5 months later, 4 of us down to 3. Grand total of training runs by others 5. So despite us all planning on doing it, how serious we took it was defined by practise. So I decided on Saturday to do the Tuff run and not rest, use race day as hard run. That was fine until my walk to the start when I decided to see how hard I could go. Partly because I'm competitive, but also perfect run conditions, cloudy 10degrees and slight wind. Said hello to mates who did well to make start line, starting gun went off and I throw caution to the wind and just go hard. My first km would be better suited to a max effort not a 10km, the field started to thin out and I settled into a good rhythm but quicker than it should go. 5km in and not far off 5km pb, now time to cling on. Growing up in Bognor and the course being full of spectators it was nice to get friendly encouragement to help me along, time definitely dropped off but not awful, with 1km to go I was very touch and go for making 37.30, so tried to claw back the time I needed but missed it by 4 seconds. Initial disappointment replaced by the thought this was over 1.10 pb. To my surprise my mates finished in good times with smiles on faces. Great 10km race, definitely recommend to anyone, fast flat and friendly.
Mark
"By the time I arrived the starting area in West Park was packed with runners milling around in groups, clubs, and those with family and friends. I bumped into a number of people that I knew from various events and parkruns but didn't see any Tuffs yet. As time ticked closer to the 10:30 start time many were stretching, or going through their pre race exercise and every one else was queuing for the loos. There was a great atmosphere and a buzz in the air as conditions were ideal to run with a bit of cloud cover keeping it cool and hardly any sea breeze. The organisation of the event was really good with plenty of smiling volunteers helping and answering questions for those participating. So off we all went grouped into our expected finish times. I set off with the intention of getting a 10K PB and found a group that settled into a pace that suited me. There was great support from the public with crowds clapping and cheering us all on along the majority of the route. There were regular watering points and even a garden hose providing a cool shower near the 5K point. I found the 7th and 8th K the hardest losing a bit of pace but found my legs for the last K finishing with a PB 01:05:06 over 2 minutes quicker than previous PB. So pretty pleased, just a little disappointed it wasn't under 01:05 (goal for next 10K). Back in West Park met Mark Walford, at last a Tuff! Recommend this 10K great fun, great atmosphere and very flat"
Al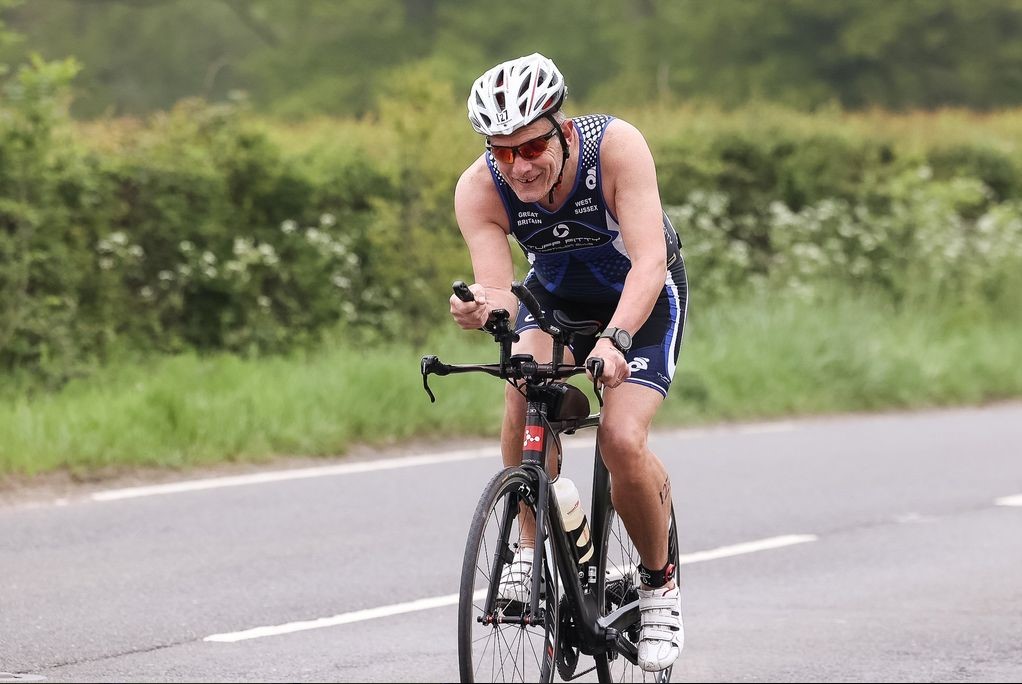 Clive
EAST GRINSTEAD TRIATHLON
Back for the 37th year East Grinstead Tri has a sprint – 400m / 25.5k / 5k as well as a Ladies Try a Tri; Whilst last year we had 8 Tuffs racing, this year just one, Clive Harvey who reports:
"This was a late decision to get a Tri in between scheduled timing duties and the forecast was for sun. Unfortunately come race day it was very overcast (like last year) and just 7 degrees, with a chill wind. But hey as only 16 miles on the bike a trisuit would be fine, unlike several others layering up with jackets and gloves. Those who have raced here before will know of the long quarter of a mile T1 across a playing field from the pool through transition & onto the bike mount on the road. Unfortunately the ground was very squelchy and with the grass just cut the insides of the cycle shoes needed a thorough clean afterwards.
It's a sign of the times with race instructions saying 'look out for potholes' – there were a couple of nasty ones. The course is rolling with 1,000ft of ascent and in the main went well. Unfortunately once back on the A264 into East Grinstead there was a steady procession of cars backing up trying to pass cyclists ahead. Of course it is absolutely correct for cars to wait and be cautious to get past, but it didn't stop me muttering to myself "C'mon, it's a race!" as the queue gradually squeezed the pace down over the last two or three miles.
I was pleased with the run as quicker than last year, although the realisation dawned on me that the chances of beating my time from my first East Grinstead Tri 26 years ago was a forlorn hope. It was a shame there were no other Tuffs here, as it's a well organised event with T-shirt, bling and banana.
Clive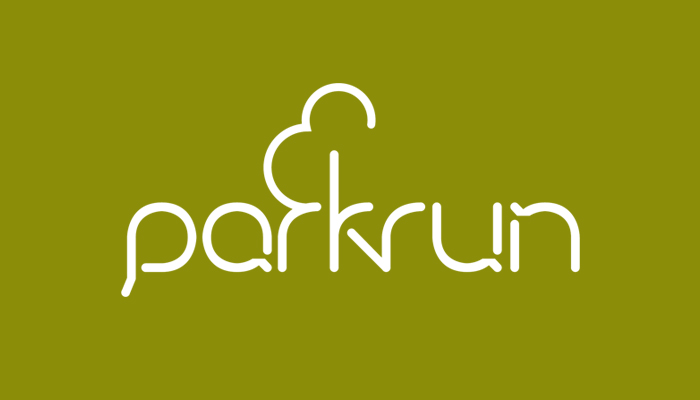 PARKRUN ROUND UP
We start across at Bognor Hotham Park parkrun this week. Simon Thistlethwaite rocked up and sped around the course in just 19:43, impressive for a course with many tight turns. This run placed Simon in 3rd position overall. The remaining Tuffs were limbering up for a Sunday race with Nathan Bilham finishing in 22:28, then Katie Young, Clive Harvey & Will King. Nathan, Katie & Will explained they would take it easy with Bognor 10k the next day, but they still got good times with Katie finishing as 2nd female overall.
Littlehampton parkrun saw a trio of Tuffs finishing together as Jenny Oliver, Sue Simpson & Colin Simpson crossed the line. Alistair Evans also participated in the run as sweeper marshal gaining a volunteer as well as run credit.
Worthing parkrun saw Edward Lay cross the line to bring his parkrun total to 126 runs. Maisie Johnston followed just 5 seconds later. Les Pearce was also present and then Phil Turner completed his run.
Lancing Green parkrun saw Elaine Rousseau run notching up her 152nd parkrun
Well done to all 14.