Tuff Training Camp – Majorca
Having organised and led another highly successful Tuffs on Tour, Mike Barrett has since been busy collating his journal of the groups time in Majorca and with testimonials from some of the team, here is Mike's report for your delectation:-
———————————————————————————
"It's make a cuppa coffee time! It's a long one with some great images.
Wednesday 03/05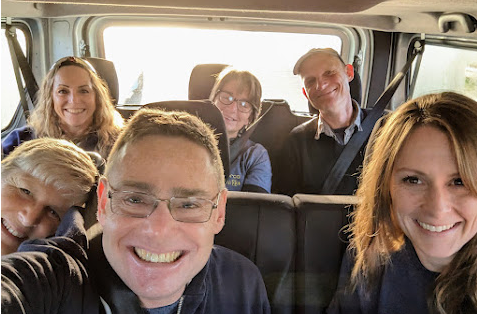 We had two taxis or Party Buses as they became known to us. Party Bus #1 (the Littlehampton one) picked a crew up from Adrian's, Tom from Arundel and Clare from Pulborough. Party Bus #2 (the Worthing one) went to the wrong location.. Thankfully Wendy was early and on the ball, the driver sighted her and a stressful situation was avoided! Both Party Buses arrived pretty much together at Gatwick. Security is done and we're off to get some breakfast. For the record and for those that know Dom, his sense of direction is non-existent and within a pool's length from security he'd managed to get himself lost. As 12 of us tucked into our breakfast, Dom sat in Starbucks next door, alone with a coffee! 12 at breakfast and missing Dom that's 13! 13 I hear you say, I thought there were 14 of you? Well, there was, I mean there is. It's just that our 14th member was already in Majorca having booked himself on an earlier flight. Not same day earlier, but a whole day earlier! And not on purpose! LOL…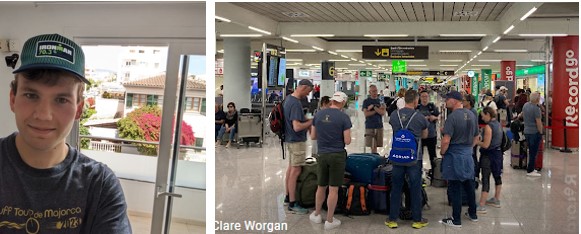 An easy 90 minute flight to Palma, we arrived and Majorca didn't disappoint, blue sky and sunshine. 3 cars picked up and off to the villa picking up Nathan on route.

With the rooms chosen, it was time for the big shop, whilst some went for a cheeky light 5k run, and others wandered off for a walk; managing to find a beer stop. It was then time to chill by the pool and eat dinner.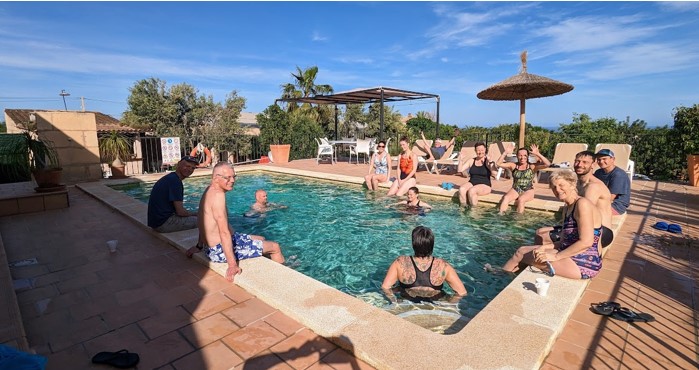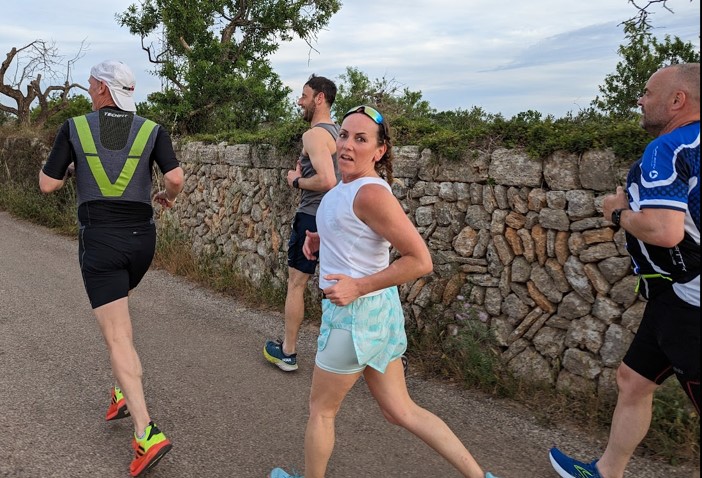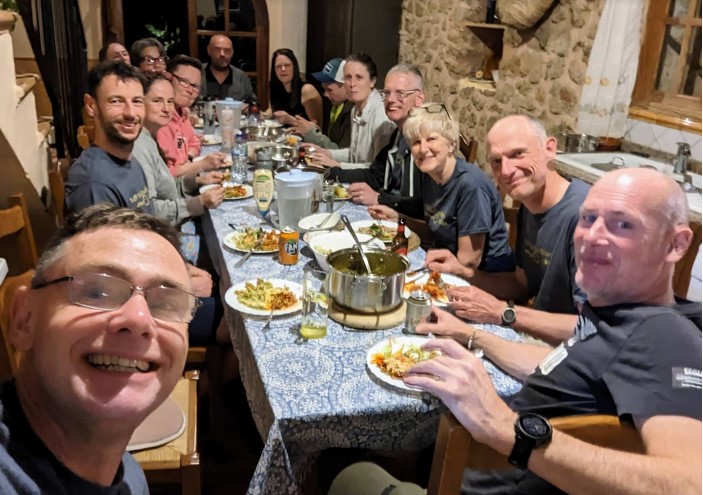 Thursday 04/05
The day started with Strength & Conditioning by JenAde, positioned around the pool and in the lovely heat of the rising sun. Shelia, tasked with being the team's Yoga coach, took centre stage and everyone enjoyed a good stretch under controlled instructions.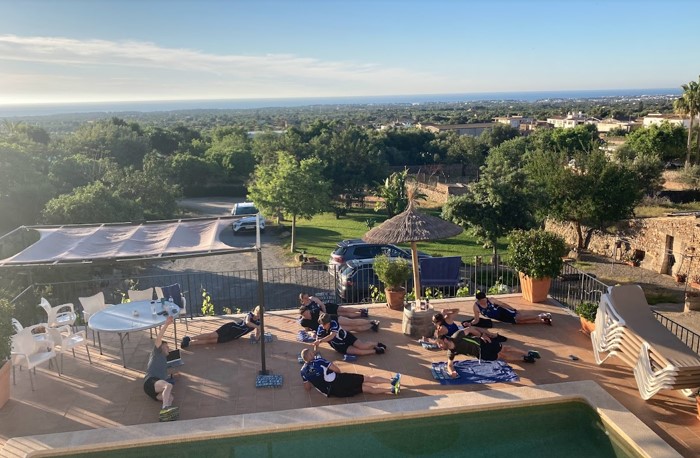 Breakfast buffet was served and discussions quickly turned to the itinerary.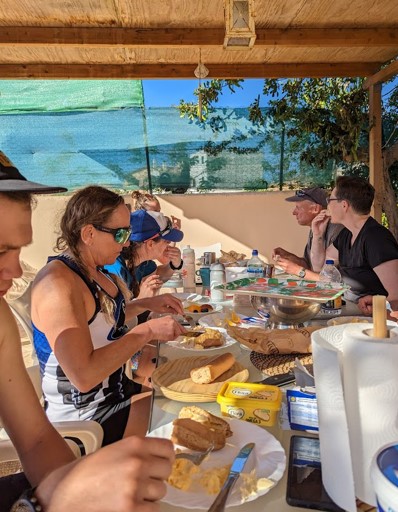 Phil took on the responsibility of organising the bikes for the group and it was now crunch time as they turned up after breakfast. Everyone was pleasantly surprised at the quality of their bikes, good job Phil.
Shambles!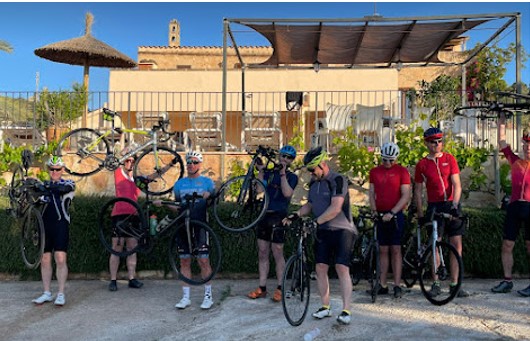 order restored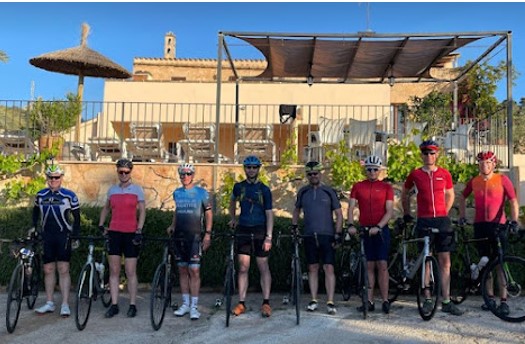 Today, we followed a tradition which was set last year by our good friend Jon Babbage. A run to the sea, a sea swim, eat Paella (and a cheeky beer), then run back. This year the sea was a little closer and a lot calmer which meant it was game on. We split into 3 groups, 1 group drove and the other 2 groups were divided by pace. As we ran through the quiet roads, Garmin took us off road and through the trails before popping out into a paradise of a sandy beach and calm waters.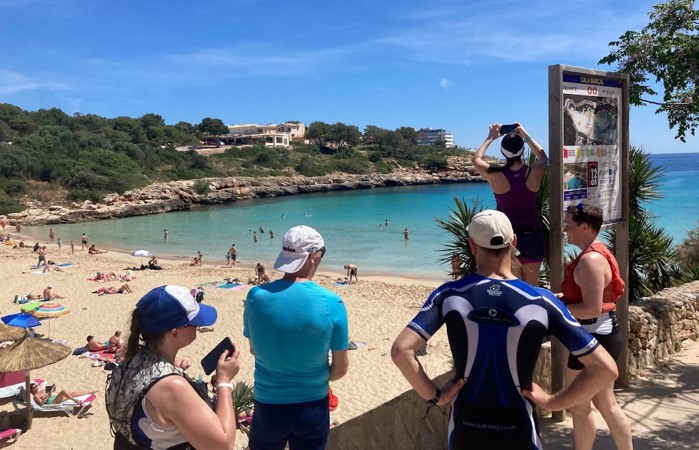 And, just for the record, group 2 with Dom in… (got lost). It wasn't long though before we regrouped and it was shoes off, wetsuits on (for the faint hearted) and those brave ones wore skins or tri suits. It was, of course, actually a lot warmer when you got in and you didn't need a wetsuit (said Dom, never). We swam out of the bay, round the corner, back across and returned 2000 meters later!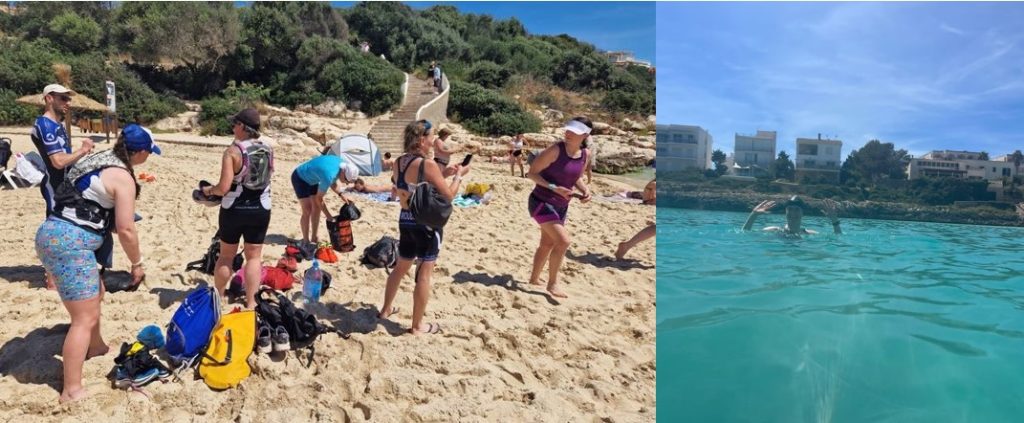 It didn't take long and we'd dried, headed up to one of the many restaurants, table for 14 poff for fore sen your… and the restaurant welcomed us all for Paella! Hands up for Paella, hands up for veggie paella, errr, hands up for veggie paella, errr… It took a while 😂 Meanwhile beer was served (and gin)!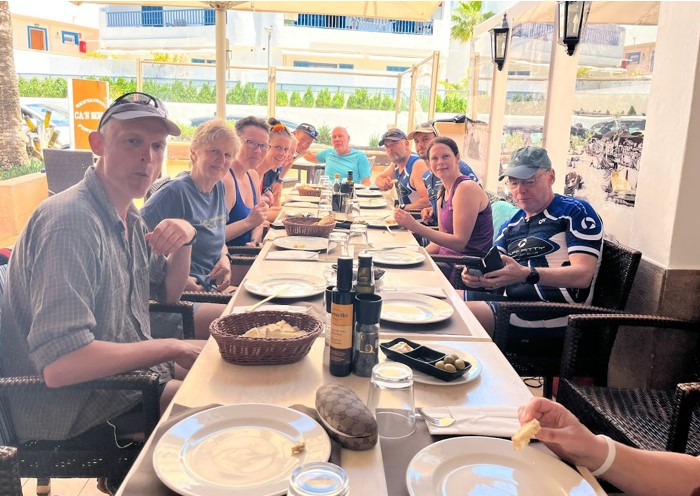 With Paella eaten and beer drunk, it was time to head back to the villa. It was a very gentle run back! Plenty of opportunity to chat and catch up with everyone. Back at the villa, we set a little rumor about having a ride out up a local mountain which Adrian had researched. It was a reccie, for the second tradition (planned for later in the week) which is to take the group up a mountain, yes everyone! So the strong riders led by Tom, shot up Saint Salvador, job done and Sunday was set. Meanwhile, Iris, being chief shopper, had purchased a pair of inflatable flamingos which drew out the child in everyone. The evening dinner was light with wraps and fajitas.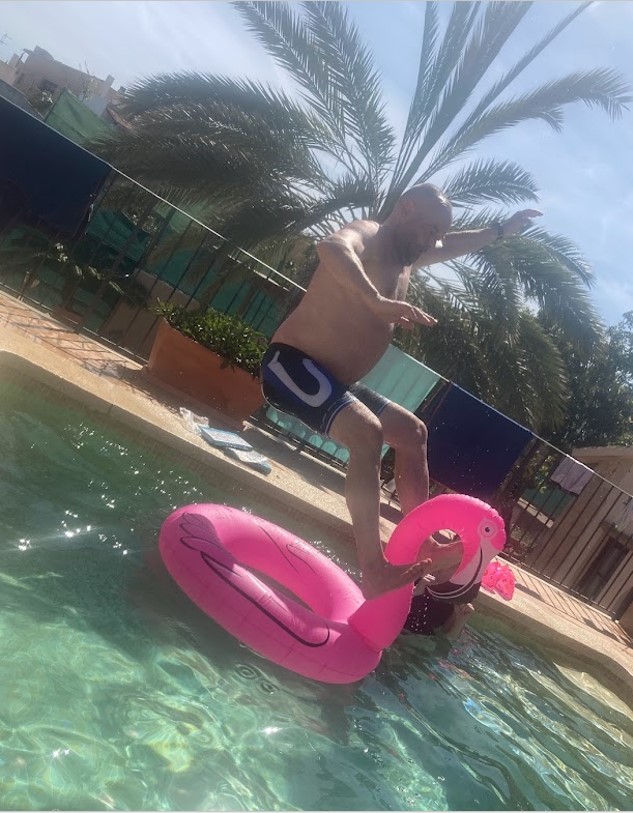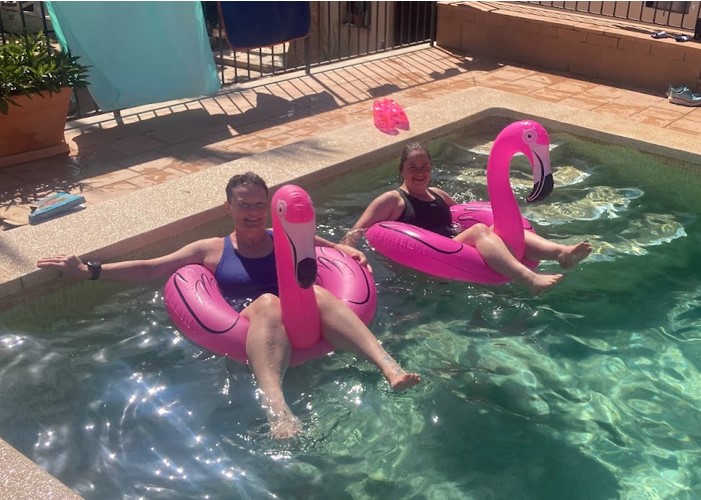 Friday 05/05
Big ride day!! With Breakfast done, it was time to set out on our EPIC bike ride. Clare was tasked with planning the Friday big bike routes and boy, she did not disappoint. 8 of us rode out for a 180K out and back, with Iris driving half way to meet Clare, Dom and Tom for a 90K route. Meanwhile, Sheila, Wendy, Elaine, Jenny and Carey rode an awesome 60k route (All part of Clare's master planning). A fast group of 5 had gone ahead and stopped for brunch on the beach. It was very very pleasant. I can't explain how awesome it is to ride these roads; roads where cyclists dominate cars, where there's not a pothole in sight and pleasantries are exchanged on a regular basis. The hills aren't steep, they're just gradual for longer. As you near the top, you encounter false flats and suddenly you're on a roller coaster, going down hill, round a corner, then uphill back the other way, then downhill, then up and you don't even need to peddle. It really is cycling heaven.
As the outbound ride comes to a climax we are greeted by a stunning view: a café and a lighthouse. The photo's simply do not do this justice.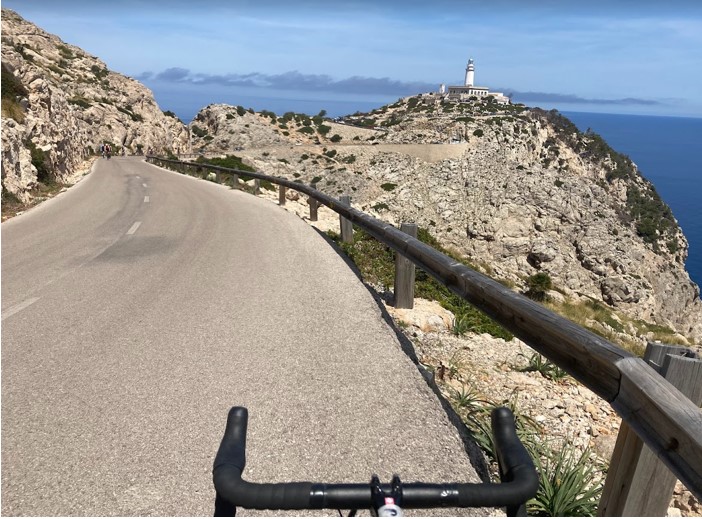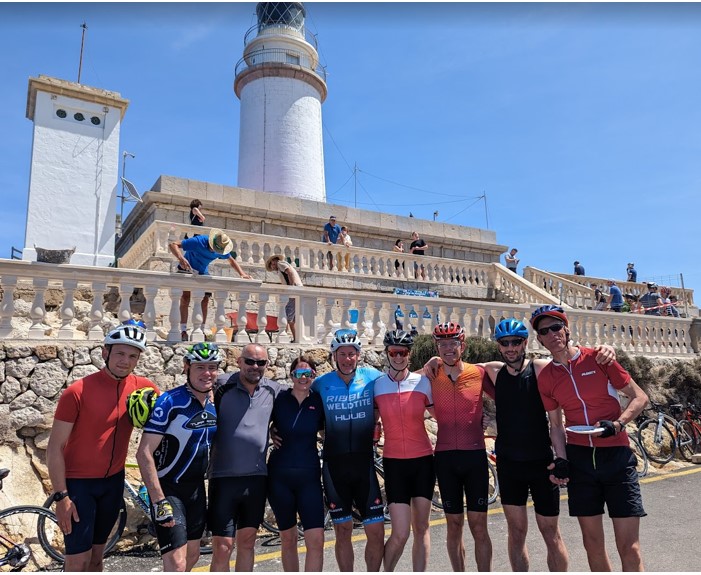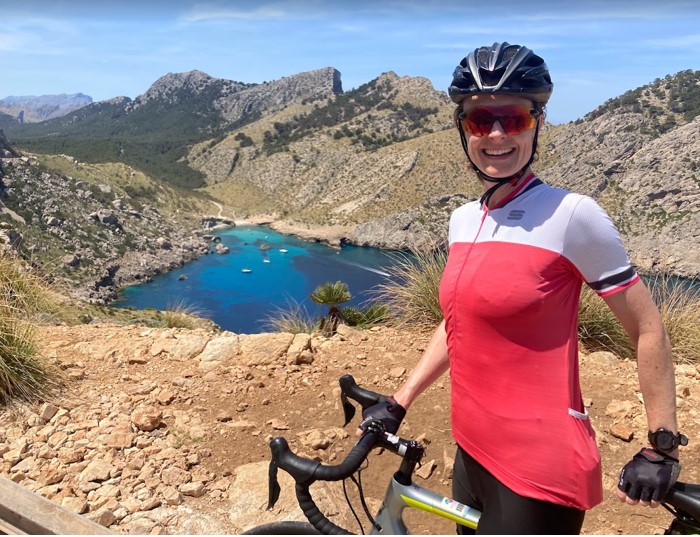 Time to head back. Regrouping at the bottom of the hills for more lunch by the beach. Our attention turned to… No other than … Dom who had decided to slide down part of the mountain! Ouch.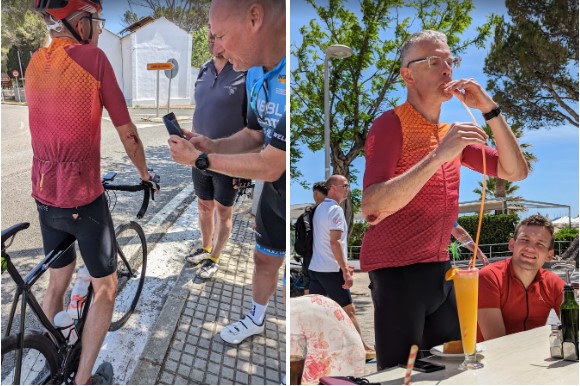 Food was lovely, great company and Dom's magical cocktail straw.

Again we split as a faster group headed back at some pace realizing however that we didn't really have a Garmin between us, Tom egged us on more and more and shepherded us home not by the stars but by the sun! We of course stopped for a beer. Mark and I concluded Tom might be able to navigate the stars and sun, but can he pour a pint? Nope!!! Tom and I concluded, Mark was close to bonking and beer was the answer.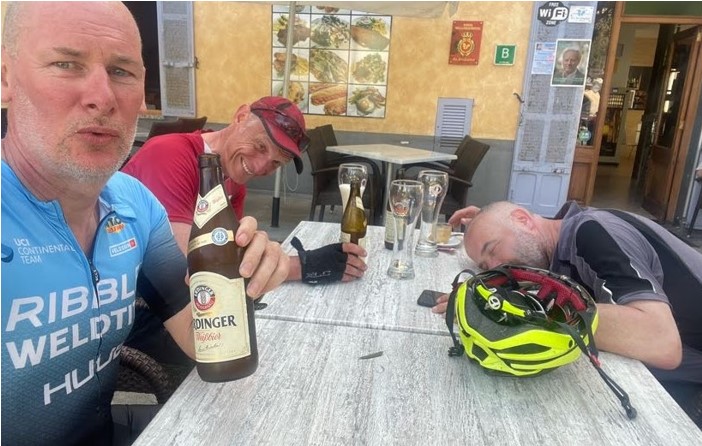 That night was BBQ night
Saturday 06/05
Another morning of Strength and Conditioning by JenAde, followed by Yoga with Sheila. Breakfast is done. We're all a bit subdued today but nonetheless, some went for a run while others tanned by the Pool before heading off in cars to the legendary open air 50m pool. 5 of us knew what to expect but it was worth going just to see the faces of the others when they witnessed it for the first time.
Carey was our lead for swimming and she dished out the drills like a true drill instructor. It was an awesome swim set under the blue skies and sunshine of Best Swim Pool. Some of us ate out (and ordered too much pizza), others went back to the villa to chill. Tonight's dinner was Big Chilli Night.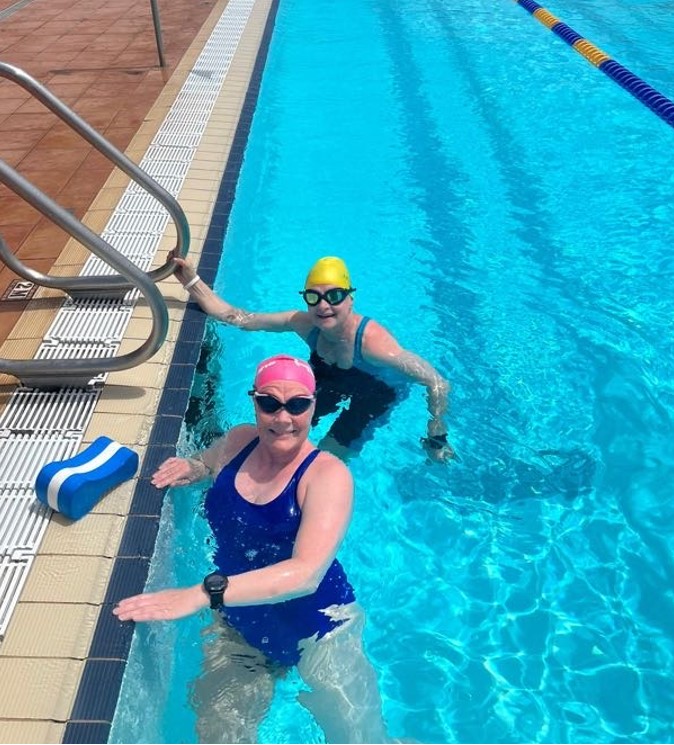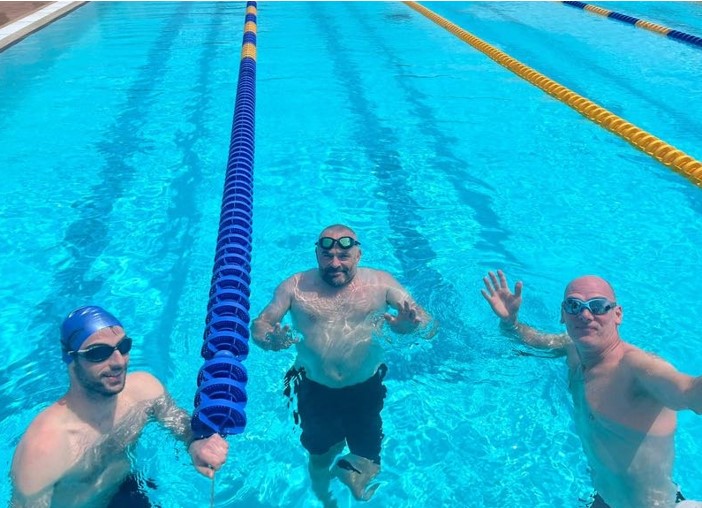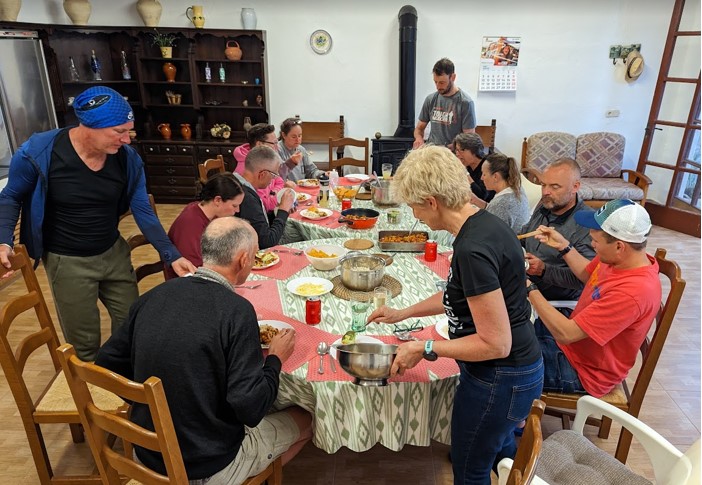 Sunday 07/05
Our last morning of Strength and Conditioning by JenAde, followed by Yoga with Sheila. An air of apprehension was in abundance in our group today, not sure what they were about to encounter as it was group ride day, up the epic mountain of Saint Salvador. It was a lovely, almost car-free ride to the base of the mountain, and in this now traditional ride, we all stay as a group and rode together. A quick pep talk at the start of the climb and off we go. The stronger riders buddying up with other riders. Riding switchbacks on a car free road is something every Tuff should experience, unraveling the route it became 5km at a 6% gradient.
As little mini groups of Tuffs rolled up to the top of the mountain it became eerily apparent what it meant to everyone to achieve this. Even as I write this, I can still feel the atmosphere and the hairs on my arms stand up. Then, our last ride group…. they could be heard before they could be seen!! Around the corner they popped, some Tuffs had gone back down to ride the last bit with them… Up a turn, up another turn and up they came, before finally rolling over the top.
The final group pulled up, hopped off their bikes and then this image, which will be etched in everybody's memory forever, as it captures the true spirit of Tuff Tour Majorca and what it truly means for everyone.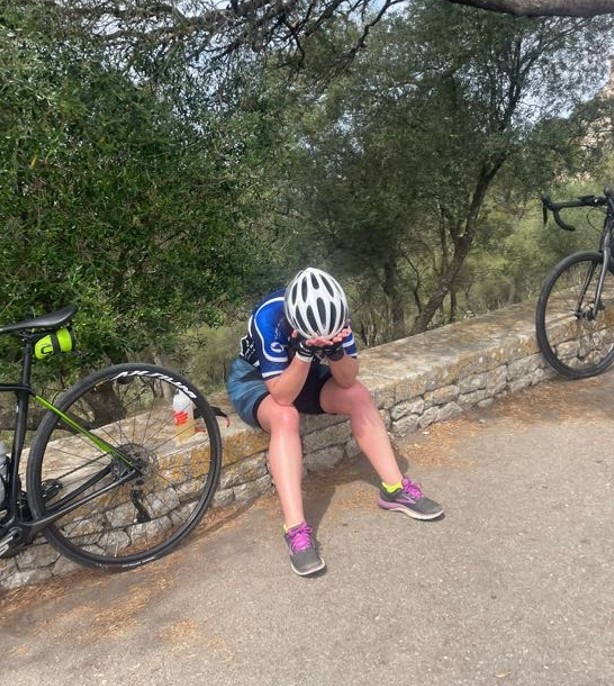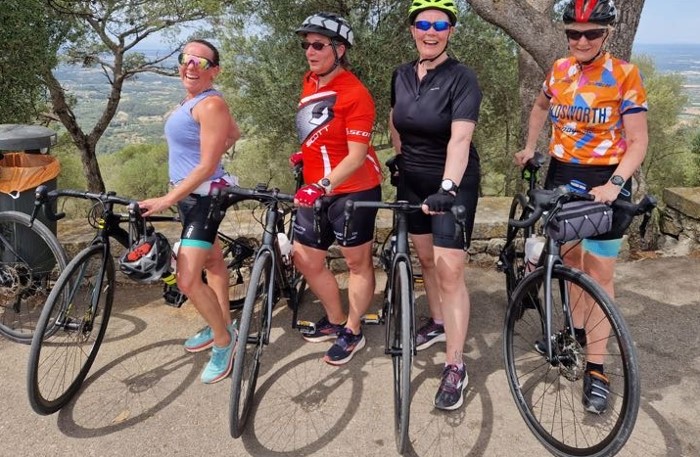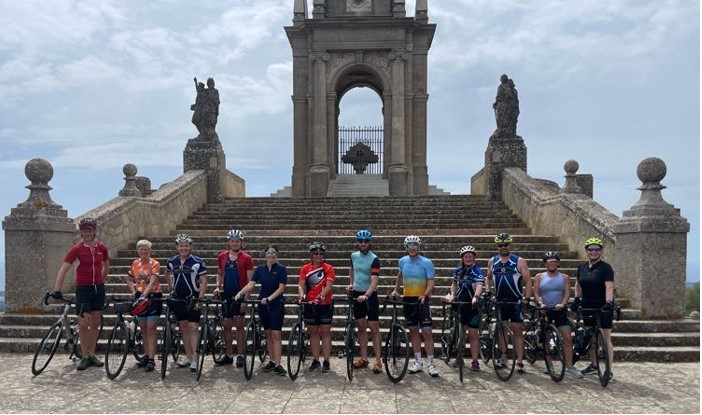 We celebrated the group's achievements with coffee, cake and some beer, our spirits were high.
Time to head back down the mountain, which was more of an achievement for some as the downhills also can provoke fear! With us all being safely regrouped at the bottom it was time to head back to the villa. With today being the penultimate day, some of us had an itch to scratch and that itch was to follow the group ride with a 16k run!! So off we ran, back to the beach and then a little further round the back of the bay. Once finished, we stopped at the lovely organic restaurant for a late lunch, followed by a run back to complete the required distance.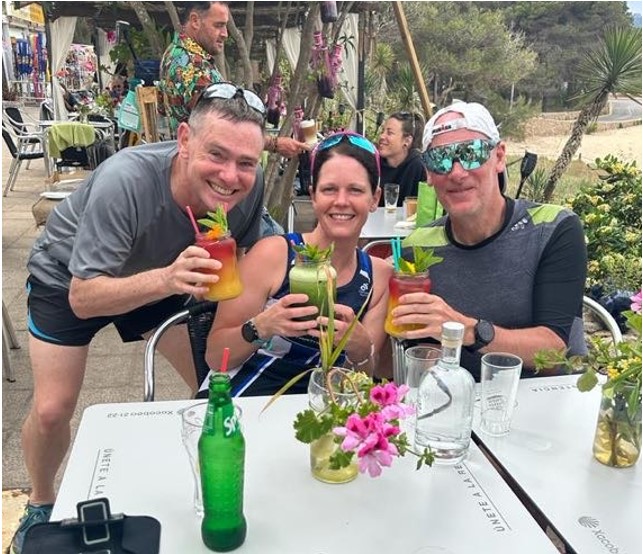 Once the group was back it was evening preparations for left overs and jacket potatoes, party frocks on and Night Club/Karaoke Bar was open. Yes, all week Mark has been in his element playing out the role of barman, he made sure everyone had some form of drink and it was in fact a job well done. One other thing to mention, yes, the Villa had a separate bar/night club/karaoke. Cue more photos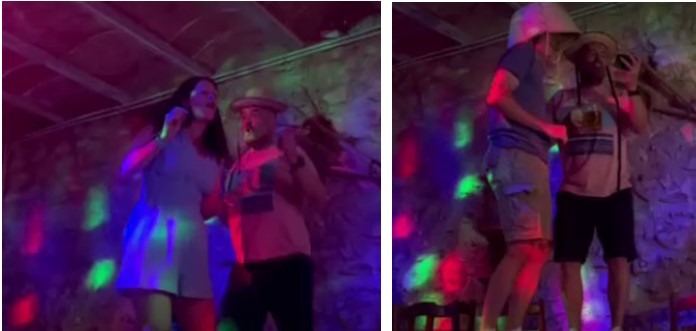 Monday 08/05
Unfortunately, we had to be out by 10am, decision made, let's head to the beach for a swim and more food by the organic restaurant. An optional 10k run was on offer and a small group of us once again headed North, again around the bay and to another lighthouse. Plenty of chat about next year, along with a possible Run Swim challenge @Tom.
As the collective of Tuffs grouped on the beach, it was more swim time. It was then time for cocktails all round 🙂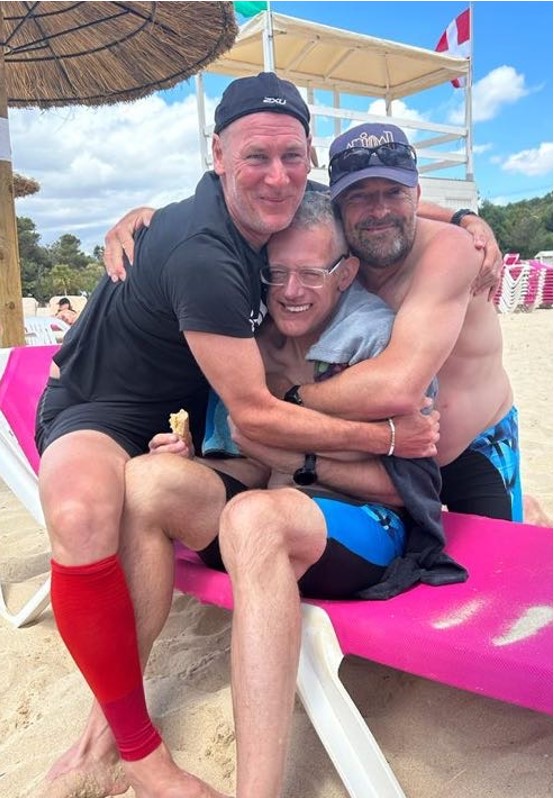 We'd managed to get acquainted with the owner of the Organic restaurant and this time he said "I'll get you a big table" and referred to us all as the big family. Then unfortunately it was time for home.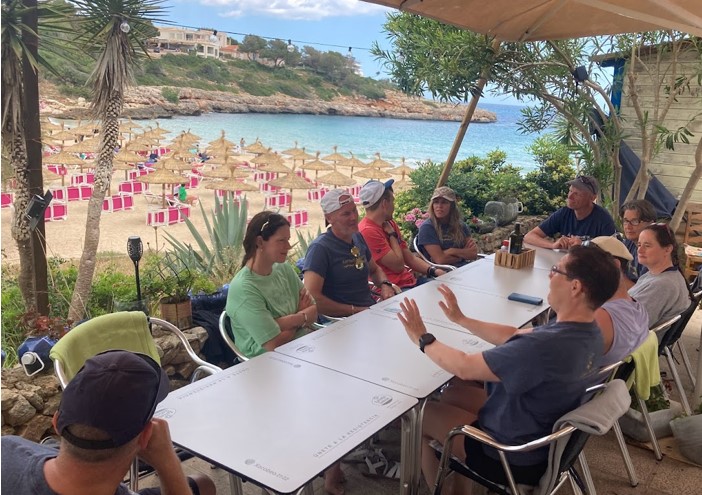 After the meal, it was just a case of heading back to the airport, back on a plane, back at Gatwick, back in the cabs, and then finally back home.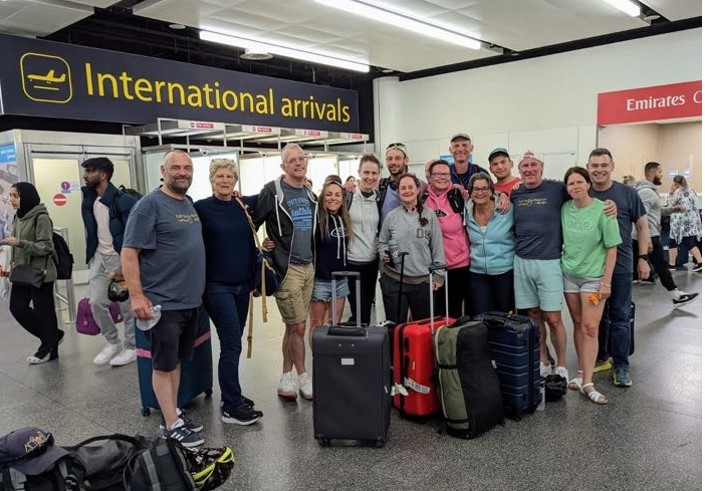 This year's summary of Tuffs On Tour

As our 2nd Tuff Tour De Majorca draws to an end, it's that time when I reflect and as always it is incredible how inspirational we all are to one another; from the foods we eat to how and when we train, to our approach to life and our health… right down to how mad we all are that it's perfectly normal to swim, ride and run all in the same day. Sooooo

Dom, we thank you for your magical undertones and calm comments such as "the coffee is taking longer because I'm watching it" and as ever, your wonderful random music… and for not breaking whatever that bit in your hand was …

Clare, we thank you for eating and eating and eating and … … eating, I don't think I saw a time where you weren't smiling or laughing with someone. Ohhhhh, of course … for giving us that amazing route, which we are forever in debt to you for, oh and karaoke with a basket for a hat!
Sheila, we thank you for your yoga, for giving everything a go and for grumbling about it all but secretly loving it all and the pain, and sharing the laughs. Next year you'll be in cleats!
Elaine, we thank you for the most bizarre side stories we were all least expecting, "I threw up whilst 6 people carried me into a trolley". For doing the epic mountain and crying at the top which I think hit everyone and brought the group very close.
Wendy, we thank you for your smile and your passion to get on and do everything. I think you underestimate how good you are! The energy that surrounds you is so strong and just rubs off on those around you. You are infectious.
Adrian, we thank you for looking out for us all and for always giving us plenty of options! For Strength and conditioning and for hosting us twice in the build up. For those unselfish things you do and you know!!! The camp won't be the same without you and Jen so make sure it's in your diary for 2024.
Mark, with that voice you were more pub landlord than barman, time at the bar! but we loved you for it and you kept us entertained, topped up and on our toes. You gave us "balls-up of the day" which actually worked along with your own style of delivering it.
Carey, we thank you for the swim lessons, for always smiling and being the first to laugh at the jokes, even though some were Mark's. You gave us tabletop dancing and a near death experience all in one go!
Iris, we thank you with sooo much going on back home, you looked out for us all, for shopping, getting cheese even when you didn't want to! And wow, that was a quick bike on Friday … I'm still checking Strava.
Tom the quiet assassin, we thank you for being there in the background; sweeping, cleaning, ushering and I think what turned out to be a little bit of uncertainty at the start. Tom I think you've actually found another set of brothers and sisters for life. (On top of the 6 you've already got.). I hope you come back next year.
Nathan, thank you for coming and being part of this, for not being shy in giving everything a go. Remember what goes on tour stays on tour. And we will never ever ever mention you arrived the day before everyone else!
Jen for being head chef, for cooking and keeping Adrian in check and all the other random acts of kindness you do that go unnoticed. You are an angel to us all.
Phil, we thank you for our jalopies, our trusty steeds, as painful as they were (for me), they got us up a few mountains but, I think!, It has to be for summing it up on our run back today when you said, "you are part of a big family here and you can talk to anyone of us"
And to Majorca again, for giving us fast flat roads, 99% nice motorists, for cycling tan lines, for that swimming pool and those sea swims and for that great villa… we ALL thank you.
I personally hope you all come back as it truly is an amazing time and one that gets etched in your memory forever …

And now comments from the squad
Tom Frith
"An incredibly well planned, organised and executed training camp. The preparation, experience and hard work to make such a success doesn't come by accident. Thanks so much to everyone involved. The location and activities were perfect, one stand out memory for me was the sea swim and chilled out paella lunch. Everyone was so inspiring, supportive and positive, throughout and truly made it unforgettable. You are all local legends to me, whatever the data. Hasta luego y muchos gracias a todos".😘
Phil Scales
"Wow. What a fantastic trip. The organisation and delegation prior to the trip. Jen and Adrian who made us all feel welcome in their own house before the trip. The "Tuff team attitude" made the trip. Mike had made a plan for activities to keep everyone challenging themselves yet no pressure to do anything. It included strength and conditioning/ yoga / running/ cycling/ pool and sea swimming. Each activity has its own lead person who executed it perfectly. Location was amazing – I loved discovering new places whoever was up for a run/ cycle or a trip to the local bar. The big ride to the lighthouse (90km each way) is something I never thought I could do. Clare's incredibly strong attitude got me through the last 60k. I learnt so much on this trip and will try my best to return. And would love to see other Tuffs share this experience".

The bond we all take home and the memories is priceless. Infinite thanks. Love you all.
Wendy Kane
"What a trip! I have returned with a glow in my heart, not only feeling the happiest I've felt for a good while but feeling determined and motivated to try harder and be better! I feel that my mojo is well and truly back! I really haven't laughed this much for a while, such a great mix of people, each with their own fantastic sense of humour and I am inspired by each and everyone of you! There was such a sense of family and we all really looked after each other and we felt encouraged and supported with every activity. I loved Mike's Question of the Day, a great way to get to know more about people and such laughs! The highlight for me was definitely the Sant Salvador climb, I still can't believe I managed to cycle all the way up without having to stop! Lots of things were conquered on that mountain for a few of us! Such an emotional and exhilarating experience! Getting the chance to ride such a wonderful bike was again an experience in itself and has definitely shown me that changes are needed on my own bike. Better start doing the lottery! 🤣 The villa was amazing and just kept giving with the amount of space and different rooms it had. Location was great with a distance not too far from a beautiful beach and perfect sea swimming, crystal clear water and being quite sheltered.

This holiday had so many firsts for me! First puncture, first swim in a 50m pool, 1st time cycling abroad, first time doing switch-backs, 1st time using electronic gears!

I could go on but definitely a massive thank you to everyone for such wonderful organisation and planning that made such a wonderful trip! Definitely coming back next year"! ❤️🥳
Carey Woods
"What can I say…. everyone is saying the same amazing things! Such a well organised event/holiday. I would highly recommend it. Full of experiences and training opportunities. Going out of your comfort zone and meeting just the best Tuff's ever!

My highlight,would be the group ride. One big family on a day out with plenty of help and encouragement, which a few of us needed from the experienced Tuff's. But generally, it was the best training holiday ever! from great new friends, amazing food, great location & just the best time ever! Not to mention the amazing weather! luv to you all" 🧜🏼‍♀️❤️🧜🏼‍♀️ X
Elaine Rousseau
"An absolutely fantastic experience. So many achievements by everyone and everyone is just awe inspiring and supportive. Loved it. So many memories made to last a lifetime".

Clare Worgan
"My highlight was the 185km ride, I planned the route because I was determined to do it but that doesn't mean it wasn't scary! The sense of achievement at the top of the first elevation was awesome and those views! 😍 After that I felt comfortable enough to enjoy what felt like disney land for cyclists". 😁
"Spending time in the Spanish sunshine with a great bunch of Tuffs was wonderful. I'm happy to come home with some new cycling skills, some great memories and some lovely new friends" x
Mark Sole
"I think every day of the tour, there was at least something that pushed at least someone out of their comfort zone. A new place to run, sea swim that little bit more, a mountain to climb. It was not only the exercising that some found uncomfortable. The question of the day, plus other events, also allowed us to learn about ourselves and each other. Whatever happened, we dealt with it as a team and conquered a battle for self-improvement. This was an awesome event because, through encouragement, we were challenged to improve. Obviously physically, but also as people.

Single highlight for me though, would be the team mountain climb, where everyone made an improvement. To see the team assisting someone with nerves and overcoming fear. Then, seeing the faces and sense of achievements. It was truly awesome and humbling".
Jenny Oliver
"Thanks to Mike who had the vision for Tuffs on Tour in Majorca and for all the pre-planning, and to everyone who came and was such excellent company. I was asked to coordinate the evening meals and I really appreciated willing support both with shopping and cooking. Thanks Dom, Mark and Nathan for keeping me company on a slow run down to the beach even though it meant getting lost but we did discover a new cove. The sea was an unreal clear blue and the sand pristine white, so a real treat for a sea swim in contrast to the winter sea swimming in LA. Carey provided a very nice set of drills for our 50m pool swim. Clare W planned some bike routes and the Majorca countryside is brilliant for cycling. Riding to the top of San Salvador as a whole group was a special experience rewarded by spectacular views and a cafe stop. The villa was fantastic and had so many aspects and spaces to enjoy. A superb training camp and warm up for the season ahead"…
Iris Bennett
"Having been last year my expectations were high. Arriving at the villa is always a big part of the anticipation and it did not disappoint. With a bar/disco area, games area, indoor eating area, all in addition to the main building, it was clear that it had surpassed all of my expectations and the group were buzzing. Highlights for me were the 80k ride covering some beautiful and exhilarating terrain, the climb to the lighthouse was amazing. The continuous ascents and descents finding confidence on the downhills I've not had before. The roads are just heaven to cycle on.

A very close second highlight was the group ride. Witnessing the strong riders encourage and support the nervous ones was just humbling and meeting all together at the top for a coffee (or two) celebrating was just amazing. A personal thank you to everyone, we all played a part which made the trip.