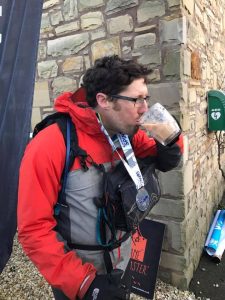 Chris at the finish
THE MONTANE SPINE RACE 
We are all used to Chris Ette's amazing achievements, which make most impressive reading. Events like The Hill Ultra, Devizes to Westminster Canoe marathon, various Ironman events, including racing the bike on a hand cycle as just a few. We thought perhaps when he completed the Thames Ring (a 250mile run) and Deca Ironman (10 Iron distance events in 10 days) there could be nothing left to aspire to.  However when your Dad is none other than Eddie Ette, the founder of Enduroman, perhaps there were still some goals to aim for.
Chris has reported in from his latest adventure and he reports  "The Spine Race has been on my to do list since the inaugural event in 2012, I really wanted to enter it then but I got scared. If you're not 100% ready and committed to this race it will beat you".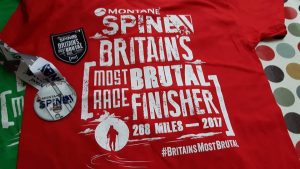 Such sentiments are understandable as The Montane Spine Race, held from the 15th to the 22nd January,  is a gruelling, non-stop, 7-day race from Edale to Kirk Yetholm, a distance of 268 miles (and 13,135m ascent). The route  is largely along The Pennine Way, one of the most demanding National Trails in Britain, and certainly the most iconic. The trail crosses some of the most beautiful and at times difficult terrain found in England, including; the Peak District, Yorkshire Dales, Northumberland National Park, Hadrian's Wall and the Cheviots; finishing at the Scottish Borders.
As this is not your 'standard race,' applicants need to apply with their suitability for the race as they are told the event is tough. Very tough at times and lonely. There would be checkpoints but other than a GPS tracking device it was a true test of the individual. Deliberately held in the winter, competitors are warned to expect to face extreme weather, deep snow, ice, mud, bogs, ground water, storm force winds and driving rain…… and they were proved correct.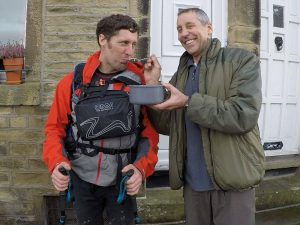 Chris with Dad Eddie who was his support crew over the event
In talking to competitors Chris heard some who stated that this year was the mildest Spine Race. However this brought its own challenges. "The ground was completely sodden from previous rain and snowfall and therefore we had to contend with it being tough underfoot, wet feet from the beginning which needed careful management, wading through streams and bogs and then temperatures plummeting to -6 degrees in the mountains". "At one point visibility was reduced to 1 metre which made navigating up the highest peak in the Peak District nerve racking."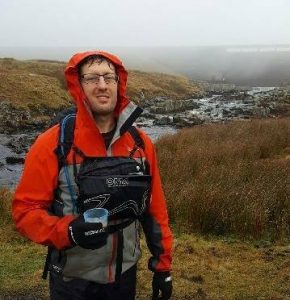 With approximately half the field not finishing Chris's time was all the more remarkable.  He crossed  the line in 145 hours and 5 seconds. All this was achieved on less than 8 hours sleep during the whole event.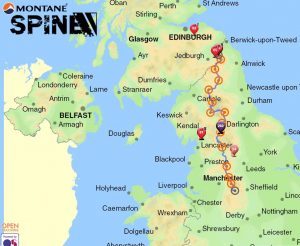 The route map graphically illustrates just how far Chris travelled in 145 hours
Huge congratulations from us all Chris.