Weekend Round Up 3rd 4th June
Another weekend of varied Tuff activity. Once again we have enough material for two editions, a separate write up is about to be released, one which contains our two international Tuffs out in Madrid for the European Sprint Champs. But first – closer to home…….
TUFF FITTY'S WESTHAMPNETT LAKE SWIM
Tuff Fitty hired Westhampnett Lake on Saturday morning for a Tuff special which was very well attended, as the main organiser – Mike Barrett takes up the story:-
"If Carlsberg put an open water swim session on they'd give us perfect conditions, they'd give us a great 800m course, they'd even plot a smaller one to help build confidence for the inexperienced. A lake you could probably drink from, so clear you could see the bottom. And with all that in place, they'd also supply a bunch of Zone3 wetsuits to try on".
"So, after lots of back and forth with Chichester Water Sports we finally went ahead with our Open Water Swim. It was near perfect conditions, just a bit of strong breeze but this didn't cause issue. The water was clean and crystal clear, spring fed by the river Lavant".
"With the wetsuits hung up, safety briefing done, the tuffs were lining up to try on a Zone3 wetsuit. What made this such a unique opportunity was that not only could we try the wetsuits on, but we could actually try the wetsuits out in the water. There were goggles, floaty pants aka (cheaty pants), paddles and neoprene skull caps to also try on.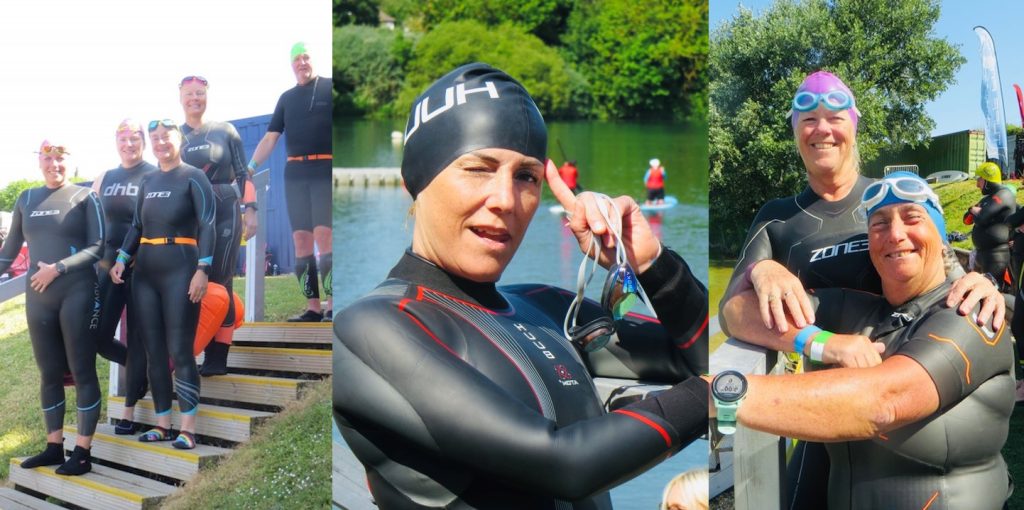 The feedback was very complimentary and this is definitely something we will do again. I'll order the weather and conditions. 🤣🤣.
Thank you all, yes all of you for coming along and it was great to see so many Tuff's enjoying themselves.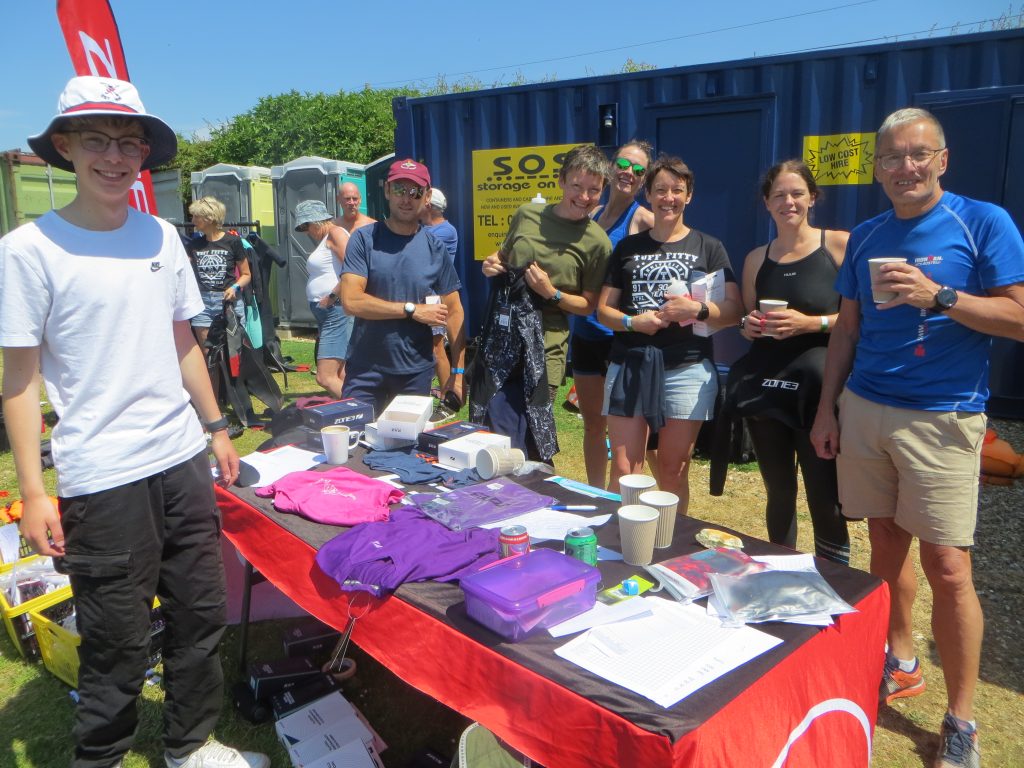 There was lots of work going on in the background and this event couldn't have gone ahead without 3 unsung heroes, thanks to Jenny working late on our document, to Adrian and Ollie for your continued support, in the meeting on Friday and your help in set up and set down.
Mike
For the full photo album – click below:-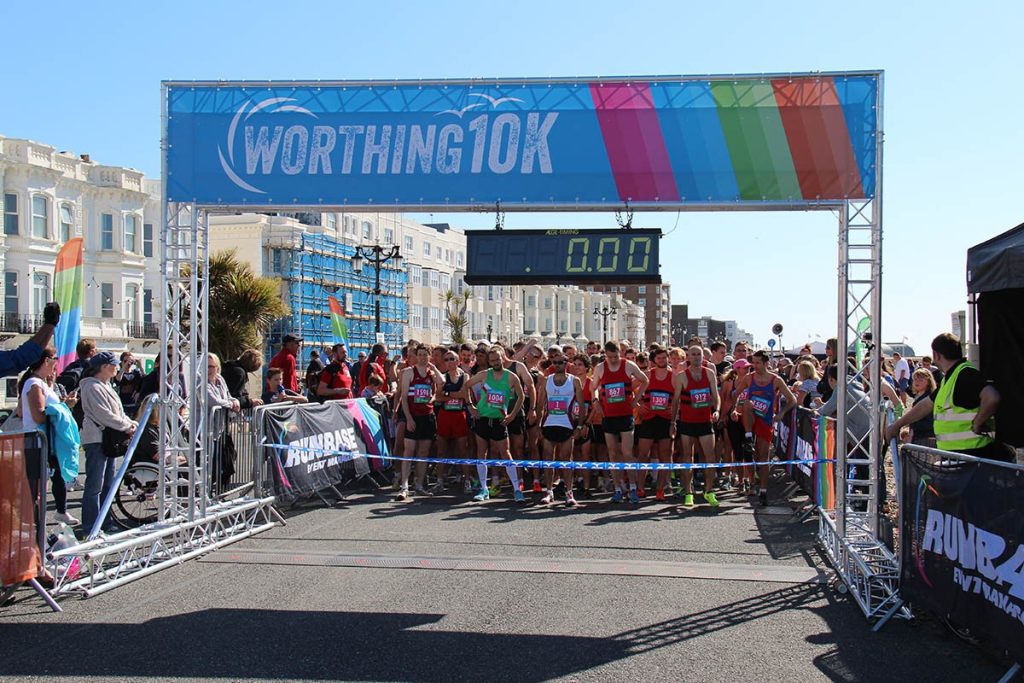 WORTHING 10K
There were over 1,300 finishers at Worthing 10k starting and finishing on the prom, with an out and back route to Goring Gap. There was a quality field with our first Tuff home was Fraser Kidd who crossed the line in a very swift 40:58. Next home, great to see Steve Fryer on the comeback trail finishing in 42:37. Carey Woods ran the event last year; she was delighted to record a new PB over the distance 2.5 minutes quicker than last year, Next home Edward Lay, another Tuff who ran last year. Kate Cooper was next and our Tuff six was completed by Nina Tully.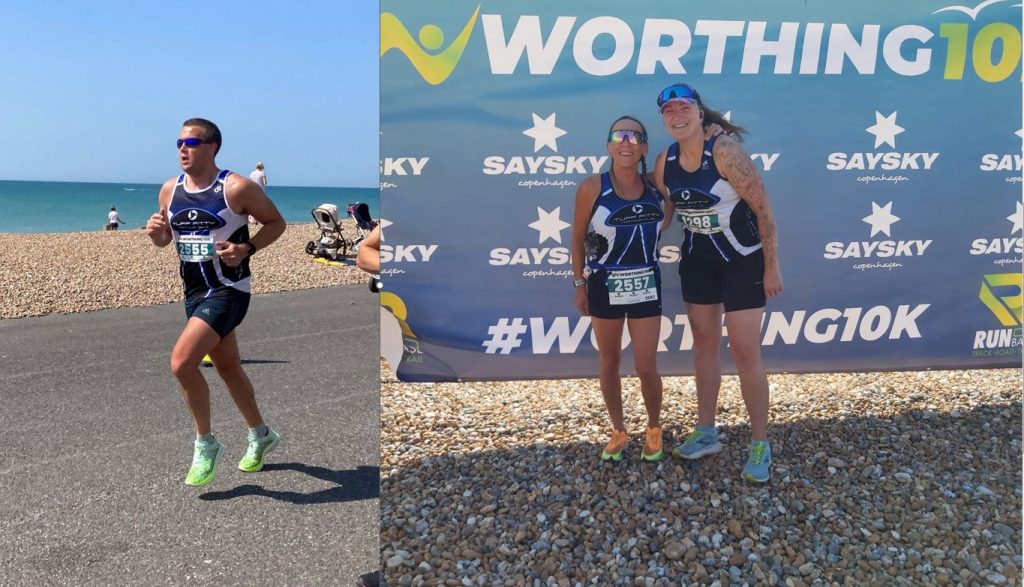 Fraser, Carey & Nina
We are grateful to Kate for reporting in:-
"This year Worthing 10k reverted to its traditional early June spot, which just happened to be my 50th birthday. I decided that I couldn't pass up on the opportunity to be the youngest in my age category!
I lined up at the start with Ed and Carey. That was pretty much the last I saw of Carey, who shot off into the distance. I managed to keep Ed in my sights for the first few kilometres, but then he too pulled away from me.
Every time I race 10k I remember how hard a distance it is and vow to do distance-specific training, but I never learn! I managed to keep to my goal of sub-5min/km pace for the first 5km, but then the heat and wind took their toll. By 8km I was going steadily backwards and feeling desperate to finish. I picked it up a bit for the final kilometre and finally crossed the line in 50.49. I had been going for 50 at 50. I should have slowed by a second and rounded it up to 50.50 at 50! At least I got a medal!"
Kate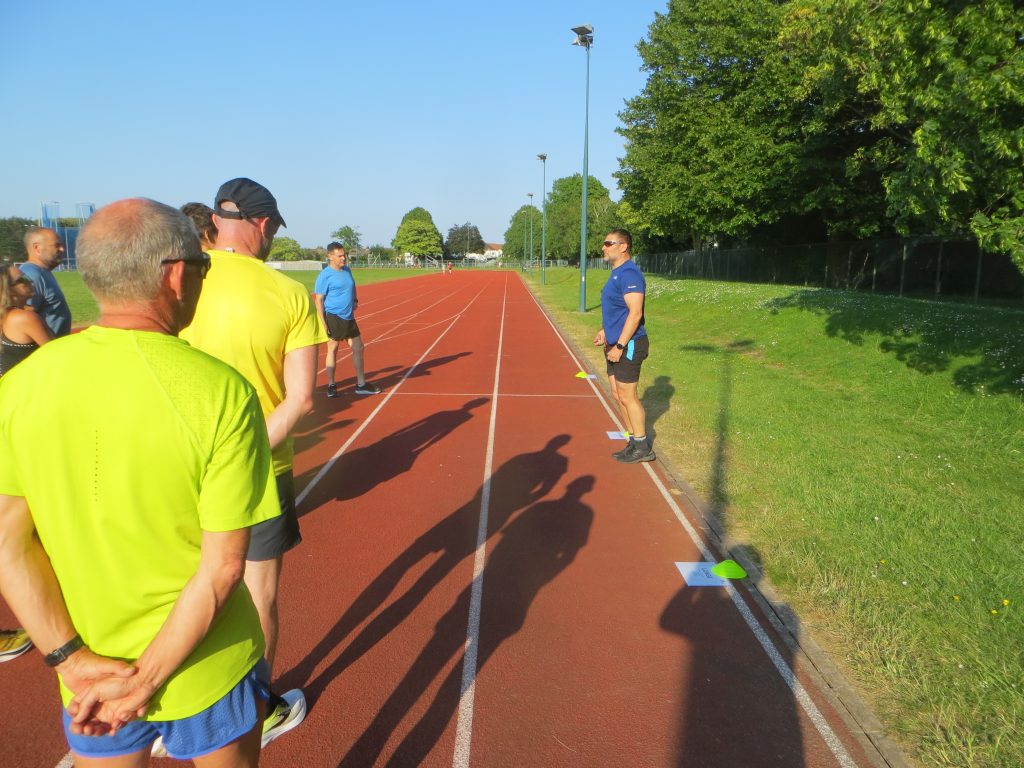 TUFF FITTY's STRENGTH & CONDITIONING
Tuff Fitty's Strength and Conditioning session has now been running for several weeks on a Wednesday evening at 6:30pm, prior to the weekly track session. Very ably led by Liane & Barry Davids, together with Leah Simms. The feedback has been excellent from "it's a great way to time manage as the session bolts onto existing training". Other comments from participants have been "It's brilliant" and it is particularly pleasing that several reported that they are beginning to notice a difference.
This article is therefore two fold. Firstly to thank Liane, Barry & Leah, who have all led sessions so far, and secondly to ask the question 'Have you tried the session yet?'
To remind everyone that the strength and Conditioning and Track session are separate entities, so people are welcome to come just for the S&C – without any charge, arrive ready to start at 6:30pm with the session concluding at 7pm. Most stay for the track session (payable on Spond) ; a session that earnt the nickname, 'The Durrington Project' several years ago, as it was proven to make you faster. Both sessions are open for all abilities because as we are based on the track, no one gets left behind. Any questions, please feel able to ask, but a few shots from the latest session are shown below.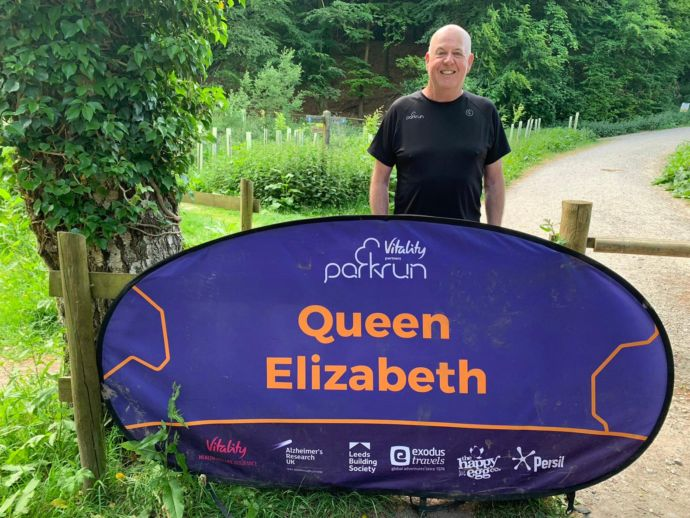 PARKRUN ROUND UP
There wasn't a Worthing parkrun due to lorries on the prom setting up for the 10k race the next day. Also with the focus on Saturday morning's Tuff visit to Chichester for the Lake swim parkrun numbers were down. The following were spotted however:-
Littlehampton parkrun saw a strong run from Simon Grundy who raced home 17th overall in 20:46. Steve Fryer back on his home parkrun was close behind finishing in 21:03. Steve Bridgeman was our next Tuff to cross the line.
Bognor parkrun just had one Tuff attendee this week, Jason Rae notching up his 131st parkrun.
Edward Lay can normally be seen pounding the promenade at Worthing, but this week made another trip to Lancing parkrun and on this, his third visit smashed out a new PB by some margin.
In terms of parkrun tourism, last week we reported on Nathan running at Queen Elizabeth parkrun. This week Alistair Evans took part and he submitted the above photo having completed his 129th parkrun. Al advised "What a beautiful course and very undulating".
Across at Preston Park parkrun in Brighton, Richard Jay was in action recording his fastest parkrun time this year.
Well done to all seven.