Weekend Round Up 15th 16th July
Another week and the Tuff action continues. There is a separate report to follow from the Hamburg Wasser World Triathlon Sprint & Relay Championships , but whilst this is being collated it still leaves the following:-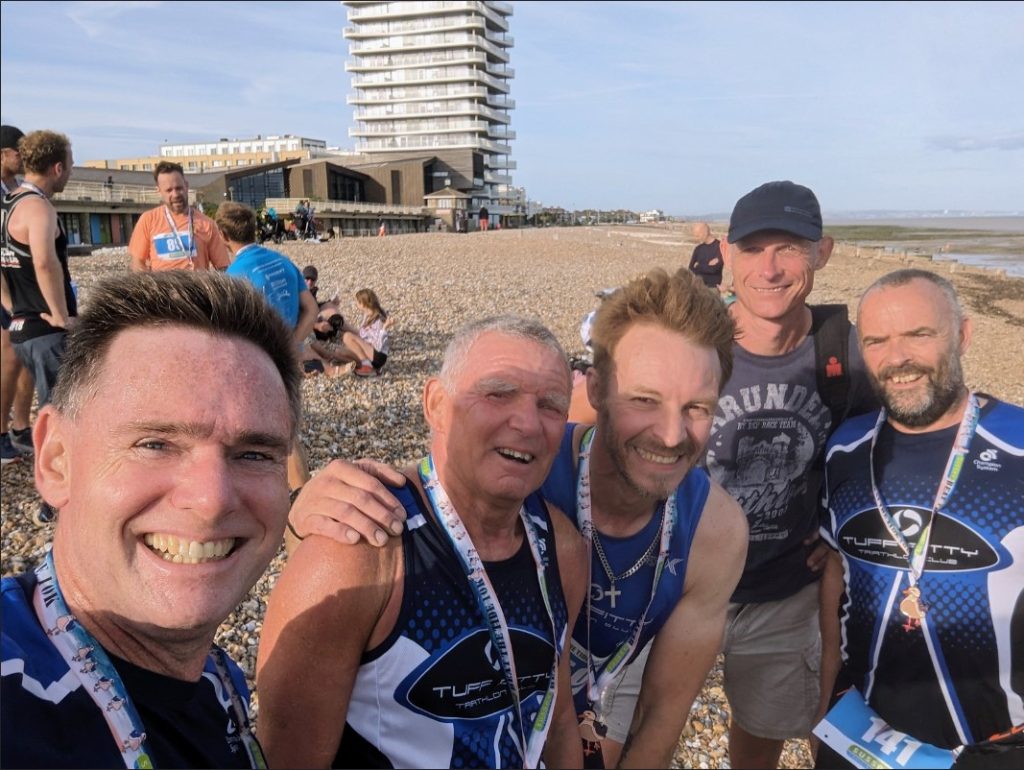 Adrian, Les, Simon, Tom & Mark
BEAT THE TIDE (Monday evening 17th)
With Jay McCardle & Danny Cunnett, two of the directors of Sussex Trail Events also Tuffs, it is always nice when our club can support their events. Beat The Tide has been running for several years now and finishers are always rewarded with a piece of quality bling. However this year nature got in on the act. Recent high winds had swept much of the sand away leaving exposed rocks and rock pools; the storm drains onto the beach were in full flow, passage across was through knee high water. Some of the Tuffs felt it was more like a swim run. The 'pièce de résistance' occurred at the turnaround point past Widewater lagoon. Runners were buffeted by strong wind all the way back to Splash Point. Yet despite the conditions it was strangely satisfying and everyone thoroughly earnt their medals.
Simon Thistlethwaite had been holding 4th position throughout but surrounded by Worthing Harriers he was just pipped on the line taking 5th, but at 43:45, that was a cracking time for the conditions. Tom Frith was next home in 48 minutes running well. Adrian Oliver was third in his age grouping followed by Mark Sole. Les Pearce was our next Tuff also attaining third in his age group and then Clive Harvey. Vicki Hedger (4th in age group) Wendy Frost & Janet Shepherd finished in quick succession with Janet 2nd in her age group. Good to see Nina Tully race as she completed the Tuff Ten.
Beat The Tide was scheduled as one of the venues for our STRUN series – a chance for everyone's results to be 'levelled' according to gender and age. With the third race just under a week away – Dawn on The Downs 10k; the table will subsequently be published with all three results. That will leave Worthing parkrun on the 12th August and Arundel 10k on the 27th to reach the series conclusion.
Sue Pinky was on hand to take photos and clicking on the photo below opens the flickr gallery.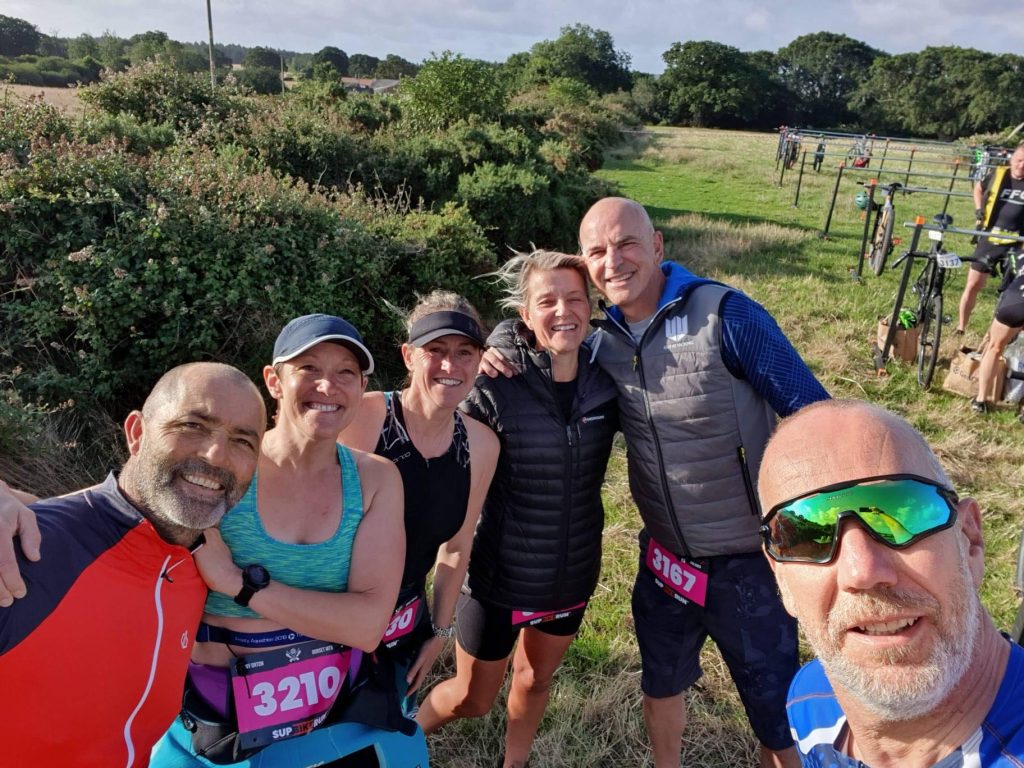 SUPBIKERUN DORSET
Next up we have a report from Tiff Orton following their weekend at Cleavel Point on the Isle of Purbeck where there were more Tuffs present than anticipated. Well done to Tiff Orton, Jon Roper, Debbie Boxall, Marc Rice & Phil Lintott-Clarke together with James Mapley on the support team:-
"SUPBikeRun on the Isle of Purbeck Dorset, Sunday 16th July. Jon and I had taken part in a couple of these events before made up of Stand Up Paddle Boarding, Mountain Bike and Trail Run. We persuaded Debbie and Marc to join us this year in Dorset.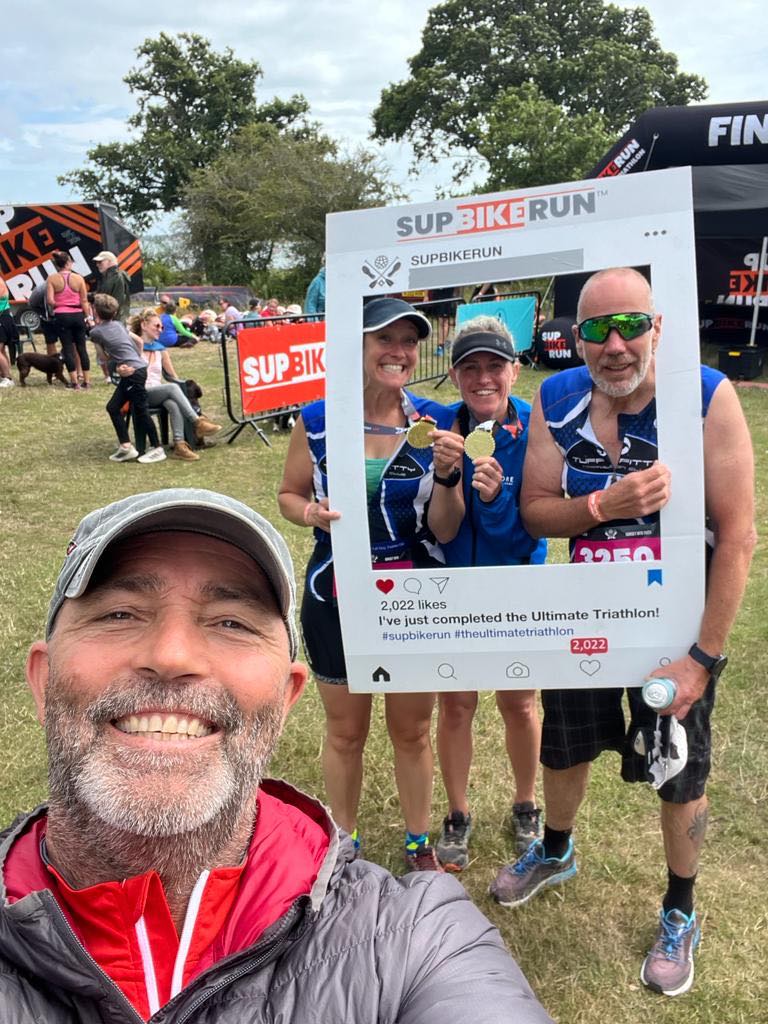 Marc, Tiff, Debbie & Jon
Unfortunately the wind cancelled all Saturday activities but the event went ahead on Sunday. We heard a shout of "morning Tuffs" in transition to be greeted by Phil and Becky Lintott-Clarke which was a lovely surprise. Choosing to get on the water early (glad we did as they cancelled some people from SUPing) we then bumped into James Mapley who was supporting his girlfriend, Fi taking part, another friendly hug before the off.
We all completed 2 laps of the SUP doing 1.5 miles, though the back straight to come into the finish was severely windy! Transition was a dead zone so we all took our time to get ready for the MTB. A beautiful course, until we got to a technical uphill through sandy ditches which were full of gorse. Unrideable in some places we all had to walk. After we came out to a clearing, we could get back on our bikes to enjoy some more riding. A sharp right then led us to climb up Purbeck Hill. A tough climb already, the headwind made it really hard. Riding along the top we then had to contend with sideways gusts, I felt like I had to ride on a diagonal to stay upright! Then a lovely downhill and rolling fire roads back to finish the lap. Jon (ever the god like MTBiker!) went back out for a second lap but Debbie, Marc and myself wanted to finish with a smile on our faces so we headed back to transition to set out on the run. A stunning run through forests and fire roads, us girls supported Marc (not a runner and he only wanted to do 1 lap). After he told us to "bugger off and get running" we picked up the pace to complete the first lap and then go around again. The 3 of us waited at the finish for Jon to finish wondering if he found his running mojo and also did 2 laps……. Alas not lol! A lovely weekend with chums and a great alternative to a 'normal' triathlon.
Tiff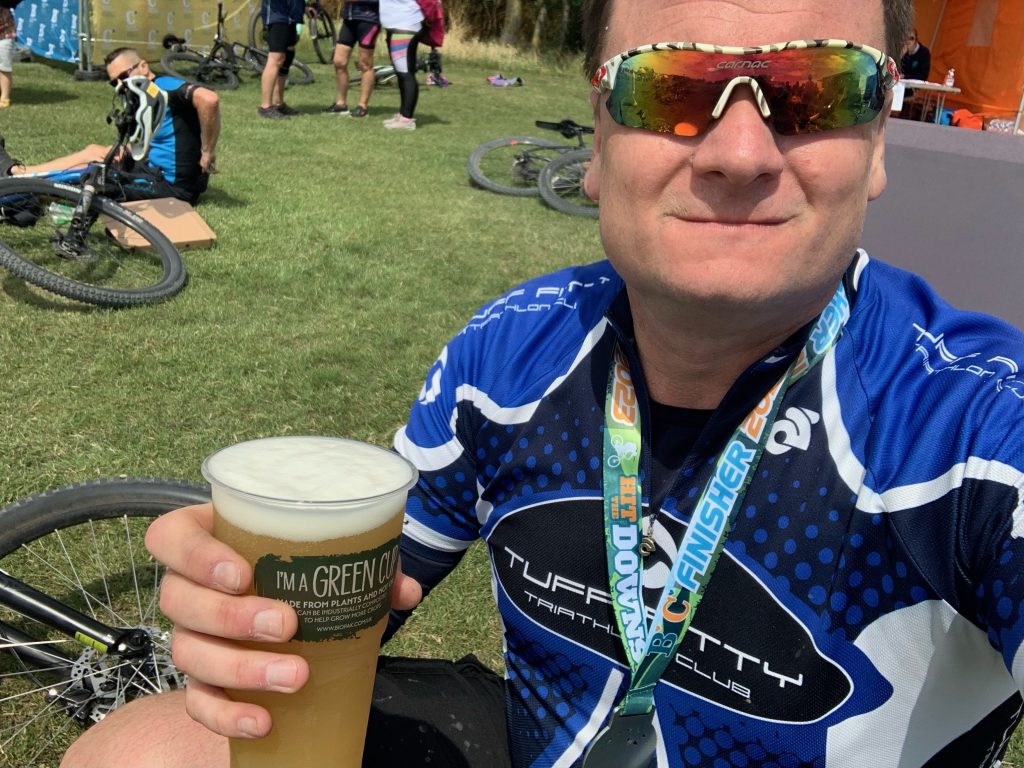 HIT THE DOWNS MTB
With almost 300 entries, riders were split equally between a choice of 30k, 60k or 80k. This fund raising event was billed as A day of killer climbs, swooping descents and tonnes of camaraderie! In amongst the riders, well actually 6th amongst his division was Gavin Sewell who has sent us his report:-
I decided to enter the 80k St Barnabas Hit the Downs sportive. After Ironman Wales last year, then an ankle injury just after Xmas, I decided to have a year off. Finally I'm back running again and then my mind starts thinking what can I enter. Thought best it should be a MTB event for a great charity.
The day before the ride there were gale force winds which weren't filling me with joy hearing them rush past the house. The morning of the event and the wind had died off slightly, still hitting 30mph. I was off between 7-8am. The first part of the ride is lovely and along the river for 2-3 miles then the climbing began. Up the Botolphs to the pig farm where the wind was straight in my face.
The hills were relentless for the first 20 miles. Aid stations were fantastic at kithurst car park and Findon village. Marshall's all very nice and helpful. The last 10 miles were quite a slog and my legs were knackered but it was head down and back to Shoreham recreational ground to finish with a pint of IPA. Done the 60k a couple of times and always a great event. Just be prepared for hills. Now what to enter?
Gavin
ANDOVER TRIATHLON
Next up, thanks to Kate Cooper for reporting in, following her race at Andover, a race of 200 competitors split equally between the various junior race and seniors.
"When Adrian posted about the Andover triathlon on Spond, I was curious as I grew up near there. It turned out that the event was based at Farleigh School in the countryside outside Andover which seemed much more tempting as a location (and had the advantage of being 10 minutes' drive from my parents' house). The day had adult and children's events, so I persuaded my sister, daughter and niece to do their first triathlons: it was a real family affair".
"It is an idiosyncratic event, as the pool is 22m long, so we did 20 lengths. The bike was 30 undulating kilometres, passing my old high school, and the run was 8.8km, again an undulating route with a killer hill near the end."
"The event was very well-organised and there were lots of club members on-hand to answer queries. The countryside in the Test Valley is beautiful and I would definitely recommend the event to adults and children alike: the children's races all take place in the school grounds, so it is safe for them and fun for spectators to watch".
Kate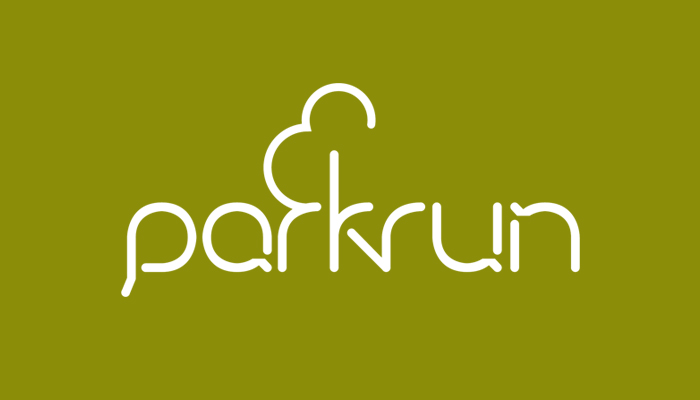 PARKRUN ROUND UP
Starting at Littlehampton parkrun there was a great run from Fraser Kidd, home fourth overall in a time of just 19:21.
Worthing parkrun saw the following Tuffs on parade. Steve Fryer was first Tuff home in 20:41. Phil Turner was next notching up his 99th parkrun, next stop the 100 milestone.
Bognor parkrun we had two Tuffs running, led home by Katie Young scoring a superb 75% age grading. Then Will King just 7 seconds outside his PB.
Lancing Green parkrun was cancelled due to the high winds. However there was still some worthy parkrun tourism.
Proper tourism (going across water) occurred on the Isle of Wight when Colin & Sue Simpson tackled Medina I.O.W. parkrun a hilly run of 200ft. This notched up Colin's 75th different parkrun venue and Sue's 66th – fantastic parkrunning.
Also parkrunning were Glenn Parisi and Clive Harvey who ran three one mile loops around the edge of Horsham Park at Horsham parkrun.
Alistair Evans was also on the road as he ran Ifield Mill Pond parkrun at Gossops Green Crawley. This was Al's 21st parkrun location.