Ironbourne Race report July 2023
After the success of Ironbourne middle distance Triathlon last year the venue was selected again for the 2023 championship race. Such is the level of events on currently that we had less club members travel to Eastbourne, just five Tuffs lining up on Eastbourne Pier. The banner photo is the long walk from transition to the pier to prepare to jump off the end!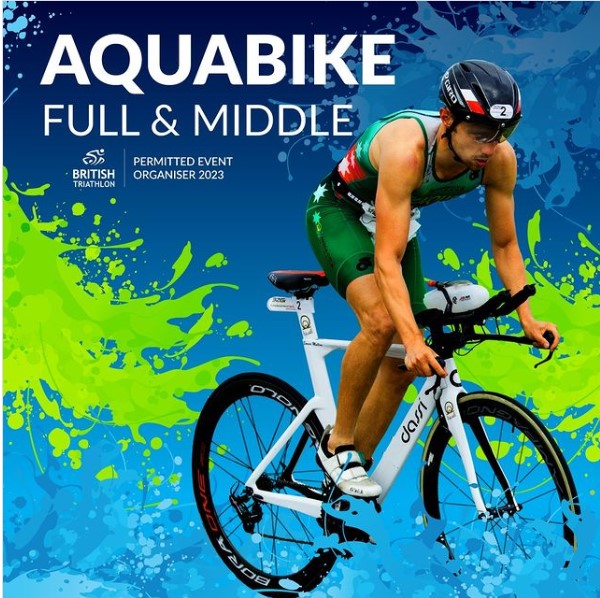 In the Middle distance Aquabike, competitors followed the same swim and bike course as the Triathlon course. Sometimes competitors choose this event to avoid a run; but we know James Togneri is a rapid runner. The reason Aquabike was chosen was that this was part of James's training for the Standard Aquabike World Championships being held in Pontevedra, a Spanish city in the north-west of the Iberian Peninsula on the 24th September.
So how will he fair in Spain? Based on this performance the answer must be 'very well' especially as Ironbourne is middle distance and Spain will be standard distance. James finished the event 8th overall and as third senior male, a notoriously competitive category, and second in his BTF 5 year age group. Good luck from us all for September.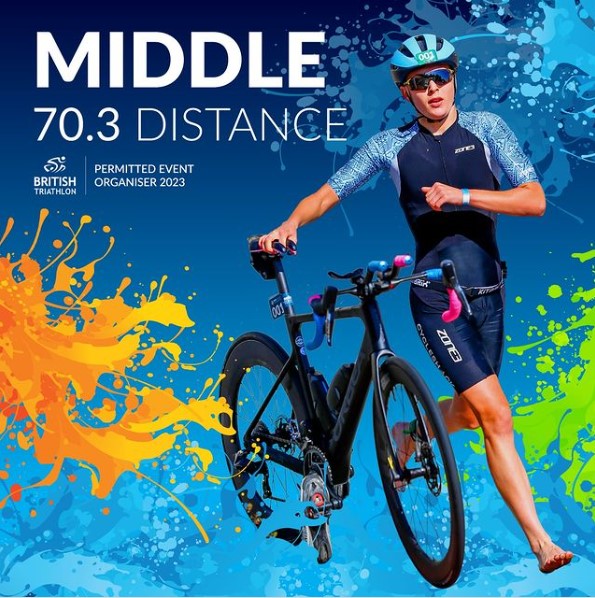 For the full middle distance triathlon we had four competitors – Mark Sole, Janet Shepherd, Simon Thistlethwaite & Mark Dinsdale. It was definitely a case of 'mixed fortunes' but despite this we are grateful to them all for reporting in. First up Mark Sole and particularly kudos to him as he completed his first 70.3:-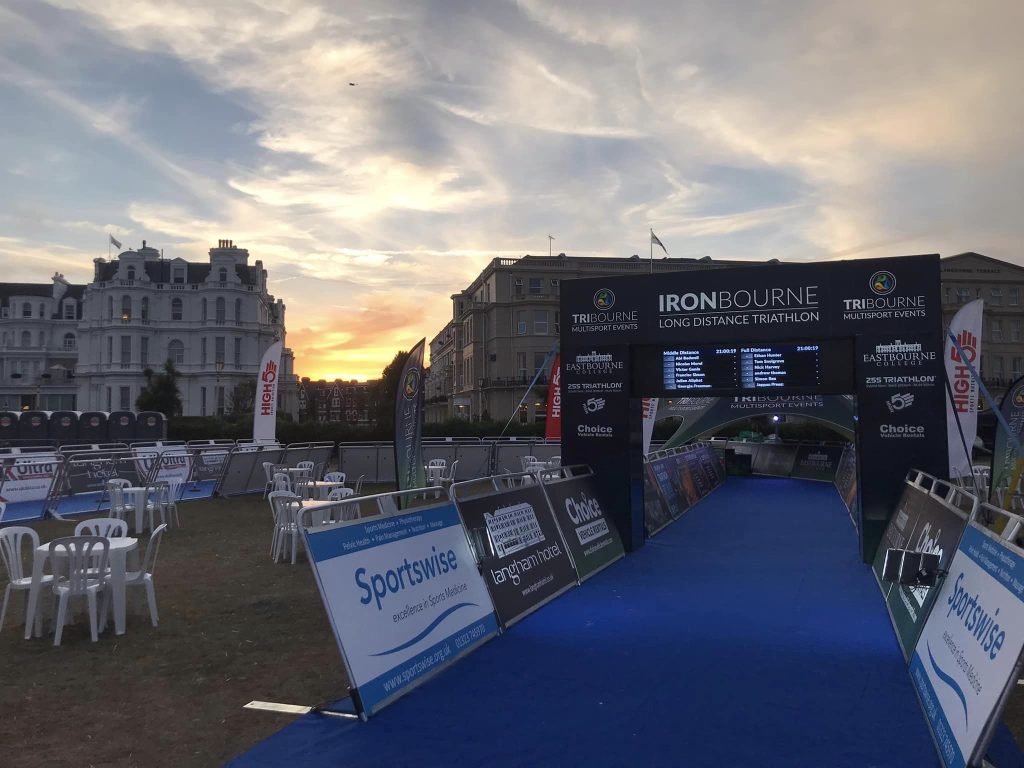 "I had to drop out last year as I got covid the week before but decided to give it a go this year.
Attending registration on the Saturday made me wish i'd booked into a hotel, but the 4am leave time came around and I was ready!
Setting up transition was a breeze, it was well laid out with people available to ask and check on all the exits.
Simon Thistlewaite was parked a little closer and we walked to the pier, the crowd of competitors had already built, but they accommodated us, allowing us to get closer to the front of the queue! We watched a few people really struggling to get round a buoy as they hadn't allowed for the current.
With a rolling start, after jumping from the pier you just set off, which meant we were spaced out. I stayed reasonably relaxed, with Tiff and Barry shouting 'pace yourself' in my head!! The current was strong and only a short stretch directly into it, I made sure I used Barry's picture as advice and swam in a near perfect arc each time. I managed 30:51 for the swim which is approx 10 minutes faster than I thought and didn't really push.
The bike felt good, for the first five miles until I realised, two bottles had dropped from the rear cage. But just thought crack on and conserved the last bottle, years ago I've been in worse positions.
They had marked nearly every pot hole on the route, which must have taken a lot of time!! But a nice water stop allowed me to grab a bottle, which went down the top for safe keeping!!
The climbs were OK, Beachy Head dragged on a bit, but the descent back into Eastbourne was damp, so I was just made sure I finished.
The run was well laid out, most looked strong! But I didn't and then really struggled on the second lap!
My analysis is that i managed to spend to long in transition and running! Although because I felt good coming off the bike I set off running faster than i should have, so I'm confident I'll beat 6:17 next time!!
After the finish I had a nice coffee, pizza and beer on the lawn next to the finish. I was lucky as I had a flat rear when I collected my bike.
Overall, the event was very well organised and I loved it and learnt loads.
Mark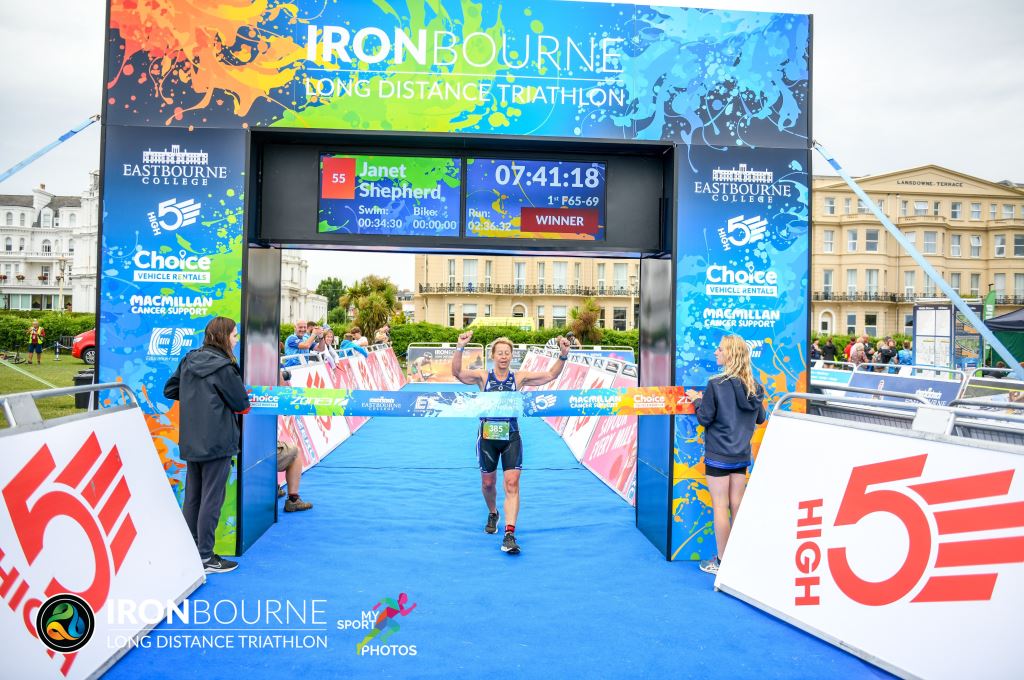 Janet
"The swim felt good though; with less height to jump off the end of the pier compared with last year, although more current. The real saving grace was no sunshine to speak of and even some refreshing rain – and, apparently the jellyfish they've had recently at Eastbourne had largely gone away. If only I'd done some bike training I might have been able to finish is a more respectable time"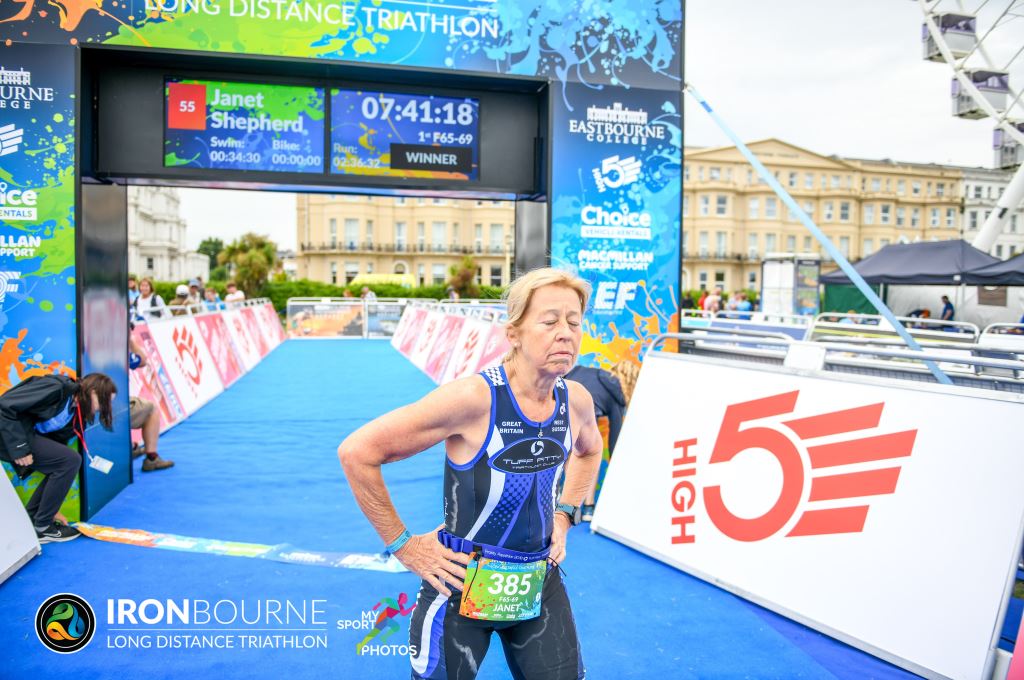 Thanks to Janet for very kindly suggesting that the above photo was published, as she stated "the above illustrative photo shows how I really felt when I'd crossed the finish line, having taken on too much High5 and thought nobody was looking!" "If you'd like to use it as an example of how it feels to not train for the bike (I'd only done a 30 km cycle just over a week ago) and not do any long training runs please feel free".
Janet.
As usual Janet is far, far to modest about her ability. Whilst modestly saying she was the only one in her age group, she still raced well and, deservedly so, won a trophy and so the photo below is far more representative of the Janet we know and love.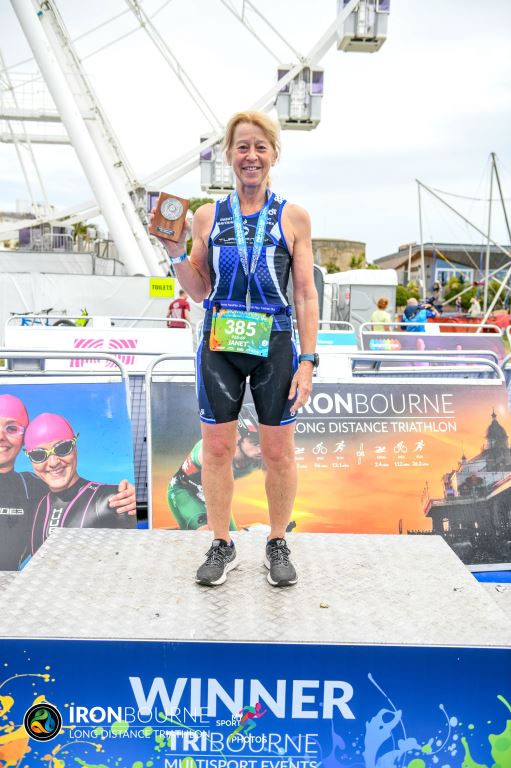 Victor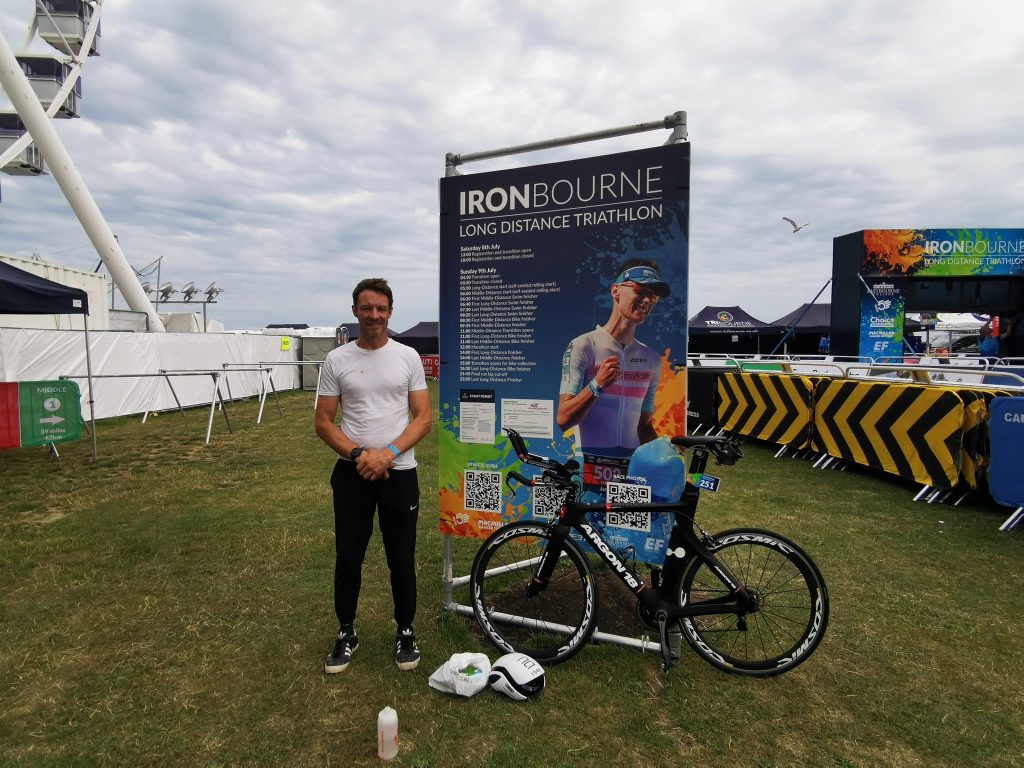 Simon
Unfortunately not everything goes to plan as Simon Thistlethwaite explains:-
"Master of disaster"
"2022 was my first time around this course and without doubt it was the most fun I've had on a 70.3 hence my return this year.
I had high hopes of another PB now especially with the TT bike compared to last year on the roadie.
Race prep went well, I was well rested and arrived in good time on the Saturday for registration. Spoke to one guy who chose to sleep in his car on the prom rather than drive all the way back to Pompey. I'd have joined him too if I'd known my Air BNB was going to be the smelliest place in the world.
Like always before these big races I never slept at all even though it was a peaceful place but instead laid awake all night long but was feeling ok when the alarm went off at 4.15.
A short drive to the venue with 45 minutes left in transition everything was running smoothly no dramas. I met up with Mark Sole and we headed off down to the pier for the iconic jump into the sea.
Just before the jump we were being advised there was a strong current and how best to tackle it without swimming off course too much .
I loved the swim , settled in immediately without any dramas and managed to get round the course in 32 minutes which meant i got to see Mark in transition which was a great position to be in knowing he would be out of the sea before me and strong on the bike.
Heading out on the bike the roads were fast and flat and the bike felt great especially after my beer and bike fit by Pete and Tom at the pub a few days before. I was able to remain in the aero position for long periods without lower back issues for the first time ever and made it through the first 19 miles in 54 minutes putting myself in a great position for a 2.45 bike leg as I felt very comfortable and wasn't pushing my hardest.
Approximately 36 miles in after passing over a wet gravelly surface i heard a strange noise which I assumed to be tyre related but kept riding in hope it wasn't. Unfortunately it was a flat and I quickly changed into the one spare tube I had checking the tyre quickly but efficiently, or so I thought.
I'd ridden less than a minute on the new tube and it was down again. This time my heart sank as I knew Id only brought the one tube with me. This gave me more time to inspect my tyre and I found a very small sharp stone which was only visible when I pumped up the damaged tube and placed it next to my tyre. If I'd have done that the first time I would've been OK but hey ho, no regrets its for fun at the end of the day
A few riders stopped, offered help, but it was in vain as no one had long stems to get through my deep rims. I was roadside for a long time before a motorbike appeared to assist but unfortunately they don't carry tubes so all he could do was stay with me and call through to HQ for recovery.
Scores of riders passed me including Mark and I was a long way from the end thinking it was game over now.
I was later picked up but the escort van and bike was thrown in the back – "we just have to collect one more guy with a broken chain then we will head back" he said. It had been over an hour since I stopped riding and I was asking if I could do the run when i got back expecting a DNF but willing to continue all the same
We drove approximately 5 miles to the other guy who immediately recognized my club kit and asked if I knew Clive Harvey (by reputation I thought LOL)
He introduced himself as Mark Dinsdale who wasnt on Spond to attend, nevertheless I made it clear to him and the recovery vehicle that I wanted back on the road so between us we got a tube in with about 5mm of the valve stem showing which was enough to get a co2 canister on it and get me back on the road. Off I went with a lot of ground to make up and so spent the majority of the remaining miles pushing hard in the aero position up those glorious hills. I managed to make up 15 or so places and got some thumbs up for pushing so hard on the hills.
The bike in, slightly changed from last year was smooth and trouble free and I was determined to make up even more ground heading out onto the run. I settled in quickly and was blazing through it checking my watch this time was 4.17min per/k which I felt very comfortable with . I was about 5k into the run and saw Mark, I reckon he had 2.5-3k on me by now but I was hopeful of catching him on the second lap. Its a never ending second turn around point here and remember last year hunting down Pete Littleboy with a severe burning pain in my left foot's toes which came back again to destroy any chance of me getting the job done here this year. It was too painful to continue at pace and so I started dropping back around the 5min/k pace just to get to the end of the first lap where I knew i would be ending my race having completed only half of the run.
Very disappointed at having to pull out especially after having the spirit to keep on going after my dreadful bike leg.
Definitely some big positives to take from this race and now I am even more determined to push closer to 5.15 once I sort out my foot issue which I now understand could be down to cleats and age of shoes.
All standard distances left for the rest of the season which will give me time to regroup and look forward to returning here next year.
Well done Mark Sole on completing your first 70.3 cracking effort
Simon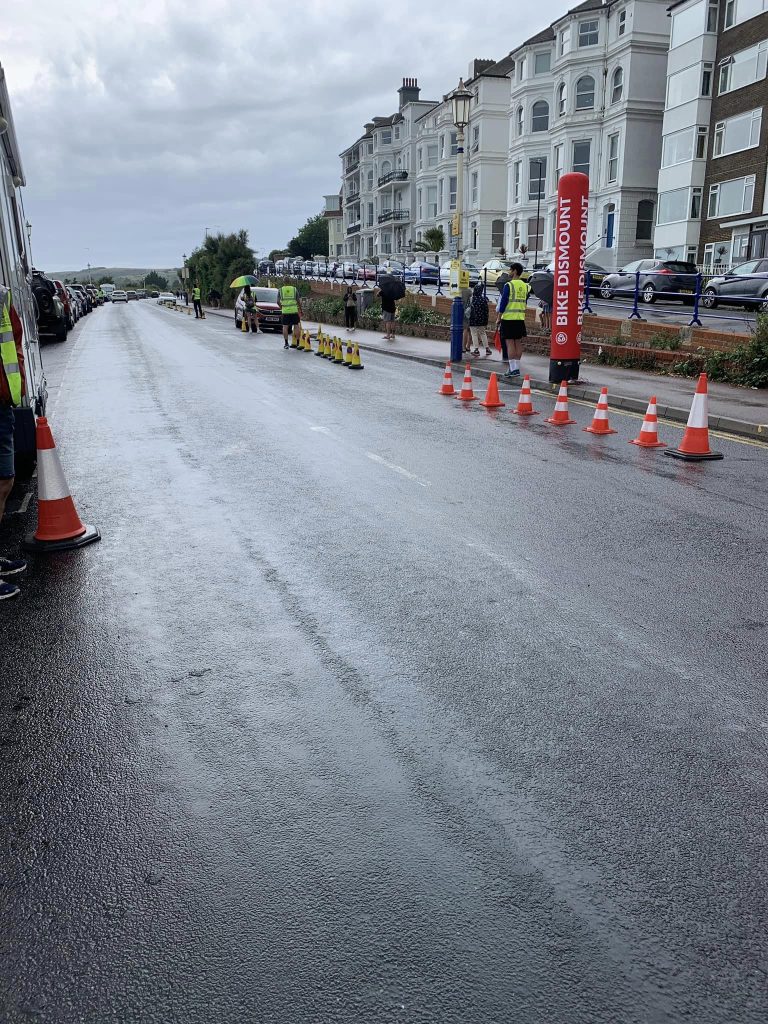 Mark Dinsdale explained " I didn't have a great day at the recent Ironbourne 70.3 – after a great start my chain snapped after 70km – and whilst I carry some spares for puncture etc not enough stuff to repair a chain. So I put that down to experience and learning 😀. I was so disappointed, – 33 min for the swim, 1:05 for the first 30km and then 1:02 for the second 30k on the bike; I was starting to feel it was going well before the chain went. I thought with the inner tube passed to Simon he would have been able to complete the course, so I was saddened to learn he didn't finish. Ah well a learning day all round.
Mark