Western States Endurance Run
The first thing to explain is what is the Western States Endurance Run. There used to be a 24 hour horseback riding event but one of the competitors, having competed on a horse previously had to withdraw during the 1973 race because his horse became lame. For 1974 he decided to enter the following year and see if was possible to run the 100 mile course in 24 hours instead. Many considered it impossible, but, (a now legend in Ultra running community) – Gordy Ainsleigh, felt it was possible. He started the route from the base of the Palisades Tahoe ski slopes on its 100.2 -mile route to the Placer High School track down in Auburn California. He completed the route in 23 hours 42 minutes which set the stage for the annual run ever since. The race defined Ultra running in the form it has become today.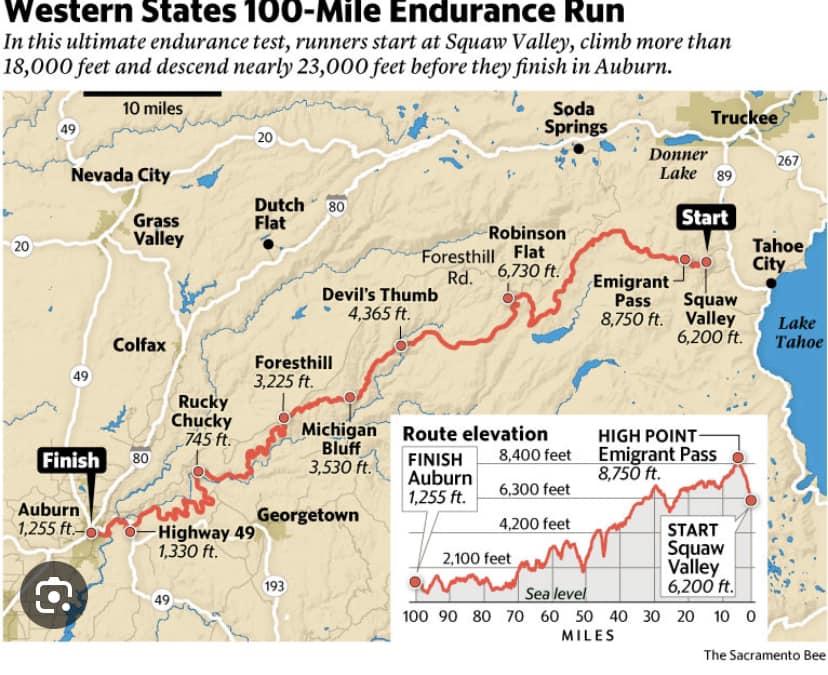 Gordy had one philosophy when he set out, which we would all do well to remember when we think we've reached our limit. "It was really clear I was going to hit bottom really soon. And I knew I couldn't finish, but I came to the point where I said, 'well, I can still take one more step.' And so I decided to keep taking one more step until I could no longer take one more step."
Apologies for such a lengthy intro from the editor; but the Western States 100 is viewed as the Super Bowl of US trail running as it is so hard and so hot. Fast forward to this year and 2023 was the 50th anniversary of the event and we are delighted to report Jay McCardle not only entered, but completed this epic adventure. There were 379 starters but only 328 finishers indicating how tough the race is. Now back in the UK Jay is busy preparing the organisation for Beat The Tide 10k but he kindly agreed to take time out to share his story of the event – Thanks Jay.
—————————————————————————————–
Western states Endurance run . Last December we (Sussex Trail Events) put on the Night in the Museum Marathon and half way through it my phone started buzzing with all these messages of "well done". I was just like thanks; but it's only a marathon we are putting on. It wasn't until about the 20th message that actually included WS100 and I checked my emails to find out I had been drawn in the lottery to run the oldest 100 mile race in the world. About 7 to 8 thousand try to enter through a ballot, plus every year you get a extra ticket so I believe it's about 40,000 tickets for 300 places.
I then had the dilemma about a pain I had been having in stomach which had seen me DNF a few races so off to a specialist who diagnosed I had a hernia but where it was could only be seen if he went in and operated and he could do it two weeks so a quick decision and maxing the credit card out I had the operation. Once I could run again the training started which included lots of running over Beachy Head and believe it or not doing weights in the greenhouse to try to get some heat acclimation. !!!!
I went out with Fergie the race director of the Arc of attraction 100 miler a few days before to try to get a little bit used to the altitude as the race starts at Squaw valley at a ski resort. A couple of days before the race I ran from the hotel up a mountain behind it, 2 miles up I came across a paw print the size of a dinner plate and needless to say I turned around a probably got the Strava segment for the way down.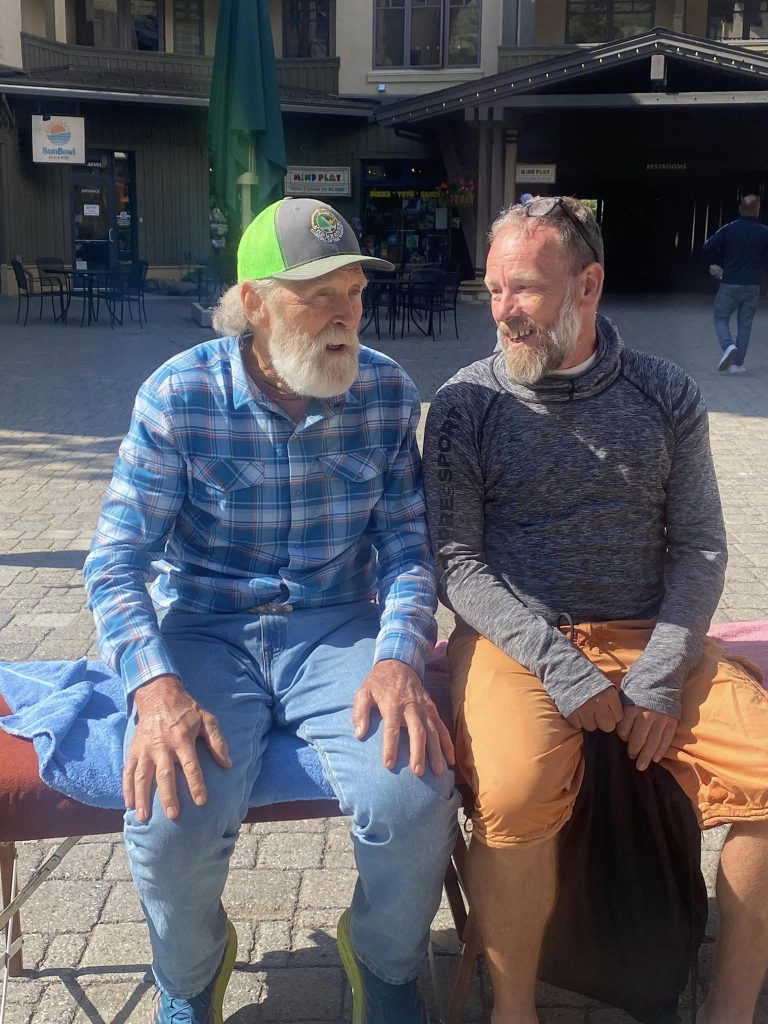 Two legends Gordy Ainsleigh and Jay McCardle
The few days before the race are electric as all the great and good of Ultrarunning are just milling about so got to meet Tom Evans (UK) and Courtney Dewaulter (US) who both went on to win this year and Gordy Ainsleigh an absolute legend ( look him up it won't disappoint.) Then the race start came and I found myself lined up with 350 souls in the dark looking up at the" Escarpment " the first mountain we would have to climb,
The area had a very heavy snow year and the first 20 miles would now be covered in snow usually it's a about 2-3 miles thank god I packed my sportivas a few hours before I left . The snow was hard to run in and I must have fallen at least 20 times and as the snow cleared loomed another mountain which had switch backs zig zagging all the way to the top. I got to the top for the 30 mile aid station and I was completely bonked and ready to throw the towel in, but the aid station crews arer so good and passionate and looked after me. So after a bit of chicken broth and a change of trainers I was on my way.
The next bit is the canyons and after the recent forest fires we warned there would be no shade from the sun. Luckily the temperatures weren't as bad as expected so at mile 60 I picked up my American pacer " Stacie " and on to night section which included crossing the American river. Usually this is waist high and crossed with a metal link chain but due to the water level you had to be rowed over in boats, it's quite hard trying to look cool and get in and out a boat with 70 miles in your legs!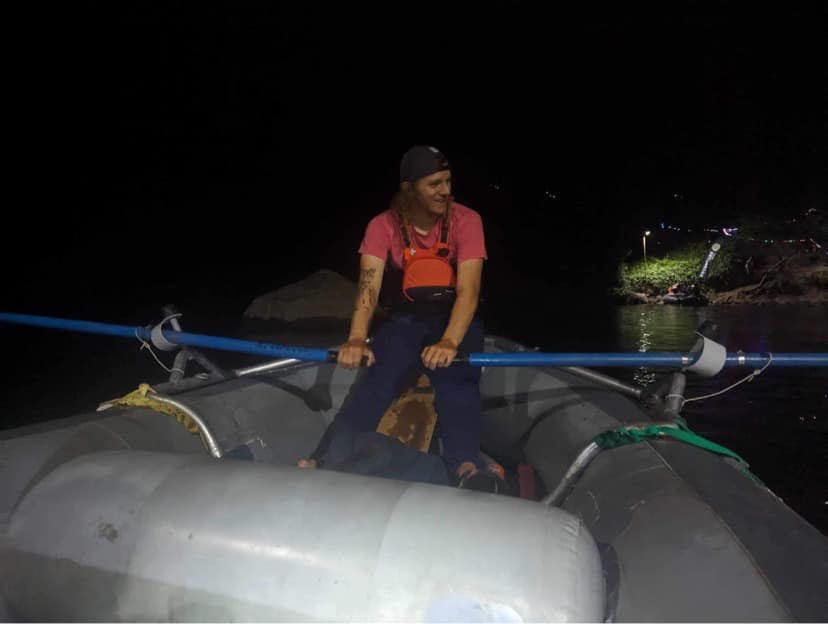 The last 30 is a bit of a blur but then you find yourself in the town of Auburn where every one is out on the streets having a party and run into Placer High school onto the track to the finish . I now have the classic western states belt buckle and it's beautiful….